On a seemingly average weekday, 71-year-old Gary Hanson's workout at the Mason City Family YMCA began like any other.
He had no idea that within just a few hours, his life would need saving.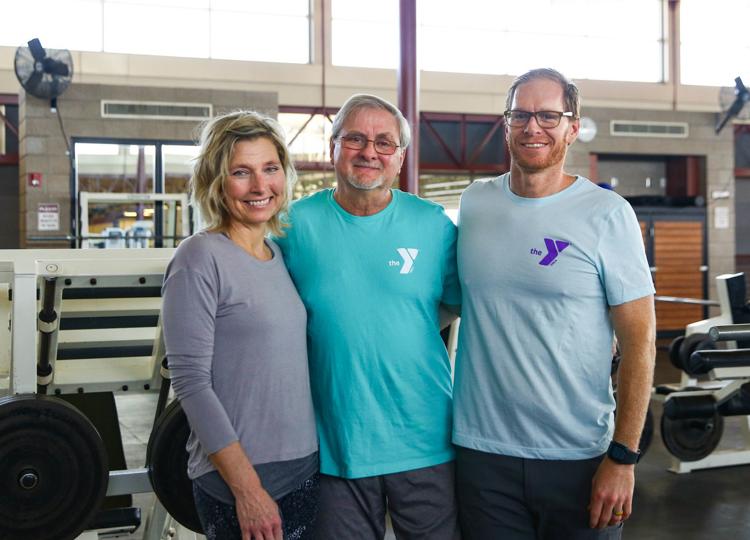 Hanson, of Mason City, works out frequently at the Y, under the guidance of his personal trainer, Health and Wellness Director Jeremy Nicholson. Shortly before 9 a.m. on Feb. 11, Hanson had just finished a warmup on the elliptical when Nicholson saw him collapse.
Nicholson rushed over and realized right away that the situation was dire. He tried to wake Hanson up, but to no avail.
"Gary first had really shallow breathing, then he took one deep breath and then just stopped breathing."
YMCA fitness instructor Shelly Fitzsimmons was nearby and heard the commotion. Fitzsimmons, who spent part of her career in cardio rehab, jumped in to help.
Fitzsimmons yelled for Y member Renee Riley to grab one of the facility's automated external defibrillators, and while Riley called 911, Fitzsimmons and Nicholson, who are both certified in CPR, got to work.
"AEDs are so easy to use; they basically tell you what to do," Nicholson said. "We placed the paddles on Gary's chest, it said 'No pulse detected. Shock recommended.' So Shelly shocked him once, his pulse came back, and I began chest compressions."
Fitzsimmons had given CPR to a person before, but it was her first time administering an AED.
"Everyone thinks they'd panic if they were in that situation. But you get in a different mindset and do what you have to, because this guy was clearly not gonna make it," Fitzsimmons said.
Hanson doesn't remember losing consciousness, only leaving the elliptical and then waking up in the emergency room. He said the MercyOne North Iowa Heart Center was vital in his care and recovery.
Physicians couldn't pinpoint the exact cause of Hanson's collapse, but described it as a "random cardiac event." To help prevent future episodes, Hanson underwent surgery on Valentine's Day, and now has an implantable cardioverter defibrillator attached to his heart.
Hanson joked about the timing, "Kind of fitting, isn't it?"
The device acts as a pacemaker when needed, but if something drastic arises, it delivers a shock to the heart. Using telemetrics, it also sends valuable data to his cardiology team, so they're aware of any sudden changes in Hanson's heart rhythms.
Hanson's recovery is moving far more swiftly than anyone expected.
"He sent me a text message the same night he went to the hospital," Nicholson laughed. "That just shows what an animal he is. He was in on the following Monday, handing out hugs."
That Monday was also the first time Fitzsimmons and Hanson were properly introduced.
"He's awesome. We hugged probably five times," Fitzsimmons said.
Hanson credits Nicholson's and Fitzsimmons' fast response for saving his life.
"These two are my angels," Hanson said, gesturing to them both. "If this had happened anywhere else, I would not be here. I have to give all the glory to them and all the glory to God."
It was a wakeup call for everyone involved, though.
"You can't always tell by looking at someone that they're at risk, Fitzsimmons said. "When I first saw Gary lying there, I noticed he was in good shape. That's the thing: a person can be a picture of health, and have something going on inside that no one knows about."
Hanson is already back at the Y, and says he's completely comfortable with it because he knows he's in good hands and that the facility is outfitted with life-saving equipment like the AED. He has to take it easy, though.
"I can't raise my arms over my head for a couple of weeks, but I might jump on the [exercise] bike today and go slow for a bit to get my legs moving. We'll just see how it goes," Hanson smiled.
He, Fitzsimmons, and Nicholson say they now have a pretty strong bond.
"It was a group movement where people stepped up even when they were uncomfortable," Nicholson said of those who helped. "If the Y is anything, it's a family, not a gym."
Concerned about COVID-19?
Sign up now to get the most recent coronavirus headlines and other important local and national news sent to your email inbox daily.