Margaret Jaros Woods of Pittsburgh fell in love with Joseph "Red" Sullivan in 1942 over a photograph.
Photographs and memories were all she had left of the handsome sailor from Waterloo who would have been her husband.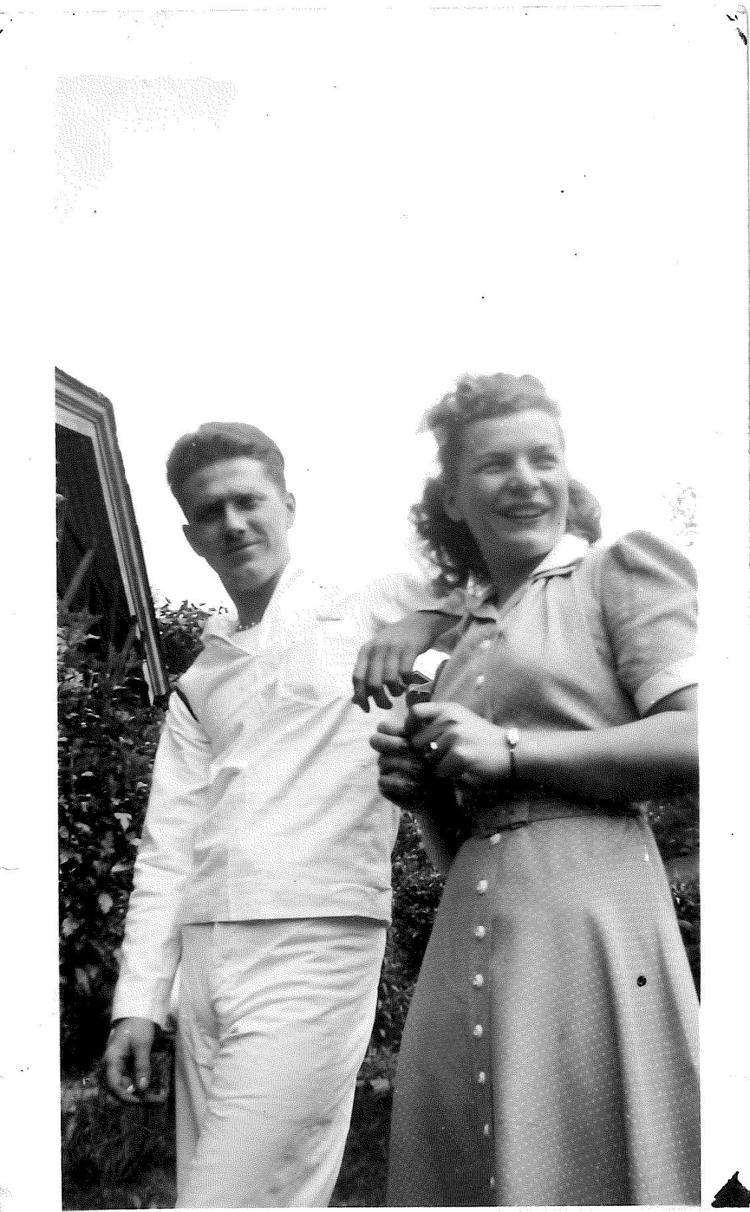 In 1999, she donated one of those photos to the Grout Museum. It's a photo of her and Red, taken in May 1942 — on their only weekend together.
Woods died in January 2006 at the age of 86. She shared her story of the marriage that never was in a 1999 Courier interview from her then-home in Cheswick, Pa., a Pittsburgh suburb.
A month after the May 1942 visit, Red sent her a ring. Five months later, he and his four brothers were dead, killed following a World War II sea battle. And the five Sullivan brothers, in death, inspired a nation at war and became part of American naval lore.
Margaret's romance with Red started with a photo — the now-famous photo of the five brothers in Navy dress blues aboard the USS Juneau in the Brooklyn Navy Yard in New York.
The Sullivans were big news when they enlisted together to avenge a friend's death at Pearl Harbor and insisted on serving together. They appeared in moviehouse newsreels and their photo was carried in papers nationwide — including Pittsburgh. The five strapping young sailors caught the eye of many young women — including Margaret and her friends.
"The picture was in the paper in January of '42. I said 'Ooohh, aren't they all nice looking? Especially the one on the left end, Joe,'" Margaret recalled.
At that time, many people were writing letters and corresponding with people they knew in the service to keep their spirits up. Margaret had been corresponding with some soldiers she knew and wanted to add a sailor to the list — and not just any sailor, but Red Sullivan.
She wrote him a letter. "I said, 'I'd like to correspond with a sailor, if you're not married or don't have a steady girlfriend.' I was 21 at the time. I was really surprised to receive a letter from him. He sent me a picture of him on his motorcycle and a picture of his mother and family. We wrote constantly," for several months, she said.
Bob McCann, a Pittsburgh shipmate of the Sullivans aboard the Juneau, was headed home to visit his own family during a May liberty. Red and brother Francis, or "Frankie" as Margaret called him, came along. They arranged a meeting in Pittsburgh with Margaret and friends.
"To me, they seemed very nice," she said. "Everybody was a little quiet, we just had met and nobody was rambunctious or anything." But there was a connection between Margaret and Red.
"It was one of those things. We just sort of clicked," she said.
They went to the movies Friday evening and spent Saturday evening at a get-together at Bob McCann's house. On Sunday, Margaret and her best friend came back to the house and spent the afternoon there.
"Sunday evening, they had to go back to the ship," Margaret recalled. "So Bob McCann's dad took them to the (train) station." She rode along to see Red off.
"He kissed me good-bye and said for me to wait for him and that was it," she said.
You have free articles remaining.
But it wasn't long after that Red sent Margaret a ring. "He said maybe we could come up and visit him sometime. The ship was stationed in the Brooklyn Navy Yard." So Margaret and her friend headed for New York.
"We got up there and registered at the hotel. We called the ship and the phone kept ringing and ringing." Margaret never saw Red that trip. Later, he wrote her that the Juneau had received orders to put out to sea and correspondence off ship was prohibited.
The Juneau was headed for the South Pacific, the Solomon Islands and places like Savo Island and Guadalcanal — a voyage from which it would not return.
Red told Margaret in a subsequent letter he wanted her to meet his family. She did that October. She met his parents, Thomas and Alleta, in Chicago and rode the train with them back to Waterloo. "I saw (Red's) motorcycle while I was there," she said.
Red and Margaret continued writing each other. "He said riding a motorcycle was too dangerous, he would give up the motorcycle," she recalled. "I said I liked motorcycles, my brother had ridden one." But on her visit to Waterloo she found out Red had already told his dad to sell it.
"He told me to start putting some money away for when we could get married. He said he wanted to get married and that I should go live with his parents. He was really ready to settle down, I guess."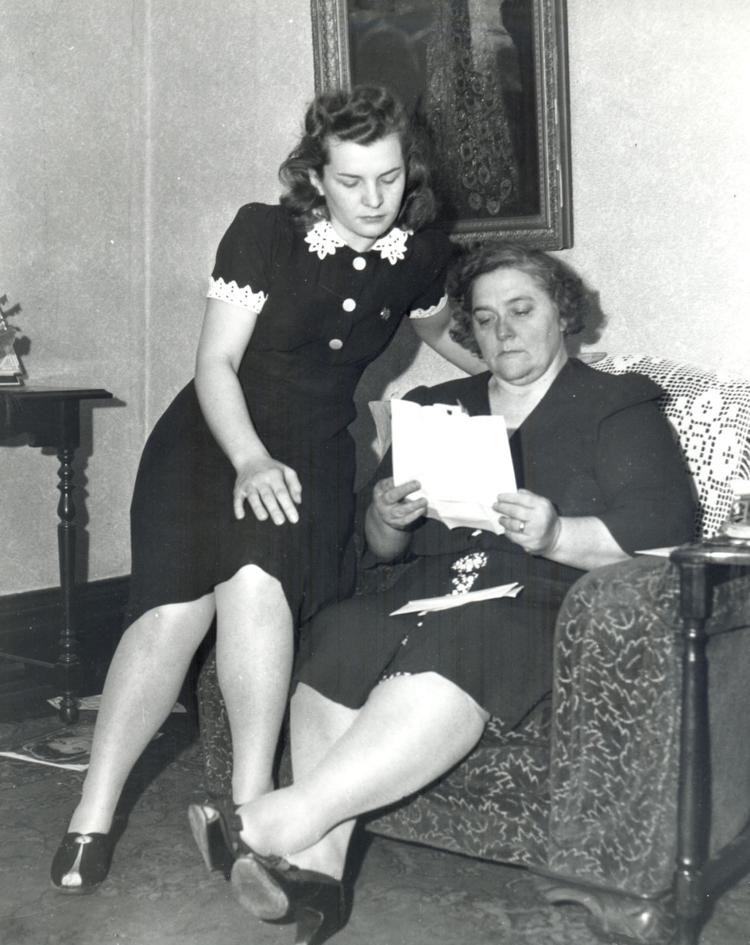 Suddenly, the letters stopped. Months went by. Margaret was staying with an aunt in Bloomfield, Pa., in January. "I heard on the news one morning that the Sullivan brothers were missing, the ship had been torpedoed. It shook me up. I got off work that day and they let me take some time off. I went to Waterloo. His mom had called me to say they were reported missing. At that point there was still hope."
Hopes were dashed when the Sullivan family received a letter from Lester Zook, a Juneau shipmate and friend of the Sullivans, who wrote, "All hope is gone of your boys being found alive."
Red and his brothers — George, Francis, Madison and Albert — died with nearly 700 shipmates when the Juneau, was torpedoed by a Japanese submarine and sunk on Nov. 13, 1942.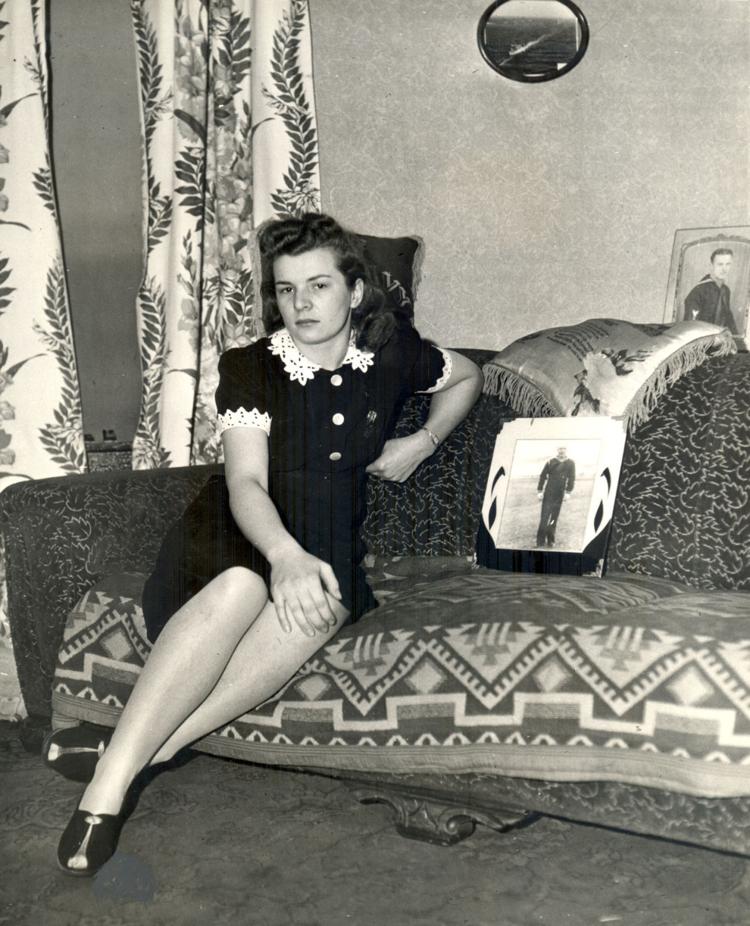 In the years that followed, Margaret stood by Red's family in their shared grief. She, Red's parents and Beatrice Imperato of New Jersey, Madison's fiancee, attended the premiere of the Sam Jaffee movie "The Fighting Sullivans" in New York and sold war bonds in the theater lobby.
Margaret became a friend of the brothers' sister Genevieve, meeting her in Chicago when she joined the WAVES during the war, and stood up for her as a bridesmaid when Genevieve married Murray Davidson at the end of the war.
Sullivan family members continued to correspond with Margaret about events honoring the brothers, and she and Genevieve exchanged Christmas cards until she died in 1975. In 1992, Margaret was invited to Waterloo's 50th anniversary commemoration of the brothers' deaths, as well as the 1997 commissioning of the new Navy destroyer USS The Sullivans in New York, but was unable to attend either event.
Margaret, with two grown daughters and three granddaughters, was married to John Woods for 25 years. He died at age 51 from lung cancer. "He looked a lot like Red. He even had the same dimple in his chin," she said.
Her letters from Red and other mementos were lost after a flood at her stepmother's house in Ohio years ago. A few photos remain.
"There were a lot of wartime romances. I said I'd always call it my unfinished romance," Margaret said.