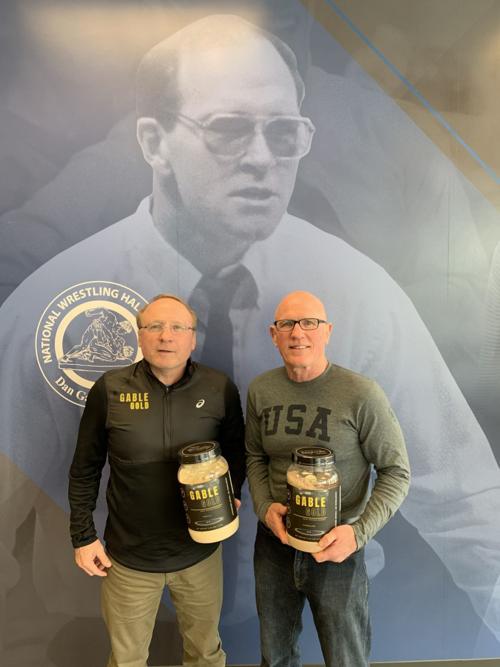 It's been almost 30 years since Barry Davis was on Dan Gable's coaching staff, and 35 years since Davis wrestled for Gable at the University of Iowa.
But in recent months, Davis and Gable have been working hand-in-hand on a new adventure.
Davis retired as the University of Wisconsin's head wrestling coach in 2018 after 25 years at the helm. He's since been part of the Silver Star Nutrition team, a nutritional product company based in Madison, Wis.
Four or five months ago, Davis reached out to Gable about producing a product that would not only carry on Gable's legacy, but help support the National Wrestling Hall of Fame Dan Gable Museum in Waterloo.
Gable told Davis at that meeting he was all for it, but he had some stipulations. It had to be all-natural. It had to be good. It had to be Gold.
On Thursday, Silver Star introduced Gable Gold on its website silverstarnutrition.com, and the product will soon be available at the Gable Museum.
"He wanted it to be all natural, wanted it to be something good that you put in your body," said Davis, the Cedar Rapids native who was a three-time national champion for Iowa and a silver medalist at the 1984 Summer Games in Los Angeles.
"So we sat down, came up with a formula and worked it out. Then we went to his house and did a taste testing with his family, his wife, son-in-laws and daughters.
"It was what vanilla do you like best. It was what chocolate do you like and this product is what we came up with. He liked it and is excited about it."
The Gable Gold is a whey protein created by cold process cross-flow microfiltration. It contains all nine essential amino acids, including branched-chain amino acids (bcaas) that help build muscle, aid in recovery and provide healthy fuel. It will come initially in vanilla and chocolate with additional flavors eventually.
The only thing Gable did not like about the initial product, laughs Davis, was the packaging. It originally came in a silver package.
"I got a silver one in my office," joked Gable Museum Executive Director Jim Miller. "He did not like the sliver. It had to be gold."
"We got the packaging changed and even threw in a gold scoop," Davis smiled.
This is the second product with Gable's name on it that helps support the museum. Single Speed Brewing Company's began offering a Helles Munich Lager in 2017, called Gable.
"We want to support the museum for sure," Davis said. "Gable Gold is a chance to give back that way and continue his legacy at the same time."
Be the first to know
Get local news delivered to your inbox!