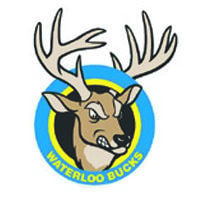 WATERLOO — The Waterloo Bucks remain hot.
Waterloo secured its sixth consecutive victory Saturday night with a 7-4 victory over Mankato inside Riverfront Saturday to take a two-game lead over atop the Minnesota-Iowa Pod.
A six-run second inning was enough runs for a Waterloo team (18-8) that received another strong starting pitching performance.
Duncan Davitt held Mankato (10-17) to its two first inning runs over 5 2/3 innings of work with four strikeouts versus two walks. Carter Lyles worked a perfect eighth inning with two strikeouts and Christian McGowan secured the save.
Peyton Williams blasted a three-run home run during Waterloo's sixth-run outburst in the second inning as part of his two-hit game. Xane Washington scored twice, drove in a run and stole a base. Waterloo will return to action at 4 p.m. today in St. Cloud.
FridayWaterloo scored five runs in the bottom of the third inning en route to an 8-2 win over Mankato inside Riverfront Stadium.
Patrick Ferguson recorded the big hit during that third frame as the drove home three with a bases-clearing double. Jalen Smith doubled, walked twice and added three runs for the Bucks. Waterloo's Tristan Peterson drove in two.
Blake Corsentino worked six scoreless innings to secure the win. He struck out four, walked two and allowed just two hits.
Mankato 200 000 200 — 4 7 2
Waterloo 160 000 00x — 7 9 1
Krzyanowski, McMahill (3), Granillo (5), Eckberg (8) and Wright. Davitt, Christophersen (6), Lyles (8), McGowan (9) and McCleary. WP — Davitt (2-1). LP — Krzyanowski (0-2). Save — McGowan (1). 2B — Berkey, Curialle (Mankato). HR — Williams (Wat.).
Mankato 000 000 200 — 2 5 3
Waterloo 005 020 10x — 8 7 2
Miley, Meyer (4), Taylor (6), Bruss (8) and Wright. Corsentino, Graf (7), Miller (8), Vial Jr. (9) and Rubalcaba. 2B — Smith, Ferguson, Anu (Wat.)
Be the first to know
Get local news delivered to your inbox!