WATERLOO — Arizona Coyotes draft pick Miko Matikka is currently tied for fourth in United States Hockey League scoring, and he is coming to the Waterloo Black Hawks following a trade with the Madison Capitols announced Sunday.
The Hawks concluded the deal for the 6-foot, 3-inch 19-year-old from Helsinki in exchange for first-year Hawks forward Oliver Flynn, plus two picks during the 2023 USHL Draft. Matikka adds to a Waterloo offensive repertoire responsible for 34 goals during the team's current six-game winning streak.
"There are only limited opportunities to get a player like Miko within a season," said Black Hawks General Manager Bryn Chyzyk. "With half of the schedule remaining, we made this move, because we are excited about what this team has done so far and want to give them every chance at success during the second half."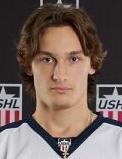 Prior to 2022/23, Matikka had played in the youth and junior ranks for the Finnish club Jokerit. Arizona selected him 67th overall during the 2023 NHL Draft, and he has produced exceptional results during his first season in North America. Through Thanksgiving, Matikka notched at least one point in 14 of his first 15 USHL games, including an 11-game point steak, which is the longest in the league so far in 2022/23. His 16 goals and 35 points both led the Capitols at the time of the trade, tying him for eighth and fourth in those respective categories leaguewide. No player has been more adept at putting the puck on net; Matikka's 113 shots on goal tie with William Whitelaw of the Youngstown Phantoms for the most in the USHL.
"It was an extremely difficult decision to trade Oliver Flynn," Chyzyk conceded about the 19-year-old Connecticut recruit. "Oliver is a remarkable person and we wish him nothing but the best with the Madison Capitols."
Flynn had scored three goals with four assists in 29 games for Waterloo.
Pionk Picks Up Second Weekly Award: With the Waterloo Black Hawks on a six-game winning streak, Aaron Pionk became the second Hawk in as many weeks to claim a United States Hockey League honor, thanks to Monday's announcement that he is the USHL Defenseman of the Week.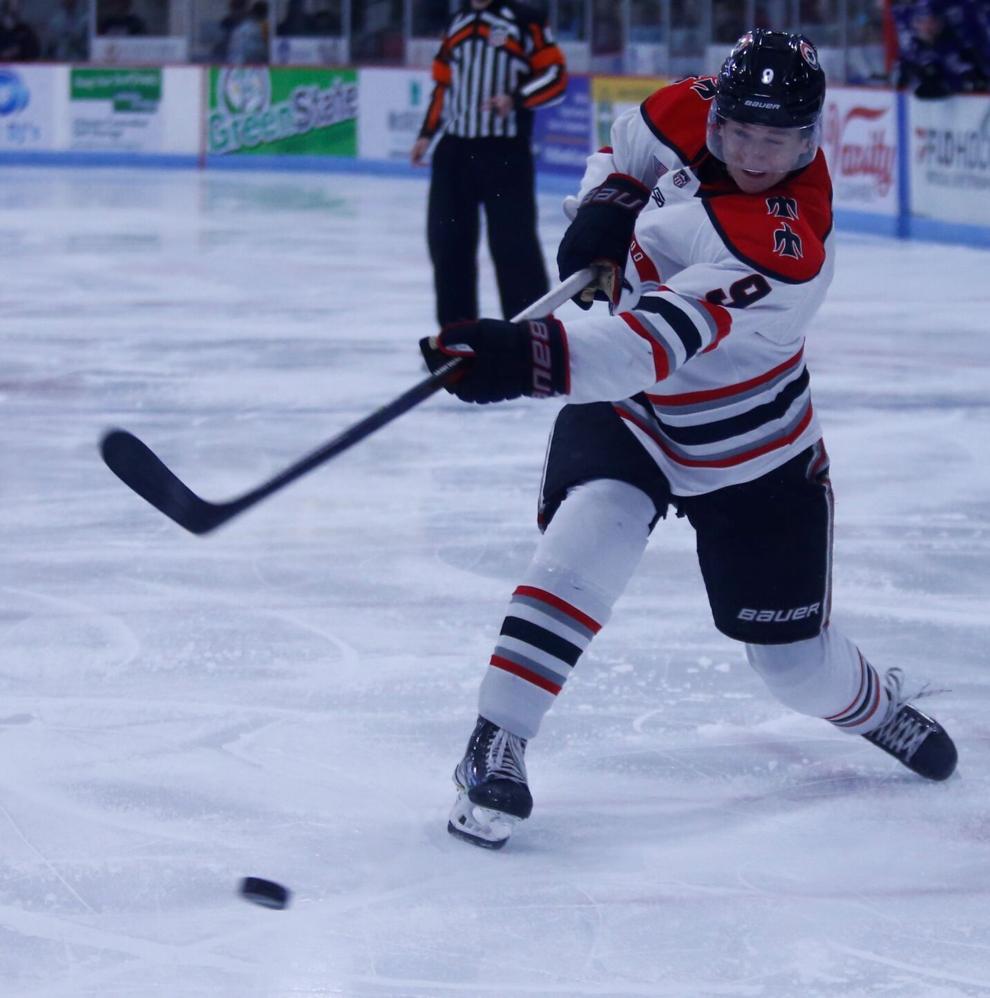 It is the second time Pionk has claimed that recognition this season. He was also noted by the league on October 12th. Last Monday, Hawks goaltender Jack Spicer won the USHL weekly award for his position.
Waterloo defeated the Des Moines Buccaneers 7-5 on the road Friday, then edged the Bucs 5-4 at home in overtime the next night. During the weekend opener, Pionk collected four assists, one shy of the best individual performance in the USHL this season. Three of those setups came during the Black Hawks' five-goal third period as the team overcame a 5-2 deficit.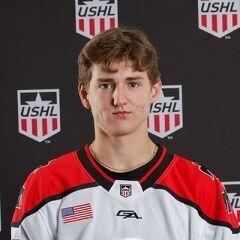 In the rematch, Pionk buried a game-tying goal with 1.7 seconds remaining in the second period. The teams would exchange goals once more in the third before Waterloo prevailed in extra time. Pionk was +1 in each game.
This season, Pionk has a +17 plus/minus differential, which ties him for third among all league defensemen. He is also tied for fourth in scoring with 22 points and ranks fifth in goals (seven) relative to his blue line counterparts.
Last week, the Hermantown, Minnesota native was ranked 81st by NHL Central Scouting among players who are eligible for the 2023 NHL Draft. This evening, Pionk is playing in the BioSteel All-American Game in Plymouth, Michigan, along with Spicer and teammate Garrett Schifsky.
Black Hawks players have now earned four USHL weekly awards in 2022/23. Griffin Erdman joined Pionk and Spicer as an honoree in early December.
The Hawks go on the road this weekend to visit the Chicago Steel and the Dubuque Fighting Saints.
Black Hawks Look Bold in Gold: The annual "Weekend with the Black Hawks presented by John Deere" will be Friday, February 3rd and Saturday, February 4th at Young Arena, and today the team revealed the jerseys they will wear on those two nights.
During many of the past 15 years, Waterloo's John Deere-themed gear has been green, accented in gold. This season, the two colors associated with the iconic brand are reversed. The 2023 sweaters are primarily yellow, with trim and highlights in green. The theme extends to the Black Hawks logo on the front of the jersey, which will include a golden bird silhouette within a green circle, ringed in yellow and with green "WATERLOO BLACK HAWKS" text.
"Retro hockey uniforms have been popular for decades, and the striping on these jerseys adds a retro feel," noted Black Hawks President of Business Operations Joe Greene. "I think that historic tone is significant; John Deere is a company which has been important to the Cedar Valley for more than 100 years, and the Black Hawks have been Waterloo's hockey team for more than 60. Most importantly, I want to thank Deere & Company for this continued partnership, which has been leveraged to help so many good causes since 2008."
This season's John Deere jerseys will be auctioned to benefit the Northeast Iowa Food Bank for the second consecutive year. NEIFB works with non-profits in a 16-county area to help address food insecurity. Each year, food passing through the Food Bank helps provide approximately five million meals to those who struggling with food insecurity. Through efficiency, scale, and the efforts of thousands of volunteers, the Northeast Iowa Food Bank provides four meals for each dollar donated.
The jersey auction will immediately follow Saturday's game.
"The Black Hawks have the highest regard for Barb Prather and her team at the Northeast Iowa Food Bank," said Greene. "We are very pleased our supporters will have a chance to bid on a set of jerseys which will help feed people in Waterloo, Cedar Falls, and so many of the other communities where our fans come from."
The Black Hawks wear their 2023 John Deere jerseys while hosting the Fargo Force. The Friday, February 3rd game begins at 7:05 p.m., while the Saturday rematch starts at 6:05 p.m. John Deere employees and retirees can take advantage of a limited quantity of subsidized $5 tickets, while supplies last. Once those seats have been sold, $10 tickets will be available for John Deere families in all arena seating sections. To order, call the Domino's Black Hawks Box Office at (319) 291-7680 or visit tickets.waterlooblackhawks.com.