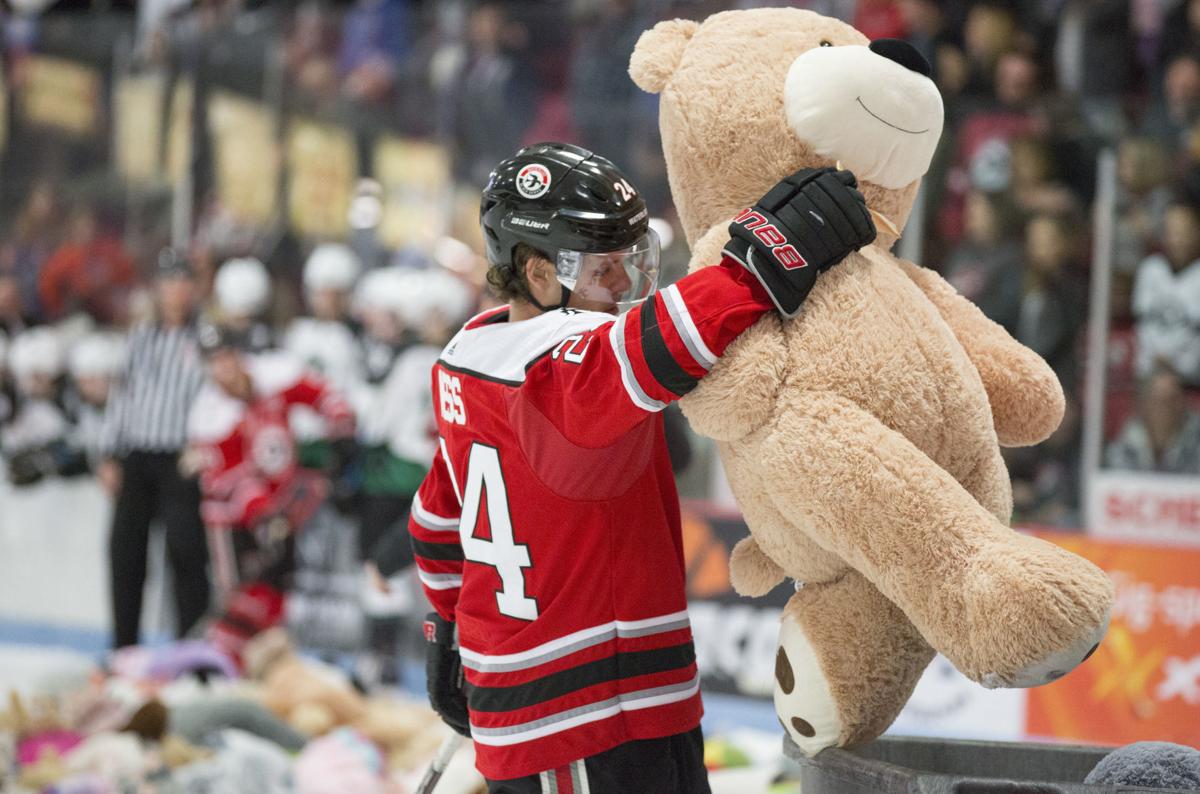 WATERLOO — The standings are nothing but a mirage.
After posting back-to-back wins over Omaha Dec. 13-14, the Waterloo Black Hawks found themselves all alone in first place in the United States Hockey League's Western Conference.
At 18-5-1, the Black Hawks are nine points clear of Fargo in the West with just under half of the regular season played. The hot start is in line with the 20-4-1 mark Waterloo had during the 2013-14 season when the Black Hawks went on to win the Anderson Cup for the league's best regular-season record.
But leading on Dec. 14 and leading at the conclusion of the regular season are two different things, according to Waterloo head coach P.K. O'Handley.
"We have to continue to get better," O'Handley said. "Sometimes as a staff we look at the standings and are real about it because the standings aren't real right now. The players look at the standings and say, 'What do you mean, we are doing fine.'"
O'Handley fully believes this team has the capability to sustain season-long success, saying he can't recall one time the staff has had to challenge the team's work ethic.
"This group as whole has never short-changed us on effort," O'Handley said.
Where O'Handley wants to see continued progress is in working smarter and executing at tempo.
"Finishing plays off are keys for us going forward," O'Handley said. "The intention is there to make plays, and make plays at tempo, but sometimes we get a little convoluted and don't finish the play.
"That is not always at the net. It is finishing a play to exit a zone, finishing a play to enter a zone and finishing a play to keep a zone that ultimately ends up at the net. Those are a little bit of our Achilles heel right now and we are really going to have to take steps in that area."
Waterloo returned from a two-week break Thursday and plays at Des Moines on Friday before hosting the Buccaneers Saturday at Young Arena.
You have free articles remaining.
MONTGOMERY CLOSE: Second-year forward Dane Montgomery is expected to return to the lineup after the New Year. Montgomery has not played since suffering an upper body injury in a game at Dubuque on Nov. 8.
In 48 career games, Montgomery has six goals and three assists.
"When he gets back, I think it gives us a little more depth for sure," O'Handley said. "We are still waiting on a couple of college guys that may return. Things can change here after the New Year rather rapidly."
PAVELSKI'S MILESTONE: Former Waterloo Black Hawk Joe Pavelski played in the 1,000th game of his NHL career Dec. 20 when the Dallas Stars played at the Florida Panthers.
Pavelski spent two seasons in Waterloo from 2003-05 and was a member of Waterloo's Clark Cup championship team in 2004.
"It is great pride," O'Handley said. "Great pride for him and his family, and a testament to his professionalism to be able to do that. And, I think great pride for the organization in that we played a role in helping him get there.
"It is not just the coach or coaches. That is Todd Klein (team trainer). That is the fans. That is West High School. Those things are not lost on Joe or any of our NHL players. It is probably the best part of our story is we are getting more and more guys to become everyday professionals.
"They haven't forgotten their time here and that includes the fans, community and the school. It is pretty cool. It is a great thing for Joe."
600 WINS IN WATERLOO: On Dec. 13, O'Handley won his 600th regular-season game as the Black Hawks' head coach. He has 741 total victories.
"I think when I came here I had a pretty good knowledge of the glory years and then the years of futility," O'Handley said. "The history of it to bring it back in a new age of the game is probably the thing that gives me the most pride as we have restored the franchise and maybe expanded on the heights and sustained it for a while. A long time, really."
Waterloo Black Hawks coverage
Waterloo Black Hawks coverage
Stories of our coverage of the Waterloo Black Hawks.