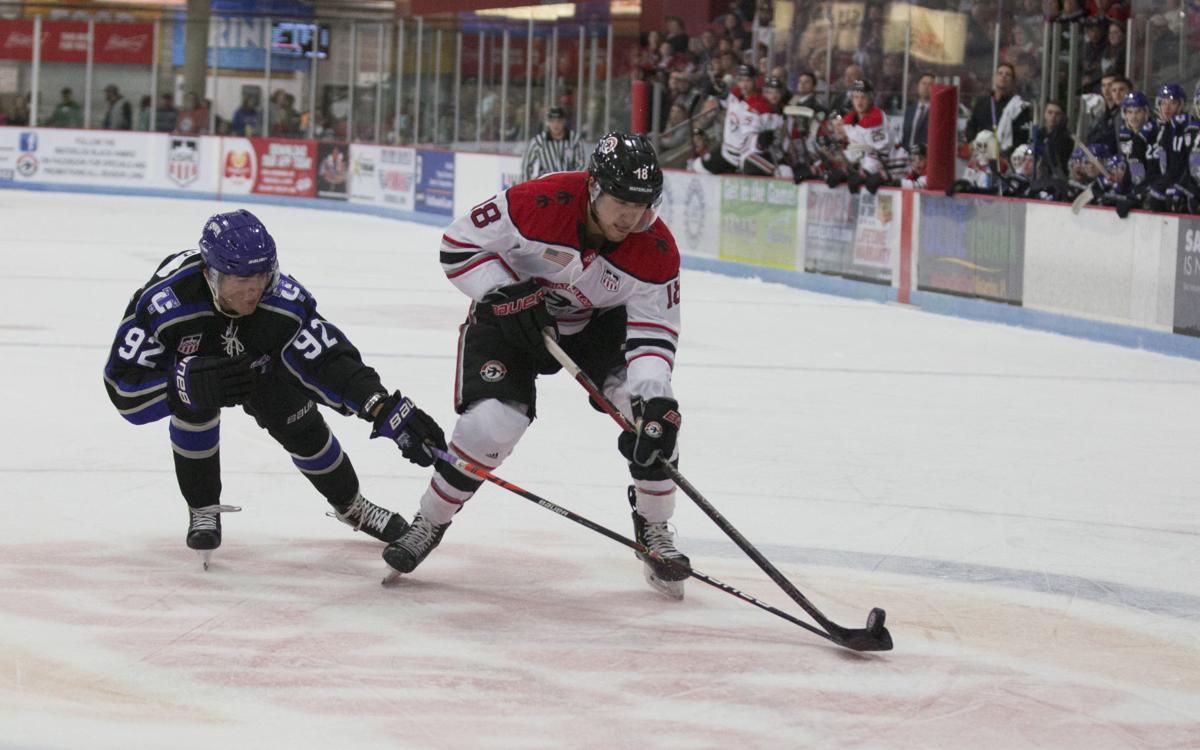 WATERLOO — It was either keep up or get left behind.
Growing up, Xander Lamppa was fortunate that his older brother, Isaac, and his friends let him play hockey with them.
While the invitation was always there to participate, the older group was not going to let up on the younger Lamppa, so he did what he had to do — get better.
That challenge by Isaac and his friends, Xander believes, is the reason he is becoming one of the top uncommitted targets in the United States Hockey League in his second season with the Waterloo Black Hawks.
"I think it was a big part of my development until I was a sophomore in high school," Lamppa said.
Lamppa comes from a hockey family. Isaac continues to play at Creighton University on its club team, while his dad, Brent, played at Notre Dame (1991-95).
"That always helps," Black Hawks' head coach P.K. O'Handley said. "When you have to compete against an older sibling you either survive or get out. That helped."
The daily lessons for Lamppa, who appeared in 58 games last year and in 35 games this season is the seventh-leading scorer in the USHL with 12 goals and 27 assists, continued beyond trying to stick with his older brother.
With a 40x60 rink in his backyard, the three Lamppas – Xander, Isaac and Brent – spent countless hours playing one-on-one-on-one for further skill development. If it wasn't on the outdoor rink, it was inside the garage, and there were plenty of basement battles, too.
"We played a lot of games with him (dad Brent), a lot of garage hockey," Xander recalled. "We had a lot of good times doing it. It is probably where I developed my stick skills."
After a standout career at John Marshall High School in Rochester, Lamppa played one season with the Austin Mavericks under former Black Hawks assistant coach Steve Howard.
You have free articles remaining.
Lamppa said he learned a lot from his year in the NAHL.
"There are six or seven 20-year-olds on your team so it is an older league. It was really humbling.
"Everyone in that league is trying to get to the USHL and guys are working hard every day to get that opportunity and it's the toughness of the league because of that. I think that was what I learned most."
Lamppa now plays with the grit of a seasoned junior hockey player.
That grit and the production he has had through half of the USHL season where the Black Hawks lead the Western Conference with a 26-8-1 record, has made him one of the top targets of college scouts.
Lamppa said he has been on one official visit to Bowling Green, but said he might still be a month or two away from making a decision.
"He is getting a lot of attention right now," O'Handley said. "He won't stay uncommitted for long. He has earned that right."
O'Handley says college scouts are attracted to Lamppa's puck skills, vision and ability to make the hard plays. Those same scouts have knocked Lamppa's skating, but O'Handley scoffs at that, saying he had a forward during the 2003-04 season who's skating was also questioned.
That player — Joe Pavelski — ended up being taken in the seventh round of the NHL draft and now has played in more than 1,000 career NHL games.
"I'm not putting him in that same category, but he works hard at his skating and continues to work at it," O'Handley said. "It is not a pure thing. The rest of his game is pure – passing, shooting and vision."
Photos of Waterloo Black Hawk Xander Lamppa