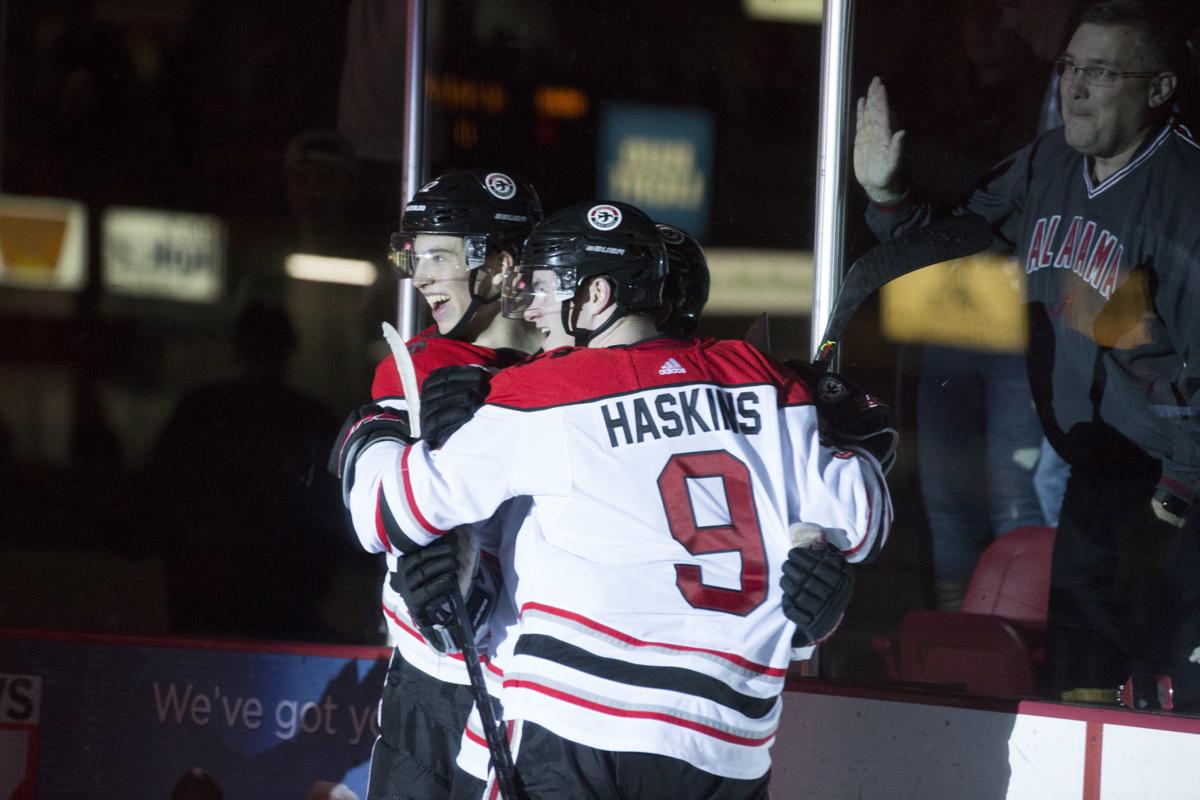 WATERLOO – The inevitable came down the pipeline Wednesday when the United States Hockey League announced it was canceling the rest of the 2019-20 season and the 2020 Clark Cup playoffs because of concerns with the COVID-19 pandemic.
The USHL made its announcement stating that social distancing measures to control the spread of COVID-19 could extend into the summer leaving no avenue to postpone, delay or play a condensed conclusion to the current season.
"This decision was not an easy one to make, but was a necessity in order to keep our athletes, staffs and fans in all 16 of our communities safe amid this international health risk," USHL President and Commissioner Tom Garrity said. "While we believe our product is the best junior hockey that fans can view, we also understand the health of our athletes, employees, fans and communities is more important during this time."
The decision brings to an end another banner season for the Waterloo Black Hawks, who end with a 33-14-2 mark and a first-place standing in the USHL's Western Conference.
Black Hawks head coach P.K. O'Handley said he couldn't agree more with the league's decision adding that after league-wide conference calls and other communication on how to proceed after last week's decision to suspend regular-season play it was the only logical decision the USHL could make.
"We have different teams with different needs and different situations and to say it all fits in one square is not true," O'Handley said. "I think that part is probably as much as anything that led to this decision. The hockey coach in me says we could have delayed and I will always wonder that, but this is the right decision.
"I support the decision because you cannot ignore what is going on in the world. It is a scary time. You feel somber about what you lost, but in the big picture, truthfully, we didn't lose anybody and that is more important than anything.
"In our small version of the world and our sport, I feel for our players, staff and fans. We had a really good team that I felt was coming on at the right time and we will never be able to see that to fruition which is a bitter pill to swallow. But I cannot state this enough that there are a lot of bigger things that are of the upmost of importance. This was the right call."
The Black Hawks sent their players home last Friday.
O'Handley says that naturally the players are hurting and confused and in some aspects, especially the 17 and 18-year old players that are draft-eligible for June's NHL draft.
"They are completely panicked over that and they shouldn't be," O'Handley said. "But they are and that is natural. How will the draft work … we don't know. That is probably the most frustrating part about so much of this. You just don't know. The more questions you ask the more there is another question with no answers."
With so much out the Black Hawk organization's control, O'Handley and his coaching staff will focus on what it can control.
While a big part of the staff's focus will be directed toward preparing for the still on schedule USHL drafts – Phase I for 2003 birthdate players (May 4), and Phase II for all eligible junior-hockey aged players (May 5) – O'Handley has given his staff homework.
"We are using it as an opportunity within our staff to do some case studies and team studies of successful organizations that our guys can work on to see if we can improve our practices," O'Handley said. "It is not an opportunity to sit around and wallow. I think it is an opportunity for our group to try to get better individually and collectively. One thing this will allow is for us to peel the banana back and dive into every area on how we do things as it relates to our players and our personnel. We are going to do that."
The Black Hawks as an organization also announced plans on ticket redemption and credit policy.
"We appreciate the loyalty of Black Hawks fans, who have been very patient as we have run into so many unprecedented moments during the last week," said Black Hawks President of Business Operations Joe Greene. "On behalf of the organization, we would like to thank all of our fans for their role in making Young Arena the best place to play in junior hockey.
"During the weeks and months ahead, the Black Hawks organization will continue to employ our full-time staff, and we are evaluating a strategy to compensate Black Hawks game night staff."
Waterloo Black Hawks coverage
Stories of our coverage of the Waterloo Black Hawks.
Be the first to know
Get local news delivered to your inbox!