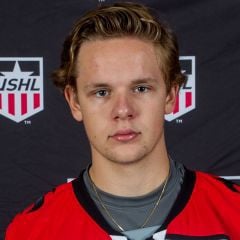 WATERLOO — A three-goal outburst in the second period and an early goal in the third helped Tri-City to a 4-3 United States Hockey League victory over Waterloo Tuesday at Young Arena.
It was the fifth one-goal game played between the Storm and the Black Hawks, but the first won by Tri-City. It also came on the heels of Waterloo winning back-to-back games over the Storm in Kearney, Neb., Friday and Saturday.
After a good start, things turned quickly for the Black Hawks in what head coach P.K. O'Handley said is becoming a disturbing trend.
"We started good, the middle frame was garbage and started the third with a blown coverage," O'Handley said. "After that we played okay, but we put ourselves in a position where we were chasing the game."
Waterloo took a 1-0 lead on a strong individual effort by Griffin Ness with 9:17 left in the first. Ness outfought Storm defender Cole McWard for a puck along the boards in the neutral zone. He then outraced McWard into Tri-City's zone where his quick shot from the right circle found the back of the net.
But things turned in the second. After Colby Ambrosio tied it for Tri-City, Dane Montgomery scored on a penalty shot to give the Black Hawks a 2-1 lead with 10:27 left in the period.
Over the next 12 to 13 minutes of play the Storm dominated.
"We got away from everything really," O'Handley said. "I can't say it was one thing. We are fragmented a little bit. One mistake leads to two and two leads to three and that is kind of what we've done the last four or five games. We've gotten away with it sometimes and sometimes we haven't."
Ambrosio tied the game with a power-play goal with 7:50 left in the second, and Joey Cipollone scored on a breakaway with 2:56 remaining to put the Storm ahead for good.
Mitchell Miller made it a two-goal game just 2:15 into the third, before Waterloo's Kyle Haskins scored to cut the Black Hawks' deficit to one with 10:46 remaining.
"Puck management in the second period was just terrible," O'Handley said. "Turnovers. Forcing plays that weren't there into a turnover and if you are not going to back pressure properly, you are going to get what you get and we got it.
"So, we've got a lot of things to correct."
The Black Hawks played without several regulars — Connor Caponi, Joey Cassetti and Ryan Drkulec — due to either injury or illness.
"We're depleted," O'Handley said. "But our best guys aren't our best guys, our middle is trending toward the bottom and the bottom is accepting they are on the bottom of the lineup. That is a tough way to grind through a hard part.
"It is a hard part right now. We have a lot of things going against us, but we are using them as a crutch rather than getting through it."
Waterloo (24-7-1) returns to action at Dubuque Friday and Saturday.
FIRST PERIOD – 1. Waterloo, Griffin Ness (Dane Montgomery, Nic Belpedio), 10:43. Penalties – Griffin Ness, Wat (hooking), 6:26, Aaron Bohlinger, Wat (hooking), 14:51, Colby Ambrosio, TC (), 18:55.
SECOND PERIOD – 2. Tri-City, Ambrosio (Matthew Kneis), 5:57, 3. Waterloo, Montgomery (unassisted), 7:33, ps, 4. Tri-City, Ambrosio (Kneis, Mike Kester), 12:10, pp, 5. Tri-City, Joey Cipollone (Benji Eckerle, Mitchell Miller), 17:04. Penalties – Luke Bast, Wat (hooking), :33, Brehdan Engum, Wat (interference), 11:21, Mason Reiners, Wat (roughing), 13:55, Ian Murphy, TC (roughing), 13:55, Matthew Argentina, Wat (slashing), 17:04.
THIRD PERIOD – 6. Tri-City, Miller (Carter Mazr), 2:15, 6. Waterloo, Kyle Haskins (Reiners, Xander Lamppa), 9:14. Penalties – None.
Goalies – Tri-City, Todd Scott (29 saves). Waterloo, Gabriel Carriere (26 saves). Referees – Eric Krasnichuk, Jeff Parker. Linesmen – Cam Dykstra, Bill Hancock.
Photos: Black Hawks Clark Cup chase 2018.
050518HO-fargo-Waterloo-4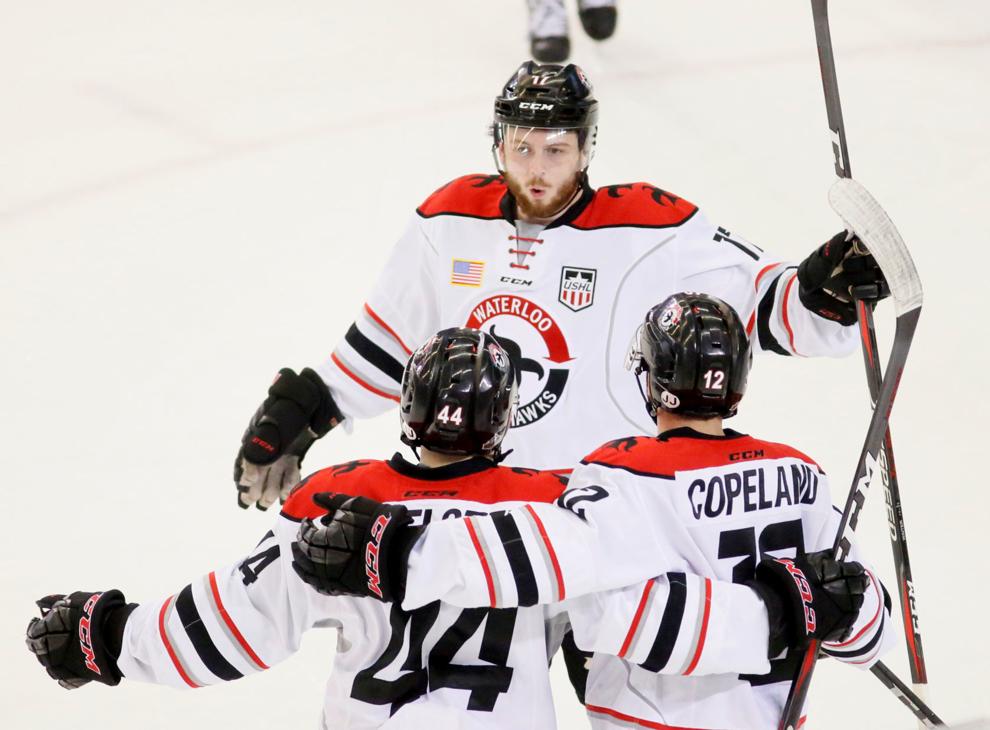 042918JN-fargo-black-hawks-4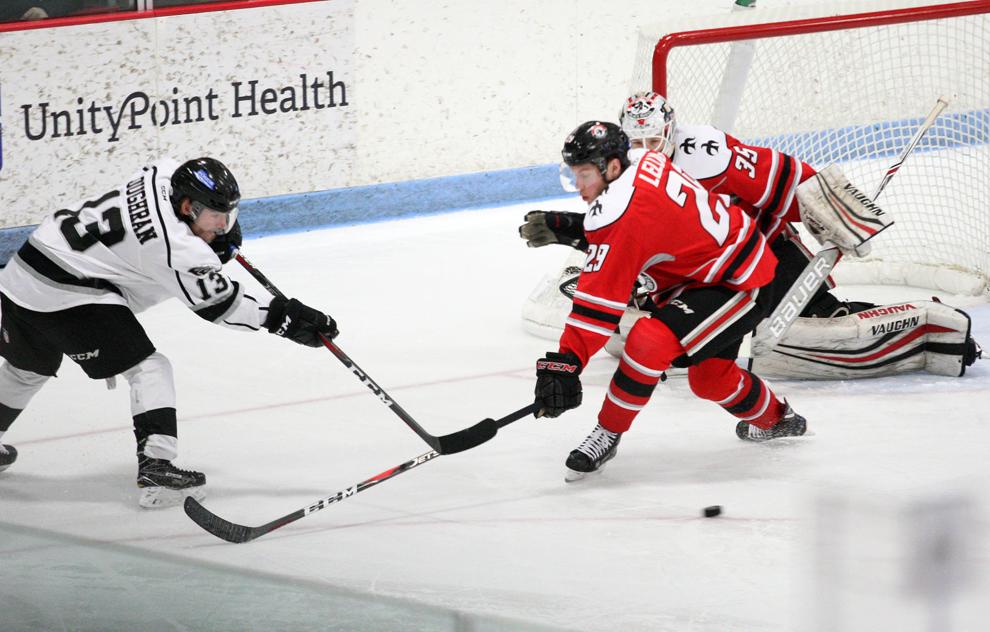 042918JN-fargo-black-hawks-6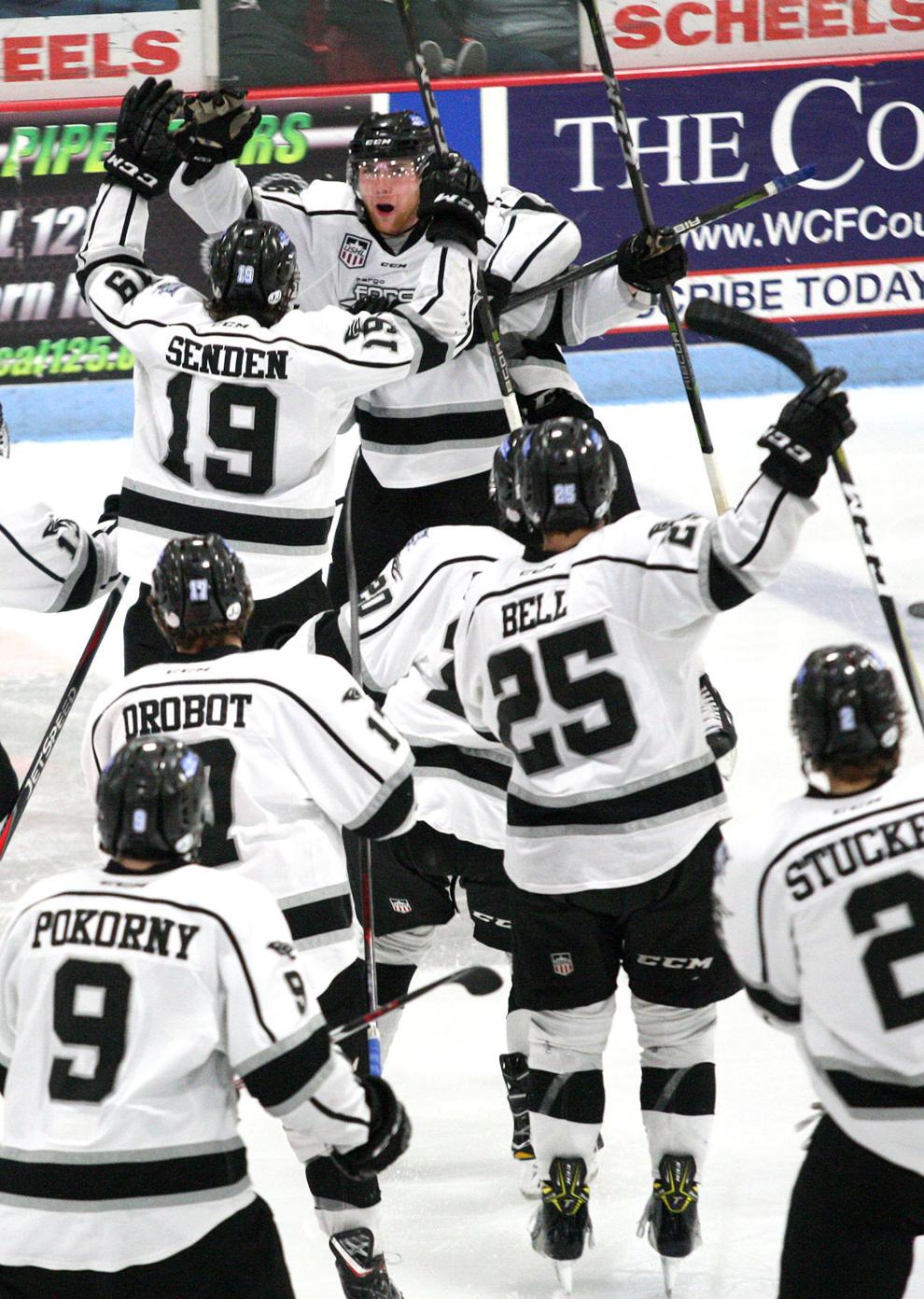 042918JN-fargo-black-hawks-5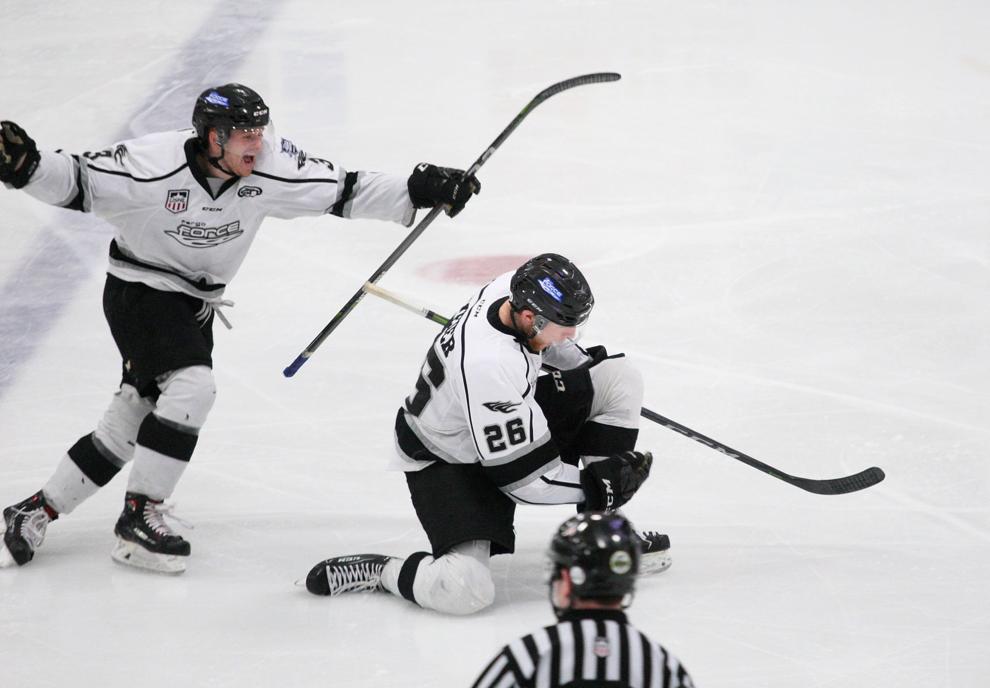 042918JN-fargo-black-hawks-3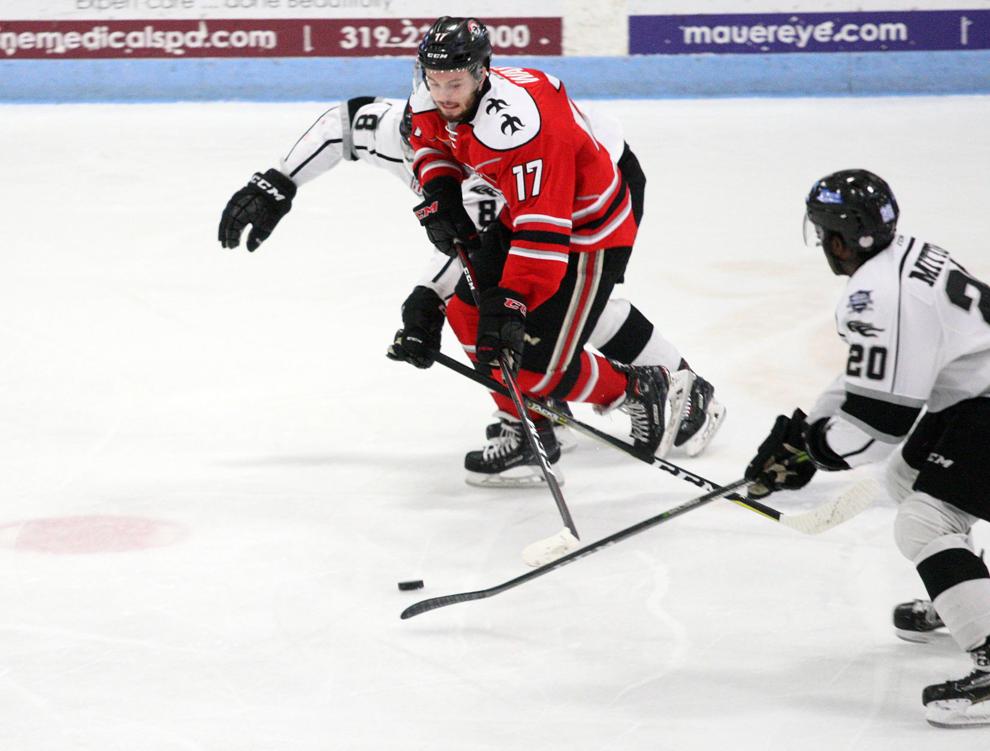 042918JN-fargo-black-hawks-2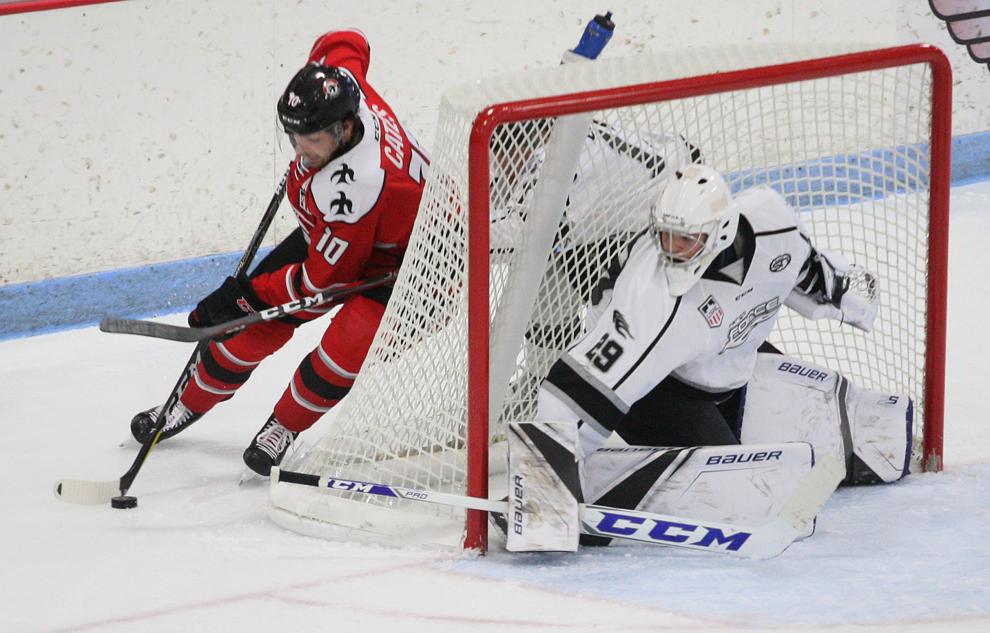 042918JN-fargo-black-hawks-1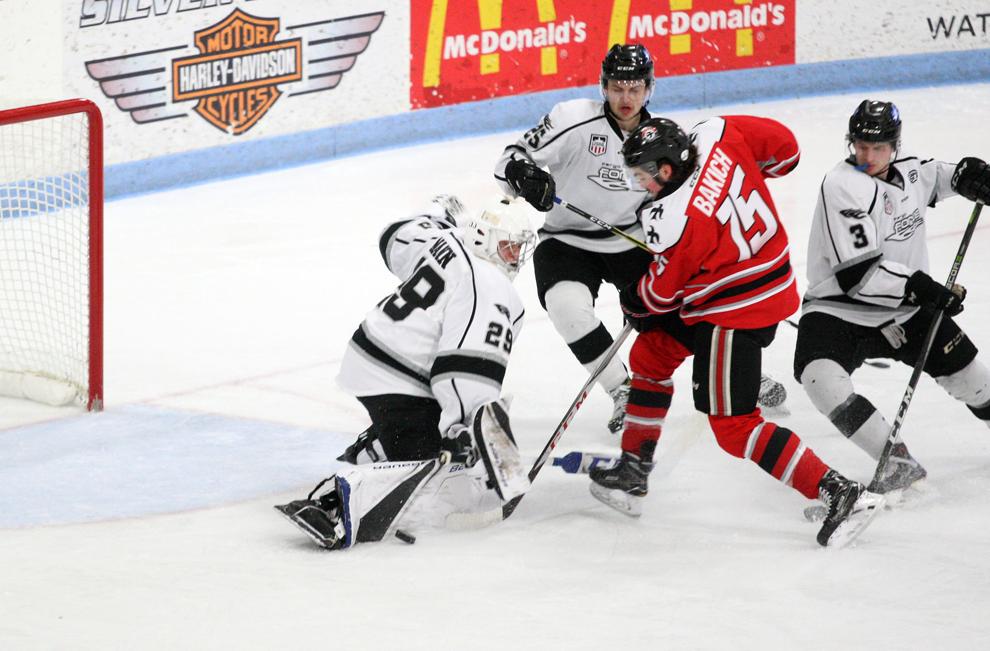 042818bp-blackhawks-fargo-3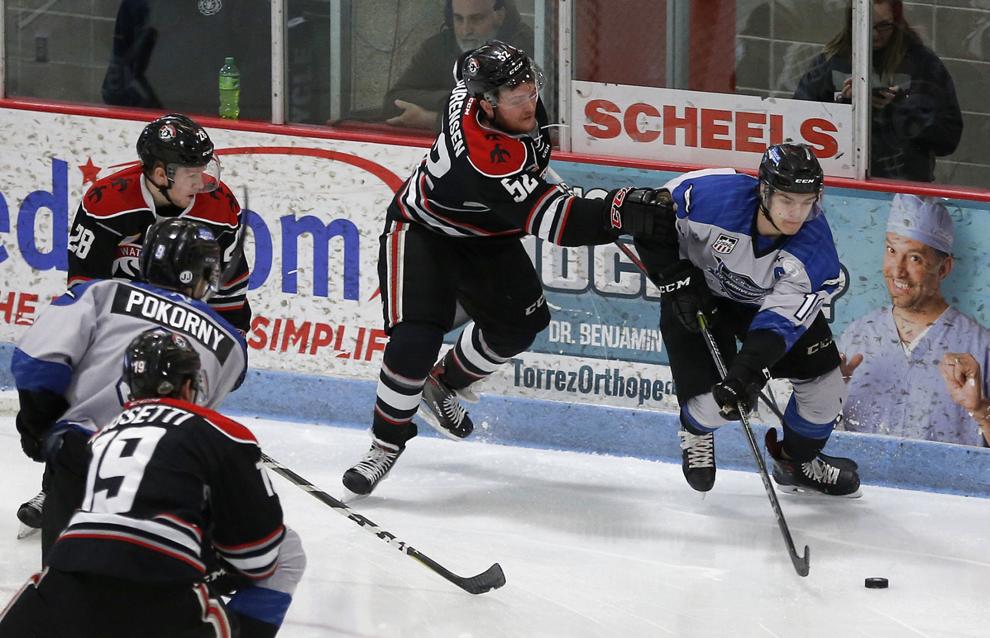 042818bp-blackhawks-fargo-2
042818bp-blackhawks-fargo-1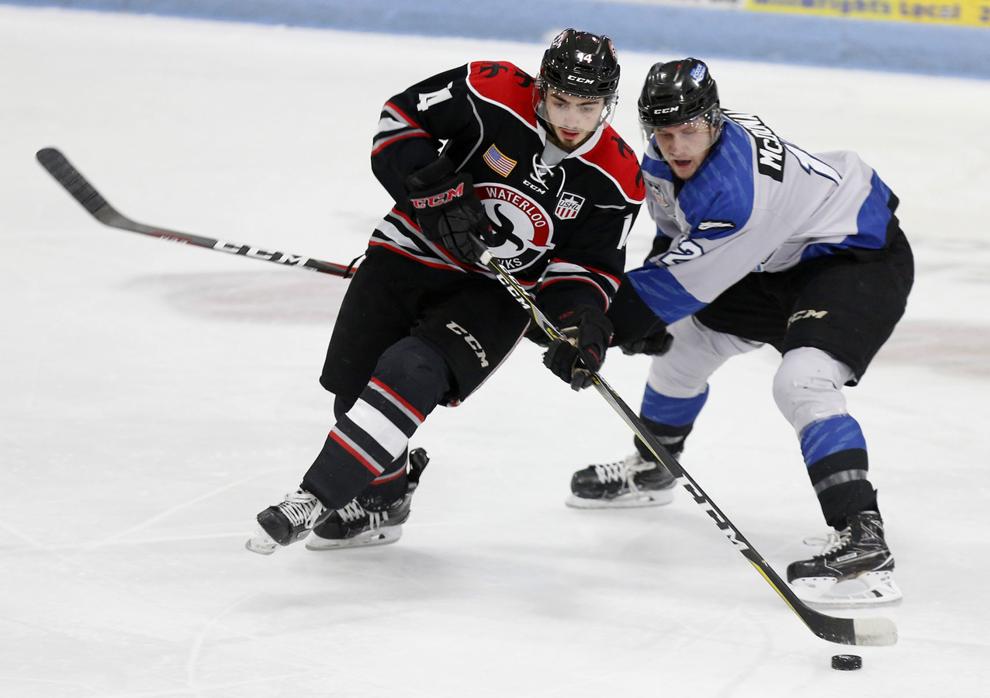 042818bp-blackhawks-fargo-4