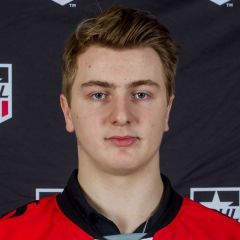 SIOUX CITY – Wyatt Schingoethe had a hat trick, and Joe Cassetti registered five points as the Waterloo Black Hawks dominated the Sioux City Musketeers for the second consecutive night in an 8-2 United States Hockey League victory Saturday.
One night after Waterloo won 5-0, Schingoethe and Cassetti combined for three first-period goals for the Black Hawks.
Schingoethe scored just 1 minute and 4 seconds into the game, and then added his second goal with 13:11 left. Cassetti assisted on both. Then Cassetti found the back of the net with a power-play goal with 7:55 left in the period on assists from Aaron Bohlinger and Schingoethe.
Bohlinger also assisted on the first goal.
Patrick Guzzo made it 4-0 just 2:02 into the second, before Schingoethe scored with 13:13 to go to complete his hat trick.
Cassetti scored 1:31 into the third, and Luke Bast scored a short-handed goal to make it 7-0 before Sioux City broke up the shut out with a power-play goal.
With the score 7-2, Ryder Rolston closed out the scoring with 3:19 remaining.
Gabriel Carriere made 22 saves for his 21st victory of the season.
Waterloo is at Dubuque Wednesday.
FIRST PERIOD – 1. Waterloo, Wyatt Schingoethe (Joe Cassetti, Aaron Bohlinger), 1:04, 2. Waterloo, Schingoethe (Cassetti), 6:49, 3. Waterloo, Cassetti (Bohlinger, Schingoethe), 12:05, pp. Penalties – Connor Caponi, Wat (holding), 7:08, Brian Carrabes, SC (hooking), 10:16, Caponi, Wat (roughing), 16:58.
SECOND PERIOD – 4. Waterloo, Patrick Guzzo (Ryder Rolston), 2:02, 5. Waterloo, Schingoethe (unassisted), 6:47.. Penalties – Joey Strada, Wat (roughing), 6:10, Sam Antenucci, SC (roughing), 6:10.
THIRD PERIOD – 6. Waterloo, Cassetti (unassisted), 1:31, 7. Waterloo, Luke Bast (Cassetti, Mason Reiners), 8:29, sh. 8. Sioux City, Gabe Blanchard (unassisted), 9:55, 9. Sioux City, Evan Bushy (unassisted), 10:30., 10. Waterloo, Ryder Rolston (unassisted), 16:41. Penalties — Jacob Bengtsson, Wat (hooking), 7:58. Griffin Ness, Wat (high sticking), 8:18.
Goalies – Waterloo, Gabriel Carriere (22 Saves). Sioux City, Ethan Haider (33 Saves). Referee – Jake Jackson. Linesmen – Michael Ifkovits, Aaron Mostrom.
Be the first to know
Get local news delivered to your inbox!