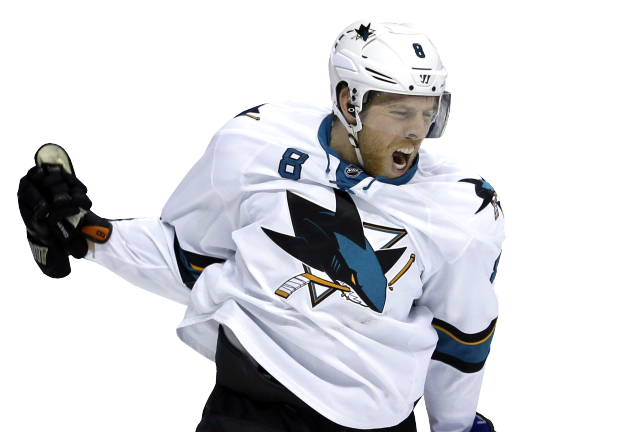 PLOVER, Wis. | Sometime soon, after a winter of heavy snow has melted away and the deep Midwestern freeze has released its grip from the ground, there will be a new sign welcoming visitors to the central Wisconsin village of Plover.
"Welcome to Plover, home of Joe Pavelski," it will read while featuring an image of Pavelski in the San Jose Sharks uniform he wears in the National Hockey League.
The signage, expected to be placed just off Interstate 39 where Highway B leads into Plover, is part of Joe Pavelski Day, which will take place Friday in Plover and the neighboring city of Stevens Point. Among other ceremonies, it will include a program at Roosevelt Elementary in Plover, where a second sign will soon welcome students and visitors to the school where Joe's education began.
"Joe and his family are tremendous assets to the Plover-Stevens Point area," notes Dan Mahoney, village administrator of the community of about 12,000 where Joe's parents, Mike and Sandy, still reside. "It's wonderful seeing him succeed and doing so well. Our community is absolutely thrilled for him."
As best as Mahoney can recall, only one other Plover person has had a day named in his honor, Olympic wrestler Dennis Hall, who grew up in Hartley, Wis., but now lives in Plover.
"It's a great honor to Joe," notes Mahoney. "It's about what he's about."
In other words, it's more about the kid from Plover who happens to be an NHL star and an Olympic silver medalist than it is about the Olympian and pro hockey star who happens to be from Plover.
"They're the type of people who don't talk about what they do from a community giving standpoint," adds Mahoney, whose son grew up playing baseball with Scott Pavelski, Joe's younger brother and a current assistant coach for the Waterloo Black Hawks' junior hockey team where both Pavelskis played.
"Joe does a lot around here to give back, but he doesn't like that stuff called to people's attention. He's a very humble guy with all the success he's had.
"That's a special family. It's a family that any community would want ... hard-working, honest, willing to lend a hand, generous people. Joe's the same way."
With the Winter Olympics beginning this week, the timing is perfect to recognize the pride of Plover. Pavelski will become a two-time Olympian in a few days when he joins his Olympic teammates in Sochi, Russia. He'll have fans here in the states scattered from San Jose to the Cedar Valley, but especially in Wisconsin.
"You can tell the community is excited and thrilled for Joe," says Mahoney. "Folks in our business community are starting to put up "Good luck Joe" and "Good luck Olympians" on their signage. A lot of sports bars and restaurants are planning events for the Olympics.
"Even some of our schools are getting involved, doing mini-Olympic activities where the kids participate, so we're getting into the spirit of the Olympics."
As for Pavelski, he's a little overwhelmed by all the attention.
"It's a humbling honor," he said last week from his home in San Jose, Calif. "It's pretty cool to have your hometown backing you like that."