DES MOINES -- Crestwood of Cresco's Carter Fousek knows what the score is literally and figuratively.
When Fousek weighed in Thursday afternoon in preparation for the first-round of the Class 2A state wrestling tournament at Wells Fargo Arena, he checked in at 105 pounds.
A pound under. Typically, that is a good thing for a wrestler. In case of Fousek, it is a disadvantage he will have to overcome if he wants to reach his goals.
Fousek's disadvantage is the Iowa High School Athletic Association gave all wrestlers a four-pound allowance this week for the state tournament after harsh weather cost many teams valuable practice time.That means a lot of opponents Fousek will wrestle this week will weigh 110 and possibly more. 
Fousek took care of business in his first round match, scoring an 8-4 win over Cole Nelson of Perry.
"I didn't really feel as good as I normally do in my first match, but I guess I found a way to get it done," Fousek said.
Fousek, seeded sixth, controlled his opening opponent, but understands it is only going to get tougher.
"I know they are going to be bigger than me," Fousek added. "I don't want to try to muscle them. I just got to be quick and out move them, do what I do."
Fousek was one of three Cadets to win opening matches. Kaden Anderlik registered a 13-2 major decision over Joe Weaver of Atlantic at 120 and Colter Bye pinned Brock Wuebker of Green County in 4:55 at 170
You have free articles remaining.
"This year, I'm making everything count," Anderlik, a two-time placewinner. "It felt good to get out there, get the nerves out of your system, soak in the atmosphere and just get the first one so the rest of them you just feel comfortable."
West Delaware, which won the dual championship Wednesday, leads after day one with 19 points, but there are 15 teams within nine points of the Hawks.
Among those are several Northeast Iowa teams. 
Independence is fourth with 15 points after the Mustangs saw Isaiah Weber get a pin at 113, Michael Doyle a major decision at 152, Cole Davis a pin at 160, and Drew Evans a pin at 285.
Another is Union of La Porte City. The Knights received bonus-point wins from Kolten Crawford, a 3:40 pin of Zane Dodson of Van Meter, a major decision from Jack Thomsen at 138, and a pin from Adam Ahrendsen at 152. Union sits fifth with 14.5 points.
"Felt good to get the jitters out of the way," Thomsen said. "I wish I would've wrestled a little more tough on my feet, but just kind of getting momentum going toward tomorrow. Tomorrow is a big day."
The Knights have six of their seven qualifiers alive.
"That was real good for the team race," Ahrendsen said of his pin. "Hopefully, everybody who lost in the first-round will come back and get that consolation title."
Among other area first-round winners were:
New Hampton senior Mason Cleveland pinned Blake Abrahamson of Okoboji in 3:18 at 126.
Jackson Rolfs of Decorah edged Mitchell Joines of Sioux City Heelan, 6-3, at 132.
Riley Burke of Iowa Falls-Alden rlled to a 12-1 major decision over Hunter Shaw of Cherokee at 138.
Max Babcock of New Hampton blanked Dillan Sanders of Washington, 5-0, at 145.
Zach Williams of Osage slipped past Weston Fantz of North Fayette-Valley, 10-7, at 160.
Spencer Mooberry of Osage beat Bryan Graves of Oelwein, 10-6, at 170.
New Hampton's Evan Rosonke pinned Sam Wigans of Clarion-Goldfield-Dows in 3:13 at 182.
Dalton Chipp of Hampton-Dumont pinned Isaac Boucher of Mid-Prairie in 4:17 at 195. Wyatt Folkerts of H-D pinned Carter Reicks of New Hampton in 5:25 at 220.
021419kw-state-wrestling-01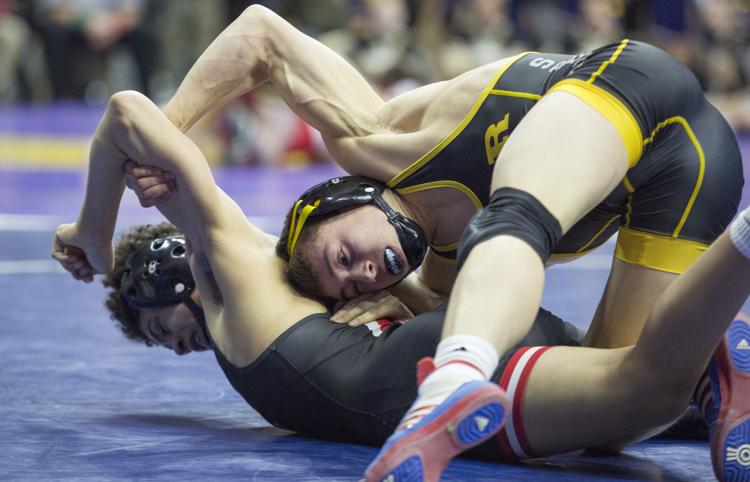 021419kw-state-wrestling-02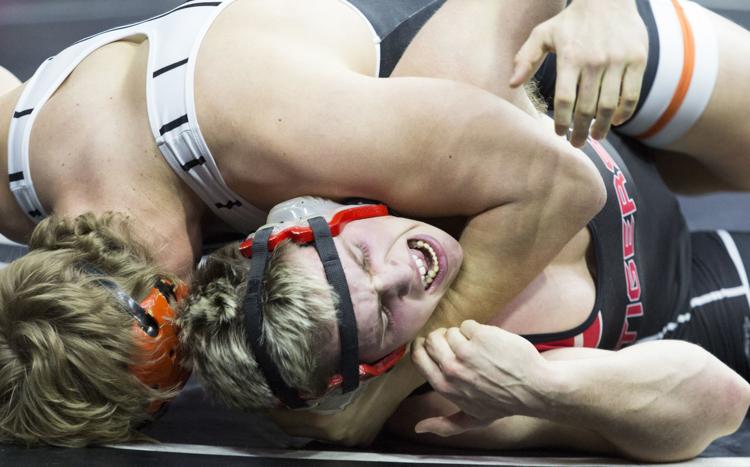 021419kw-state-wrestling-03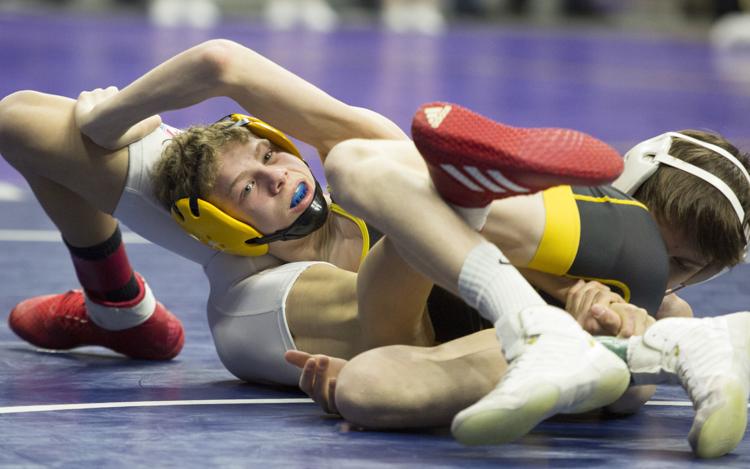 021419kw-state-wrestling-04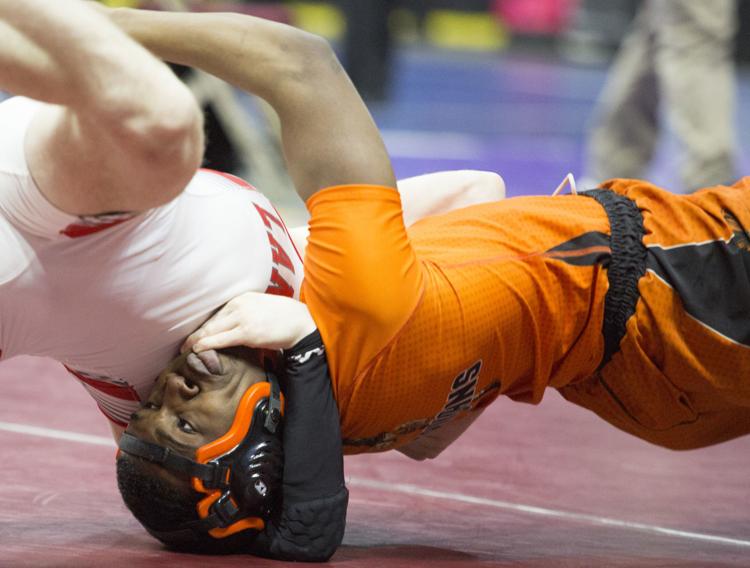 021419kw-state-wrestling-05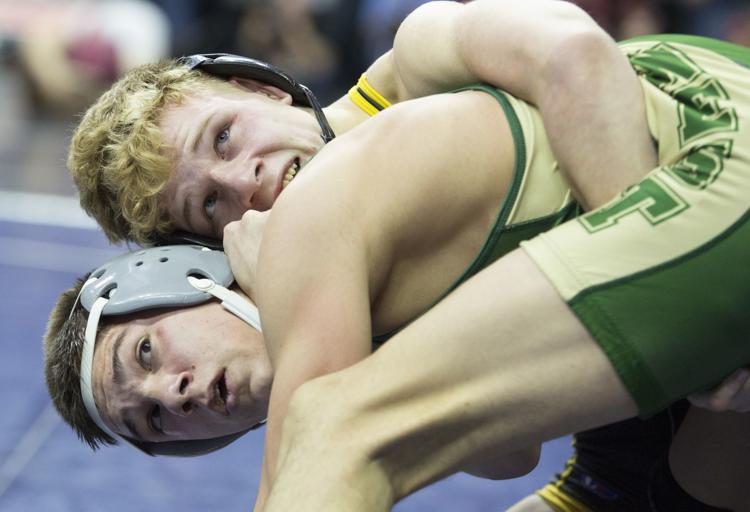 021419kw-state-wrestling-06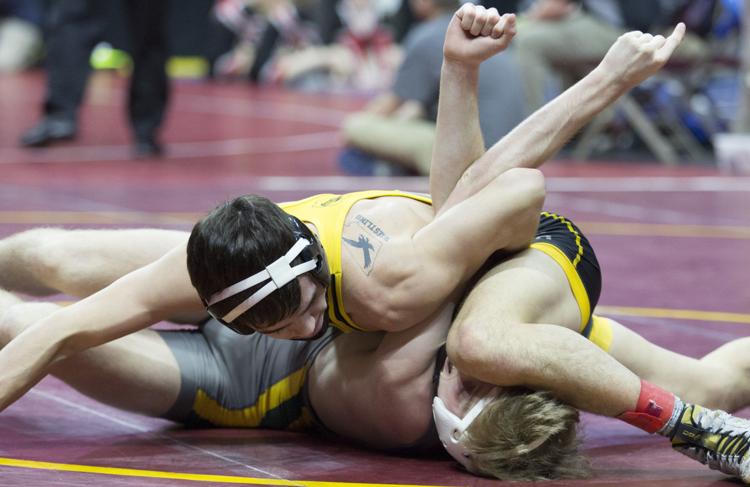 021419kw-state-wrestling-07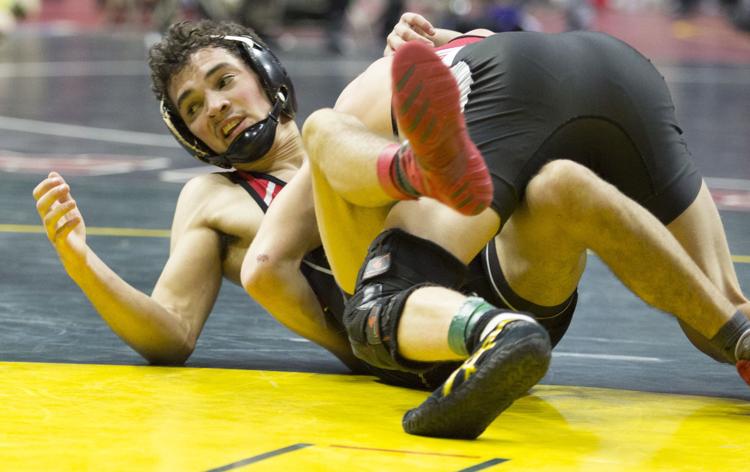 021419kw-state-wrestling-08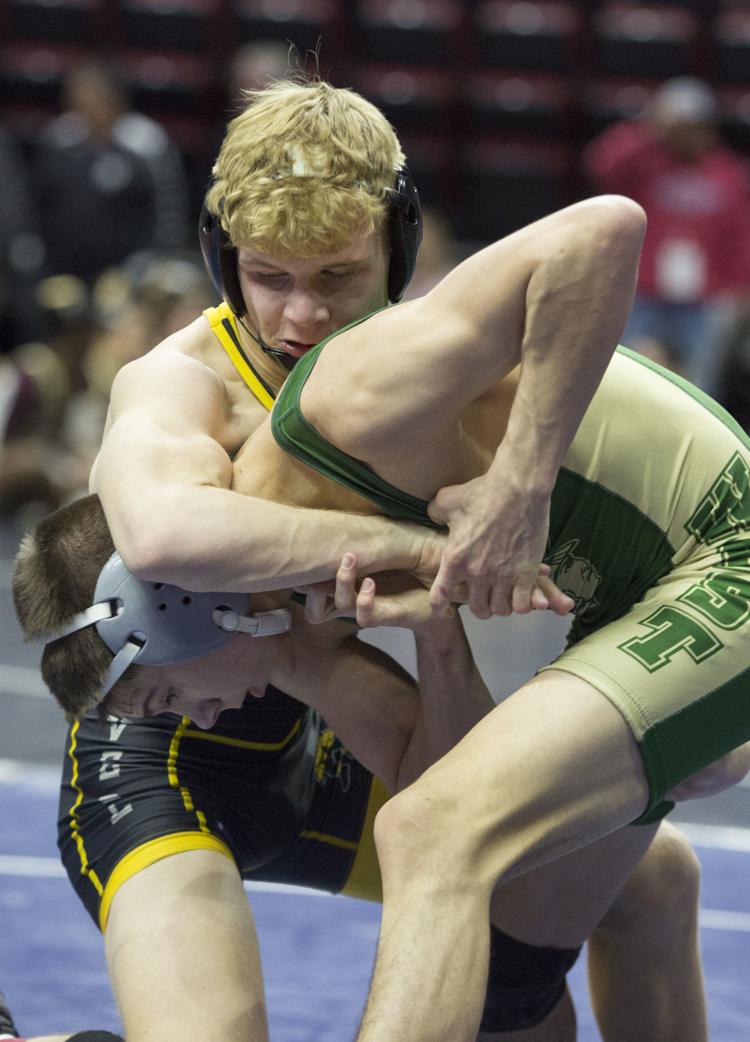 021419kw-state-wrestling-09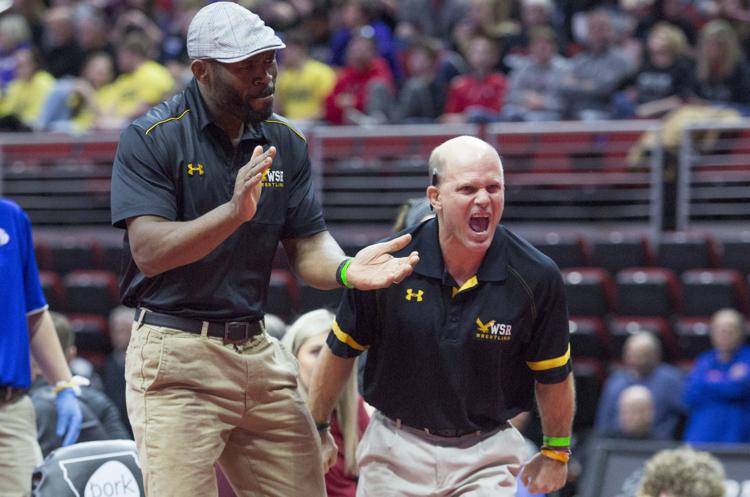 021419kw-state-wrestling-10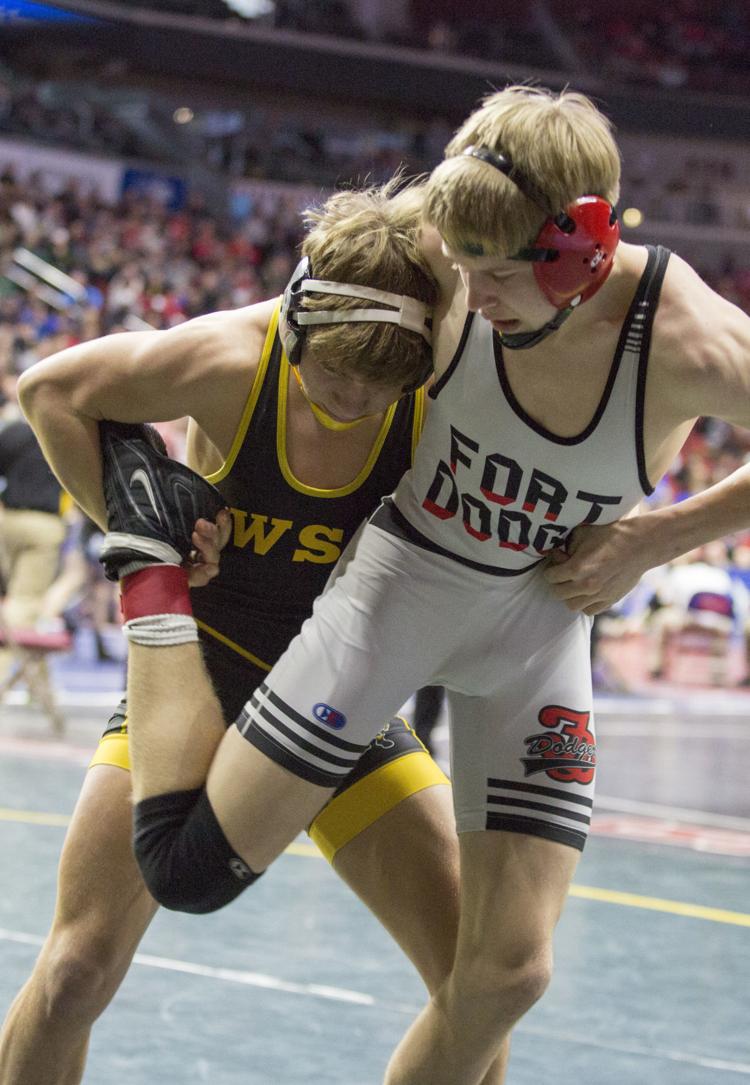 021419kw-state-wrestling-11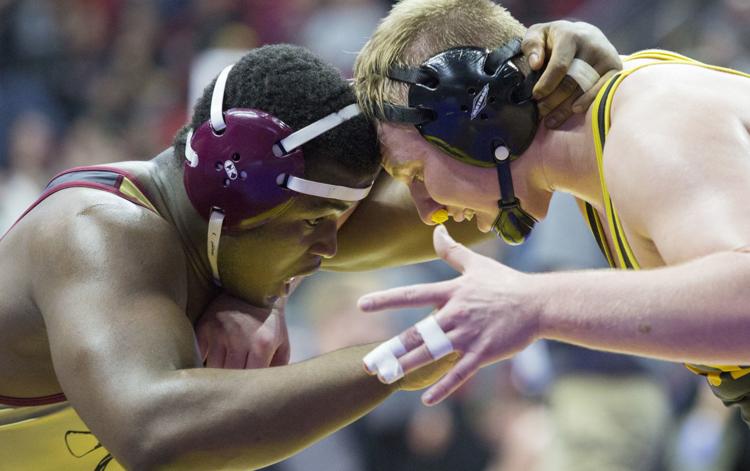 021419kw-state-wrestling-12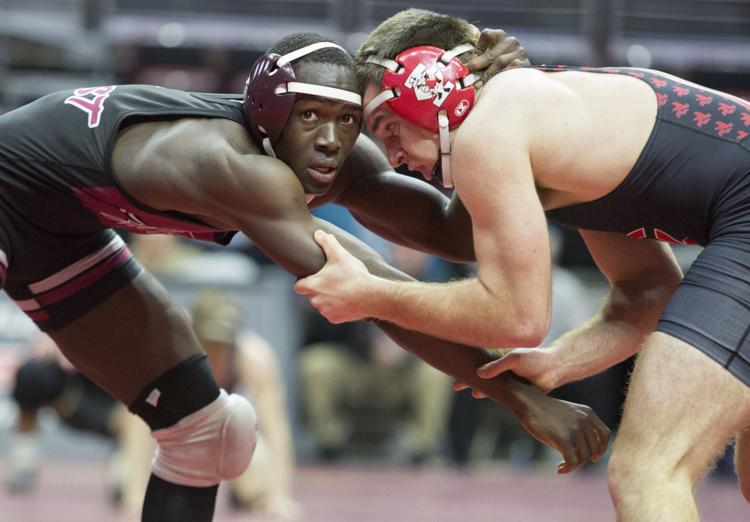 021419kw-state-wrestling-13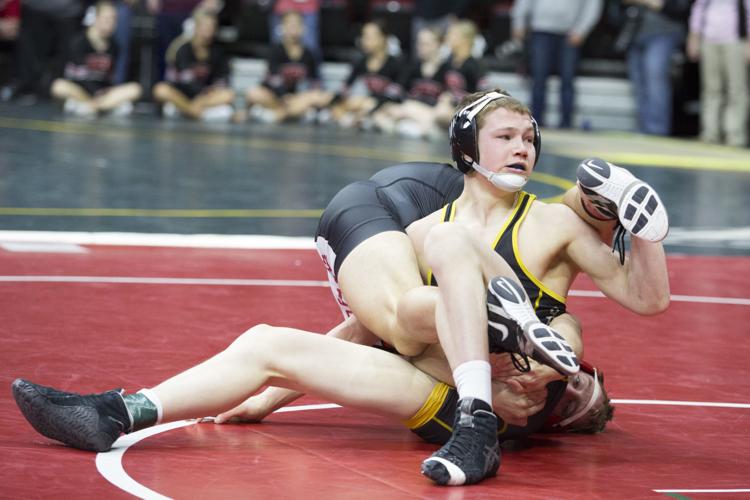 021419kw-state-wrestling-14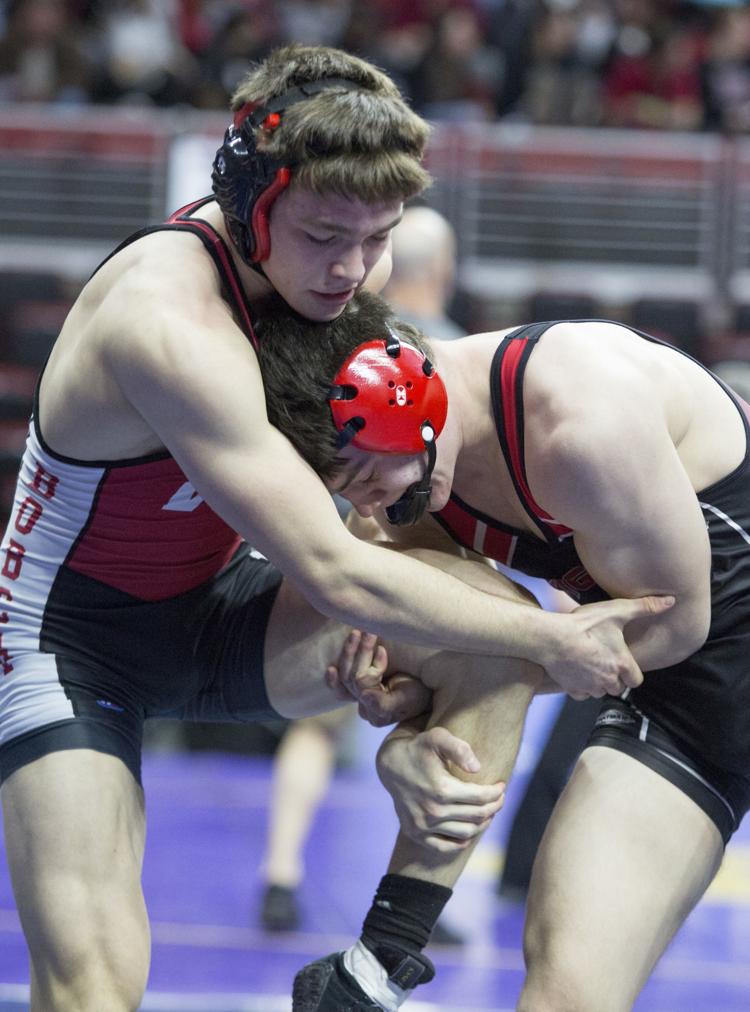 021419kw-state-wrestling-15