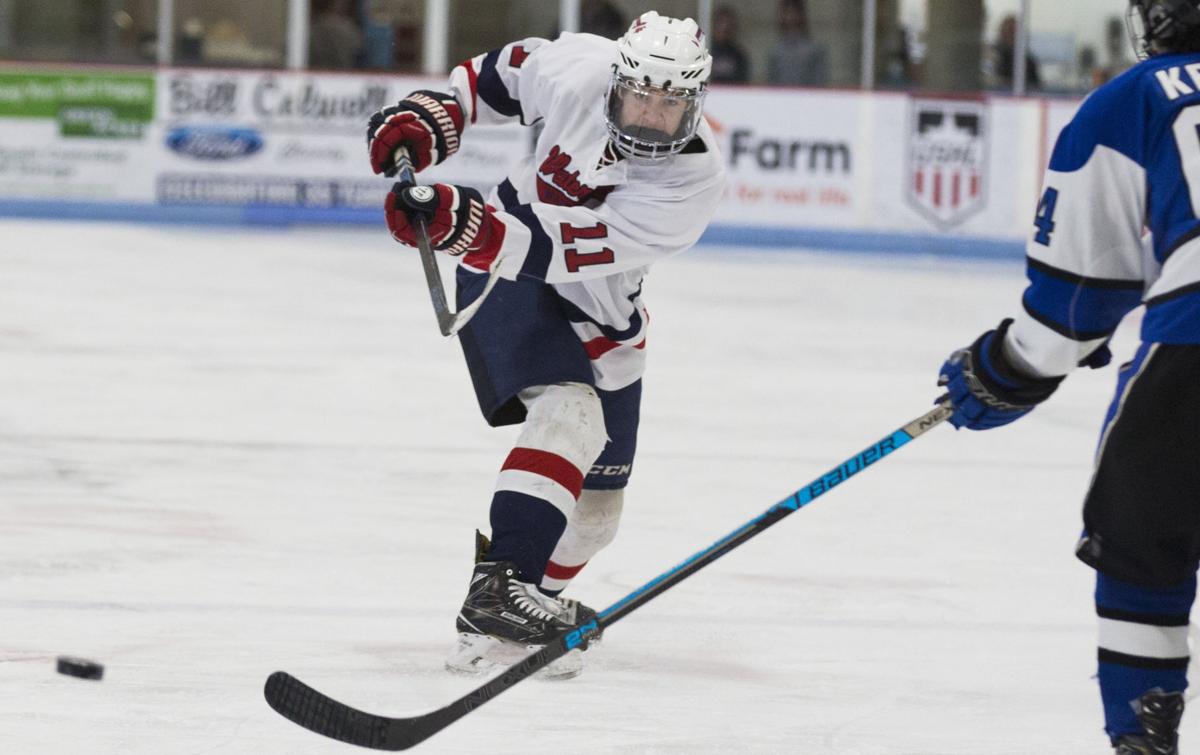 WATERLOO – The makers of the Midwest High School Hockey League gave the Waterloo Warriors no favors to begin the 2020-21 season.
Warrior head coach Brian Cook said there would've been nothing better than to get a softball opponent right out of the gates, but instead Waterloo will get the very best Saturday when the Warriors open their season at home inside Young Arena.
The MWHSHL season opening weekend features the defending regular-season champion Warriors hosting the 2020 MWHSHL tournament champion Kansas City Jets at 7 p.m. Saturday night.
"They are always good no matter whether we play them here or in Kansas City," Cook said. "Yeah, you'd like to have a better feel of what kind of team you have before you were to play them, but you know if you come out of this two-game weekend with points you're feeling pretty good. If you don't, then you have 30 games to figure out where you need to get."
The Warriors will have a new feel to them in 20-21.
No longer will Waterloo have the best 1-2 scoring punch in the league after the graduation of Ben Sinnott and Kole Latusick. Sinnott and Latusick combined for 70 goals and 145 points last year for a Warrior team that went 27-4-0.
"Through the summer and the scrimmage (Waterloo scrimmaged Mason City last weekend) it kind of reinforced that we are going to be a deep team. We have three solid lines and three very solid defensive units.
"We don't have the big superstar per say like we had the last couple of years, but we are going to have three lines, plus defensemen, pitching in to make up for that one line we had the last couple of years."
Recently Cook addressed that loss of Sinnott and Latusick and the loss of their production with his team.
"I challenged our players … I looked around the lockerroom and said, 'you're going to score 20, you're going to score 20 and you're going to score 20,'" said Cook. "We averaged five goals a game last year, which is a lot, and most often you won't give up five goals. I think we will probably be in the three to four-goal range this year and the scoring is going to come from all three lines."
Kole Latusick of Cedar Falls entered this week on the verge of the Midwest High School Hockey League's career assists record.
Among the top players back are Christian Heiser (16 goals, 22 assists), Carter Frost (9 goals, 19 assists), JP Smith (11 goals, 12 assists), J.T. Metcalf (9 goals, 10 assists) and Braydan Kirchmann (9 goals, 9 assists). Additionally, defenseman Landon Sturch had two goals and 13 assists last season.
Smith is out for the first six-to-eight weeks after surgery to repair a broken collarbone, but the Warriors have added a couple of new, veteran players to the team.
Casey Winders of Marion played AAA hockey last year for the Sioux Falls Power 16U, while Brendan Shaner had six goals and 11 assists in 30 games for the Cedar Rapids RoughRiders in MWHSHL play last season.
"Casey is a center and he will give us a little bit of a jump," Cook said. "Brendan, he will have to sit out the first 16 games per league rules as he transferred from another organization in our league, but that time will go fast and he will give us a jolt when he joins us. He's probably one of the two fastest skaters we have."
And one thing Cook is really confident with is his goaltending as juniors Caleb Raisty and Eli Marchese return. Raisty won 20 games last year with a 1.66 goals against average, while Marchese went 7-2-0 with a 2.15 gaa.
"You need to have good goaltending in this league to win and we have very solid goaltending," Cook said.
Get in the game with our Prep Sports Newsletter
Sent weekly directly to your inbox!