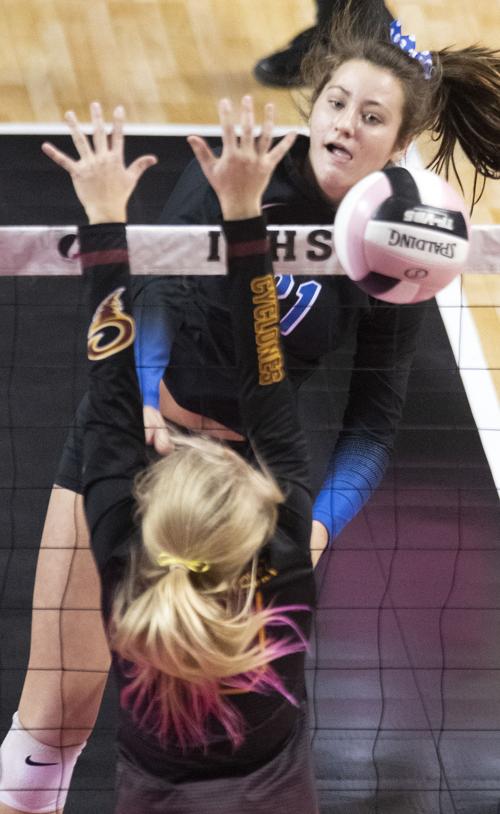 OSAGE — Cedar Falls head coach Matthew Johnson figured out what the state of Iowa already knew.
Dike-New Hartford is good. Probably elite. Maybe unbeatable.
"I felt the best thing they did is they're just so steady," Johnson said. "You can stay with them for stretches, it is so hard because they're so good in every rotation."
The No. 1 team in Class 2A sure looked the part on Saturday.
The Wolverines cruised past the Class 5A No. 8 Tigers 25-16, 25-12 in the championship match of the Osage volleyball tournament held at Osage High School.
It was the cap of the day in which Dike-New Hartford (20-0) swept all five of its matches, twice beating Cedar Falls, and ending 2A No. 8 Osage hopes of a home tournament title.
"It is always exciting," Wolverines head coach Diane Harms said. "We struggled with serve receive, we struggled with certain sets. It is challenging ourselves to be as crisp as we can be."
Glance at the schedule and who DNH has beaten is astounding.
It has beaten 15 teams currently ranked in the top-15, regardless of classification. The only two teams to have taken it to a third set is 3A No. 2 West Delaware in the season opener and 5A No. 3 Iowa City Liberty.
"We're in that gym each day figuring out new things," Wolverines sophomore outside hitter Payton Petersen said.
The first matchup between DNH and Cedar Falls went in the former's way by 21-18 verdicts in both sets. It wasn't nearly the same direction in the second meeting.
It was a 10-5 advantage for the Wolverines that ballooned to 22-10. Despite a 6-1 run by the Tigers, it wasn't enough to stop a win by the consensus No. 1 team in the state per VarsityBound's power rankings.
"This morning, we were a little slow to start, we didn't have as much energy," Petersen said. "We came over to the other side of the gym and wanted to focus on our energy."
Cedar Falls, the runner-up in Pool B, got to the championship match with a three-set thriller over 4A No. 8 Waverly-Shell Rock, the Pool A champion.
After dropping the first set, the Tigers staved off a couple match points in the second set and held off a furious Go-Hawks rally in the third to leave with 20-25, 28-26, 19-17 victory.
"We were really flat that first set," Johnson said. "We got tough. I didn't really have an answer on what we needed to do better and the girls kind of figured out on their own."
DNH breezed past Osage 25-22, 25-15 in the other semifinal. The Wolverines held off a couple small spurts by the Green Devils in the opener then continued to score early in the second set off attacking errors.
Leading 12-11, Dike outscored Osage 13-4 the rest of the way. Petersen had six kills, the same number as her sister Jadyn Petersen. Madelyn Norton dished out 22 assists.
"Osage had a nice back row attack," Harms said. "You always want to make sure you stay ahead and not to panic. We just stayed focused."
WEST GOES 4-2: In Cresco, the Wahawks scored wins over Turkey Valley, North Fayette-Valley, Clayton Ridge and Waukon.
"We got to experiment with a lot of different things, different lineups," West assistant coach AJ Cassidy said.
Natalie Schmadeke and Savannah Ringhede had 49 and 46 assists respectively.
Danica Wrage and CeCe Moore each had seven block assists. Sahara Williams led the team with 48 kills, and Moore had 27.
McKenna Lichty had six ace serves while she and Schmadeke combined to go 84 of 88 serving.
West plays Tuesday at Cedar Rapids Jefferson.