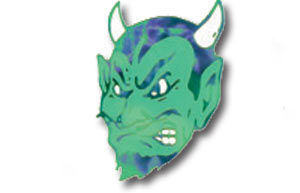 OSAGE — Host Osage defeated a collection of the state's top volleyball teams Saturday in its own tournament.
The Green Devils prevailed over Class 2A's No. 2-ranked Dike-New Hartford in the championship match, 25-22, 25-17.
D-NH advanced to the final with a 25-21, 25-23 win over Class 5A's No. 1 Cedar Falls.
Class 3A's No. 2 Osage defeated the Tigers during pool play and also earned wins over 3A's No. 3 Clarion-Goldfield-Downs, Forest City and Class 4A's No. 9 Waverly-Shell Rock.
Cedar Falls secured a three-set win over Waverly-Shell Rock and swept Forest City in pool play.
Sailors finish 3-1
At Tiffin, the Waterloo Columbus volleyball team finished 3-1 Saturday at the Caroline Found Invite hosted by Clear Creek-Amana.
The Sailors secured a three-set win over Class 5A's Cedar Rapids Prairie, 19-21, 21-18, 15-13. Columbus also defeated the Class 4A's No. 7-ranked host Clippers, 22-20, 21-11 and secured a win over Cedar Rapids Washington, 21-15, 21-19.
Class 2A's No. 5 Dyersville Beckman handed Columbus its lone loss, 21-11, 21-9.
Ali Vesely led Columbus with 32 kills and three blocks.
Swimming
At Waterloo, visiting Decorah posted a 130-56 win over Waterloo Swim.
Decorah sophomore Katerina Kovarik was a four-event winner with titles in the 200 freestyle and 100 breaststroke. Kovarik anchored Decorah's first-place 200 freestyle relay and 400 freestyle relay.
Waterloo's event winners included Kate Miller in the 100 backstroke (1:14.69) and Carley Caughron in the 100 butterfly (59.8) and 200 IM (2:16.66).
Lauren Kimball placed first for Waterloo with a diving score of 487.95 and her teammate Avery Hogan finished runner-up in 436.4.
Get in the game with our Prep Sports Newsletter
Sent weekly directly to your inbox!