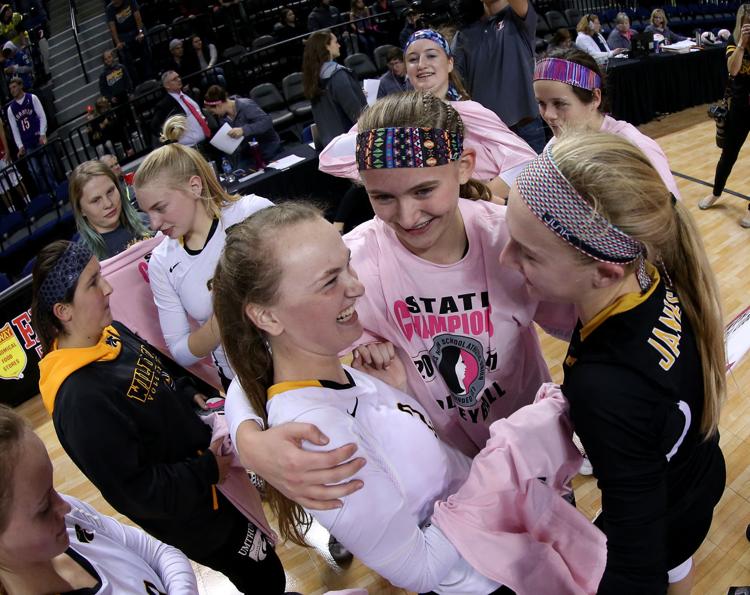 CEDAR RAPIDS — Six players working in unison, Janesville continues to define team success on the volleyball court.
During Friday night's Class 1A state final, the Wildcats used their blend of solid defense, fluid passing and lethal attackers to sweep Le Mars Gehlen, 25-14, 25-16, 25-19, as the state tournament came to a close inside the U.S. Cellular Center.
Adding to its legacy as a small-school volleyball power, Janesville (37-7) has now won three consecutive state titles and four of the last five. This championship run was perhaps more dominant than the last for a program that has now won 21 consecutive sets of state tournament volleyball.
"Sometimes we get in ruts and we just know we have to dig ourselves out of it, we have to be the ones to recover faster," said junior Alisa Bengen, Janesville's third-year setter. "It's a pretty incredible feeling and such a blessing to be part of such a great program."
Outsider hitter Bree Thompson led Janesville with 18 kills as she captained the all-tournament team. Senior outside hitter Kennedy Meister was a valuable weapon in her final match with 14 kills and 11 digs. Lily Liekweg's 14 digs led the Janesville defense.
"It's kind of sad, but I'm just glad I ended it winning," Meister said, addressing her final match alongside a group of teammates she's had since fourth grade. "I just knew I had to go out there with a bang and have fun and do what I know I can.
"Our defense and communication helped a lot. We knew it was going to be loud and they had a few good hitters, so we just had to take control."
Katie Peters, a 6-foot middle, led Gehlen (29-7) with 13 kills on .480 hitting, but the rest of her team was held to a combined 17 kills and had 18 attack errors.
Janesville was pushed with the score tied at 13 in set three before senior middle Madison Stanhope joined Meister for a block, added another rejection and recorded a kill during a 5-0 run that helped the Wildcats finish this sweep.
"She's not very tall," Sorensen said of Stanhope, her 5-foot-6 blocker. "But she works hard to put up a good block and get a lot of good touches. She did that for us tonight in some critical moments."
Sorensen felt Gehlen pressured her team with its strong defense, but Janesville never got rattled.
"We did a great job of keeping composure and taking a deep breath when they put the pressure on," Sorensen said. "That experience and leadership on the court really paid off again tonight.
"All year long they've shown when they get down or the pressure is on, they find a way to come through."
Waiting for their chance to once again take the championship stage, Janesville's players watched Friday as familiar faces from Cedar Falls, Dike-New Hartford and Waterloo Columbus won state titles before seizing their own moment.
"It was awesome," Thompson said. "There's so many great teams around our area that we play. I think we make each other's play so much better at tournaments. It's a luxury."
Alisa Bengen (Janesville), Chloe Bunkers (Gehlen), Emily Box (Holy Trinity), Madi Wagaman (Springville), Kennedy Meister (Janesville), Katie Peters (Gehlen). Captain: Bree Thompson (Janesville).