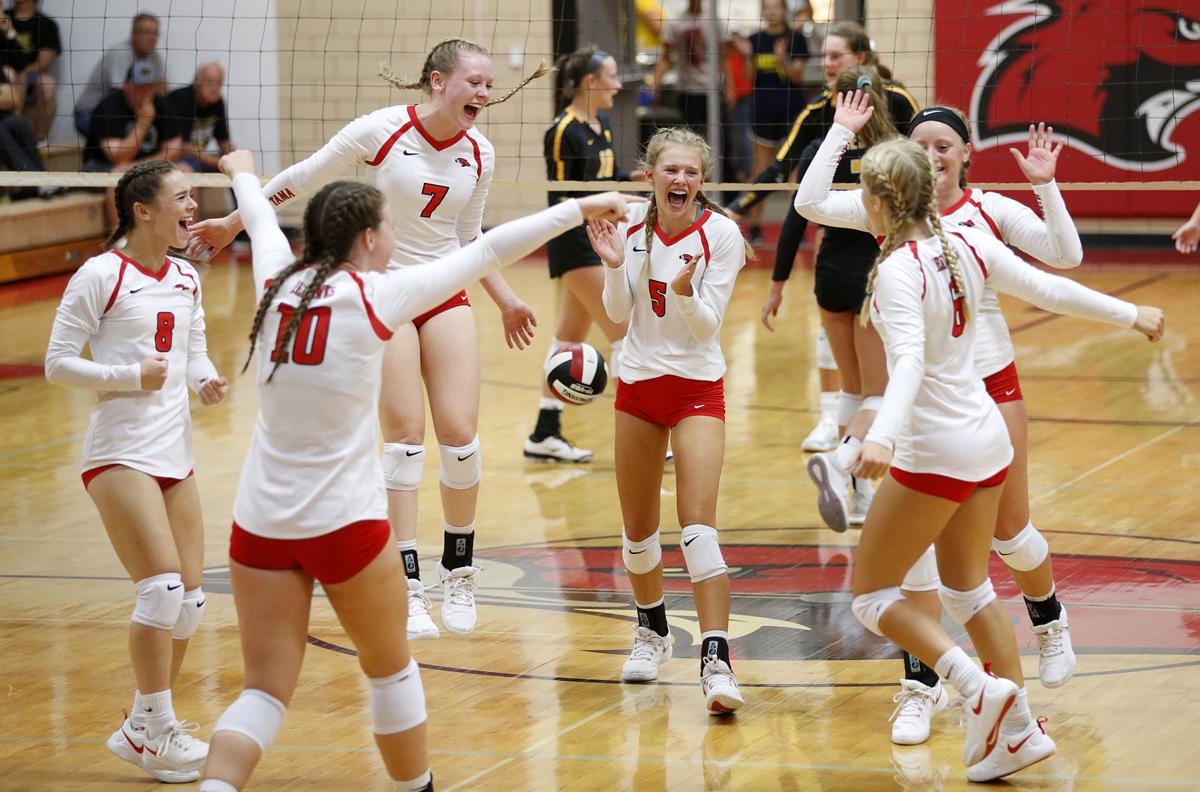 TRAER — Can one match define a season?
North Tama appeared poised to enter the title conversation in Class 1A last fall after a large group of sophomores guided their program to its first state tournament appearance in 2017.
The Redhawks entered the postseason with a No. 5 ranking, but were stunned in the regional final by a Gladbrook-Reinbeck team they had defeated three times prior. A total of 18 attack errors was the end result of a straight-set sweep that left North Tama with an empty feeling.
"Last year, the way it ended was pretty rough," North Tama coach Channing Halstead said. "I hope they come together to overcome that.
"We've taken some things from that match and picked out what we need to improve on because to beat us the way that they did, they picked on our weaknesses."
North Tama enters the upcoming season with a cast of six returning starters and two more letterwinners back for redemption. That group includes six seniors.
"This group of seniors has been a group that has always been successful and they've always played together," Halstead said. "They have a lot of experience and they're like six best friends, too."
Not only does North Tama have a hitter capable of taking over matches in Katie Kopriva, who averaged 3.9 kills per set on .317 hitting in 2018, but the Redhawks also have a reliable senior libero in Takoa Kopriva, who averaged 4.73 digs per set.
"I literally cannot think of a time from fifth grade until now that she has come off the floor," Halstead said of her top passer. "There's a couple of schools looking at her and I think she's going to be one of the biggest steals for anyone that takes her after high school. She is our foundation."
North Tama's experience will have to contend with nearby Janesville and Tripoli's tradition.
Janesville has won five of the last six state titles — including the past four — and Tripoli won eight of the previous 10 Class 1A championships before that run.
Shelly Sorensen's defending state championship Janesville team graduated last seaon's all-class kills leader Bree Thompson and libero Lily Liekweg to NCAA Division I programs. In total, five senior starters departed. Janesville still returns setter Gabby Gergen for her junior year, while seniors Bailey Hoff and Julia Meister will be called upon to take larger roles within the attack.
A younger wave of athletes will now be called upon to take their turn within 1A's latest volleyball dynasty.
"They're working hard to step in there and there's a lot of new faces in the lineup, but it's exciting to see what they're bringing to the court," Sorensen said. "It (tradition) plays a big role in the attitudes coming into the season and knowing the expectations and all the little things we do to give them opportunities to keep that going."
Tripoli coach Courtney Anderson likes what she's seeing out of her team following a run into the state semifinals.
"This year where their mindset is, is way different than it has been in the past," Anderson said. "They're high energy, always encouraging, always positive and that's going to play a huge role in the beginning of the season and all the way through.
Among the Panthers' senior leaders are Zoe Semelorth, who averaged 4.19 kills per set, and Brianna Lobeck, who averaged over 2 kills per set. Jenna Belthuis ranked third on the team in kills as a freshman and Mallory Mueller is an incoming freshman who has shown plenty of promise.
"We're not easily going to give up," Anderson said. "We're going to push and push until we get the results that we want."
Beyond Northeast Iowa's volleyball hotbed, last year's Class 2A state semifinalist Sidney is now a 1A school.
Class shuffle
Osage makes the move from Class 3A to 2A after back-to-back semifinal runs. First-year head coach Bryan Tabber, an assistant at the school last season, returns five starters and eight total letterwinners.
Dike-New Hartford will make the move from 2A to 3A, a class in which the Wolverines competed when they won the 2016 state title. Coach Diane Harms returns five starters, including lead attacker Morgan Weber, from last year's team that was knocked out in the first round at state by Unity Christian.
Defending 2A champion Western Christian remains in 2A this season.
Among other local returning state qualifiers, Gladbrook-Reinbeck brings back its lead attacker Saari Kuehl (4.62 kills per set). New Hampton brings back 11 seniors, including kills leader Rachel Rinken along with one of its digs leaders, Ashlynn Tank, and outside hitter Kiersten Tenge.
Independence and Starmont graduated large senior classes from their state-qualifying teams.
Grundy Center entered last year's postseason as 2A's top-ranked team but was upset in its regional. The Spartans bring back five of nine contributors from that team.
Waverly-Shell Rock won 40 matches a year ago before falling to West Delaware in a Class 4A regional. The Go-Hawks return seven players who saw court time in that finale.