CEDAR FALLS — Over the past two decades, the Cedar Falls girls have dominated their Tiger Invitational track and field meet.
In 18 of the last 19 years, Cedar Falls took the title. The only exception came in 2011 when Mother Nature won out.
Tuesday night, the Tigers made it 19 in a row with another stellar performance as they racked up 186 points to outdistance second-place Waverly-Shell Rock (99).
Waterloo East finished in a third-place tie with Aplington-Parkersburg.
"What a beautiful night to run track," Cedar Falls coach Chris Wood said. "We deserved to have great weather like this after the last couple years. I thought every one of our girls ran well and we even had quite a few JV girls running because of injuries.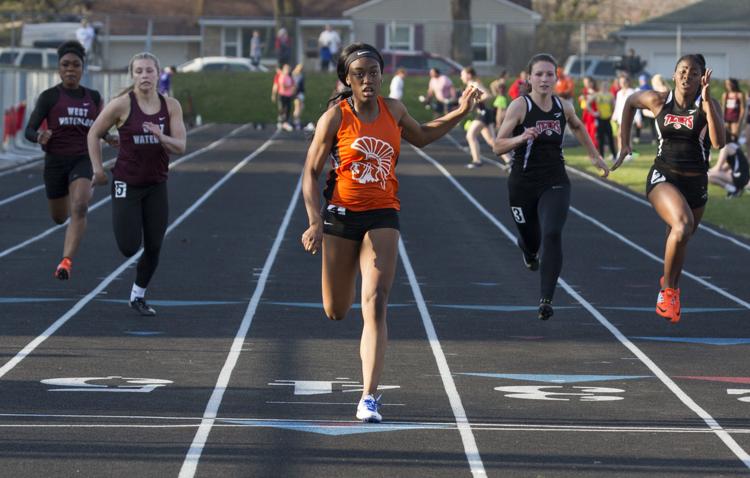 "They stepped up in different roles and performed great. We wanted some of our girls to get pushed a little more so they could have close races and be ready for Drake. Most of them did, but we had a few exceptions."
One exception was junior MacKenzie Michael, who left the field of 800 distance runners in her dust as she crossed the line in 2:21.04, with Mia Barajas of Marshalltown 11 full seconds back.
"I was very confident in myself tonight," said Michael. "I knew I had won but not by how much. I usually just tune the rest of the field out and get into my own zone."
Waterloo East's Kerris Roberts won a race to the finish line over the Tigers' Auriona Kimbrough in the 4x200. Roberts crossed in 1:43.82, a mere half-second ahead of Kimbrough.
"I don't like to lose," Roberts said. "Auriona was right on my shoulder as we made the last turn and I knew she would close in on the straightaway. She is a great runner and we really don't run against each other that much. I just gave whatever I had at the end to win. We kind of feed off each other," added Roberts.
Roberts also claimed first in the 100 dash.
"We did good tonight and we scored a lot of good points," Trojans coach Wilmont Wellington said. "I knew Kerris would do what she had to do and she took on the mentor role tonight. She showed leadership and the girls responded."
Cedar Falls took first in the shuttle hurdle relay, distance medley relay and the 4x400. The Tigers also claimed first and second in the discus with Myah Brinker and Allison Flanscha, respectively. Jada Golden-Smith took home a first-place finish in the 200.
Waterloo West grabbed had third-place finishes in the 4x100, 4x200, NaTracia Ceaser took third in the shot and Ireland Frisch was third in the 400 hurdles.
"I was very pleased with the way we ran tonight," said Wahawks coach Joe Malsam. "We had a good run in the relays and I was pleased with the way we competed."
Waverly-Shell Rock took second place with the help of Reagan Dahlquist's winning high jump of 5-4 and Britney Young's first in the 100 hurdles. Laura Bates took first for the Go-Hawks in the 400 hurdles and W-SR was second in the shuttle hurdle relay.
Team standings — 1. Cedar Falls 186, 2. Waverly-Shell Rock 99, 3. (tie) Waterloo East, Aplington-Parkersburg 67, 5. Marshalltown 65, 6. Waterloo West 39, 7. Mason City 25, 8. Starmont 22, 9. Anamosa 10, 10. Jesup 8.
Shot put — 1. Vanessa Hamlet (Star) 39-08.50, 2. Grace Tobin (MC) 37-03.00, 3. NaTracia Ceaser (WW) 35-06.50.
You have free articles remaining.
Discus — 1. Myah Brinker (CF) 109-09.75, 2. Allison Flanscha (CF) 108-08.25, 3. Vanessa Hamlet (Star) 99-00.75.
Long jump — 1. Emerson Green (CF) 16-10.75, 2. Sarah Albaugh (CF) 16-06.75, Alyvia Chadderdon (Mar) 15-07.00.
High jump — 1. Reagan Dahlquist (WSR) 5-04.00, 2.tie Auriona Kimbrough (CF), Megan Johnson (AP) 4-10.005'.
100 — 1. Kerris Roberts (WE) 12.02, 2. Anisia Smith (CF) 12.77, 3. Leah Longnecker (CF) 12.88..
3,000 — 1. Phoebe Hermanson (Mar) 11:26.48, 2. Alyssa Neese (CF) 12:15.82, 3. Lily Hovenga (AP) 13:01.07.
Shuttle hurdle relay — 1. Cedar Falls (Madelyne McFarland, Lily Becker, Lauryn Bennett, Noelani Mattson) 1:07.92, 2. Waverly-Shell Rock (Dahlquist, Abby Bechtel, Haley Eckerman, Britney Young) 1:08.56, 3. Marshalltown 1:14.87.
400 — 1. Jungling (AP) 58.73, 2. Greta Berte (CF) 1:05.10, 3. Libby Dix (WSR) 1:05.70.
Distance medley relay — 1. Cedar Falls (Raelynn Smith, Jada Golden-Smith, Sydney Stokes, Paige Wageman) 4:23.29, 2. Aplington-Parkersburg (Avery Groen, Karson DeGroote, Maci Freund, Megan Johnson) 4:32.53, 3. Waverly-Shell Rock (Brylee Folkerts, Mattie Janssen, Emma Hoins, Anna Hoins) 4:33.20.
4x800 relay — 1. Anamosa (Maggie McQuillen, Ava Claussen-Tubbs, Gabby Gadient, Corinne Gadient) 9:40.60, 2. Jesup, 9:56.85, 3. Cedar Falls (Devin O'Loughlin, Emma Clark, Jayna Freeman, Maddy Lenaerts) 10:02.98.
400 hurdles — 1. Laura Bates (WSR) 1:12.02, 2. McFarland (CF) 1:12.63, 3. Ireland Frisch (WW) 1:15.32.
4x200 relay — 1. Waterloo East (Amanee Clark, Jassmin Campbell, Valieghja Wright, Roberts) 1:43.82, 2. Cedar Falls Michael, Morgan Sterrett, Green, Kimbrough) 1:44.54, 3. Waterloo West (Maddy Solomon, Claresa Allison, Keeajah Scott, Amari Burt) 1:49.82..
100 hurdles — 1. Young (WSR) 16.14, 2. McFarland (CF) 16.48, 3. Eckerman (WSR) 16.95.
800 — 1. Michael (CF) 2:21.04, 2. Mia Barajas (Mar) 2:32.68, 3. Alivia See (WE) 2:36.68.
200 — 1. Golden-Smith (CF) 28.0, 2. Sommer Stotler (AP) 28.49, 3. Londyn McCarity (WE) 28.52..
1,500 — 1. Sophia Jungling (AP) 5:01.95, 2. Hermanson (Mar) 5:02.47, 3. Jessica VanDorn (CF) 5:10.58.
400 — 1. Jungling (AP) 58.73, 2.
4x100 relay — 1. Waterloo East (Clark, Roberts, Wright, Campbell) 49.66, 2. Cedar Falls (Anisia Smith, Sterrett, Lindsey Sires, Green) 50.23, 3. Waterloo West (Solomon, Allison, Madeline Grimm, Scott) 50.80.
4x400 relay — 1. Cedar Falls (Stokes, Kimbrough, Lenaerts, Michael) 4:01.94, 2. Mason City (Odeleine Daugherty, Hannah Thomas, Brycelyn Hanson, Jada Williams) 4:13.55, 3. Waverly-Shell Rock (Young, B. Folkerts, A. Folkerts, E. Hoins) 4:20.35