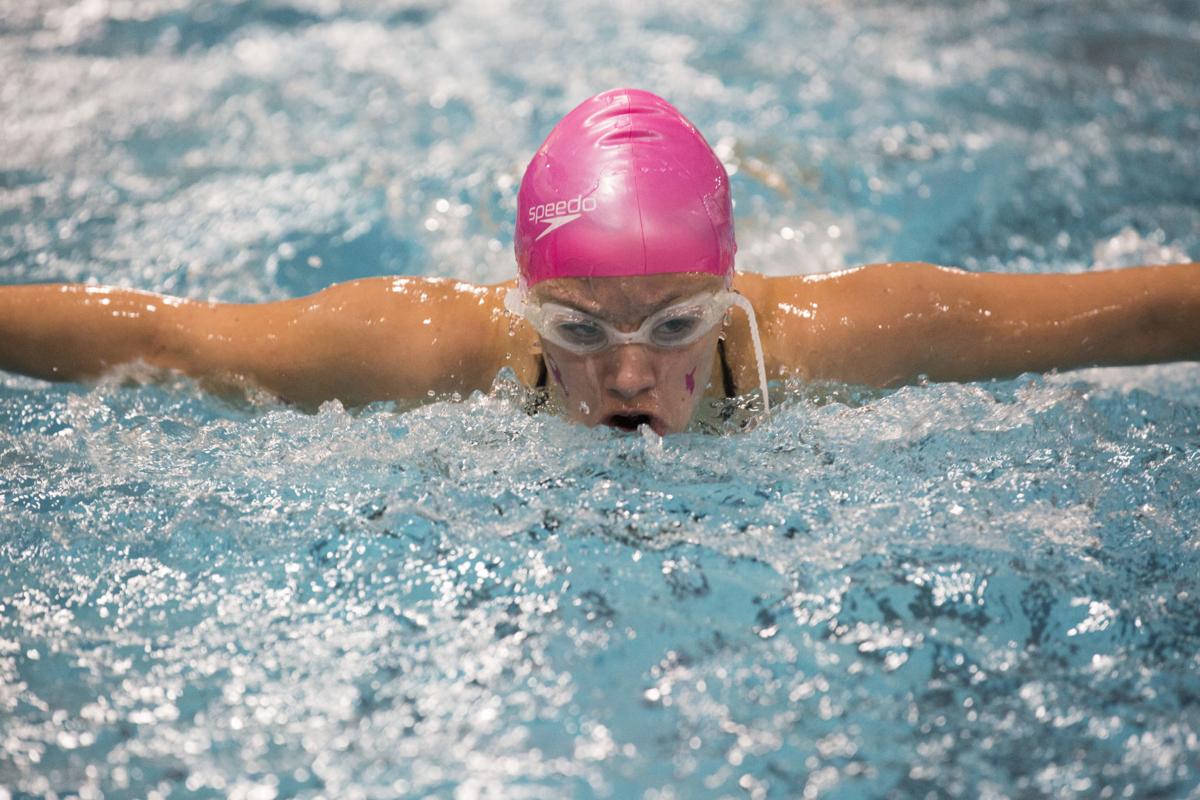 MARSHALLTOWN — Whether it's a step up the podium or a new personal record, a variety of metro swimmers have positioned themselves for a big state meet Saturday at the Marshalltown YMCA.
Cedar Falls is attempting to improve from back-to-back fifth-place team finishes with 15 entrants in the 12 events.
"At the beginning of every year we make it clear that our final goal is trying to do better at the state meet than we've done in the past," Cedar Falls coach Scott Pinter said. "We're very confident. We had a great regional meet. … We're very excited about what we're going to see going forward. I think we're pretty prepared for this weekend."
Senior Rachel Roose qualified individually in the 50 and 100 freestyle, and joins sophomore Grace Frericks and junior Emma Clark as a key options within the Tigers' 200 and 400 freestyle relays that sit among the state's top five qualifiers.
"We've been pretty blessed this year," Pinter said, assessing his team's relay depth. "Not everybody is in the 200 and 400 freestyle relay like it has been in the past."
Frericks may be the Tigers' best hope for an individual champion. She was out-touched by one-tenth of a second (55.77-55.87) against Dowling's Katie Broderick in last year's state debut. Ames' Annie Galvin was five-hundredths of a second back of Frericks.
Those three swimmers are back in the state field this year with qualifying times nearly two seconds better than everyone else.
"It's going to be interesting," Pinter said of the star-studded backstroke race. "We have adjusted (Frericks') taper a little bit compared to last year to hopefully be prepared for more of a drop the following week. … Hopefully we'll see a first-place finish this weekend."
The Cedar Falls coach says Frericks is entering her sophomore state meet with more confidence.
"I asked her at regionals, 'Are you nervous?'" Pinter recalled. "'Nope, I'm good.' That was her response."
Teammates Clark and Frericks have been pushing each other throughout the season in freestyle sprints. The duo qualified second and third in the 50 freestyle, and Clark turned in the sixth-fastest time in the 100 freestyle.
Frericks was fourth and Clark fifth in last year's 50.
"It's a lot of fun to see them race against each other in that event," Pinter said. "They definitely do challenge each other throughout practices. If they're not in the same lane, they're in lanes next to each other always racing."
Waterloo junior Carley Caughron will also be in the 50 freestyle after opting for that event over the 200 individual medley where she placed fourth in last year's state meet.
"She wanted to go down a different route and give it a shot," Waterloo coach Jeff Kamp said. "The 50 is a drag race, she knows it comes down to finger touches. Right now she's faster than she was last year."
Caughron has already matched last year's sixth-place state time in the butterfly where she qualified sixth.
"My goal for her is to win state," Kamp said. "Of course as a coach, I put goals a little higher. We'll see what happens. … She was sixth last year and I'd like to see her higher than that. I tell her every day she can win state.
"If she doesn't win it, it isn't because she didn't do the work. She did the work this year. We increased the yardage and she did it."
In the diving competition, Cedar Falls senior Ashton Syharath and Waterloo junior Lauren Kimball qualified fourth and fifth, respectively, as they have a chance to earn a place on the top six podium. Waterloo freshman Avery Hogan put everything together in the qualifying meet and turned in the 10th-best score.
Get in the game with our Prep Sports Newsletter
Sent weekly directly to your inbox!