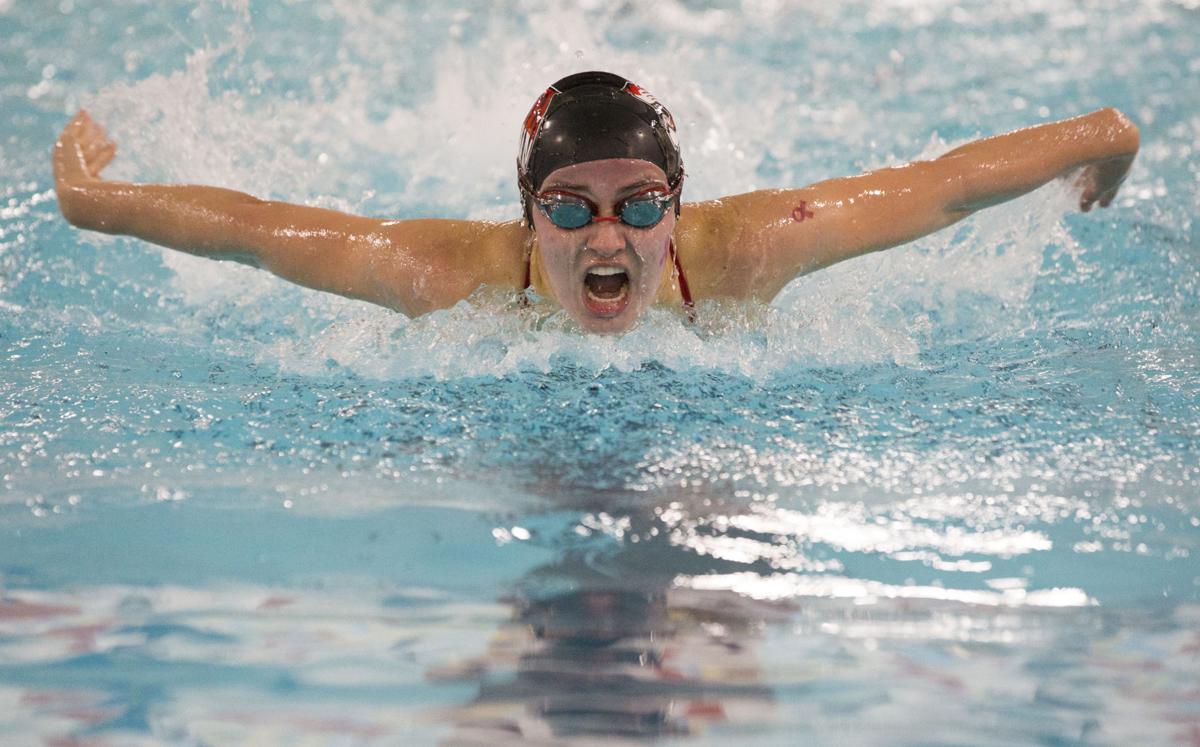 CEDAR FALLS – Have fun. Be family. Work hard. Win championships.
Those were the goals Cedar Falls swimmers set on day one. That's the Tigers' mission this weekend during the state swimming and division championships at the Marshalltown YMCA.
Cedar Falls athletes are among the state's top 20 qualifiers in 10 different events, including the 200 and 400 freestyle relays where the Tigers turned in the fourth-fastest qualifying times.
University of Kentucky commit Grace Frericks is a key part of both relays and will also contend in the 50 freestyle and 100 backstroke. The junior has returned from injury strong the past four meets. She placed third in both the 50 freestyle and backstroke last season.
"I think she's going to have a huge state meet this upcoming Saturday," Cedar Falls' first-year head coach Chelsea Szczyrbak said. "I know a lot of things about Grace now, but one of the main things about Grace is that she is definitely a competitor. She hates to lose and I deeply appreciate that about her."
Cedar Falls senior sprinter Emma Clark is also in the mix to stand at or near the top of a medal podium. Clark qualified third in the 50 freestyle and 10th in the 100 freestyle.
Frericks and Clark have been competing alongside each other throughout workouts and that familiarity will certainly be to their advantage during Friday's prelims.
"At the beginning of the season we split up the lanes in practice and I told them from day one that we wanted them racing against each other every single practice," Szczyrbak said. "Going into state when I look at the heat assignments, they're going to be right next to each other in prelims."
Marley Hagarty and Kendall Mallaro joined Frericks and Clark on the 200 freestyle relay that qualified fourth in the state. Clark, Frericks, Grace Bobeldyk and Mallaro are members of a 400 freestyle relay that also qualified fourth.
Beyond the two relay wins, Mallaro won the butterfly and individual medley at regionals with times that rank among the state's top 14. Hagarty is a first-time qualifier in the 50 and 100 freestyle. Bobeldyk has qualified among the top 20 in the 200 freestyle and 500 freestyle distance events.
Cedar Falls senior CC Lau is back as a qualifier in the 100 butterfly with her eye on breaking a minute. Freshman Baylee Lehmann qualified in the 100 breaststroke.
Cedar Falls' quartet of Katie Butler, Baylee Lehmann, Sutton Paulsen and Sophia Mason produced a qualifying time in the medley relay.
"They put the hard work in during the season that showed on Saturday," Szczyrbak said. "We had season bests or lifetime bests across the board in every single event. That's really a tribute to what they accomplished throughout the season. They're hard workers. They have a lot of fun."