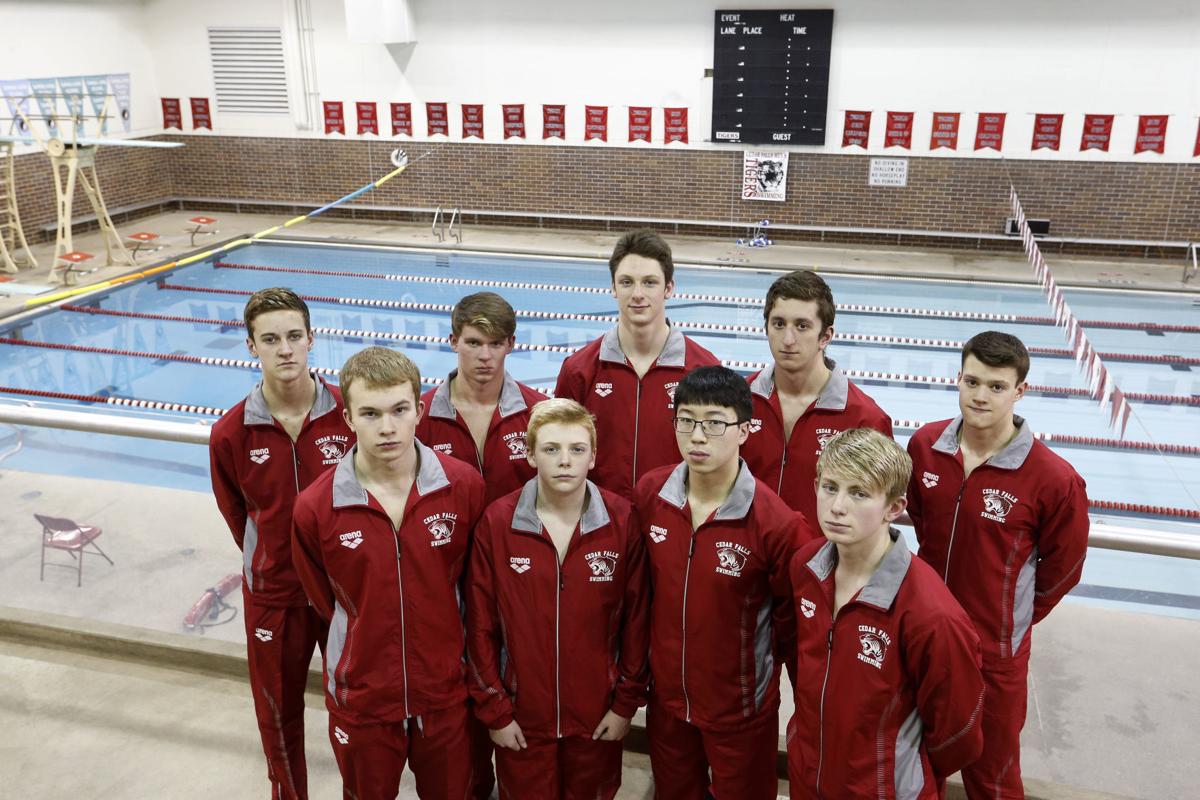 CEDAR FALLS — Dylan Moffatt took a step back and refocused. Sam Reinart continued to press forward.
A pair of swimmers with vastly different backgrounds will lead Cedar Falls into the annual state meet beginning at noon Saturday inside the University of Iowa Natatorium.
Moffatt, an Independence native who swims with Cedar Falls' program, will defend the championship he won by four seconds in the 500-yard freestyle during last year's state debut. He's also looking to climb the podium in the 200 freestyle after a fifth-place effort that freshman season.
A distance swimmer, who has excelled nationally in the grueling 1,650-yard freestyle, Moffatt is refreshed this sophomore season after taking time off last summer to recharge from a year-round training schedule he had followed for years.
"It helped me take a step back in my mental state and re-think my plan for high school and getting to college," Moffatt said. "It was a very helpful break."
Once again the favorite to defend his 500 title, Moffatt has geared much of his recent training to quicker pace work for the shorter 200-yard race where he owns the third fastest qualifying time — less than one second behind seniors Jackson Allmon of Lewis Central and Andrew Fierke of Fort Dodge.
"It was really hard to train for, but I feel confident," Moffatt added.
While Moffatt found instant success at the high school level, Reinart's organized swimming career didn't begin until his mom convinced him to give the sport a try his freshman year.
Reinart worked his way into a 12th place finish in the 100 backstroke and 13th place effort in the 200 individual medley last season at state. The senior was voted Athlete of the Year after Cedar Falls won this year's Mississippi Valley Conference Super Meet.
You have free articles remaining.
On Saturday, Reinart will be swimming out of the final heat in the 100 backstroke, and his top 200 freestyle time is the neighborhood of the state's leaders.
"I've had a lot of good coaches over these four years," Reinart said. "I've always just stuck with going to practice whenever I could. Morning practices definitely helped me get better, especially when I was a freshman and sophomore.
"It's a big goal for me to get on the podium and know that I can hang with the best guys in the state."
Cedar Falls' first-year head coach Jordan Wessels — who swam on multiple state championship relays during the Tigers' three consecutive team title seasons from 2004-06 — points towards Reinart's development as a real-world example of what can be accomplished within four years.
"I think a lot of freshman and new sophomores that came in, they see the success he's had, they can stick with it for a couple years and not get frustrated the first year," Wessels said.
Reinart and Moffatt will join Eamonn McCullough and Dawson Bremner in the 200 and 400 freestyle relays. Benson Redfern, Devin Myhr, Demir Tuken and Matt Durbin earned one of the final qualifying spots for the medley relay with Bremner, Redfern and McCullough getting an opportunity to swim individual state events.
Wessels looks to build on the recent progress made by former Cedar Falls coach Joe Brown as the Tigers attempt to improve from last year's 15th place team finish.
"I've had a good group of guys this year, a lot of improvements, and we're sending almost twice as many to state," Wessels said. "We're projected about 10th right now and I think if we get some good swims we can move up to the top five. It would get our name out there more and hopefully get more people involved in swimming."
Competing against the top relay teams in the final event of this year's state meet, Cedar Falls has a chance to end on a high note.
"The 4x1, that's the marquee race of the meet," Wessels said. "We've got a chance to make some waves. I'm super excited for that and I know the guys are super hungry."
In addition to Cedar Falls' qualifiers, Waterloo's Tate Hookham will represent the Cedar Valley as he competes in the 50 freestyle. Decorah's Noah Faldet is a qualifier in the 100 butterfly and breaststroke. The Vikings will compete in the 200 medley relay.