INDEPENDENCE — An error opened a door, and the Independence softball team charged through it.
Three runs after an error to open the bottom of the sixth inning propelled the Mustangs to a come-from-behind, 4-2 victory over Iowa City Liberty Tuesday in a Class 4A regional softball final.
Independence (30-11) earned a return trip to Fort Dodge and will play at 1:30 p.m. Tuesday against 30-10 West Delaware.
Tuesday's game was one that won't soon be forgotten.
"Absolutely it was," Independence head coach Heather Hupke said. "I don't know who said it, this was a tough region. Every team in it has played tough competition. It just came down to an error here or there."
It took everything Independence had to turn aside a young Lightning team that had just three juniors with the rest of its 19-player roster consisting of eighth-graders, freshmen or sophomores.
The Mustangs also had to channel their inner Harry Houdini.
Liberty (21-22) had chances to break the game open in the first, second and fifth innings. The Lightning's first three batters reached base in the first, and Brylee Klostermann gave them a 1-0 lead when she scored on a ground out. But that was all Liberty could get.
In the second, Liberty had runners on second and third with one out, but Mustang catcher Kenzie Fischels made a diving catch of a pop-up she initially lost in the sun. Then Allie Jo Zieser snared a screaming line drive at first to end the inning.
Independence tied the game in the third on a Kaylee Hosch RBI single to left that scored Abby Davis.
But once again in the fifth, the Lightning threatened to produce a big inning with the game tied 1-all. But Klostermann was thrown out at home trying to score on a suicide squeeze play for the first out. The Lightning still had runners on second and third with one out, but Mackenzie Hupke struck out back-to-back batters.
"I just hit my spots, And working hard, and just trusting my defense behind me. They have been solid all season. ... And I just can't get too tight in the circle," Hupke said of her team's ability to wiggle out of trouble.
You have free articles remaining.
Liberty finally broke through again in the top of the sixth when Ella McLaughlin singled to score Mallory Jones for a 2-1 lead. It could've been a bigger inning, but pinch runner Kelsey Phipps was caught in a rundown between third and home for the second out and Hupke induced a bases-loaded ground out to end the threat.
That run and deficit didn't fluster Independence.
"We worked really hard the last few days for this, and I knew we were going to pull it off," said Mackenzie Hupke of the winning rally.
The Mustangs caught a huge break to open the bottom of the sixth as Kelsey Hosch reached first when her grounder to second was bobbled for an error.
Zieser followed with a bunt single. With one out Kenzie Fischels reached safely on an infield single to loaded the bases. Hosch scored the game-tying run on a wild pitch, just beating a diving Lightning catcher Tiffany Jones to the plate.
Then with ice in her veins, Brooke Beatty laid down a perfect suicide squeeze bunt to score Zeiser for the go-ahead run. A Mary Poffett run-scoring single made it 4-2.
"The coach gave me the sign to get the bunt down and I knew I had to do my job and I got it down," Beatty said of the squeeze play. "It was honestly right down the middle. It was a good pitch to get it down.
"It's a great feeling," Beatty added of making a return trip to state.
Hupke recorded a 1-2-3 top of the seventh to send the Mustangs back to Fort Dodge.
"We said to our team, play hard and have fun and if we do those things we are good. Our kids are good. When they are silly and having a good time, good things happen for us," Heather Hupke said.
"And our kids, they are selfless and great teammates. They did whatever was needed for the team."
SBall Charles City vs. Mason City 3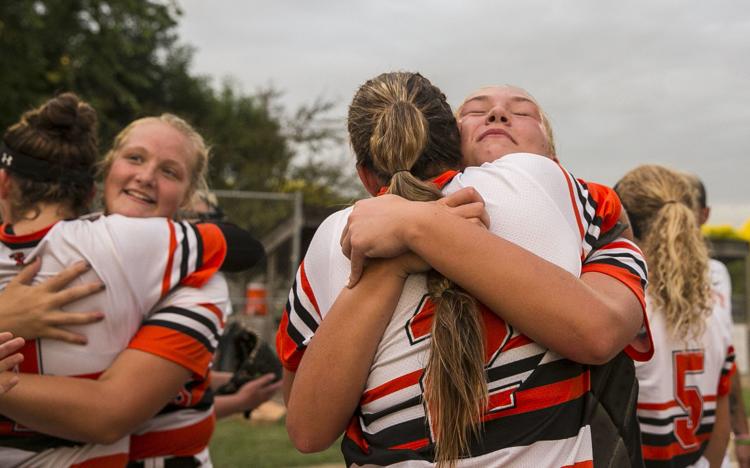 SBall Charles City vs. Mason City 2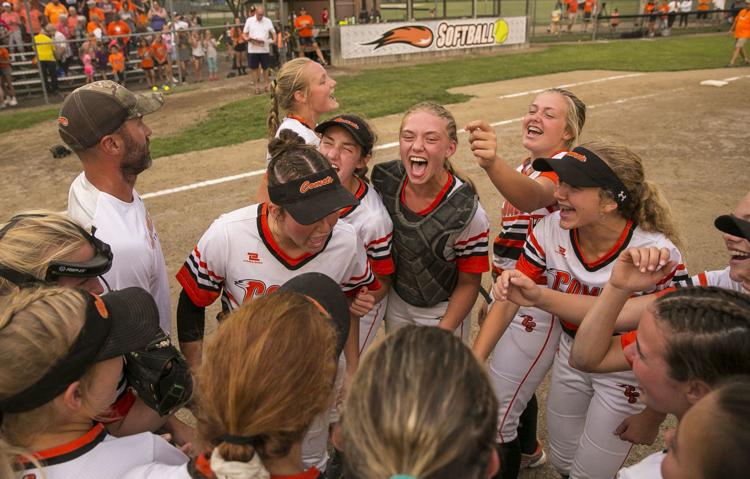 SBall Charles City vs. Mason City 4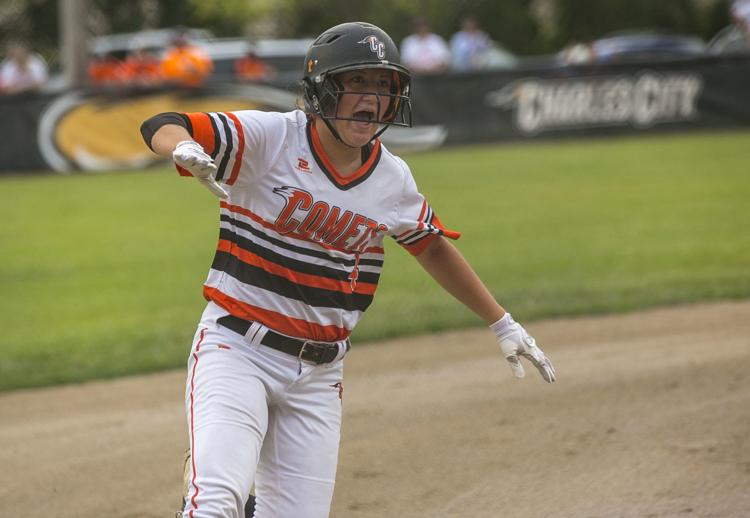 071519kw-columbus-new-hampton-softball-03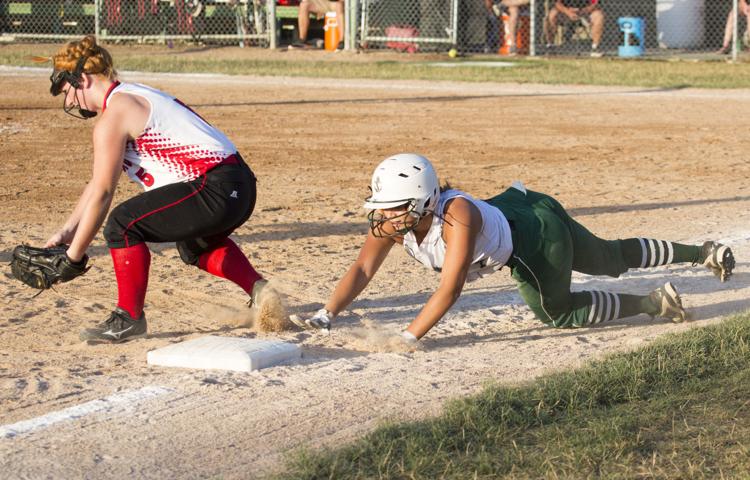 071519kw-columbus-new-hampton-softball-04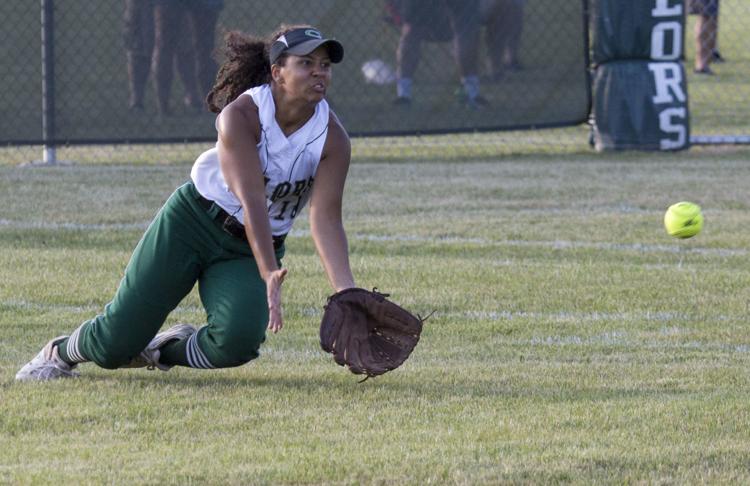 071519kw-columbus-new-hampton-softball-05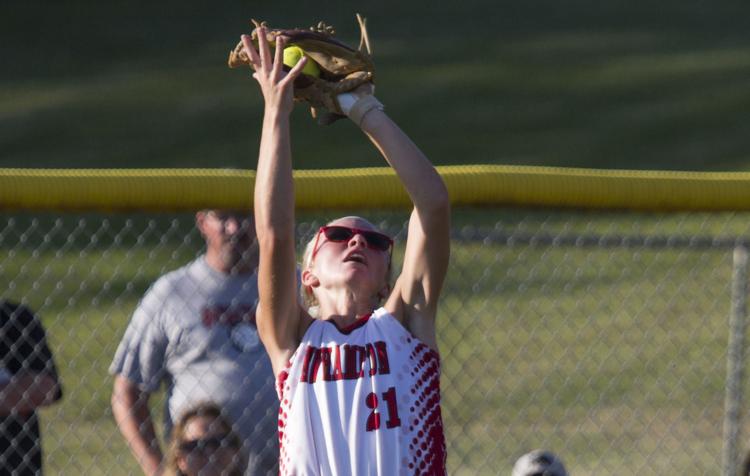 071519kw-columbus-new-hampton-softball-06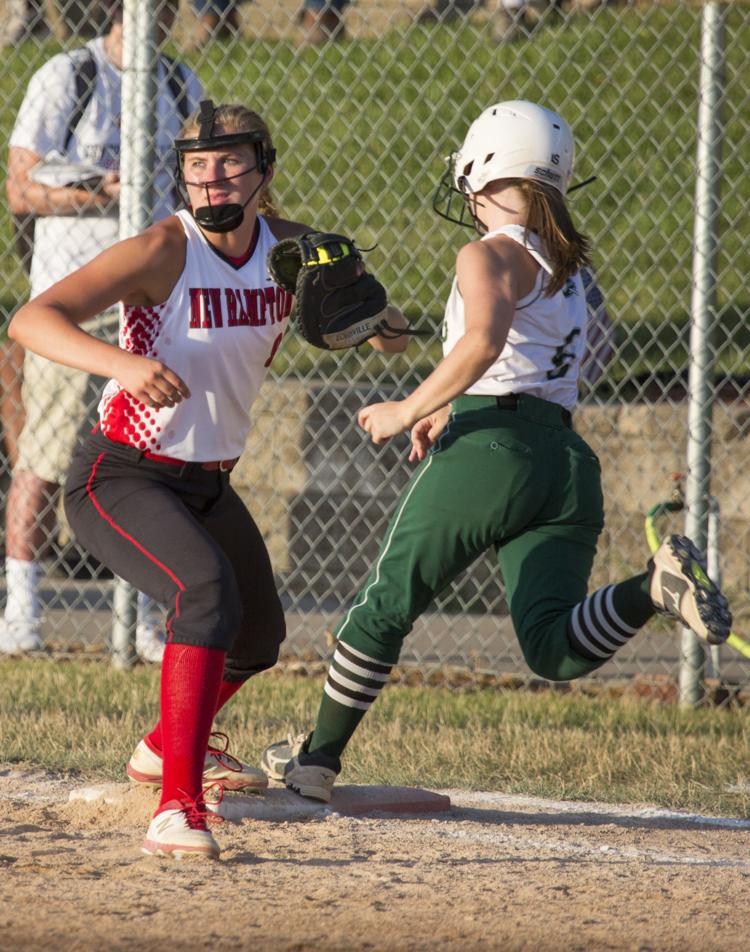 071519kw-columbus-new-hampton-softball-07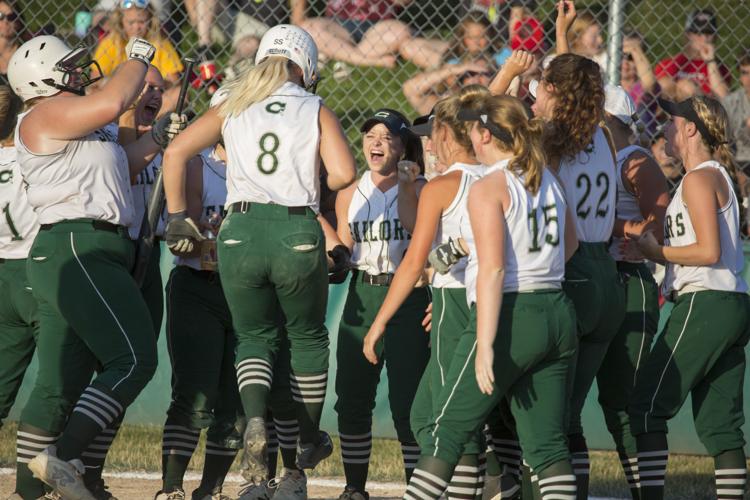 071519kw-columbus-new-hampton-softball-08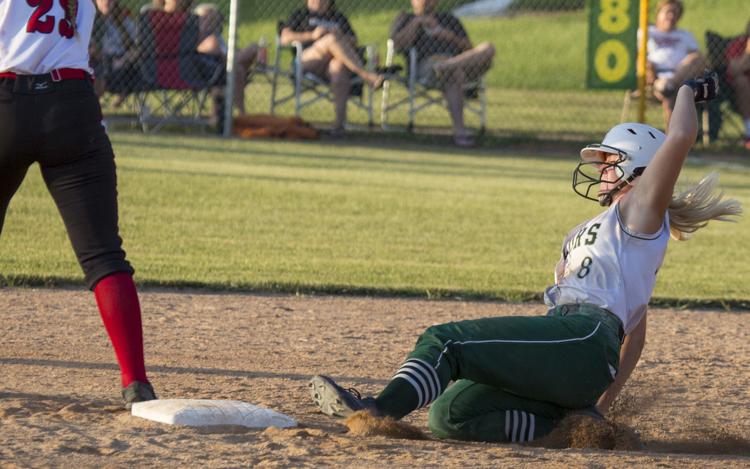 071519kw-columbus-new-hampton-softball-09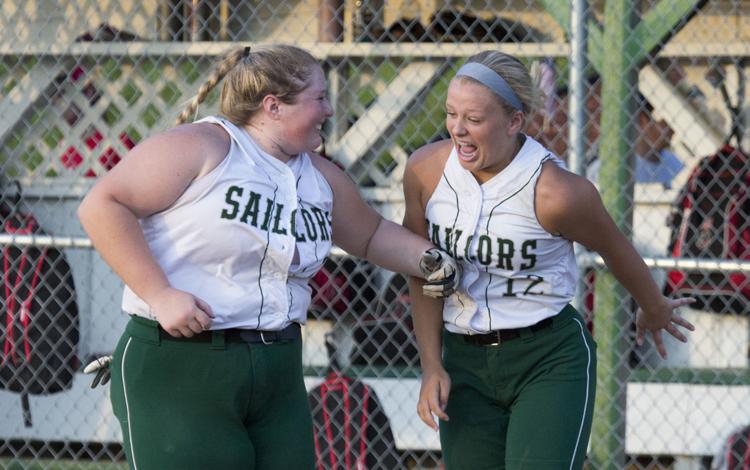 071519kw-columbus-new-hampton-softball-02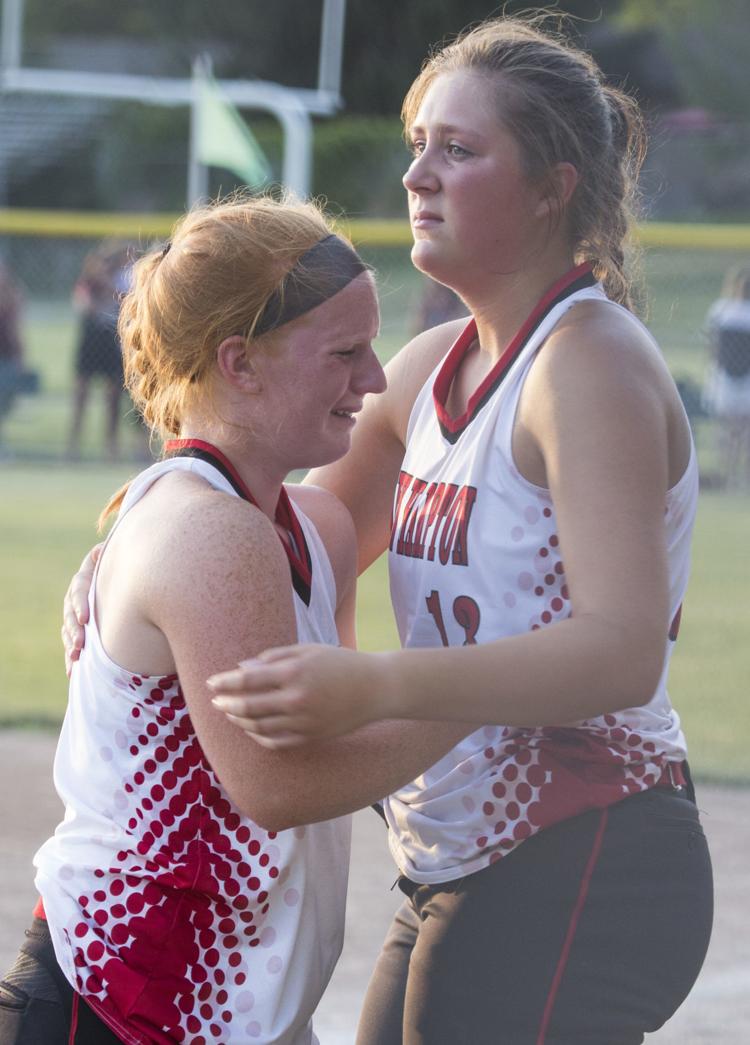 071519kw-columbus-new-hampton-softball-03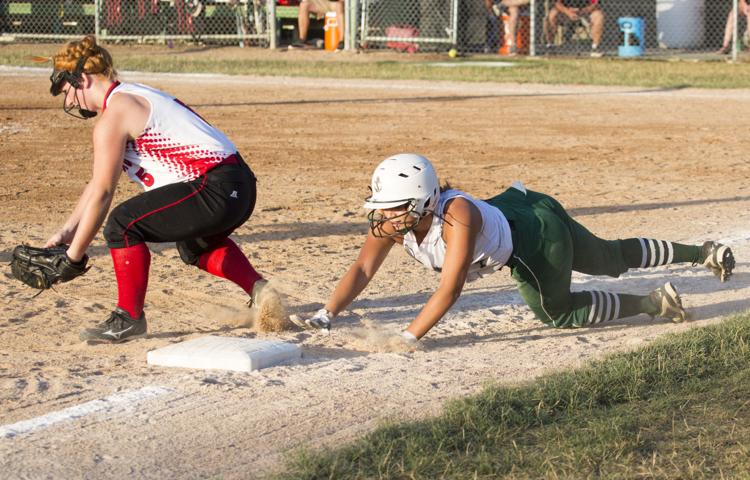 071519kw-columbus-new-hampton-softball-01