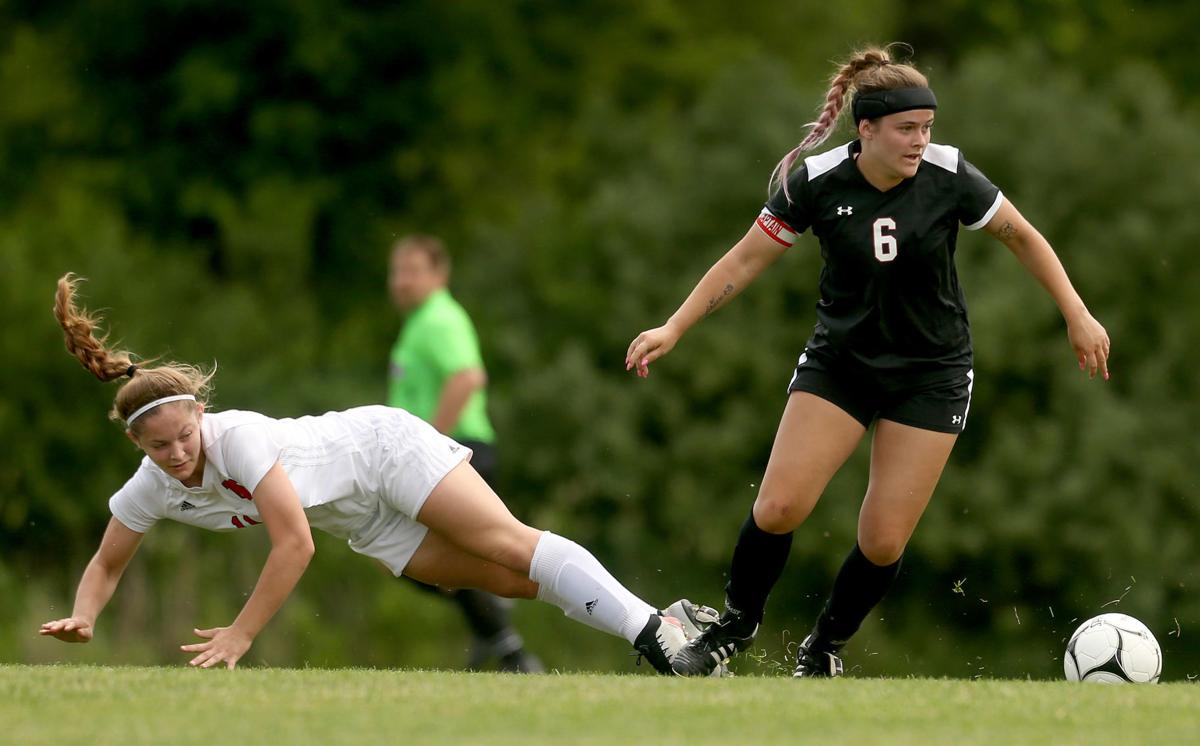 LA PORTE CITY – Riley Rosauer knew the moment it happened, senior year was gone.
It was a typical Sunday afternoon winter league soccer game at the Cedar Valley SportsPlex. Rosauer and her Union of La Porte City teammates were battling to maintain a competitive edge in advance of a spring season where the Knights had high aspirations.
Coming off a state tournament appearance, the Knights returned more than 70 percent of their lineup, including Rosauer, a first-team Class 1A all-state selection who led all classes with 23 assists in 2019. Rosauer also scored 17 goals.
But Dec. 8 as Rosauer went to plant her left leg to make a cut, her knee kept moving forward and 'pop' is all she heard.
"I immediately yelled out it is my ACL," Rosauer recalled. "I yelled that as I fell down, and low and behold, it sure was my ACL popping."
So a promising season for the future Hawkeye Community College women's soccer player was dashed before it started.
"I would say she is someone who represents any team she is on the exactly the way you want," Union head coach Hunter Zempel said. "She was a captain, voted by her teammates, on last year's state tournament team. It was a tough day when we found out she had torn her ACL.
"But she has been extremely positive during rehab, and I believe she will come back stronger both physically and mentally for her freshman year in college."
Obviously, Rosauer was devastated after her injury.
"I cried a lot," Rosauer said. "At that point, obviously, we did not know that our season was going to be canceled. So I was trying to accept having to watch all my friends play, and I was just going to be there on the sidelines.
"I was so confident, and I knew our soccer season was going to be put in my hands, and I knew what I had to do and knew I could do it. I know it sounds cocky, but I felt so confident in my abilities and the team we had returning, I felt great and let's go kill this season."
As Rosauer was coming to grips with her lost season, the coronavirus pandemic and the response to slow its spread forced the Iowa Girls High School Athletic Union to cancel the spring soccer season. Devastation hit Rosauer a second time.
Although she wasn't going to be able to play, Rosauer now broke down for her teammates.
"I knew my season was over, but my friend Madison Frush, she tore her ACL last winter, so she didn't get to play all her junior year and she missed part of her sophomore year with an injury, too," Rosauer said. "So, she had been waiting and waiting and waiting to come back, and all I think about when the season got canceled was her not being able to play high school soccer since her sophomore year. That was just awful."
Rosauer says her knee is beginning to feel strong again, and she is close to being able to run outside. She is starting to prepare for her sports test scheduled for the first part of June, a test that will determine when she can start playing soccer again.
"It's sturdy. It feels strong. It feels great and hardly ever sore anymore," Rosauer said. "I'm so looking forward to getting back on the field in general."
When Rosauer is cleared to play she will have some familiar faces surrounding her as Union teammates Lexi and Lauren Wagner have also committed to the HCC team.
"It is real exciting. On our high school team us three were the midfield our junior year and they called us the Three Musketeers," Rosauer said. "It was great. We know how to connect. We have been playing with each other since we were in elementary school. I'm excited to continue our little journey together."
Zempel says HCC is getting a good player in Rosauer, who finished her career with 26 goals and 39 assists.
"Riley has a unique ability in the final third of the field to make a difference, whether that is scoring or assisting, providing opportunities for her teammates," Zempel said.
A National Honor Society member, Rosauer plans on studying exercise science with a minor in entrepreneurship in college with the hopes of owning and running her own gym in the future.
Get in the game with our Prep Sports Newsletter
Sent weekly directly to your inbox!