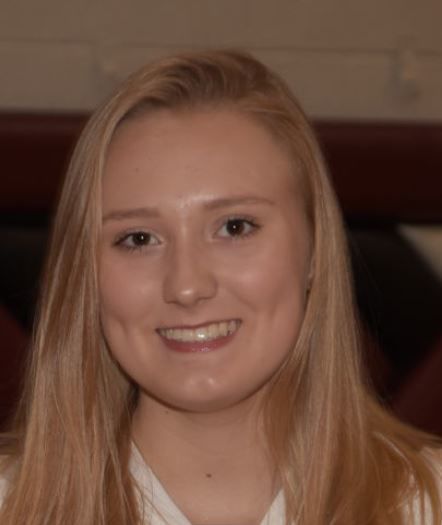 Avery Kroll
Waterloo West
Senior
Volleyball
Kroll has quickly acclimated herself to West's volleyball team, becoming a go-to player who helped the Wahawks enter Class 5A's rankings. The outside hitter recently recorded her 1,000th career kill during a thrilling, five-set win over Cedar Rapids Jefferson. Kroll ranks second in 5A with 4.61 kills per set on .389 hitting. "Avery is our power hitter," West coach Ashley Berinobis noted. "She is an all-around player and can put the ball away whether she's in the front or back row. She's a very consistent server and an energetic, positive team leader." Kroll was a two-time state qualifier at Waterloo Columbus. The West team captain plans to continue her volleyball career at Northern State University.
Jacob Hanley
Waterloo East
Senior
Football
Hanley had plenty on his plate during Friday's 14-10 win over Waverly-Shell Rock. East's middle linebacker was a key run stopper who also managed to drop back in coverage and pick up tight ends over the middle. He finished with 13 solo tackles, one for loss, and leads the Trojans this season with 80 tackles. East coach Xavier Leonard has seen his third-year starter emerge as a leader, while also setting a tone in the weight room and demonstrating strong knowledge of the game. "He's a program-changer," Leonard added. "He's a hard worker, never misses, never complains, and he makes all the tackles."
Jasmyn Bush
You have free articles remaining.
Bush is a fourth-year starter who has played a role in Class 3A No. 11-ranked Union's success. The full-rotation contributor is averaging 3.38 kills and 2.38 digs per set while hitting .284. Bush has 886 career kills and was a starter on Union's 2016 state runner-up team. "She is very athletic and can play multiple positions, as well as one of our top defensive players," Union coach Brian Jesse noted. "She's very competitive and brings a ton of intensity to our matches." Bush was an all-stater on Union's state-qualifying soccer team and a state track placewinner. She's looking to play soccer or possibly volleyball at the collegiate level.
Bryce Albaugh
Cedar Falls
Senior
Football
Albaugh has played a major role within the special teams success of Class 4A's No. 3-ranked Tigers. He was active during Friday's 48-17 win over Waterloo West, kicking two field goals, 6 PATs and sending six of eight kickoffs for touchbacks. Albaugh also recorded three big kick returns and tallied four tackles from his free safety position. "Bryce continues to have a major impact on multiple phases of the game," CF coach Brad Remmert said. "In addition to making plays on defense, Bryce is tied for the lead in Class 4A with 29 touchbacks on kickoffs. He also averages 36.1 yards per kickoff return. Bryce has done a good job of getting field position and the hidden yards that make a huge difference." Albaugh also placed second in the 4A state high jump.
Frannie Brown
Grundy Center
Senior
Volleyball
Brown patrols the back row as the libero, helping Class 2A's No. 6-ranked Spartans recently capture their 11th consecutive NICL West championship. She averages 3.4 digs per set and has 19 service aces. "Frannie is very good at pursuing the ball, never giving up, and is very coachable," Grundy Center coach Lori Willis noted. "I love how she keeps her hips below the ball when she passes and finishes to the target. She has a fun and bubbly personality, but isn't afraid of performing in big moments which helps bring balance to the team." Brown is a state golf qualifier and also competes in basketball.
Cole Davis
Independence
Senior
Football
Davis plays a valuable role in the success of an Independence defense that has allowed just six points a game with three shutouts. He's also made a difference on offense for Class 3A's 7-0 and No. 4-ranked Mustangs. The middle linebacker has recorded 49 tackles, seven for loss, to go with an interception and fumble recovery. Davis moved from tackle to tight end on offense and has recorded touchdowns on four of his six receptions. "Cole has always been a good leader, always been tough," Independence coach Justin Putz said. "He makes the verbal commands within our defense." Davis is also a state wrestling placewinner.