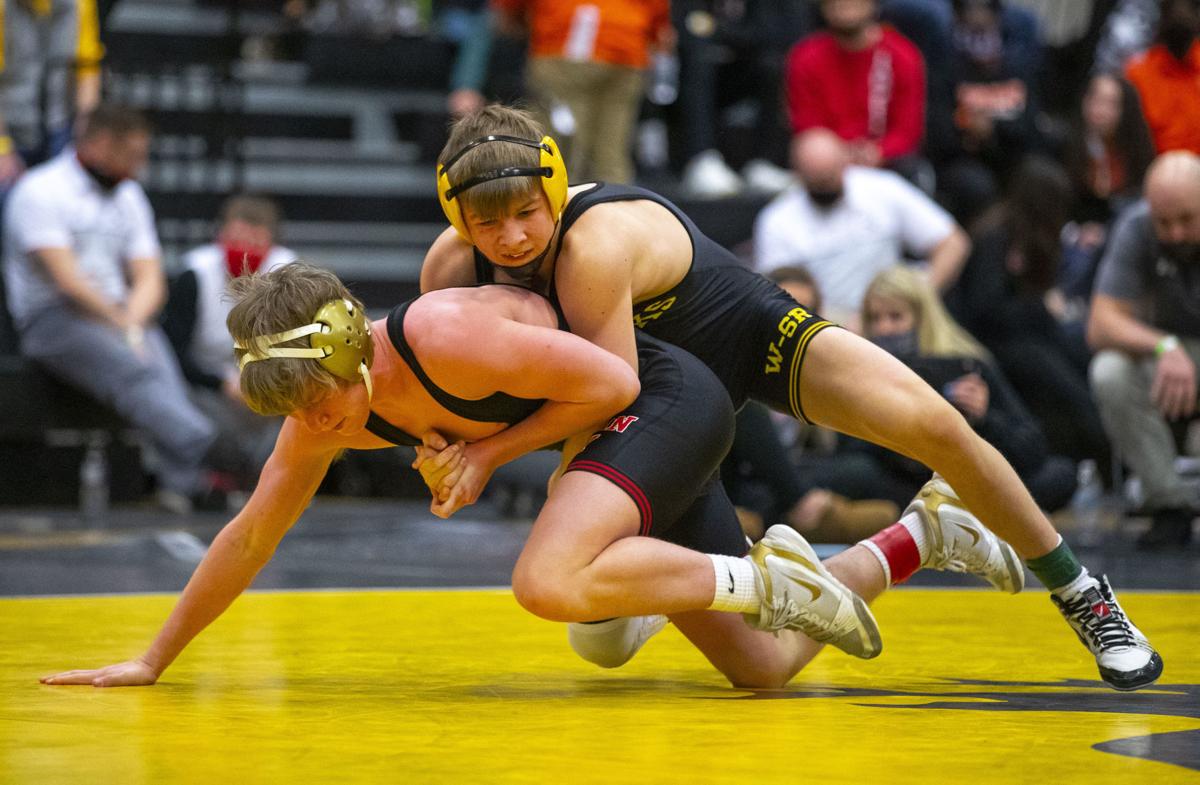 WAVERLY — Ryder Block knows the competitor in him would want redemption.
If the Waverly-Shell Rock sophomore, a defending state champion who has yet to lose a high school match, were ever to lose the first thing on his mind is when would be the rematch.
Block didn't even blink last Saturday when he was informed friend, club teammate and Iowa recruit Drake Ayala of Fort Dodge had decided to compete at 132 pounds in the postseason.
To put the scope of that decision into perspective, Ayala, is considered a Top-10 national recruit, ranked second nationally at 126 by Trackwrestling. Block is ranked 12th nationally at 132 by Track.
Ayala, a senior two-time champion, who had not lost since losing to current Iowa Hawkeye Cullan Schriever of Mason City in the 106-pound state finals in 2018, was beaten by Block, 9-7, in a 132-pound match on Jan. 23 at the Rick Caldwell Invitational in Waverly.
Ayala had won 113 consecutive matches prior to the loss.
"If it happens, it happens," Block said. "We are friends. We train together at Sebolt Wrestling. We are competitors. I understand it. He is one of the best wrestlers in the state. I understand he gets beat and he wants to come after me. It makes sense to me.
"We will see if it happens, again. I'm not going to hold anything back, and neither will he. I respect it."
Waverly-Shell Rock head coach Eric Whitcome gets Ayala's decision, too.
"People were texting me Saturday morning saying, 'Hey, Drake is going up,'" Whitcome said, "My response to that is it is great. We will be at 132 and if our paths cross again we will be the most prepared to go out and win the next match.
"I think it is exciting," continued Whitcome. "I think in the national rankings Drake is still ranked higher than us. I guess it gives us a chance to go out and beat him again and maybe be ahead of him. I don't know, we will see what happens. It will be fun."
There is no guarantee that Block and Ayala will face each other in the finals as 132 is considered a deep and talented weight.
Indianola's Ryder Downey, a past state finalist, is in the top bracket with Block. Southeast Polk's Ayden Kingery, a third-place finisher at the state last February, and Iowa City West's Kael Scranton, who took Block to sudden victory at the Caldwell Invitational, are also in the top half.
The bottom half of the bracket includes prior finalist Jace Rhodes of Mason City, whom Block beat in the district finals. Linn-Mar's Bryce Parker is the third seed.
And there is this to consider: The two dynamic wrestlers could face before the traditional state tournament. Block's Waverly-Shell Rock team is the top seed for today's Class 3A state duals. Fort Dodge is seeded fourth. If both teams win in the first round, the two could meet up in the semifinal dual.
Ayala's decision, however, has put a target on Block, bigger than the one he already had on his back as a defending state champion. Block, who missed the first half of the Go-Hawks season with a knee injury, said he's never thought about being 'the' target.
"I'm coming for everyone, too," Block said. "When I was hurt and no one knew where I was at. I'd be on a bike thinking about what my opponents were doing and that motivated me. In my mind I was thinking I'm coming for everybody.
"I want to beat everybody. I want to be the best. I never thought about it as a target on my back because I'm coming for everybody else, too."
Block was already a known commodity on the national scene before arriving inside the WSR wrestling room.
Then he went 44-0 last winter winning the 106-pound state title over Brandon O'Brien of Linn-Mar, in addition to several other significant wins. He beat Northwestern recruit Sammy Hayes of Orland Park, Ill., and Minnesota state runner-up Landon Robideau of St.Michael-Albertville in back-to-back matches at the Clash in Rochester, Minn.
Block was a big 106-pound wrestler and Whitcome anticipated him moving up a weight class or two as a sophomore, but Block's initial plans for the 2020-21 season got sidetracked early.
"I was trying to go 120 before the season started and then on the third day of practice I kind of messed my knee up and had to sit out a while," Block said. "While I was out I was looking at some rankings and talked to my coaches and asked what do you guys think if I go up to 132? They were all for it."
While out with the injury, instead of standing on the sidelines watching his teammates work out, Block spent his time in the weight room bulking up. He also spent substantial time on an airdyne bike to get what he described as 'big blows' for his lungs.
Block returned Jan. 2 and has not missed a beat with victories over Kingery and Waukee's Thurman Christensen, third at 120 last year, in addition to the wins over Ayala and Rhodes.
"I feel good. I feel better than ever," Block said.