CHARLES CITY — It's early in the morning inside the Charles City High School gymnasium and chairs and cones are lined up all over the court.
A solitary figure cuts sharply past one of the chairs, placed perfectly to emulate a defender, and then fires up a shot ... swish.
Over and over the player continues the drill, and that is only after he had spent the first 20-30 minutes of his time in the gym working on dribbling left-handed, then right handed, in and around the cones.
WAVERLY — The last time rivals Charles City and Waverly-Shell Rock tangled in a Northeast Io…
When he's done dribbling and cutting past phantom defenders, Charles City senior Jackson Molstead lofts up 500-plus shots from all over the court.
"He doesn't take days off," Comets head coach Ben Klapperich said. "He is just self-motivated with a tremendous work ethic. He sees the end goal and is committed to playing at his highest potential."
That work ethic was ingrained in Molstead at an early age.
"Dad (Former Northern Iowa kicker Mike Molstead) works hard at life, has battled lung cancer four times," Molstead said. "He is the hardest worker I've ever seen. It translated over to me.
"I wasn't gifted with height or athleticism so I have to work harder than most people."
A starter since he was a freshman, Molstead's off-season and in-season work paid off in a big way when Jan. 25, in the midst of a 35-point game in a win over Oelwein, the 5-foot-11 point guard who is committed to Wartburg broke Charles City's all-time scoring record, surpassing former Iowa great Greg Brunner's 1,562 points.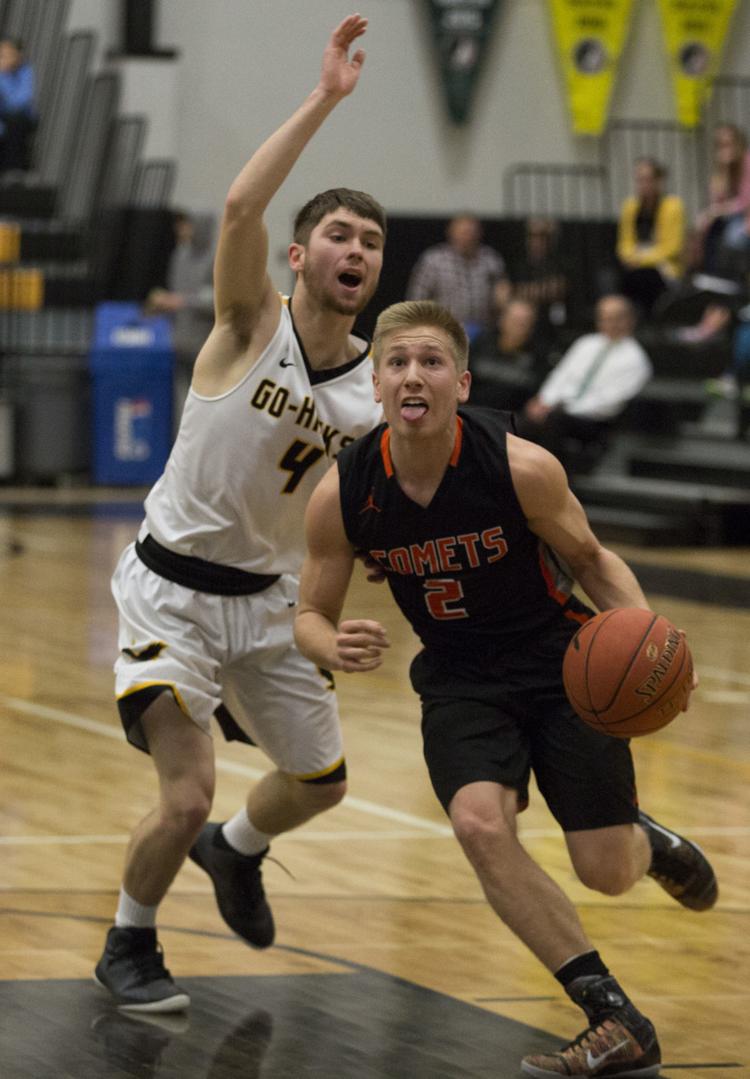 One night after breaking the record, Molstead dropped 46 on Dike-New Hartford in a one-point loss and now has 1,675 points with four regular-season games left for the Comets (11-6).
"It is very humbling," said Molstead of breaking the record. Brunner honored him with a plaque commemorating the achievement last Friday. "It's a blessing. It's not something I intended to break. My intent was to make an impact on Charles City basketball."
Molstead ranks fourth in all classes in the state with his 29.1 points per game average. He is shooting 48 percent from the field and averages 6.6 assists and 2.1 steals a game. He has committed only 36 turnovers.
Those numbers haven't always come easily. The Comets graduated eight seniors last year, which means Molstead has drawn extra attention this winter. After starting 1-3, Charles City has gone 10-3 with the three losses by a combined four points.
"It took time to figure out roles, figuring out how to play with Jackson," Klapperich said of his young team. "At the beginning, the younger guys were struggling to move without the basketball, but Jackson was great.
"He has got great vision on the court. He can create a lot of things. What Jackson does makes everybody else around him better."
In addition to the extra individual workouts, which included getting up every day at 5:30 a.m. in the summer to hit the weight room with his brother Jordan, Jackson has honed his skills against some of the best competition in the nation playing first for the Iowa Barnstormers and the past two seasons with Martin Brothers on the AAU circuit.
"That has been an amazing experience," Jackson said. "I've played all over the country against some of the best kids in the nation. I can't thank both organizations enough for helping me as a player and a person. I have gained many amazing life experiences out of it."
Molstead committed to Wartburg just a couple of weeks ago, saying it felt like the right place to be, and says that decision has freed him to concentrate on leading the Comets to what he hopes is a long post-season run.
"We're coming into our own," Molstead said. "We've got a tough district with all sorts of good teams, but I'm definitely confident enough that we can make it there ... the goal is to get to state."