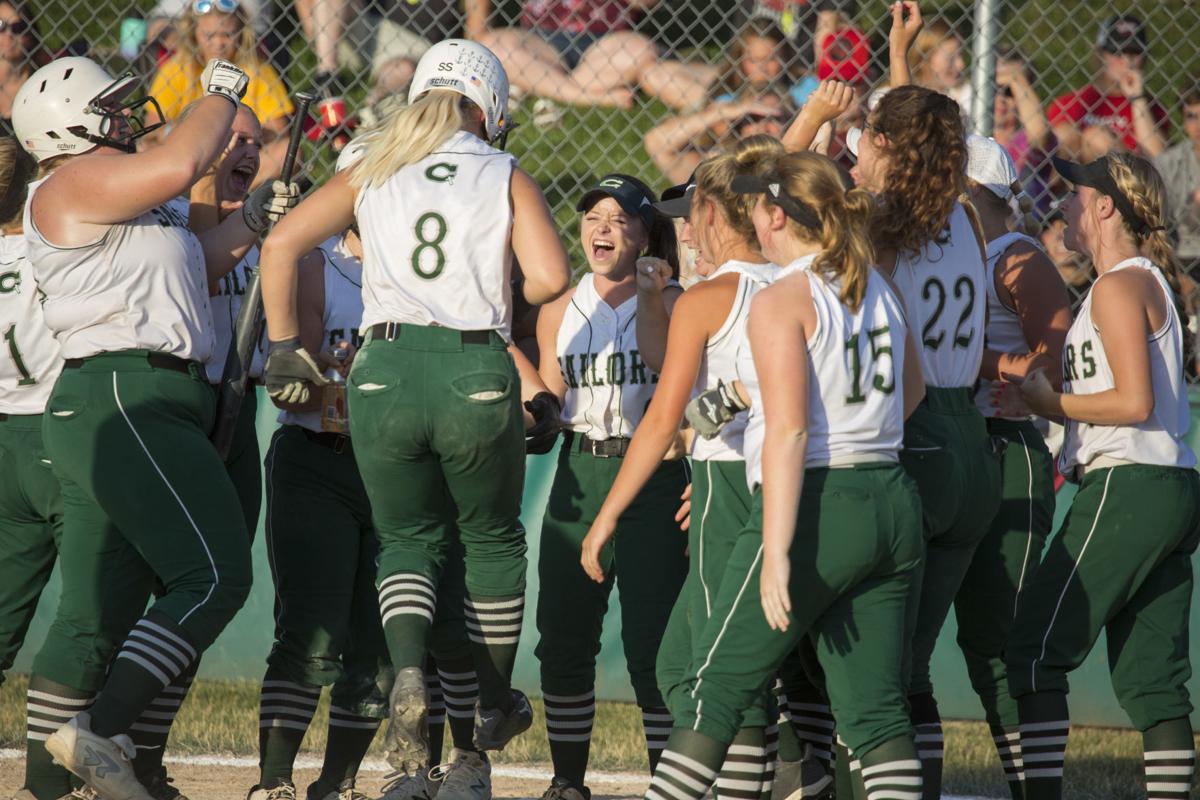 Three months removed from the suspension of athletics due to the COVID-19 pandemic, Iowa high school baseball and softball are set for a mid-June return to competition.
Iowa Governor Kim Reynolds announced Wednesday that athletic seasons may be conducted for the state's two summer prep sports. The announcement approved the reopening of school facilities and the start of practices on Monday, June 1. Games may begin as soon as Monday, June 15.
Following the lead of Reynolds and the Iowa Department of Education, the Iowa Girls High School Athletic Union and Iowa High School Athletic Association voted to approve resuming the 2020 summer seasons.
Schools have been instructed to follow reopening guidance supplied by state's education department with recommendations based on conversations with the two athletics governing bodies, the Iowa Department of Public Health and the governor's office.
A checklist for the resumption of practice includes some of the following items:
No participation among individuals with symptoms or who have been in contact with anyone with a confirmed COVID-19 diagnosis in the last 14 days.
No dugouts may be used.
Players must use their own gloves, helmets and bats as much as possible.
Social distancing must be maintained during drills.
Players must bring their own water bottles, no shared drinking fountains.
Coaches must sanitize shared equipment before and after each practice.
Players and coaches should check their temperatures before attending practices.
Sunflower seed spitting is banned.
Coaches are responsible for tracking absences for the purpose of noting potential COVID-19 cases.
Once games begin on June 15, dugout use will be permitted. Fans will be allowed to attend with limited use of bleachers. Spectators are encouraged to bring their own chairs or stand. Social distancing between different household units is also recommended. No concession stands will be permitted.
These recommendations are more lax than the 16-page guidance Iowa athletics directors received from the National Federation of State High School Associations and the Sports Medicine Advisory Committee earlier this week.
The NFHS set up preventative measures within three phases based on where local states or counties stand with regard to the virus' spread. Cloth face coverings were recommended — along with social distancing and the ability to clean equipment between use by competitors — to move baseball and softball from a moderate to low risk sport. Spectators aren't recommended by the NFHS while mass gatherings are still prohibited.
IHSAA communications director Chris Cuellar clarified while there's no direct phase application from the NFHS document to the Iowa DE guidance, state officials have used national recommendations.
Postseason play and state tournaments will take place this summer with more sport-specific guidance to be released by the IHSAA and IGHSAU early next week.
Cedar Falls athletics director Troy Becker expressed some concerns and is waiting for more details to be ironed out before he'll be comfortable with summer sports resuming.
"Just because there's so many uncertainties and things that we don't know about at this point, I was surprised the announcement was made today," Becker said.
Finding umpires and transportation logistics sit near the top of the list of issues that must be addressed. Many of the state's current officials fall into the at-risk category with regard to COVID-19. Several coaches are also at-risk.
The NFHS and SMAC has recommended social distancing be maintained when traveling to events with more buses or vans and/or transportation from parents or guardians likely needed.
"I'm happy for our state's baseball and softball players that they're going to have an opportunity to play for a state championship," Waterloo West athletics director Tony Pappas said. "With that being said, there's still a lot of questions out there that are going to need to be addressed.
"I think our coaches, fans and players will certainly try to abide by those (state guidelines) to make everything as safe as possible. That's all you can ask."
Iowa's resumption of play will come before professional sports organizations with the resources of Major League Baseball and the National Basketball Association return to competition.
"If you have Major League Baseball and the NBA that hasn't started up yet, it seems odd to me that we're somehow going to start up here in Iowa with activities before even those sports have things worked out," Becker noted.
Despite concerns, the Cedar Falls AD is ultimately excited by the prospect of play resuming.
"I feel like if we have permission from the state to do it and we have guidelines that we can follow and adhere to, we're going to play our season," Becker said. "Make no mistake; I'm excited for our coaches and our kids because we've had a lot of negative information lately. ... It's good to have something positive in terms of news."
Waterloo Columbus softball coach Chris Olmstead echoed that sentiment.
"I think people needed some positive news and I view this as positive news today," Olmstead said.
While eager to resume coaching, Olmstead also points out he wants it to be done in a safe environment. He empathizes with the challenges that state officials have faced during this unprecedented period.
"I prayed for them because they have tough decisions to make and no matter what the decision was going to be, they're going to get criticized for it either way," Olmstead said. "Decisions had to be made. They've made it, and I think they've made it based off the data they had with the pandemic."
While acknowledging some athletes and families may be uncomfortable returning to the field, Olmstead pointed out there may be others looking to get outdoors and try something new following a lengthy period of isolation. He sent out an email to softball families Wednesday afternoon encouraging mutual respect.
"The main thing I talk about in there is different folks will process news items different ways," Olmstead said. "I'm just asking people to continue to be respectful of others now and throughout the course of the upcoming season. There may be parents out there who don't want their daughter or son to play. People need to respect those decisions."
With doubleheaders in place, a half-season schedule of 20 games appears likely prior to the start of postseason play. Athletics directors are also hopeful some games will be played at the junior varsity and freshman/sophomore levels.
With regard to the three largest metro high schools, a tentative Mississippi Valley Conference schedule has already been created with games starting on June 22. Teams will play seven divisional doubleheaders and at least one crossover doubleheader with another MVC school.
MVC athletics directors are scheduled to meet Thursday afternoon to finalize the slate and see if more games will be added for the week of June 15. Pappas anticipates West will fill the remainder of its schedule with games against metro opponents Columbus, Cedar Falls and East.
Once competition returns, it will certainly look different. Home run hitters won't be mobbed by teammates when crossing the plate. High fives and hugs will also vanish.
Still, it will be one step towards normalcy.
"Everybody is going to be so excited," Olmstead said, addressing his team's return to practice. "I have a sense there's going to be some chaos to it because we're going to be constantly monitoring things. I've got good help with my assistants. A lot of the things we teach the girls are drills that they've been working on for years."
Get in the game with our Prep Sports Newsletter
Sent weekly directly to your inbox!