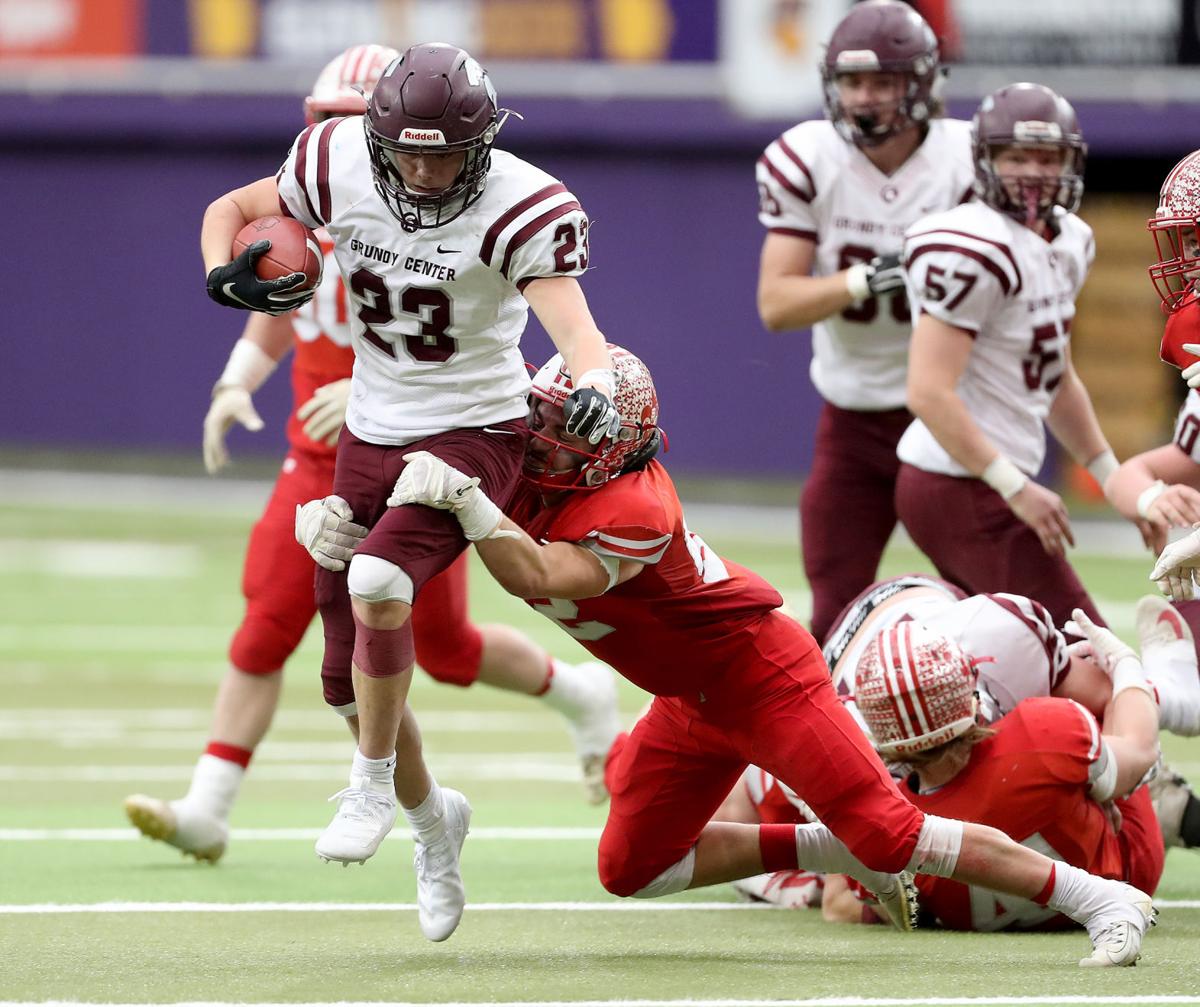 GRUNDY CENTER – It's going to be weird for a minute or two Friday before kickoff for Dike-New Hartford head football coach Don Betts.
Betts has stood the opposite sideline and coached against his son, Nick.
Friday, however, will be the first time he's coached against one of his grandkids.
Betts' grandson, Austin, Nick's son, is a sophomore wide receiver/defensive back for the Spartans.
"It is one of those I definitely want to win, but I want my grandson to play well, too," Betts said. "It will be weird with Austin. Nick coached over there the last time we played them, so I've coached against my son before, but I have never coached against one of my grandsons. I hope he has an amazing game and I hope Grundy Center wins all the games they played this year except for the one Friday. It is definitely going to be strange coaching against him."
Betts figures the weirdness will pass once the opening kick flies into the air in game that is the buzz of two communities located 15 miles apart.
The Wolverines are ranked No. 3 in Class 1A and are coming off an impressive win over 3A school Oskaloosa, while the Spartans, last year's Class A state runner up, are ranked No. 1 in Class A..
"We are excited for the opportunity," Grundy Center head coach Travis Zajac said. "They are a well-coached, disciplined football team with a ton of tradition on their side. We are located 15 miles apart in the same country. A lot of high quality football is going to be played and it is going to be a lot of fun for both schools and communities on Friday night."
"It's a good rivalry game because of how close we are and we kind of would like to rekindle it a bit. There certainly is a lot of excitement for it around the communities," added Betts.
Both teams feel good about strong road wins, but know they will have to play much better to be 2-0 by the end of Friday night.
Grundy Center got a 94-yard kickoff return for touchdown from Matt Jansen to open the game with Panorama, but the Panthers twice rallied to tie the game before Zach Opheim put the Spartans ahead for good in the third quarter with his second touchdown run.
"We dealt with a lot of different types of adversity from a long, hot muggy road trip on the bus to struggling to establish any type of throwing game," Zajac said. "But we ran the ball with a lot of success, especially in the second half, to get a good quality win against a quality football team that is going to win a lot of games."
The Wolverines also started slow after a long bus ride, and quickly fell behind Oskaloosa 13-0. But the Indians committed a series of errors and Dike-New Hartford made them pay for each one of them.
DNH blocked one punt, converted a fake punt, tackled the punter behind the line of scrimmage on a bobbled snap and also got a an interception return for touchdown from defensive linemen Cale Jensen that pushed the Wolverines ahead, 34-20, as part of a 28-point third quarter that saw DNH go from trailing 20-13 to leading 41-20 after three quarters.
"I think we were very resilient," Betts said. "We had an opportunity early to fold our tents because we were getting it taken to us early, but our kids didn't do that. They kept fighting and battling."
The teams are differently stylistically on offense, but the Spartans and Wolverines are fairly similar philosophically. Each team wants to establish their strong run games and control the tempo of the game.
"We got to take care of the football," Zajac said. "They won the turnover battle (4-0) the other night. We had a couple of longer drives last Friday night that helped us control the tempo of the game. Dike likes to play the same way so we have to be able to stop the run and establish ours."
Betts says the more he watches film on Grundy Center, the more impressed he becomes with the Spartans.
"They have an outstanding football team," Betts said. "We will have our hands full Friday night, and sometimes that is coaching hyperbole to say that, but this is absolutely the truth. We are going to have to play very well to compete with these guys."
Get in the game with our Prep Sports Newsletter
Sent weekly directly to your inbox!