WATERLOO — A slow start went a long way toward the Waterloo West football team sustaining its first loss last week against Western Dubuque.
Wahawk quarterback Cade Dodd made sure those early mistakes weren't repeated in Friday's matchup with Marshalltown.
Dodd threw for 258 yards and five touchdowns in less than a half of action, pacing the Wahawks in a 56-14 rout Friday night.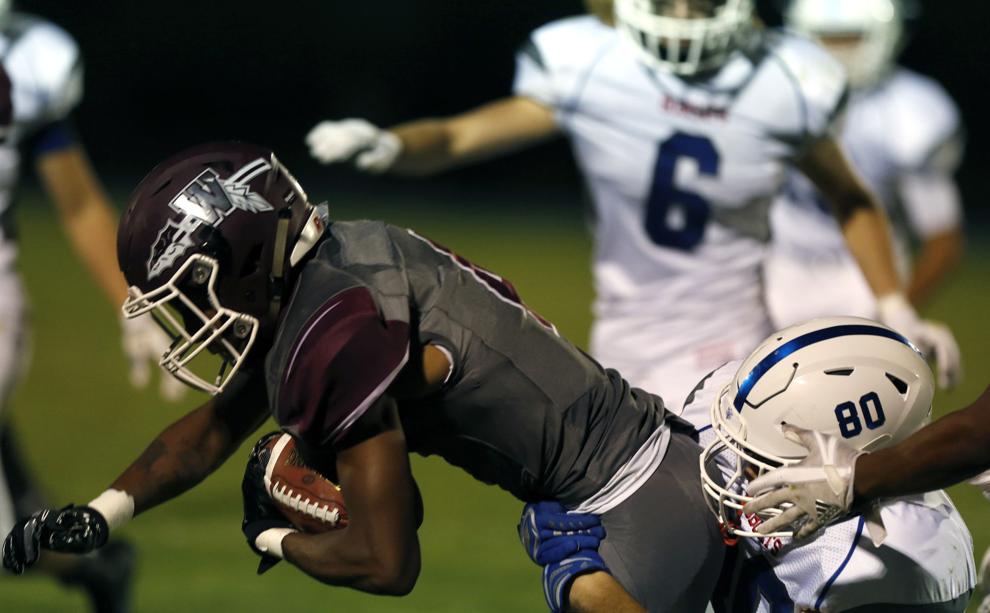 Marrio Wright accounted for 175 of Dodd's first-half yards, and started the game's scoring with a 37-yard touchdown run off a bubble screen on the game's opening possession.
After the teams traded rushing scores, Wright got free again, breaking wide open on third-and-11 and racing away for an 89-yard score to put West up 21-7.
He added a third score late in the half, cutting through the secondary for a 35 yard catch-and-run. The three touchdowns gave the senior wideout six scores through the first four games.
It wasn't just Wright getting in on the action, as Dodd, who had just four touchdown passes in the first three games, also connected on a 27-yard score with his brother Caleb and a 32-yard strike to Tanner Pollack.
After starting slow and fading late in what ended up as a 22-14 loss to Western Dubuque, Wahawk players and coaches admit they entered the week in a bad mood and were happy to take their frustrations out on the Bobcats Friday night.
"Our guys were really upset about last week," West Coach Lonnie Moore said. "They really took it into their own hands to really focus throughout the week and keep working hard. And we came out and played well."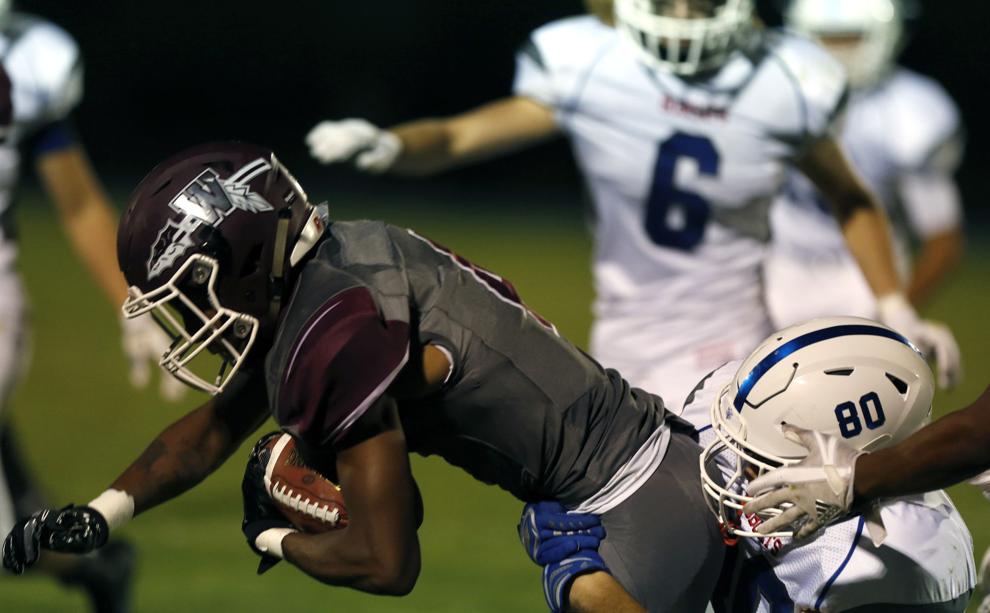 "Some of us had that taste in our mouth, I know I did for sure," added Dodd. "I felt like I had a lot of weight on my shoulders. But I feel like we really bounced back."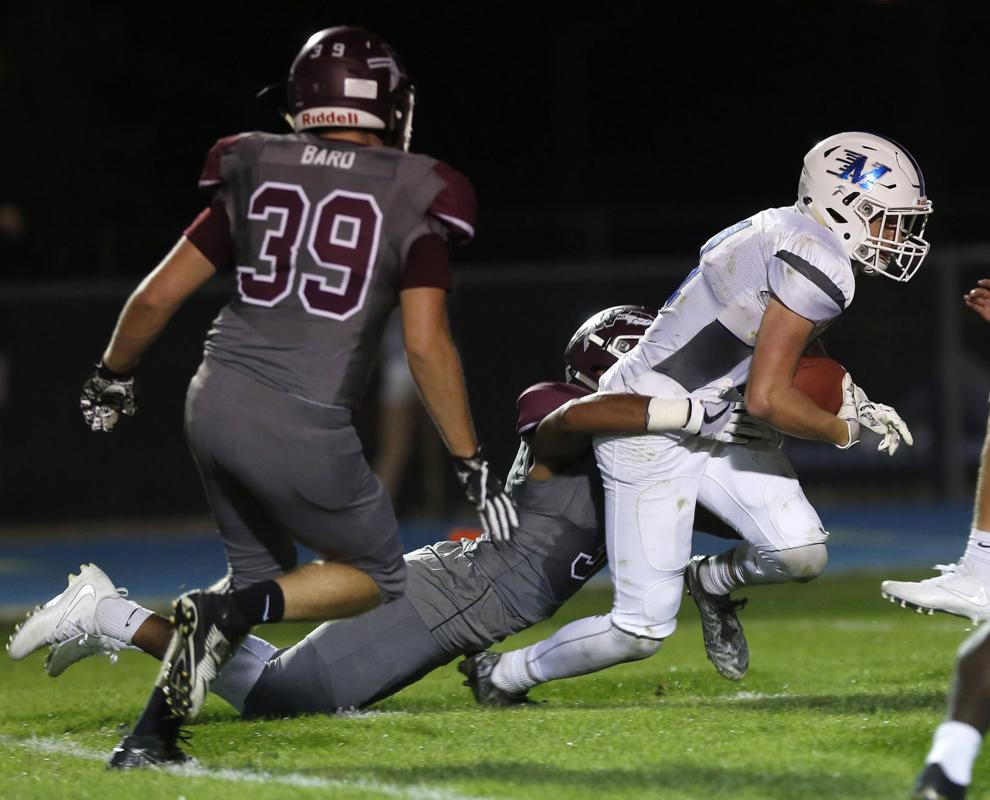 The Wahawk passing game got plenty of help from a rushing attack that gained 235 yards.
Richardson Gbeynie led the way with 74, while Zeph Toe added 71. Gbeynie and Toe both had touchdowns from the tailback position, while Pollock added another ground score after replacing Dodd at quarterback.
After allowing an opening-drive touchdown, which was set up by a 75-yard pass on a busted coverage, the Wahawk defense clamped down, recording a safety and allowing just 11 yards the rest of the half.
Now 3-1, West now turns its attention to district play, which begins next week with a matchup against city rival Waterloo East.
Pleased to see a focused effort from his team Friday, Moore is confident it will carry over as West prepares for the meatiest part of its schedule.
"I like where we're at," he said "We're healthy and we're getting better and now we have to keep getting better at everything we do."
And while it may not impact them much going forward, some players still seemed sore about what transpired last week and said they're on a season-long mission to avoid such slip-ups moving forward.
"We're stepping up. We're not letting any teams step over us like that again," Wright said.
Wat. West 56, Marshalltown 14
Marshalltown 7 0 0 7 — 14
West — Marrio Wright 37 pass from Cade Dodd (Adijan Muhamedagic kick)
Mar — Alexander Rockingham 3 run (Ryan Huffman kick)
West — Richardson Gbeynie 31 run (Muhamadagic kick)
West — Wright 89 pass from Cade Dodd (Muhamadagic kick)
West — Tanner Pollock 32 pass from Cade Dodd (Muhamadagic kick)
West — Caleb Dodd 27 pass from Cade Dodd (Muhamadagic kick)
West — Safety, bad snap on a punt
West — Wright 30 pass from Cade Dodd (pass failed)
West — Pollock 16 run (Gbeynie kick)
Mar — Samuel Irwin 3 run (Huffman kick)
West — Zeph Toe 8 run (kick failed)
Rushes-yards 24-38 36-235
Comp-att-int 11-20-0 8-13-258
Penalties-yards 3-29 7-69
MARSHALLTOWN — Wyatt Himes 3-20, Samuel Irwin 9-17, Giorgio Diiorio 2-6, Alexander Rockingham 10-minus 5.
WEST — Richardson Gbeynie 5-74, Zeph Toe 11-71, Lucas Mastin 2-46, Tanner Pollock 3-31, Kadin Paulus 9-18, Team 1-minus 5.
MARSHALLTOWN — Irwin 10-16-0, 161 yards, Jacob Smith 1-4-1, 5 yards.
WEST — Cade Dodd 8-12-0, 258 yards, Pollock 0-4-0.
MARSHALLTOWN — Joshua Maeide 4-97, Noah DeVenney 2-32, Dylan Eygabroad 3-28, Rockingham 2-9.