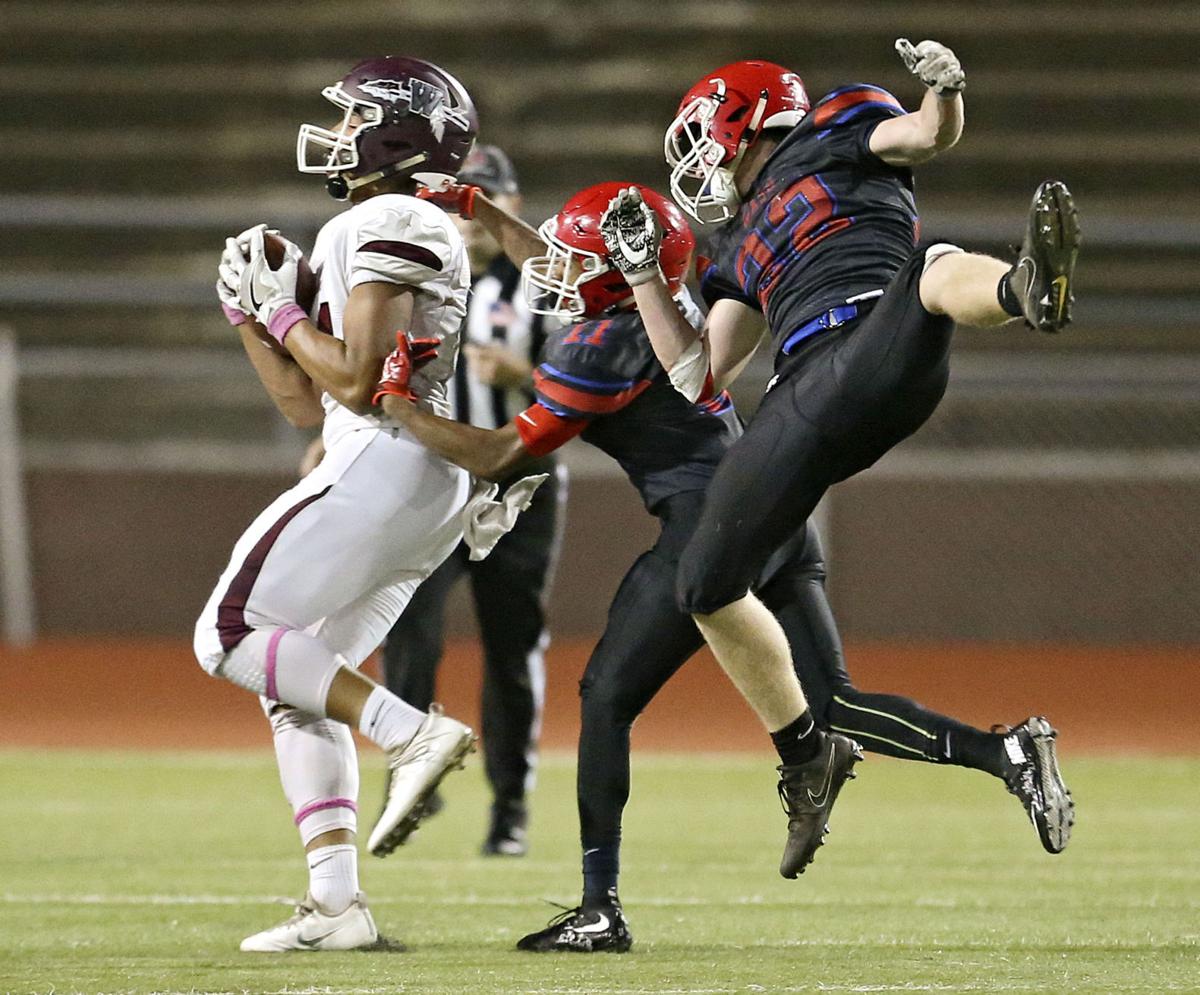 CEDAR RAPIDS — Nothing to play for? Forget it.
Waterloo West never quit on its 2017 football season.
Through five interceptions, Wahawk quarterback Cade Dodd persevered.
A missed field goal by kicker Adijan Muhamedagic? No big deal. He got the next one.
Muhamedagic executed an onside kick and later perfectly split the uprights with a 49-yard blast as West scored three times in the final 1 minute, 13 seconds to end its season with a wild and thrilling 38-35 win over playoff qualifier Cedar Rapids Washington Thursday night at Kingston Stadium.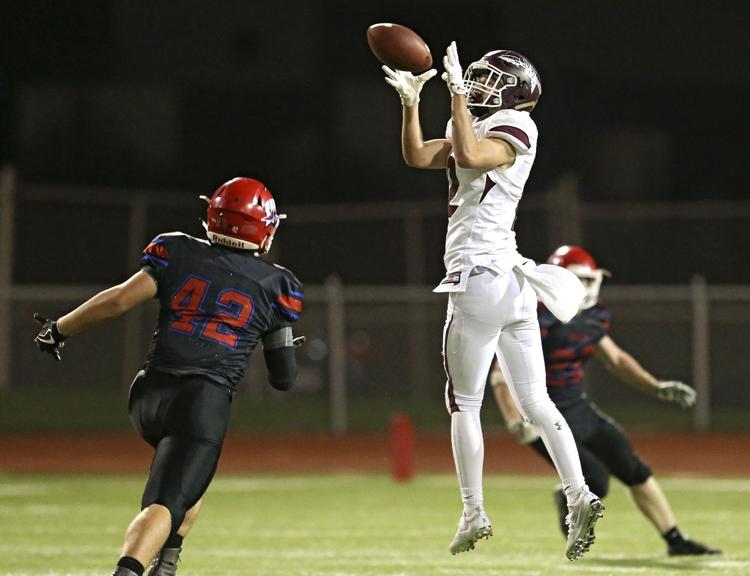 It was a sweet taste of victory over a Washington team (5-4, 3-2) that secured the district's final playoff spot last weekend. Heartbreaking losses to Cedar Rapids Jefferson and Mason City knocked West (5-4, 2-3) out of a return trip to the postseason, but this team led by a resilient senior class made a closing statement they'll never forget.
"That's how our season has been," West coach Lonnie Moore said. "It's been up and down like that all year.
"We call it riding the roller coaster. They never got low with the lows, high with the highs. They continued to keep playing throughout the game. I'm excited for them."
Dodd, West's senior first-year starting quarterback, rode the roller coaster as well as anyone. Facing a Washington defense consistently switching up its coverage, he overcame the interceptions and threw for 378 yards and four touchdowns.
"In the last three minutes, coach really kicked us into the gear," Dodd said. "He told us since Week 1 that our last game we want to go out in style.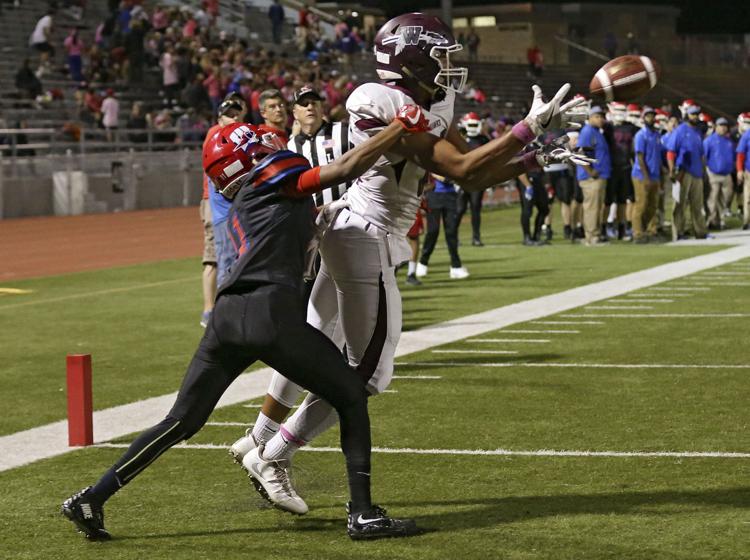 "Just the fact that our guys know this is our final game, win or lose us seniors we wanted to go out with a fight. We weren't going to back down. A lot of us are not going to play football again."
Dodd's senior playmakers certainly stepped up down the stretch.
Classmate Mario Wright juked past two Warriors into the end zone on an 18-yard reception with 1:13 remaining before fellow senior Kalen Burt recovered Muhamedagic's onside kick. Dodd then found senior Devon Jones on a 30-yard pass, and Burt caught a 13-yard touchdown after it bounced through two Washington defenders' hands.
Dodd went back to Burt for the tying conversion, but West still had work to do.
Amel Saric recorded West's fourth interception to set up Muhamedagic, who completed the dramatic victory with a career-long 49-yard field goal and 1 second remaining on the clock. Muhamedagic showcased plenty of leg, but missed wide left from 39 yards earlier in the game.
"I dream of it every day,"said Muhamedagic, a fourth-year starting kicker. "That's my dream. It was perfect.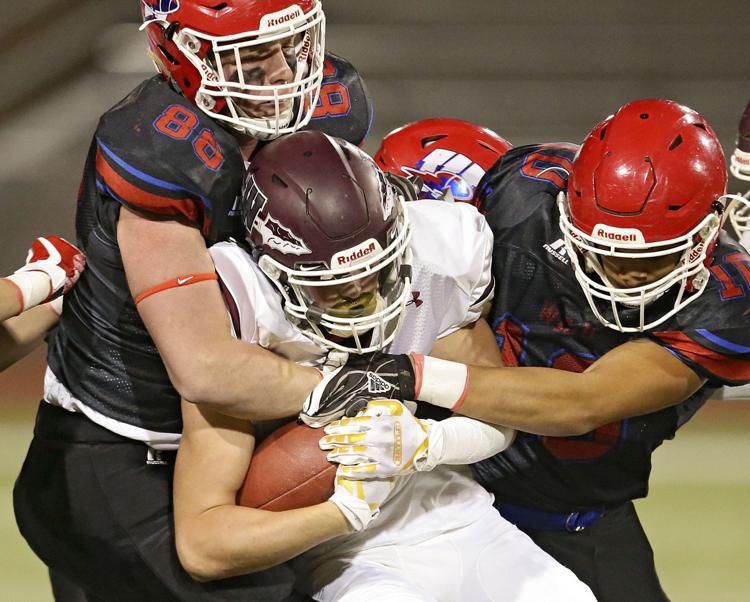 "Honestly, I just had to do my job. I can't think of a better way to end my senior year than doing that. It's been a blast. I thank coaches for everything. I'm so happy we got this win."
This game certainly had its share of dramatic swings.
Washington's Bryan Kunde threw for 272 yards and Haven Henningsen rushed for 134 as the Warriors overcame a 20-7 deficit by scoring twice in the final two minutes of the first half. Washington had 28 unanswered points before West's closing statement.
Wright finished with 143 receiving yards and two scores, while Burt had 103 yards and two touchdowns of his own. Caleb Dodd returned an interception for a Wahawk score in the first half as West's defense matched Washington's big plays.
One year removed from a senior class that won eight games, this 2017-18 senior class helped keep West's program trending in the right direction.
"We end up with two winning records in a row," Moore said. "I really think our program is taking the next step, slowly but surely it's getting there. ... I see a lot of positives. We've just got to continue to take the next step."
Added Muhamedagic, "Our seniors did everything for us. When we're down, they're the guys who bring us up. Leadership, that's the key. The whole goal of the team to have leadership."
West 38, C.R. Washington 35
Waterloo West 7 13 0 18 — 38
C.R. Washington 7 14 7 7 — 35
WW — Mario Wright 54 pass from Cade Dodd (Adijan Muhamedagic kick)
CRW — Cade Saylor 27 pass from Bryan Kunde (Andrew Hammer kick)
WW — Kalen Burt 17 pass from Cade Dodd (run failed)
WW—Caleb Dodd 31 interception return (Muhamedagic kick)
CRW—Haven Henningsen 6 run (Hammer kick)
CRW—Keion Smith-Allen 20 pass from Kunde (Hammer kick)
CRW—Josiah Braggs 5 run (Hammer kick)
CRW—Lincoln Riley 6 pass from Kunde (Hammer kick)
WW—Wright 18 pass from Cade Dodd (Muhamedagic kick)
WW—Burt 13 pass from Cade Dodd (Burt from Cade Dodd)
WW—Muhamedagic 49 field goal
Rushes-yards 20-36 36-138
Comp-att-int 23-33-5 20-31-4
Penalties-yards 5-56 7-70
WATERLOO WEST — Kadin Paulus 8-50, Richardson Gbeynie 8-15, Cade Dodd 3-minus 14, Tanner Pollock 1-minus 15.
C.R. WASHINGTON — Haven Henningsen 31-134, Josiah Braggs 3-12, Bryan Kunde 2-minus 8.
WATERLOO WEST — Dodd 23-33-5, 378 yards.
JANESVILLE — Kunde 20-31-4, 272 yards.
WATERLOO WEST — Mario Wright 8-143, Kalen Burt 6-103, Devon Jones 3-54, Tanner Pollock 3-75, Kadin Paulus 1-11, Amel Saric 1-4, Gbeynie 1-minus 2.
C.R. WASHINGTON—Ross Snitker 7-88, Lincoln Riley 4-48, Henningsen 3-35, Cade Saylor 2-40, Josiah Braggs 1-23, Tavius Skylor Mathis 1-5.
Get in the game with our Prep Sports Newsletter
Sent weekly directly to your inbox!