JANESVILLE — Thomas Even is the home run hitter for Don Bosco's top-ranked football team.
Every time he touches the ball, he's a threat to take it the distance.
The explosive Even proved that on his first touch of the evening on Friday, scooping up a punt and racing 61 yards for a touchdown.
That was just the beginning during a memorable night for the all-state senior at Jack Bolt Field.
Even added three more TD runs while rushing for 208 yards as the Dons overcame a slow start to roll past previously unbeaten Janesville 62-7.
"Thomas is a special player, obviously," Don Bosco coach Colby Yoder said. "Every team has to key on him and find a way to stop him. When teams key on Thomas, that opens the door for everyone else."
Even, a powerful 185-pound back, piled up more than 300 all-purpose yards for the 4-0 Dons.
Don Bosco led 14-0 after one quarter in the eight-player district matchup before the Wildcats sliced the lead in half.
Janesville's Carson Pariseau burst through an opening and sprinted 43 yards for a touchdown early in the second quarter to pull his team within 14-7.
The Dons also were plagued by a number of penalties early in the game.
"We were pretty amped up," Yoder said. "We just had to settle down and play our game. They were blitzing and giving us some different looks early in the game. We made some adjustments. We just kept battling – we continue to improve every game."
Leading 14-7, Don Bosco responded with three touchdowns before halftime.
Dons quarterback Cael Frost connected with Lewis Havel on a 19-yard score before teammate Dillon Welter picked off a pass and raced 40 yards for a score.
Don Bosco struck again just before the break when Even powered into the end zone on a three-yard scoring run. That touchdown was set up by a 63-yard scamper by Even.
"We have a lot of firepower on this team and we can score in a number of different ways," Even said. "We have a bunch of good athletes on this team and any one of us can make a big play at any given time."
The big plays continued to start the second half for the Dons.
Frost delivered a 42-yard scoring pass to Cade Tenold before Even broke loose on a 41-yard TD run.
Frost continued his superb play by passing for 137 yards and two touchdowns. He also rushed for 62 yards and one score in directing his team's high-powered offense.
The Dons rushed for 357 yards and finished with 494 yards of total offense.
"Once we settled down, our offense really started clicking," Frost said. "Our defense was stopping them and we knew we could keep scoring. Our line blocked well and our backs ran hard. It was a total team effort."
Don Bosco's defense was equally as strong against Janesville, allowing just one touchdown and only 125 total yards.
"This is a group of kids that flies around and makes plays," Yoder said. "We're not a bunch of big guys, but we've got a lot of speed."
The Dons are on a mission this season after falling short of their state championship goals last season.
"We're all playing with a chip on our shoulder," Even said. "Don Bosco football, we have a lot of pride in our program and we have very high expectations. We really fell short last year and it was disappointing. We want to come back strong this year and show everyone what we're made of."
092019bp-hudson-n-tama-1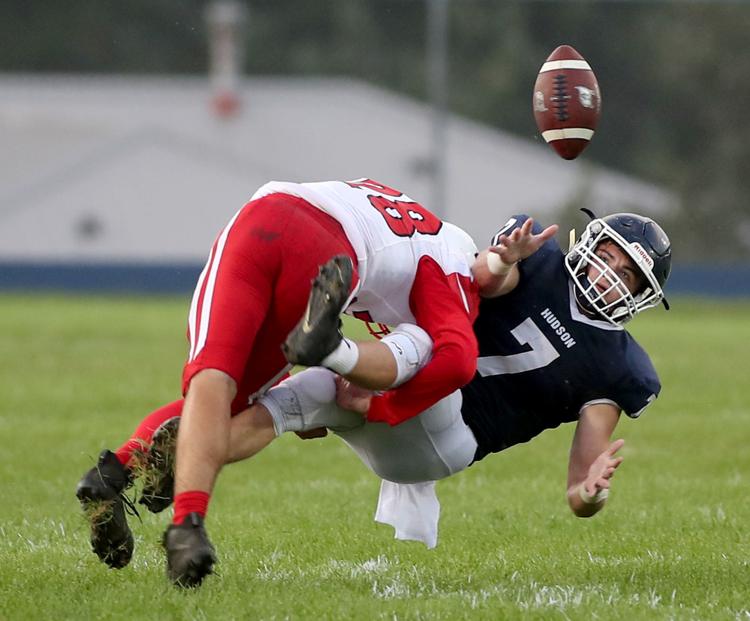 092019bp-hudson-n-tama-2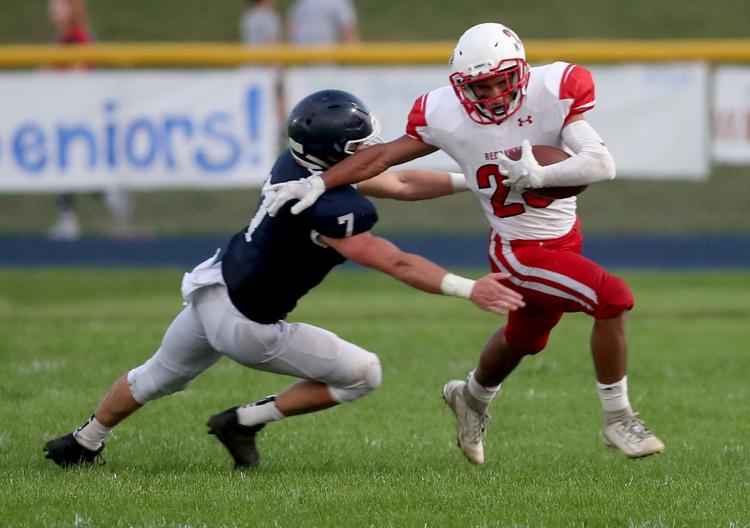 092019bp-hudson-n-tama-3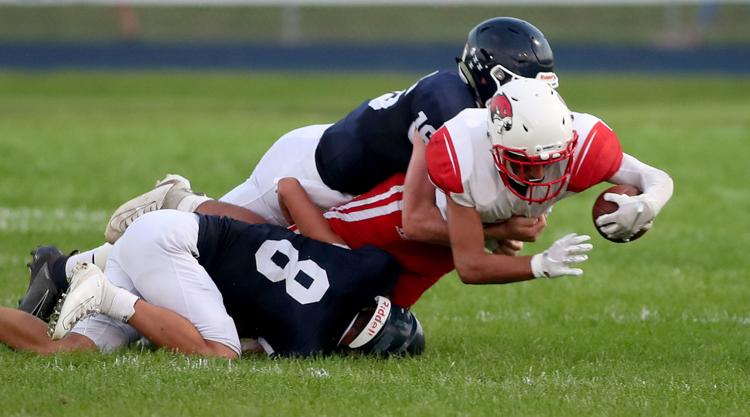 092019bp-hudson-n-tama-4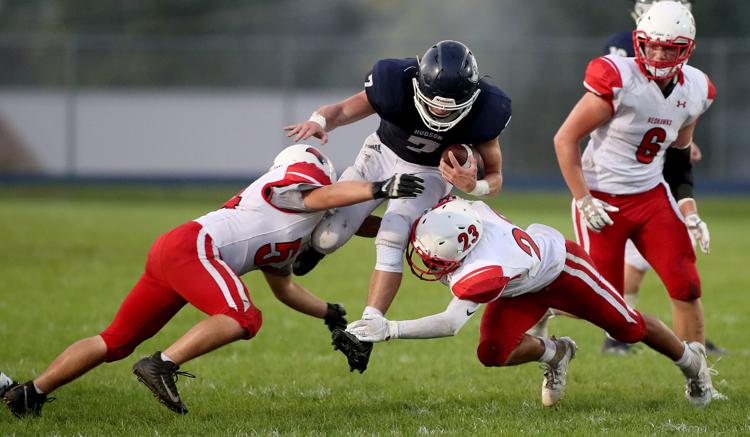 092019bp-hudson-n-tama-5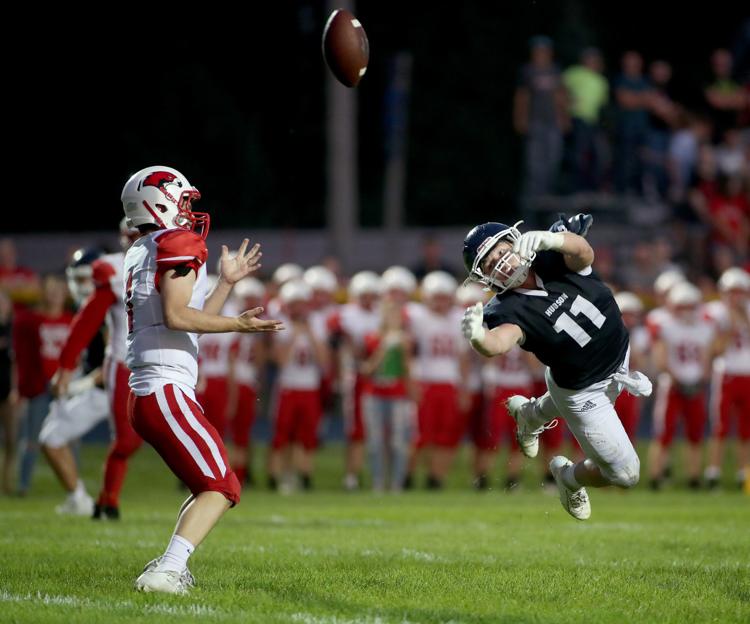 092019bp-hudson-n-tama-6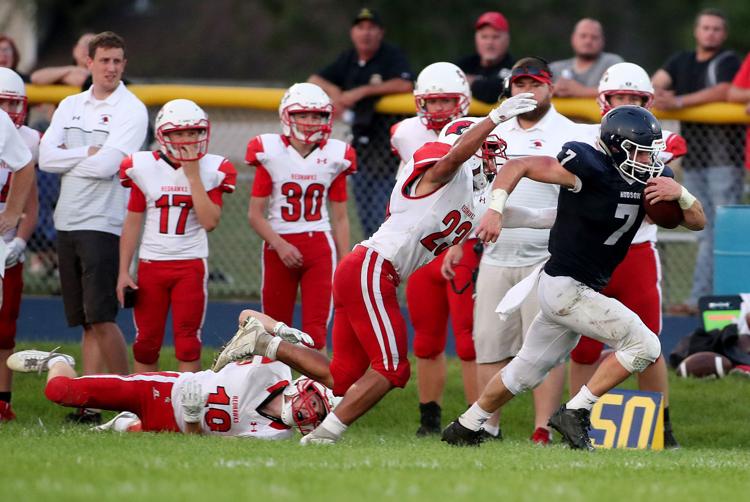 092019bp-columbus-vinton-shellsburg-1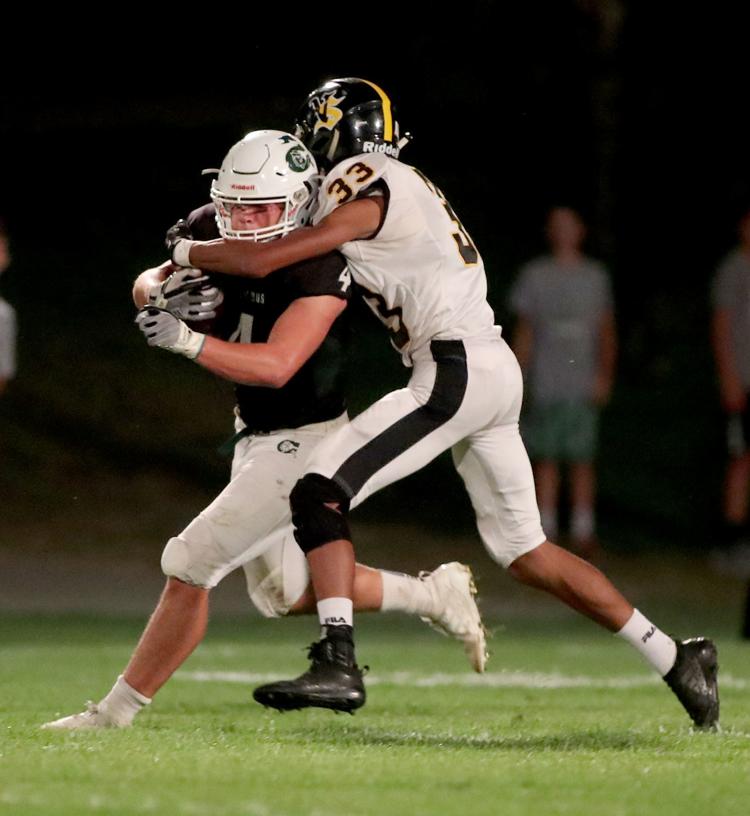 092019bp-columbus-vinton-shellsburg-2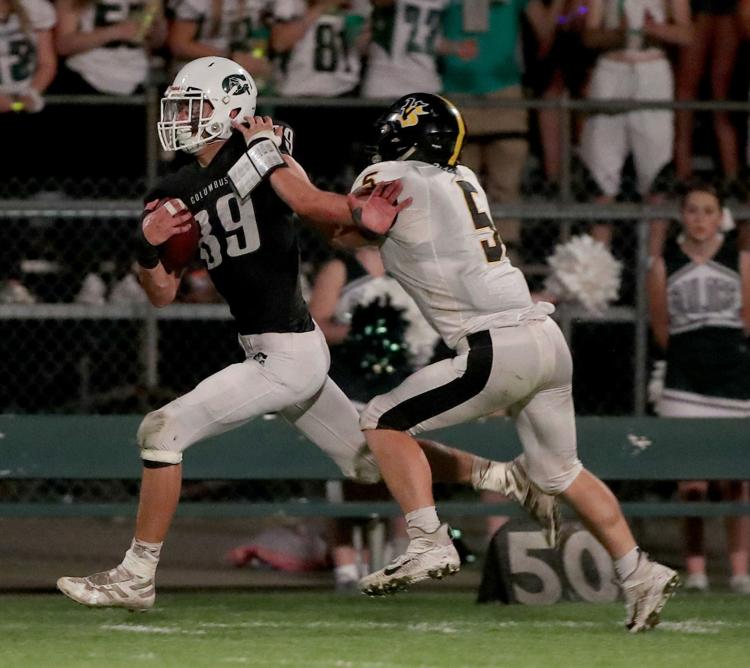 092019bp-columbus-vinton-shellsburg-3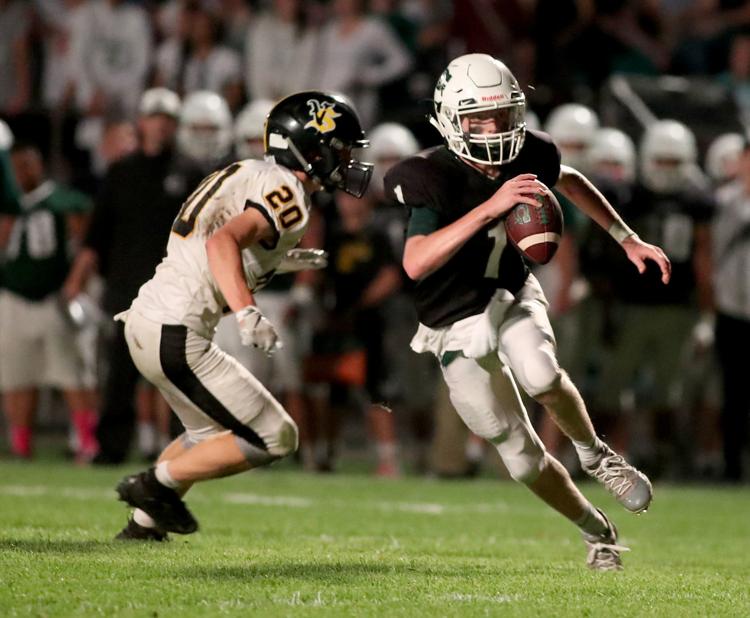 092019bp-columbus-vinton-shellsburg-4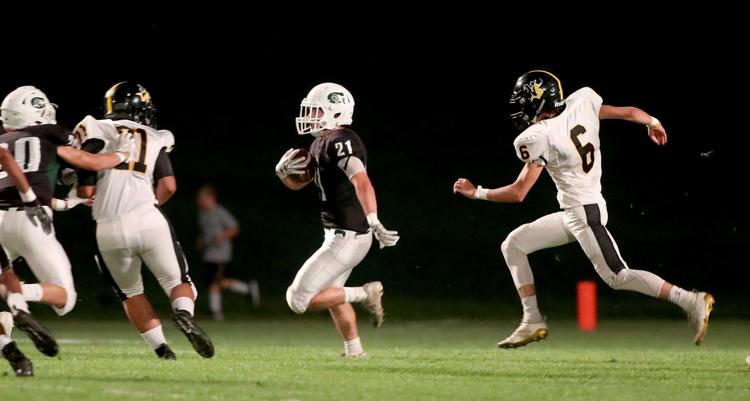 cf-bettendorf-hutchins 092019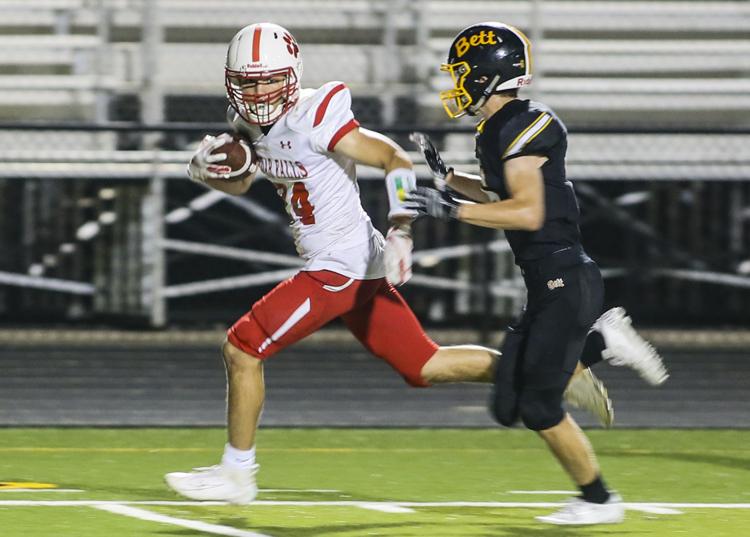 cf-bettendorf-paxson 092019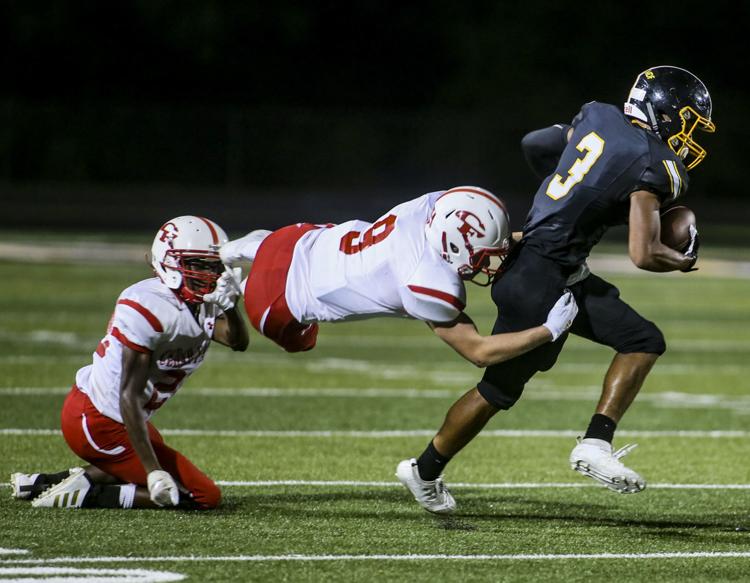 cf-bettendorf-1 092019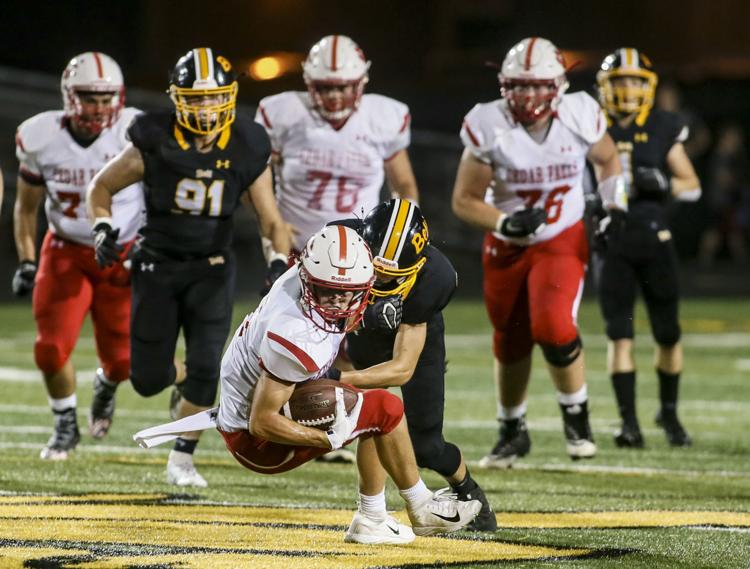 Don Bosco 62, Janesville 7
Don Bosco 14 21 13 14 — 62
You have free articles remaining.
DB – Thomas Even 61 punt return (Cael Frost run)
DB – Even 17 run (pass failed)
Janes – Carson Pariseau 43 run (Pariseau kick)
DB – Lewis Havel 19 pass from Frost (Ayden Hahn kick)
DB – Dillon Welter 40 interception return (Hahn kick)
DB – Even 3 run (Hahn kick)
DB – Cade Tenold 42 pass from Frost (kick failed)
DB – Even 41 run (Hahn kick)
DB – Frost 5 run (Hahn kick)
DB – Ryan Naughton 65 run (Hahn kick)
Rushes-yards 26-357 29-85
Comp-att-int 7-13-0 8-16-1
DON BOSCO – Even 10-208, Naughton 1-65, Frost 12-62.
JANESVILLE – Pariseau 5-62, Leo Dodd 12-20.
DON BOSCO – Frost 7-13-0, 137 yards.
JANESVILLE – Dodd 8-16-1, 40 yards.
DON BOSCO – Havel 6-95, Cade Tenold 1-42.
JANESVILLE – Joey Carlson 3-30, Caden Billingsley 1-9, Jared Hoodjer 2-6.