MANCHESTER — Seventh-ranked Independence made another statement Friday as the Mustangs whipped West Delaware 33-0 in a Class 3A, District 3 football matchup.
The game was scoreless after the opening period, but quarterback Logan Schmitt broke a 95-yard touchdown run 3 minutes, 25 seconds before halftime to send Independence off with a 7-0 lead.
The Mustangs (5-0) then erupted for 26 third-quarter points. Schmitt had 39- and 71-yard touchdown runs and hit Kaine Millard for a 30-yard TD while the defense chipped in a score on Christian Kremer's 35-yard fumble return.
Schmitt finished with 263 rushing yards on 21 carries as Independence piled up 281 total rushing yards.
"He is a special player and he is a great kid," Independence Coach Justin Putz said. "It is also the leadership that he gives us out there and that is honestly kind of what we have come to expect out of Logan."
Defensively, the Mustangs held West Delaware (2-3) to 224 total yards and forced four turnovers on the way to their third shutout of the season.
"That (the shutout) was one of our goals this game," said Schmitt, who also led Independence with 10 ½ tackles and intercepted a pass. "We came out and we did it and it was awesome. Shutting out a good West Delaware team at Brown Field on their homecoming is really something to be proud of and something I will never forget."
HUDSON 47, BCLUW 7: Joe Culham ran 30 times for 237 yards and two touchdowns as Hudson improved to 2-1 in district play and 2-3 overall.
Senior quarterback Payton Stuart completed 5 of 10 passes for 121 yards and one touchdown.
The Pirate defense held the Comets (0-2, 0-5) to 99 total yards.
DIKE-NEW HARTFORD 62, NORTH LINN 14: Second-ranked Dike-New Hartford (5-0) had 597 yards of total offense and opened district play with a win over previously undefeated North Linn.
Cade Bennett had 15 carries for 188 yards and three touchdowns, Drew Larson ran seven times for 109 yards and one TD, Drew Sonnenberg was 9 of 13 for 239 yards and four touchdowns, and Parker Kiewiet had 106 yards on four catches, two of which went for touchdowns.
APLINGTON-PARKERSBURG 55, NORTH BUTLER 0: The Aplington-Parkersburg defense forced seven turnovers and limited North Butler to 77 total yards as the Falcons opened district play with a shutout.
North Butler lost five fumbles and threw a pair of interceptions.
Owen Thomas was 8 of 11 passing for 241 yards and three touchdowns. Jack Haren was the leading receiver with two catches for 113 yards, including a 78-yards touchdown.
A-P (3-2, 1-0) rushed for 251 yards with Jalen Meyer's 79 yards leading the way.
NEW HAMPTON 43, FOREST CITY 7: New Hampton (3-2) outgained Forest City (1-4) 335-128 as both teams opened district play.
Carter Ferrie led the Chickasaws' ground game with 26 carries for 152 yards and a pair of touchdowns.
DECORAH 30, WAVERLY-SHELL ROCK 7: Decorah got 198 passing yards from Tucker Young and the Vikings' defense kept Waverly-Shell Rock (1-4) under wraps.
Keaton Solberg caught three passes for 86 yards and a TD for Decorah (2-3) while Ethan Flege passed for 165 yards, Jonathan Wessel ran for 87 and a score and Tyler McNally had 76 receiving yards on four cagtches for W-SR.
NORTH FAYETTE VALLEY 28, ANAMOSA 6: Liam McIntyre ran 34 times for 258 yards and three touchdowns and North Fayette Valley (3-2) finished with 409 rushing yards against Anamosa (0-5).
BENTON COMMUNITY 41, UNION 7: Seventh-ranked Benton improved to 5-0 behind a stout defense that limited Union (0-5) to 80 rushing yards on 44 carries and five touchdown passes by Clay Krousie.
Jordan Carey had 81 receiving yards on four catches for Union.
OSAGE 24, DENVER 7: Osage (1-4) surrendered just 109 passing yards and 153 on the ground as the Green Devils defeated Denver (1-4).
Nathan Eggena ran for 89 yards on 18 carries and caught two passes for 48 yards to lead Denver's offense.
SUMNER-FREDERICKSBURG 13, LAKE MILLS 6: Peyton Schmitz rushed for 142 yards and two touchdowns and Owen Kime added 87 yards on the ground for Sumner-Fredericksburg (2-3).
The Cougars forced four turnovers as they dropped Lake Mills to 3-2.
SOUTH HARDIN 39, JESUP 14: Jace Pilcher passed for 176 yards and a score and Brodie Kresser had six receptions for 71 yards and a TD for Jesup (2-3).
South Hardin (4-1) held the J-Hawks to 69 rushing yards.
SOUTH WINNESHIEK 28, WAPSIE VALLEY 26, OT: South Winneshiek survived a tough battle with No. 8 Wapsie Valley to reach 4-1 on the season.
Jacob Herold was 19 of 31 for 237 yards and a touchdown passing, Zach Taylor ran for 131 yards and two scores, Noah Tieskoetter caught five passes for 95 yards and a TD and Cael Kuboushek had eight catches for 81 yards for a South Winn offense that piled up 446 total yards.
Wapsie Valley (3-2) got 179 passing yards and a TD from Kobe Risse while Trevor Sauerbrei ran for 117 yards and three scores caught six passes for 120 yards and had an interception.
ST. ANSGAR 59, NASHUA-PLAINFIELD 0: Second-ranked St. Ansgar ran the ball 55 times for 372 yards while improving to 5-0.
Jack Sievert led 11 ball carriers with 125 yards and a TD. Ryan Cole and Sievert returned punts for touchdowns, and the Saints intercepted three passes while keeping N-P winless.
NORTH TAMA 27, EAST BUCHANAN 6: Skyler Staker passed for 107 yards and Noah Weber ran for 104 yards and four touchdowns as third-ranked North Tama (5-0) ground out a victory over East Buchanan (2-3).
GRUNDY CENTER 55, GMG 0: Fifth-ranked Grundy Center put together a 381-yard rushing attack and cruised to a 5-0 record.
Zach Opheim led the Spartans with 160 yards and two TDs on 11 carries, and Cole Lehr added 116 on 18 attempts with a score. Logan Knaack also ran for a pair of scores and returned a kickoff 88 yards for a TD.
Grundy Center forced six turnovers by GMG (0-5), including five interceptions. Dayne Zinkula had a pair of picks.
8-player
JANESVILLE 35, ROCKFORD 28: Janesville's Leo Dodd ran five yards for the winning touchdown with 36 seconds remaining as the Wildcats won a back-and-forth battle over Rockford (3-2, 1-2).
Carson Pariseau had a big night on offense for Janesville (4-1, 2-1) with 175 rushing yards on 18 carries, a 22-yard touchdown reception from Dodd and a pair of field goals.
Jared Hoodjer had 16 tackles for the Wildcat defense.
DON BOSCO 56, TRIPOLI 0: No. 1 Don Bosco overpowered Tripoli for its fifth straight win.
Cael Frost ran 11 times for 113 yards and a touchdown and hit 4 of 6 passes for 105 yards and four TDs. Lewis Havel caught two of of those scoring passes while Carson Tenold and Thomas Even hauled in one apiece. Even also ran for 93 yards and a score on five carries and returned a kickoff 66 yards for a TD.
AGWSR 66, MESKWAKI 16: Titan Opperman sparked AGWSR with 115 passing yards and three touchdowns and six tackles for loss.
Jaden Penning rushed for 134 yards and three scores on 12 carries as AGWSR improved to 4-1. Meskwaki fell to 2-3.
TURKEY VALLEY 48, CENTRAL CITY 10: Third-ranked Turkey Valley remained unbeaten behind a stellar defensive effort that held Central City (3-2) to 23 rushing yards on 25 carries and 117 total yards.
GLADBROOK-REINBECK 66, BAXTER 6: Keagan Giesking rushed for 158 yards on just seven carries and Gladbrook-Reinbeck had six rushing touchdowns as the Rebels (3-2) ran over Baxter.
Cullen Eiffler also ran for two scores, while Giesking was in on 15 tackles.
092719kw-waterloo-west-fb-03
092719kw-waterloo-west-fb-04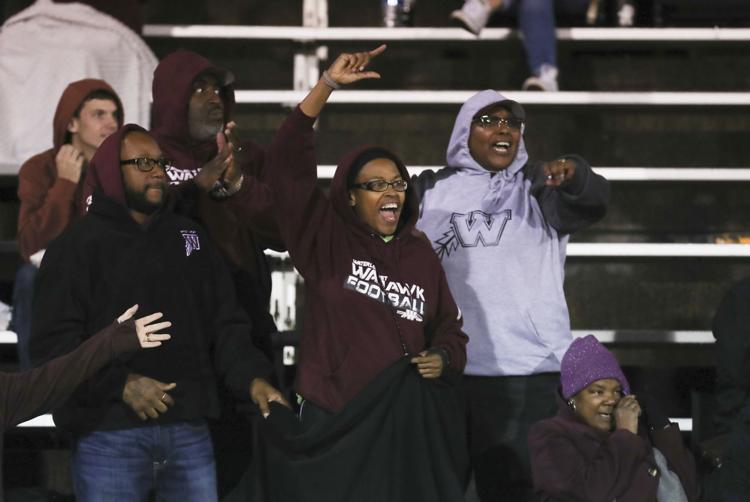 092719kw-waterloo-west-fb-05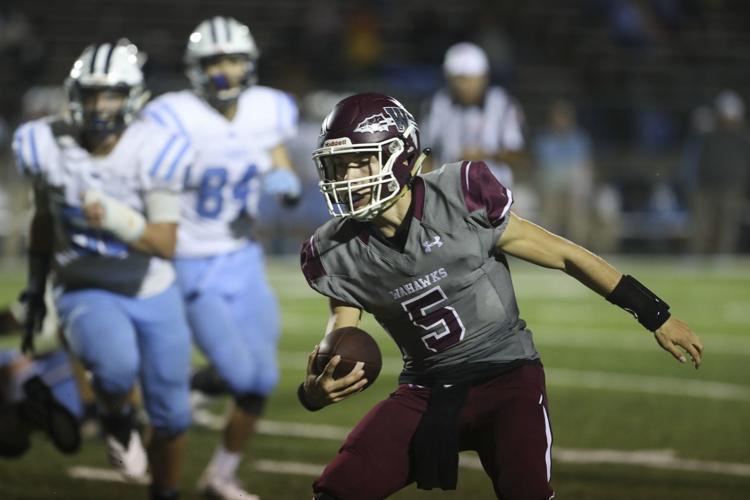 092719kw-waterloo-west-fb-07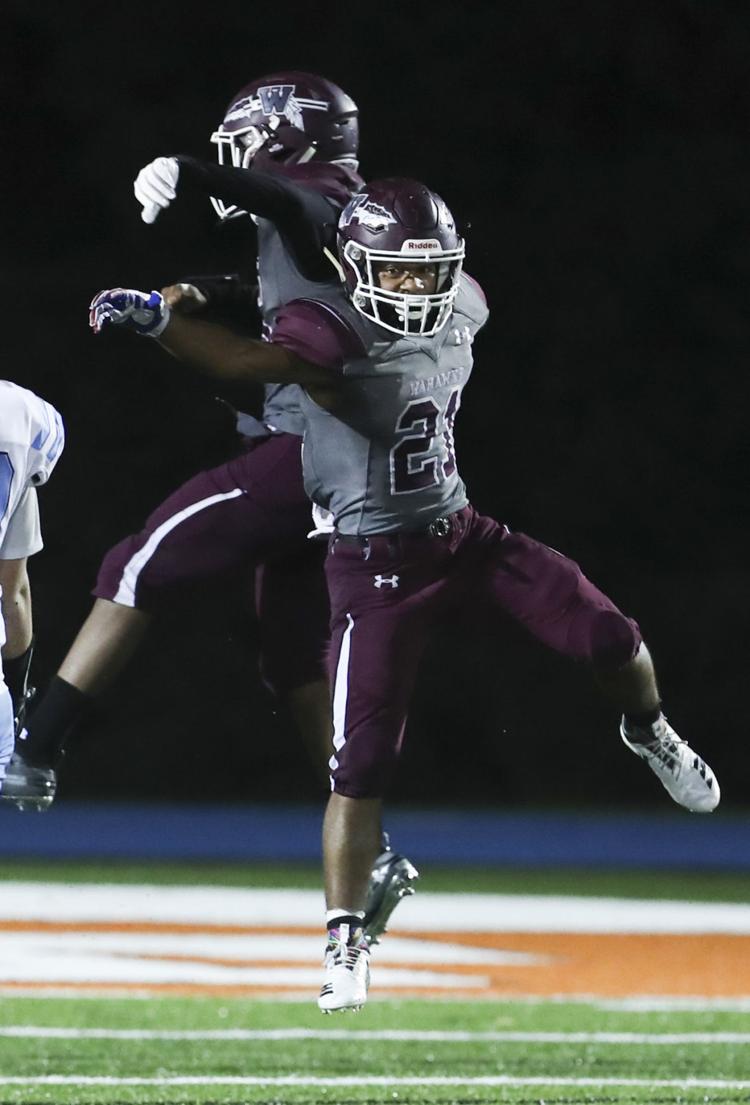 092719kw-waterloo-west-fb-06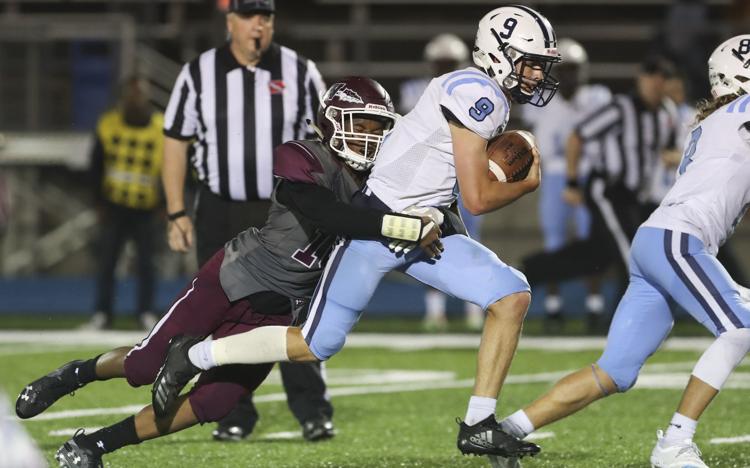 092719kw-columbus-fb-01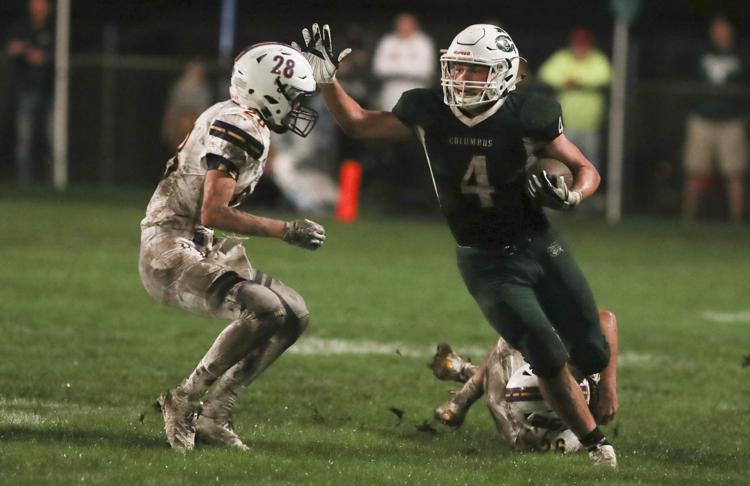 092719kw-columbus-fb-02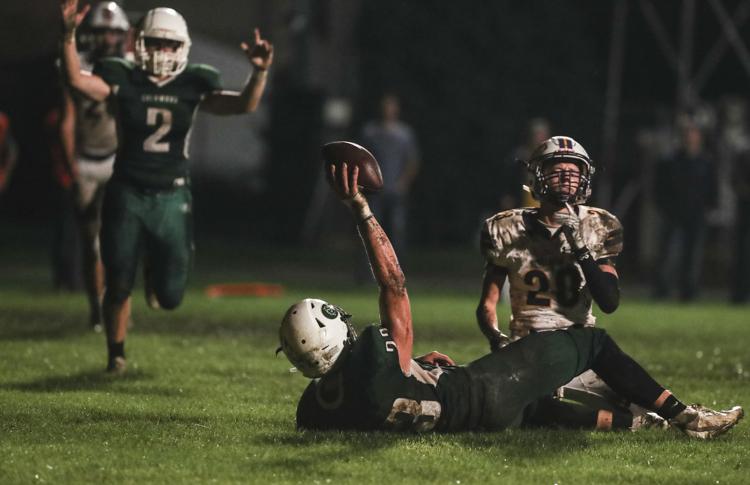 092719kw-columbus-fb-03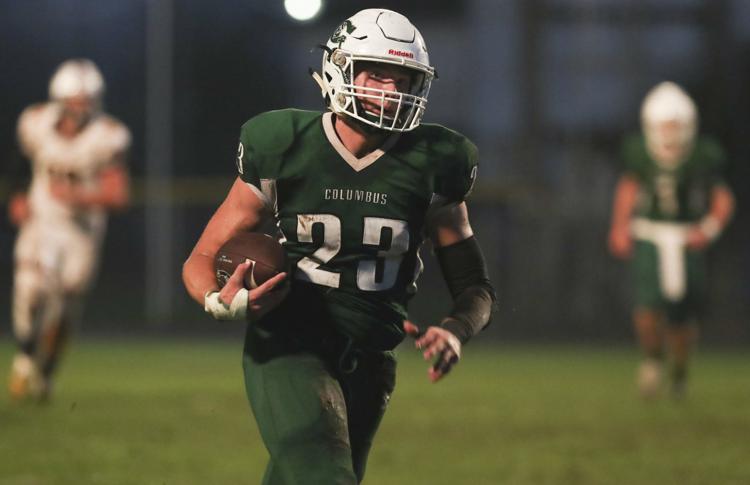 092719kw-columbus-fb-04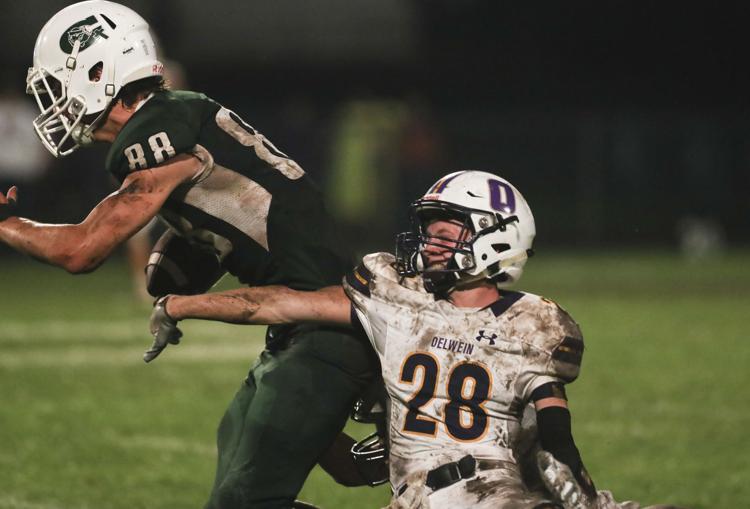 092719kw-columbus-fb-05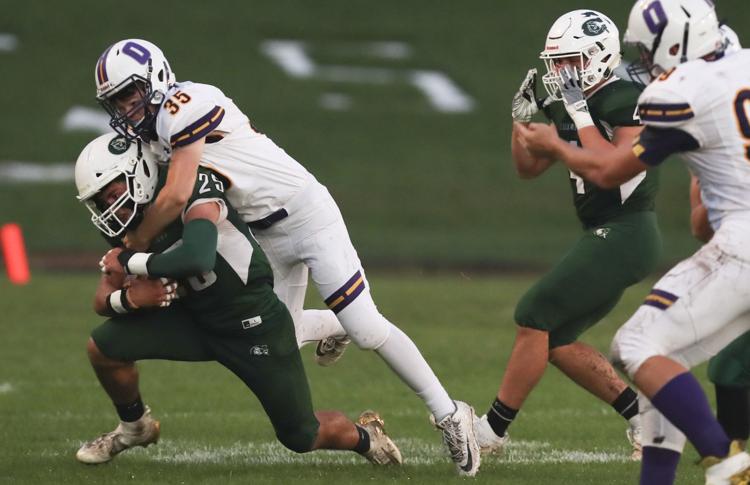 092719kw-columbus-fb-06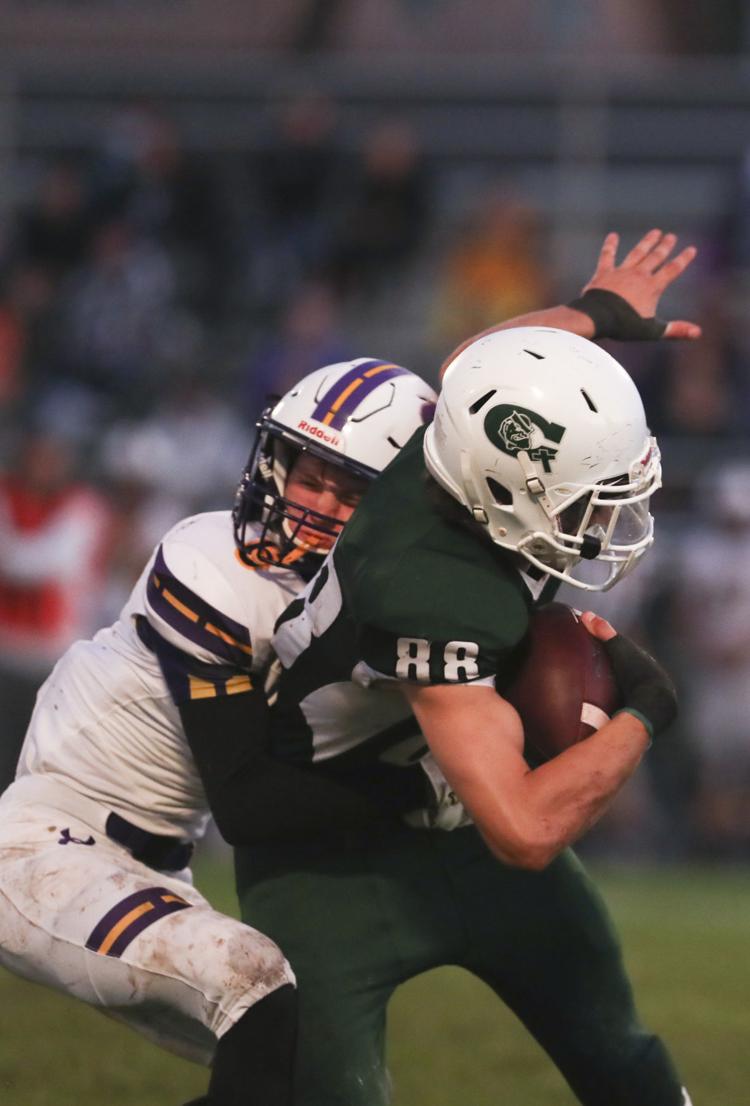 092719kw-waterloo-west-fb-01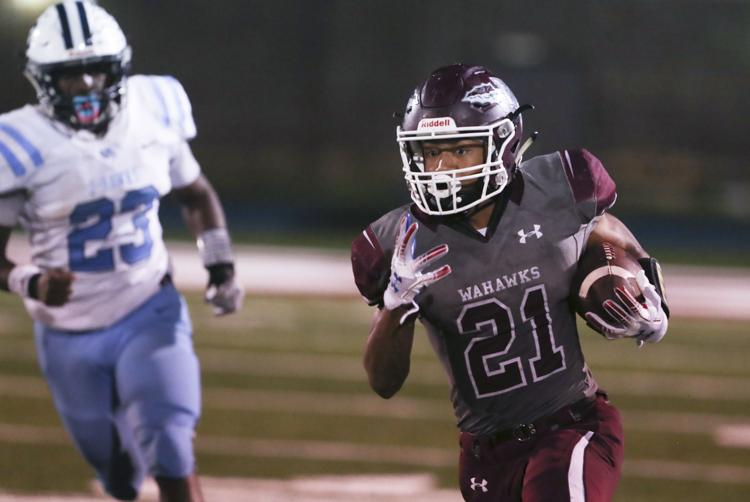 092719kw-waterloo-west-fb-02
092719ho-newman-starmont-1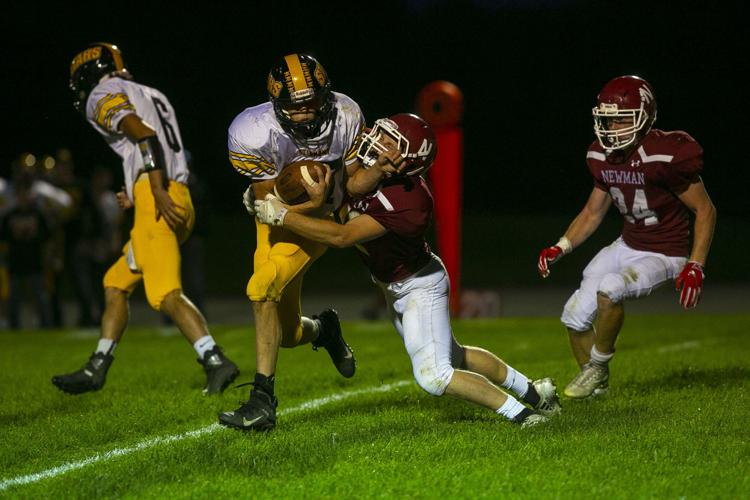 092719ho-starmont-2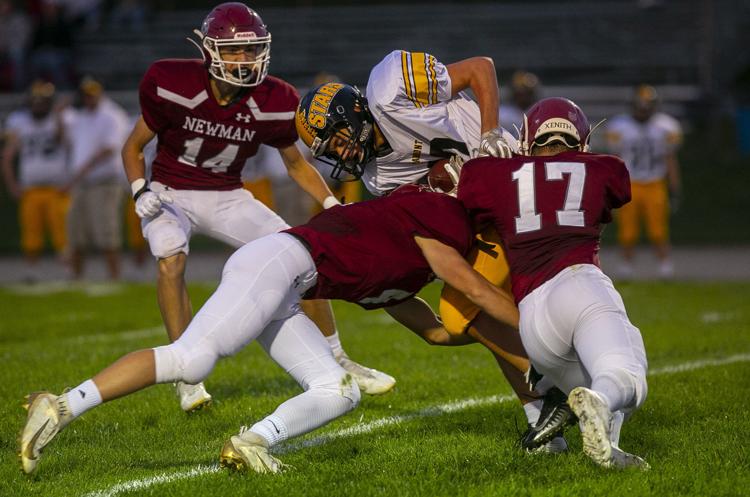 092719ho-indee-west-delaware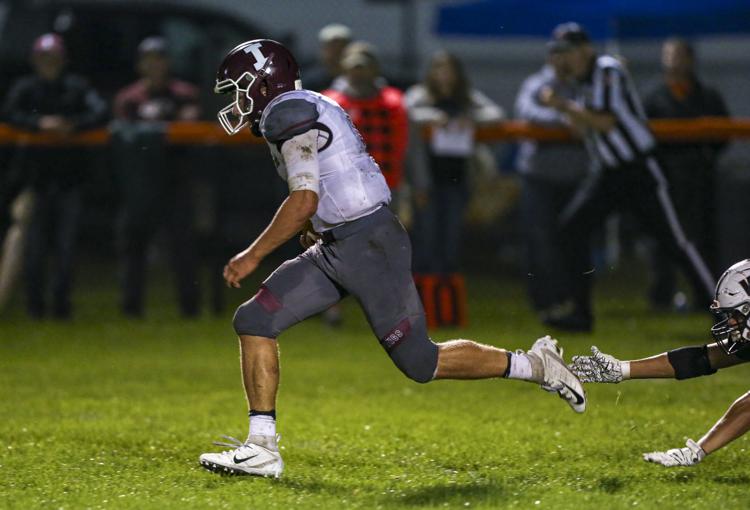 INDEPENDENCE 33, W. DELAWARE 0
Independence 0 7 26 0 — 33
West Delaware 0 0 0 0 — 0
Ind — Logan Schmitt 95 run (Brady Webb kick)
Ind — Schmitt 39 run (Webb kick)
Ind — Kaine Millard 30 pass from Schmitt (kick failed)
Ind — Christian Kremer 35 fumble return (run failed)
Ind — Schmitt 71 run (Webb kick)
Hud – Joe Culham 15 run (Austin Appleton kick)
Hud – Payton Stuart 1 run (Appleton kick)
BCLUW – Noah Gallentine 10 pass from Kade Pekarek (Isaac Kopsa kick)
You have free articles remaining.
Hud – Jackson Lehr 57 pass from Stuart (Appleton kick)
Hud – Jacob Yoder 3 run (kick failed)
Hud – Culham 33 run (Appleton kick)
Hud – Gavin Richter 4 run (kick failed)
Hud – Carter Swope 35 interception return (Appleton kick)
JANESVILLE 35, ROCKFORD 28
Rock — Will Bushbaum 15 run (run failed)
Janes — Joey Carlson 20 pass from Leo Dodd (Carson Pariseau kick)
Rock — Justice Jones 77 run (Bushbaum run)
Rock — Jones 27 run (Bushbaum run)
Janes — Pariseau 22 pass from Dodd (Pariseau kick)
Janes — Pariseau 29 run (Dodd run)
Rock — Jones 8 run (run failed)
Janes — Dodd 5 run (Pariseau kick)
DIKE-N.H. 62, NORTH LINN 14
Dike-N. Hart. 21 21 7 13 — 62
DNH – Cade Bennett 3 run (Nolan Dall kick)
DNH – Bennett 24 run (Dall kick)
DNH – Dane Fuller 9 pass from Drew Sonnenberg (Dall kick)
DNH – Bennett 53 run (Dall kick)
DNH – Parker Kiewiet 9 pass from Sonnenberg (Dal kick)
DNH – Kiewiet 12 pass from Sonnenberg (Dall Kick)
DNH – Bennett 35 pass from Sonnenberg (Dall kick)
NL – Brennan Becker 9 run (kick failed)
DNH – Drew Larson 21 run (Dall kick)
NL – Austin Miller 25 run (Miller pass from Becker)
DNH – Dylan Ohrt 4 run (run failed)
APL.-PARK. 55, NORTH BUTLER 0
Apl.-Park. 14 28 6 7 — 55
AP – Jacob Kalkwarf 12 pass from Owen Thomas (Isaac Hoogestraat kick)
AP—Terrence Colar 75 from Thomas (Hoogestraat kick)
AP – Jalen Meyer 7 run (Hoogestraat kick)
AP – Jack Haren 78 pass from Thomas (Hoogestraat kick)
AP – Sam Nolte 15 fumble return (Hoogestraat kick)
AP – Meyer 1 run (Hoogestraat kick)
AP – Haren 55 run (kick failed)
AP – Aidan Junker 10 run (Hoogestraat kick)
N. HAMPTON 43, FOREST CITY 7
New Hampton 8 15 7 13 – 43
NH – Carter Ferrie 3 run (Ferrie pass from Mason Lane)
NH – Ferrie 4 run (Ferrie pass from Lane)
NH – Preston Pickar 4 run (Austin Hemann kick)
FC –Michael Olseon 2 pass from Riley Helgeson (Devin Alamsya kick)
NH – Evan Rosonke 12 run (Hemann kick)
NH – Rosonke 1 run (Hemann kick)
NH – Avery Throndson 22 run (run failed)
Don Bosco 29 13 14 0 — 56
DB — Thomas Even 66 kickoff return (Cael Frost run)
DB — Frost 25 run (Frost run)
DB — Cade Tenold 40 run (pass failed)
DB — Even 24 run (Hahn kick)
DB — Lewis Havel 13 pass from Frost (kick blocked)
DB — Havel 47 pass from Frost (Hahn kick)
DB — Even 8 pass from Frost (kick failed)
DB — Carson Tenold 38 pass from Frost (Naughton run)