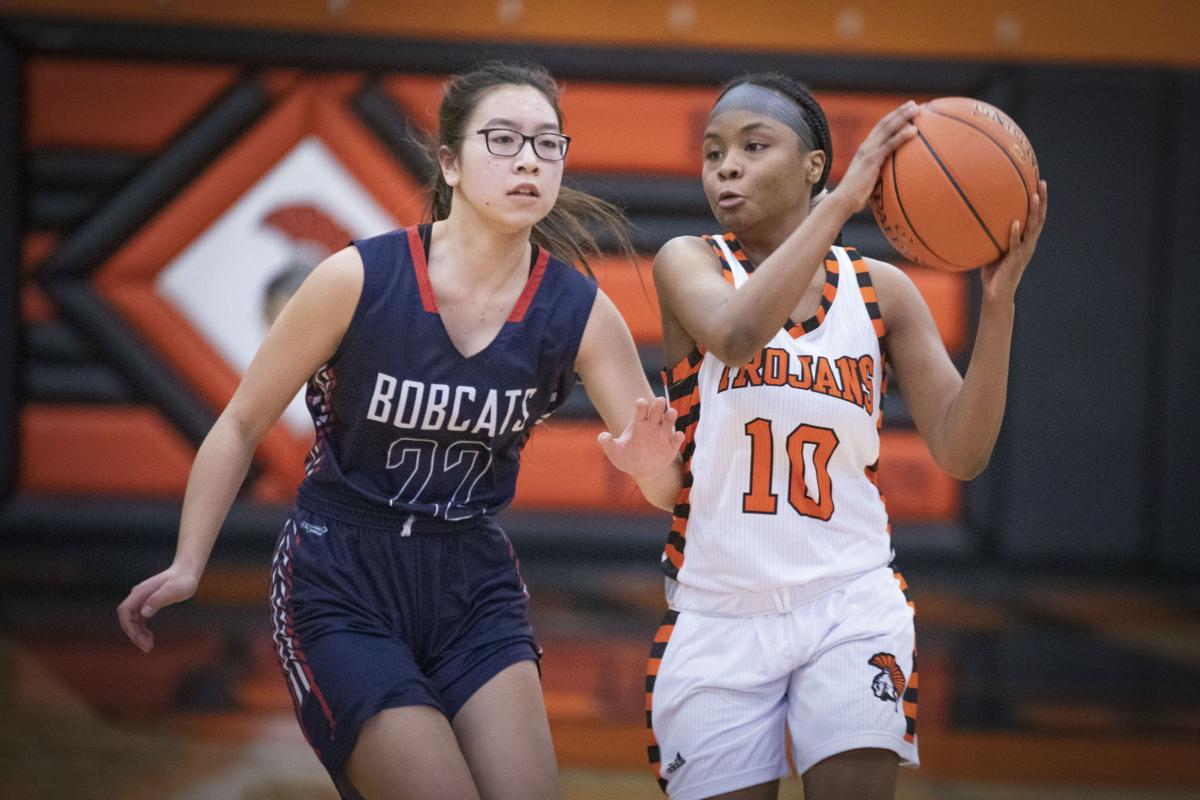 WATERLOO – All signs are pointing to the fact Waterloo East will be playing its last season in the Mississippi Valley Conference during the 2021-22 academic year.
An invitation to join a newly formed conference made up of 10 members Central Iowa Metropolitan Conference has been extended to the Trojans.
The new league will be made up of Ames, Fort Dodge, Mason City, Marshalltown, Ottumwa, Des Moines East, Des Moines Lincoln, Des Moines Roosevelt, Des Moines Hoover and Des Moines North and East if it chooses.
Tuesday at 5 p.m., East athletic director Tim Moses and Waterloo Schools officials will hold an informational meeting inside the East High Commons to discuss the invitation.
"From the East High perspective we are actually considering it," Moses said.
The move would align East with some familiar faces. Back in the 1970s and 1980s, the Trojans played against Ames, Fort Dodge, Mason City and Marshalltown as part of the Big 8 Conference which also included Cedar Falls, Waterloo Central and Waterloo West. That conference was formed in 1968 and was disbanded in 1992.
A feeler from the CIML schools to join the new conference was sent to both East and West back in March, and Moses said a meeting with East High stakeholders — current coaches, former coaches, school officials and alumni — was held to roll out the idea of the possibility of moving to the new conference.
"A lot of those individuals saw it as a great opportunity," Moses said. "We want to make sure we are doing what is best for our kids. We want to create something here at East where our kids feel like they have an opportunity to go out and compete and be successful.
"To have a chance…I don't want to say win, just compete and the score is not lopsided and the game is not lopsided. That is not saying this new conference is going to be an easy conference, but the new conference looks a lot like us here at East High School.
"In regard to the former Big 8 schools, it will be cool to compete against those teams again."
As far as travel concerns, preliminary plans would have two divisions of the new league with the North consisting of Ames, Fort Dodge, Mason City, Marshalltown and East. The South would be made up of Ottumwa and the five Des Moines metro schools.
And Moses said the travel wouldn't be much different for the Trojans.
"We are already playing Fort Dodge, Mason City and Marshalltown in football this year," Moses said. "We go to the Fort Dodge Relays for track. The wrestling team has competed at Ottumwa. We are already making those trips. So, it wouldn't be anything new in that regard."
The decision could move fast according to Moses. After the informational meeting Tuesday, Moses said the Waterloo School board could vote on move as early as next Monday's school board meeting (June 14) at the Education Services Center.
East identifies with the plight of its new potential conference members. The Trojans have consistently ranked toward the bottom of the Mississippi Valley Conference all-sports rankings year in and year out. The school's enrollment and participation numbers in sports have shrunk, additionally.
A move to a new conference feels like a chance to level the playing field.
"We just want to make sure we can level the playing field and that the playing field is fair for our kids," Moses said. "That means they will be competing against the same people that come from the same backgrounds, same socio-economic backgrounds and same demographics."
According to a March Fort Dodge Messenger article, when Fort Dodge became a member of the CIML in 1992, it was the ninth-largest member of the then 16-team league with an enrollment of 1,219. At that time Johnston was in Class 3A with 653 students and Waukee was in 2A with 288.
Flash forward to 2021, Fort Dodge now ranks 15th in the 18-member league with West Des Moines Valley, Waukee, Johnston and Southeast Polk each having between 2,000-3,000 students. And Waukee will open a second high school this fall, Northwest. Additionally, the Ankeny school district split into two schools and there have been preliminary discussions to open a third.
Size isn't the only factor for the new league.
The same Messenger article detailed that the 10 schools that have chosen to leave the CIML have an overall winning percentage of .165 – 376 wins and 1,899 losses – in volleyball, girls' and boys' soccer, girls' and boys' basketball, softball and baseball between the years of 2015 and 2020 against suburban Des Moines opponents.
Fort Dodge superintendent Dr. Jesse Ulrich said this to the Messenger,
"A lot has changed since the early-90s," Ulrich said. "We're in a different place ourselves, but more importantly, many of the suburban Des Moines schools have absolutely exploded in both numbers and resources — and that gap only continues to widen. The nightly challenge of keeping pace and competing has become more and more unrealistic. We've done so with isolated sports and seasons, but in the long run, it just isn't sustainable.
"We have an opportunity here to reset while honoring the history we have with (long-time league rivals) Mason City, Marshalltown and Ames. And even, to a certain extent, some of the (Des Moines metros, which were originally a part of the 'Big 7'). That's a critical component in all of this: making sure we are cognizant of who we are, where we're headed, and which schools should be a part of the plan. Mason City, Marshalltown and Ames are obviously a priority, with relationships that date back anywhere from over 50 to 100 years ago."