WATERLOO — Waterloo East had started fast and grabbed the lead in each of its first four football games this season. Waterloo West took notice.
Scoring on its first four possessions, West rolled to its fifth consecutive victory in the 105th meeting of the Wahawks and Trojans with a 58-6 victory Friday in front of more than 4,000 fans at Memorial Stadium.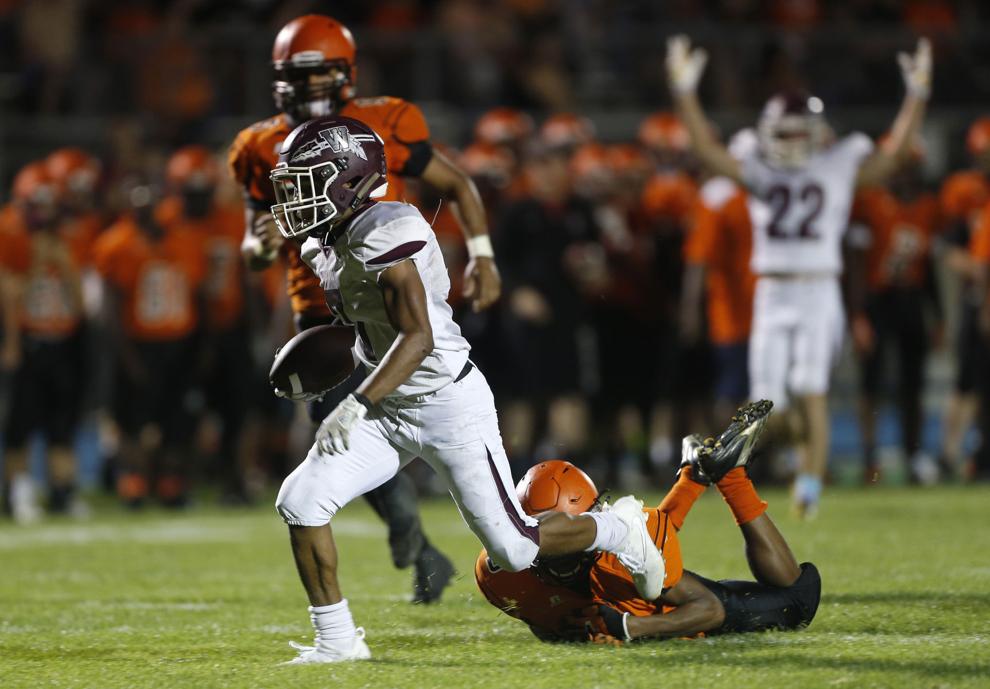 "That was our goal. We knew we had to start fast," West coach Lonnie Moore said. "We knew if we started fast ... they started fast their last four games, and we wanted to take that away from them and we did. We started fast and forced them to match that fast."
It had been 21 years since the two rivals had met with .500 or better records, but like it did a season ago when it lead 54-0 at halftime, West took the fight to East and delivered several early blows as it led 37-0 at halftime.
"We were outclassed," East coach Xavier Leonard said. "We have a lot to learn. They have a great football team with a lot of a great players and they are well-coached."
West (4-1) actually didn't start great out of the gates when the first play of the game was a high snap quarterback Cade Dodd couldn't corral and resulted in a 14-yard loss. But the Wahawks barely blinked, needing just eight plays to go 76 yards, getting the final four from Kadin Paulus to take an early lead.
West never stopped rolling, mixing the pass with a strong run game, and the Trojans couldn't keep up as the Wahawks rushed for seven touchdowns as part of a 27-carry, 259-yard effort on the ground.
Richardson Gbeynie led the way with 112 yards on 14 carries and three scores. Paulus had another touchdown run, and Tanner Pollock scored on both of his runs in the game, including a 56-yard scamper that made it 58-6 in the fourth quarter.
"That is what we wanted to do, run the football," Gbeynie said. "We wanted to score rushing touchdowns and what did we have, seven? We did a good job there. Great job by the line of creating holes, blocking downfield and letting us run."
Dodd was 10 of 14 for 179 yards and a touchdown, all in the first half, including four for 111 yards to Mario Wright. Wright had a 21-yard touchdown grab in the second quarter and now has 29 catches for 668 yards and seven scores.
"I thought our defense executed our game plan well," Moore said. "I thought offensively we did exactly what we needed to do executing our offense and taking what they were giving us."
East scored midway through the fourth on a 2-yard Damon Johnson catch.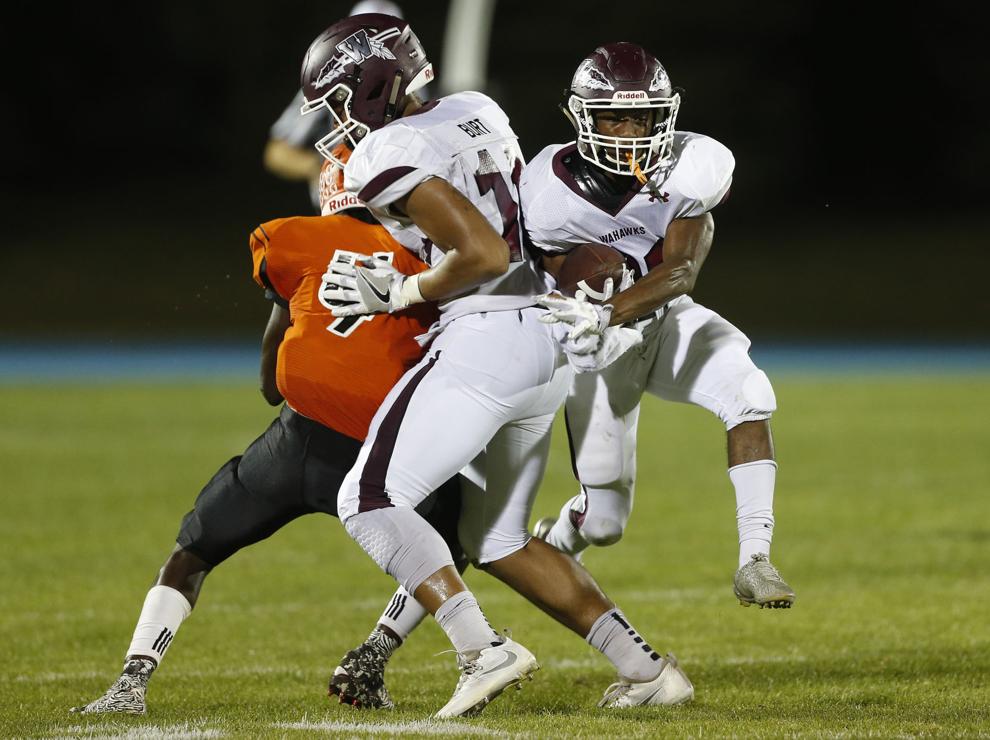 Johnson had catches of 31 and 38 also on that drive and finished with seven catches for 109 yards.
But it was far too little far too late for East.
Leonard said the Trojans (2-3) have to flush this one and move on to their road trip to Mason City next Friday.
"You really do, you flush this one," Leonard said. "You can learn from your mistakes, and there were some things we did well, but we're on to Mason City. That is what we talked about after the game."
West hosts Cedar Rapids Jefferson at Memorial Stadium next Friday.
Wat. West 58, Wat. East 6
Wat. West 16 21 7 14 — 58
West — Kadin Paulus 4 run (Devon Jones pass from Caleb Dodd)
West — Richardson Gbeynie 9 run (Mrrio Wright run)
West — Wright 21 pass from Cade Dodd (run failed)
West — Tanner Pollock 10 run (Wright run)
West — Gbeynie 17 run (Adijan Muhamedagic kick)
West — Paulus 31 run (Muhamedagic kick)
West — Gbeynie 1 run (Muhamedagic kick)
East — Damon Johnson 2 pass from Dylan Reyes (pass failed)
West — Pollock 56 run (Muhamedagic kick)
Rushes-yards 27-259 21-(-3)
Comp-att-int 10-14-1 11-22-2
Penalties-yards 6-50 5-24
WEST — Paulus 8-70, Gbeynie 14-112, Pollack 2-66, Cade Dodd 1-5, Devarius Landfair 2-20, Team 1-minus 14.
EAST — Kendall Robinson 3-1, Reyes 10-3, Jacee Clark 1-5, Ahkil Muhammad 1-minus 2, Tyrell Gordon 1-2, Aidan Ernst 1-minus 1, Johnson 2-10, Team 2-minus 20.
WEST — Dodd 10-14-1, 179 yards.
EAST — Reyes 10-18-1, 142 yards, Johnson 0-2-1.
WEST — Wright 4-111, Kalen Burt 2-33, Devon Jones 1-13, Amel Saric 1-14, Caleb Dodd 1-4, Gbeynie 1-4.
EAST — Tavious Jenkins 2-25, Johnson 7-109, Scott Bickel 1-8, Daquavion Walker 1-0.