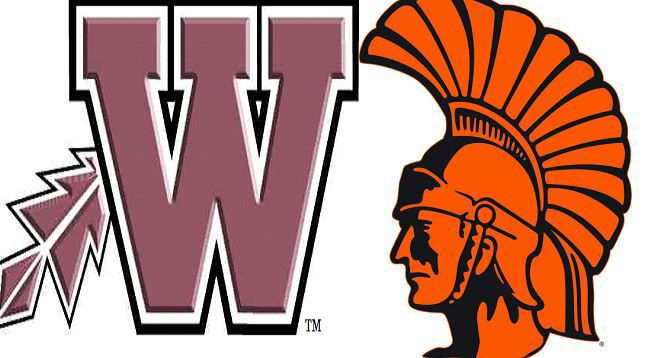 WATERLOO – The Waterloo East softball team came out swinging.
The visiting Trojans used fast starts in both games to sweep Waterloo West 5-3 and 7-4 in Mississippi Valley Conference play Wednesday night.
East opened its season with a solid all-around showing. West dropped to 1-2 overall.
"Overall, I thought our pitching and defense was outstanding," East coach Chad Adams said. "Our girls made some really, really good defensive plays. Our hitting was a little off and we need to clean that up a little bit. But I think we will be all right moving forward."
The Trojans bolted to a 4-1 lead in Game 1 before taking a 3-0 edge early in the nightcap.
"It's always important when you can jump out to an early lead," Adams said. "We usually don't play West this early in the season and it was a good test for us. We had some jitters, but we also had some good individual performances. I'm satisfied."
In the first game, East doubled four times in the first two innings to take control.
Maysen Bruess, Jocelyn Foss, Jayden Bentley and Aalona Ford all doubled to stake the Trojans to an early 4-1 lead.
East increased its advantage to 5-1 in the fifth when Bentley doubled again and scored when Sydney Magnuson delivered an RBI single to right field.
"This was a great way to start the season against a good opponent," Bentley said. "It's a good rivalry with West and it's awesome to pick up a couple of wins against them. I'm super proud of this team – our defense played really well. Everyone hustled and did their part."
West was held to just a first-inning homer by Bailey Schoepske before the Wahawks scored twice in the fifth. Schoepske lined a two-out, two-run single to left field to cut the East lead to 5-3.
Magnuson followed by pitching two scoreless innings to finish her complete-game performance for East.
In the second game, East jumped ahead again with a three-run third. Magnuson delivered an RBI single to highlight the inning.
West came back with a run-scoring single by Haley Christoffer in the bottom of the inning. East then broke it open with a four-run sixth inning, highlighted by Aalona Ford's two-run single to left.
Ford was superb defensively in both games at shortstop.
She made an outstanding running catch to end the opener. Ford sprinted into the outfield grass before extending her glove to snag a ball hit by Haley Christoffer near the left-field line.
"That was an incredible catch," West coach Adam Dehl said. "I didn't think she had any chance to catch it. If she doesn't catch that, we have a chance to tie that game."
West closed within 7-4 in the seventh inning of Game 2 when Haley Christoffer crushed a three-run homer with two outs.
But East pitcher Jocelyn Foss came back to record a groundout to end the game. Foss was the winning pitcher in the nightcap, allowing just one run in the first six innings.
West had its share of chances in both games.
"We had a lot of little mistakes that hurt us," Dehl said. "No excuses, we just have to clean it up a little bit. We hit the ball well. We scorched a lot of balls that ended up in people's gloves. Credit East's defense – they made a bunch of really nice plays."
Sydney Magnuson and Addy Grimmett. Nia Christoffer and Brianna McPoland. WP – Magnuson. LP – Christoffer. 2B – Maysen Bruess (WE), Jocelyn Foss (WE), Jayden Bentley 2 (WE), Aalona Ford (WE). HR – Bailey Schoepske (WW).
Jocelyn Foss and Addy Grimmett. Jersey Van Erem, Laiken Simerson (3), Nia Christoffer (6) and Brianna McPoland. WP – Foss. LP – Van Erem. 2B – Cecelia Dehl (WW), Haley Christoffer (WW), Bruess, Schoepske. HR – Haley Christoffer.