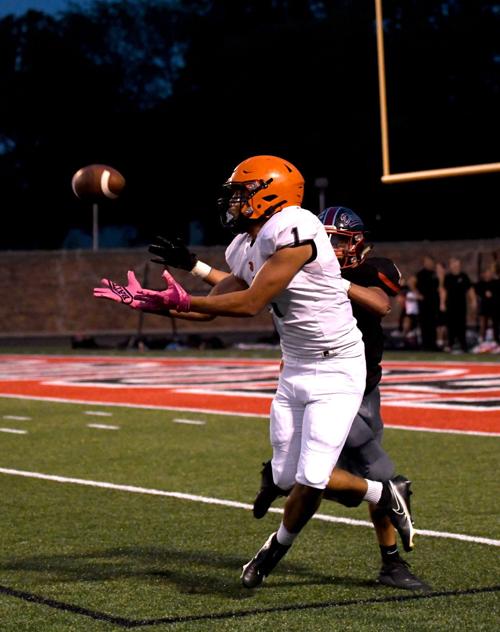 Consider it the best of both worlds for Fort Dodge football coach Nik Moser.
The 10th-ranked (Class 4A) Dodgers earned another win on Friday night, taking down old Big 8 rival Waterloo East by a 36-6 final on their home turf.
While the score looks impressive on paper and Fort Dodge now stands at 3-0 overall, Moser was quick to emphasize how far his squad still has to go.
And the film will show it.
"You always celebrate a win," Moser said. "Feel good and never apologize for that. The kids should be proud of that and getting to 3-0. We did plenty of positive things, and showed glimpses of being a really solid overall football team.
"With that being said, we made a ton of mistakes we still need to clean up — both physical and mental. There's no reason for any of our guys to feel over-confident about where we're at. We're only scratching the surface on our potential. We'll see all of that (on video), and get right back to work in practice this week."
The Trojans (0-3) focused on slowing the Dodgers' ground game with a defensive gameplan that begged quarterback Connor Carver to beat them. The FDSH junior responded with a 371-yard, five-touchdown performance.
Carver's single-game yardage effort was the fifth-best in school history, topped only by Drake Miller on four separate occasions in 2017 and '18.
"I think we are starting to show what we're capable of offensively, and how many layers there are to what we can do," Moser said. "You can't just stack the box against us, and you can't just double Javion (Jondle). Bradley (Vodraska) continues to prove how dangerous he can be, and it was great to get Petey (Carson Peterson) involved more (last night). We used six different receivers.
"Connor is making progress. Like our team, he was really, really good in flashes. It's just a matter of cleaning up the execution and consistency. Because the (sheer talent) is obviously there."
Jondle and Vodraska both cleared the 100-yard receiving mark with ease, as Jondle hauled in seven passes for 131 yards and Vodraska caught nine balls for 128. Carver and Vodraska hooked up three times for touchdowns.
Peterson, who didn't have a single reception through the first two weeks, added six catches for 64 yards. He also intercepted a pass defensively and returned it 34 yards, and brought a punt back 24 yards as well.
Carver hit Erickson on a jet sweep pass for a 20-yard TD to boot.
The Dodger defense, meanwhile, forced five turnovers. Peterson and senior Jake Erickson picked off errant throws from East's Justin Thomas, while Kaleb Lynch, Jon Astor and Colin Glesne recovered first-half fumbles.
The good certainly outweighed the bad for Fort Dodge, but Moser's squad was flagged for 16 penalties, including 13 in the first half spanning 105 yards.
"Just a lot of stupid stuff we can't keep doing," Moser said. "Some of it was lack of communication. Some of it was lack of discipline. But it put us in way too many 2nd-and-long and 3rd-and-long situations, which negated our turnover advantage.
"I think you could go up and down our lineup and say something good about a lot of our guys…but you could also point out the plays where mistakes were made for all of them, too. That happens. It's OK. We're a work in progress. And I'll say this: East is a hard-nosed ballclub. They're the most physical and athletic team we've faced so far, which I could tell (beforehand) from watching them on film. They've got some impressive players."
Thomas threw for 188 yards, while Kjuan Owens — a 260-pound bruiser with some flash in the backfield — rushed for 138 yards on just 14 carries.
The Trojans had two opportunities stall in goal-to-go situations, and three more drives into Dodger territory that were thwarted.
Owens had the lone East score, rumbling 53 yards to paydirt on the first snap of the second half. Martez Wiggley caught six passes for 109 yards.
"This was a hard-fought game," Moser said. "I give (the Trojans) a lot of credit. It was good for us to get punched in the mouth and have to respond. We're getting there, but we still have a ton of room for improvement."
East still leads the all-time series between the programs, 35-28. Fort Dodge has won three in a row, though, by a combined point differential of 119-6 since 2014.
The Trojans and Dodgers met every year on the gridiron as members of the same conference from 1932 through 1991.
Fort Dodge heads to Marshalltown (1-2) on Friday. The Bobcats fell to Newton last night, 42-7.