WATERLOO—On Friday, the Sailors stepped up a couple sizes, and it was a surprisingly comfortable fit.
As a result, Class 1A Columbus rode the big plays of quarterback Carter Gallagher to a convincing victory over Class 3A Vinton-Shellsburg at TJ McLaughlin Field, 35-0.
The performance was a far cry from the slugfest the two schools engaged in a year ago, when the Vikings trudged their way to a 7-6 win.
This time around, Gallagher was selective and lethal as he found receivers in a variety of places for big plays on the way to 185 yards passing and five touchdowns (four through the air).
In fact, in the first half alone, Gallagher was 5-of-7 for 149 yards, including touchdowns of 64, 5 and 30 yards. He accounted for the other TD, as well, with an 11-yard run as Columbus built commanding 28-0 halftime.
The defense was sensational, too, limiting Vinton-Shellsburg to just 68 yards and two first downs in the first half. And, in the end, it was Carter's brother, Gavin, who tackled a Viking ballcarrier on the 1-yard-line in the closing seconds to preserve the shutout.
It was a collective course correction against a beefy 3A opponent following a season-opening loss to Dike-New Hartford and last week's lackluster win over West Branch. After all, this is a Columbus program that's rarely suffered defeat while compiling a 23-6 record the previous three years.
"Hat's off to our offense for getting it going, and the defense played tough," said head coach Brad Schmit. "You've got to give credit to everyone in the program. The scout kids got the D ready to go during the week, and I thought our defensive staff did an excellent job preparing our guys to take away what (Vinton-Shellsburg) wanted to do."
The Sailors, who improved to 2-1 overall, looked to be bracing for another slugfest after starting the game with a couple three-and-outs. But Gallagher, a third-year starter at quarterback, found his groove to start the third drive, hitting Caleb Holthaus on a bubble screen in the left flat before the junior tiptoed the sideline for 64 yards and the score.
The play seemed to loosen up the Sailors.
"We're a pretty fast team, and we just wanted to use that to our advantage," said Holthaus. "We were working on it all week at practice, working on the bubbles, working on the out routes, working on getting outside, and it worked."
As Gallagher got comfortable, Vinton-Shellsburg (1-2) made his job even easier. The Vikings' kickoff team inexplicably failed to jump on the ensuing kickoff. Columbus' Parker Kjeldsen fell on the ball, which set the Sailors up just 21 yards from the end zone. Gallagher found paydirt a few plays later on an 11-yard scamper and the Sailors were cruising.
The best play of the night came early in the second quarter. On the first play from scrimmage at Vinton-Shellsburg's 30, Gallagher lofted a beautiful throw on a crossing pattern to Nick Merrifield, who laid out for the TD reception.
"That touchdown pass he threw to Merrifield, that was about as good of a ball and catch as I've seen in a while," Schmit said.
"I missed (a similar throw) a series or two before," said Gallagher, who also had TD throws to Ben Trost and a second one to Holthaus. "I shorted it, so on that second one I made sure to get some air under it, and it landed in there nicely."
Overall, it was the kind of well-rounded win that can get a coach to crack a smile.
Photos: Columbus Catholic football vs. Vinton-Shellsburg, Sept. 10
FBall Columbus vs. Vinton-Shellsburg 1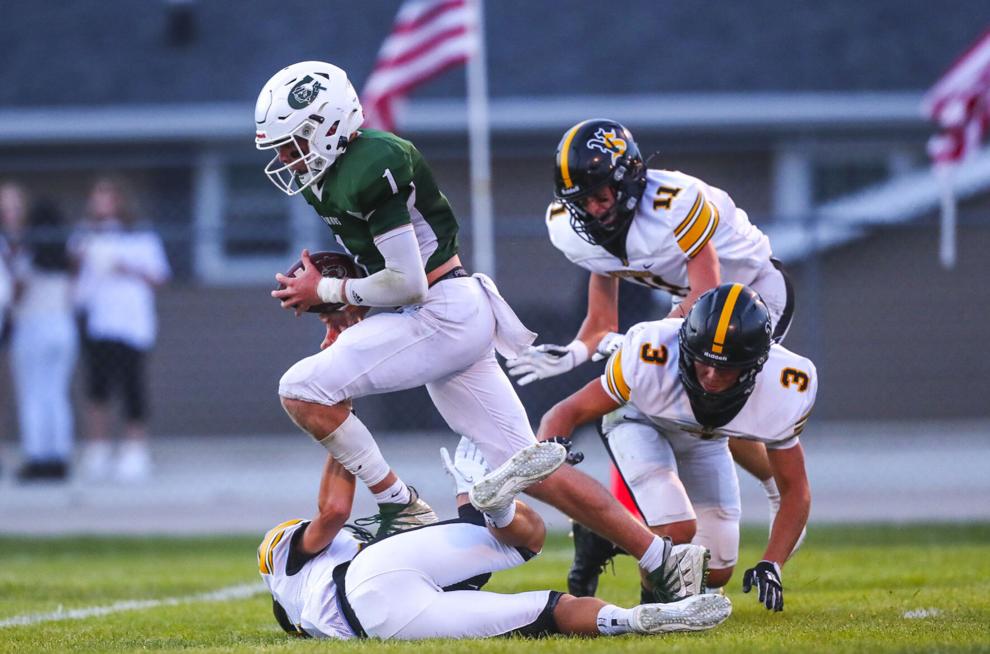 FBall Columbus vs. Vinton-Shellsburg 2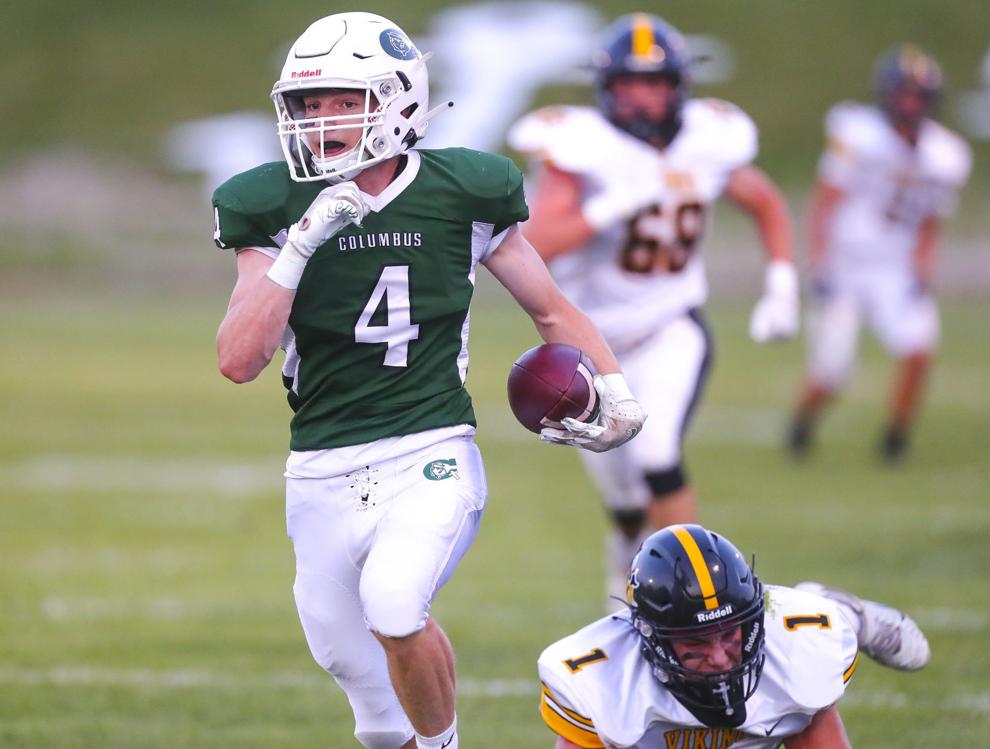 FBall Columbus vs. Vinton-Shellsburg 3
FBall Columbus vs. Vinton-Shellsburg 4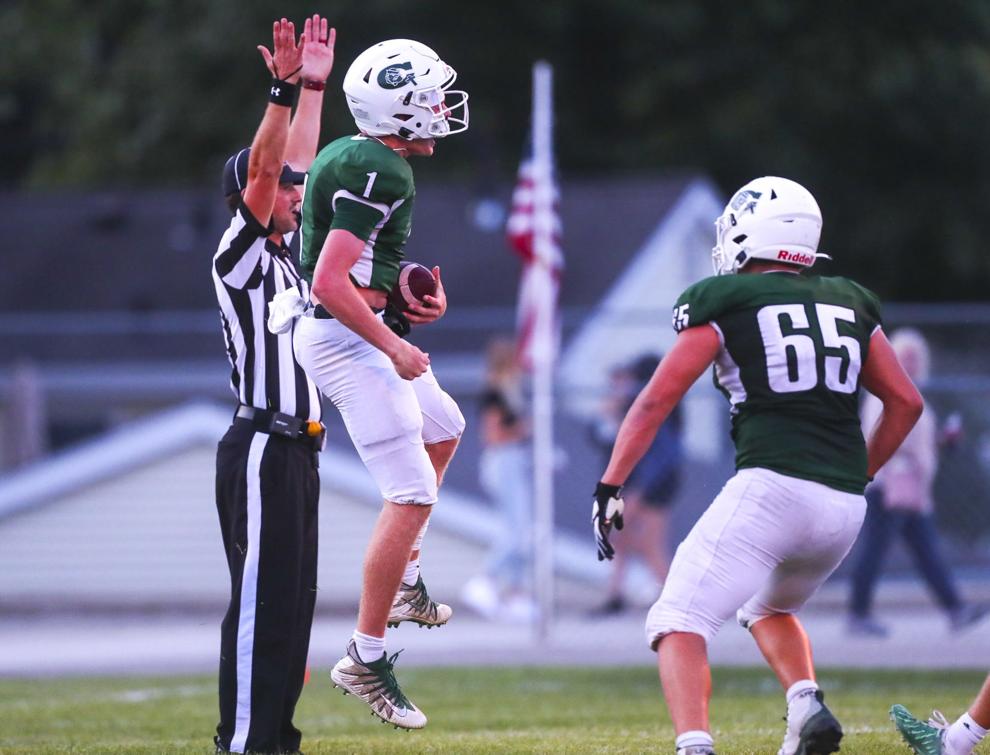 FBall Columbus vs. Vinton-Shellsburg 5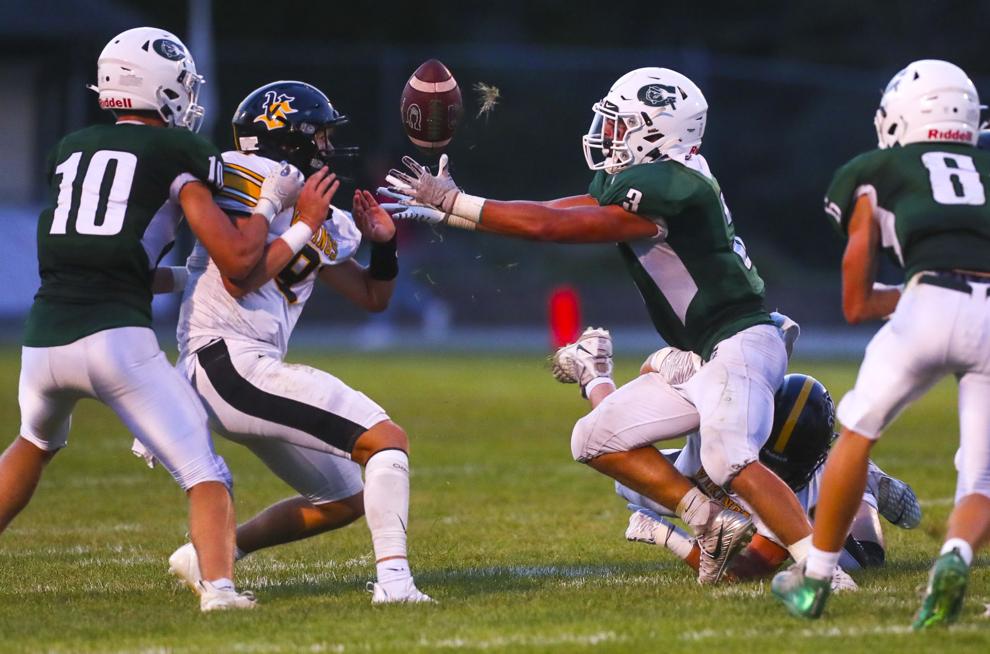 FBall Columbus vs. Vinton-Shellsburg 6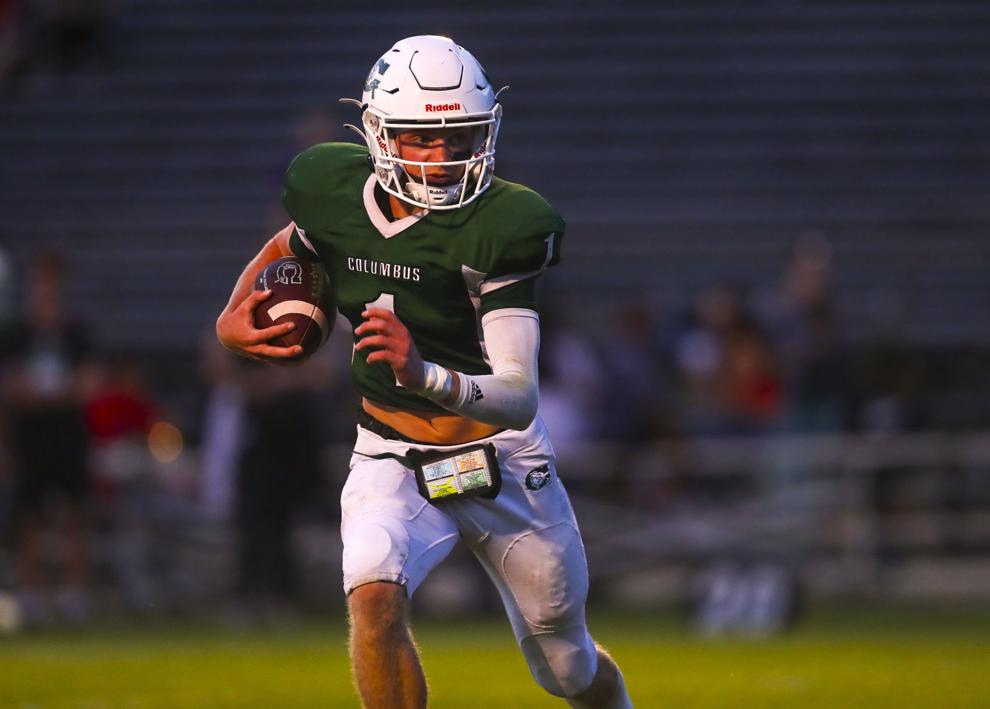 FBall Columbus vs. Vinton-Shellsburg 7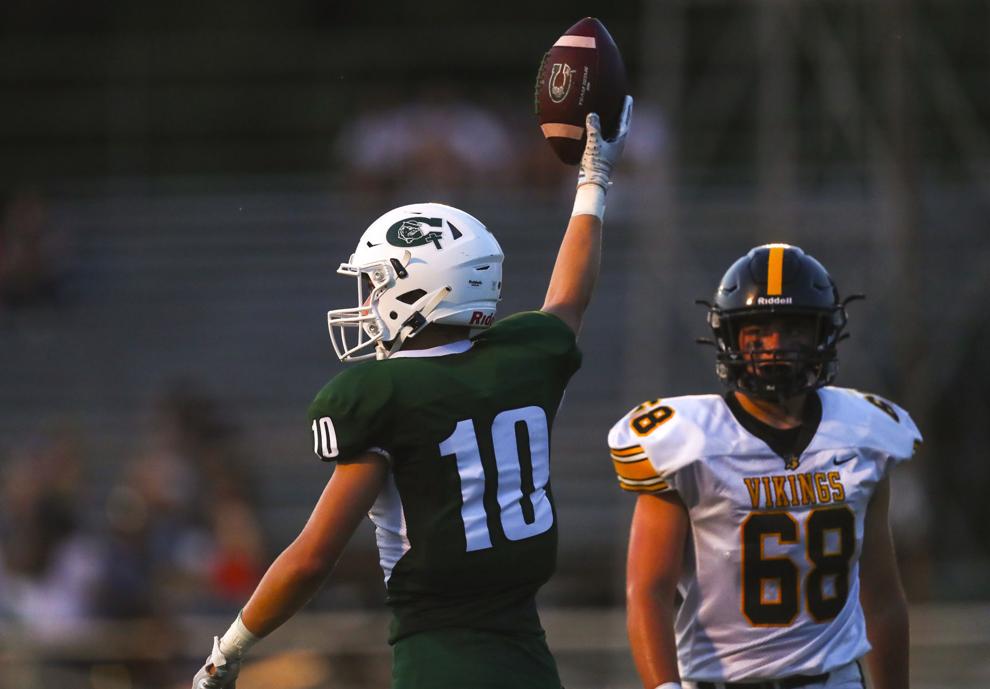 FBall Columbus vs. Vinton-Shellsburg 8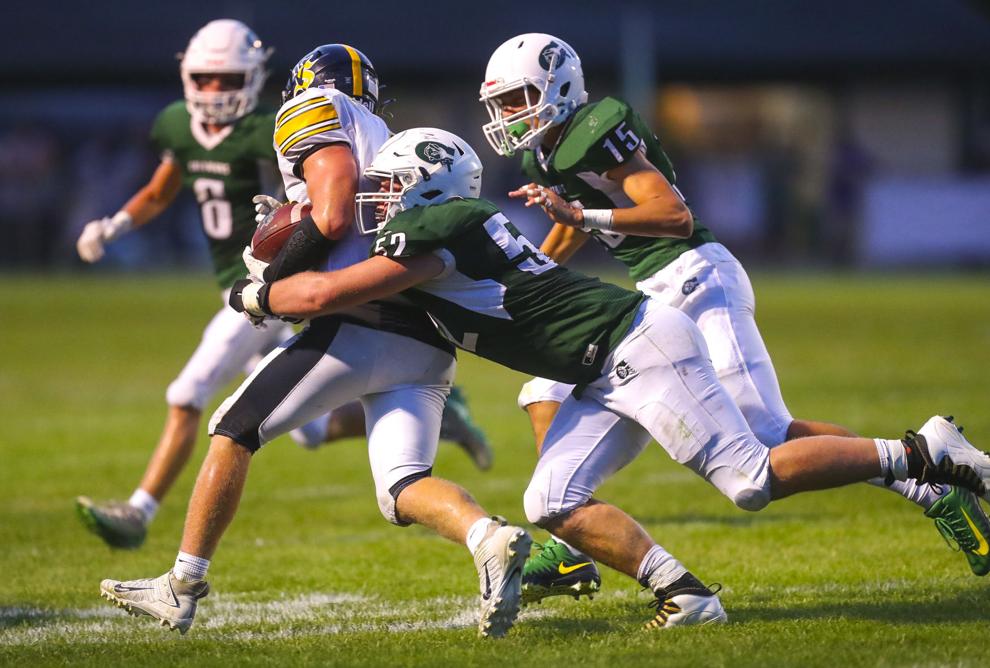 FBall Columbus vs. Vinton-Shellsburg 9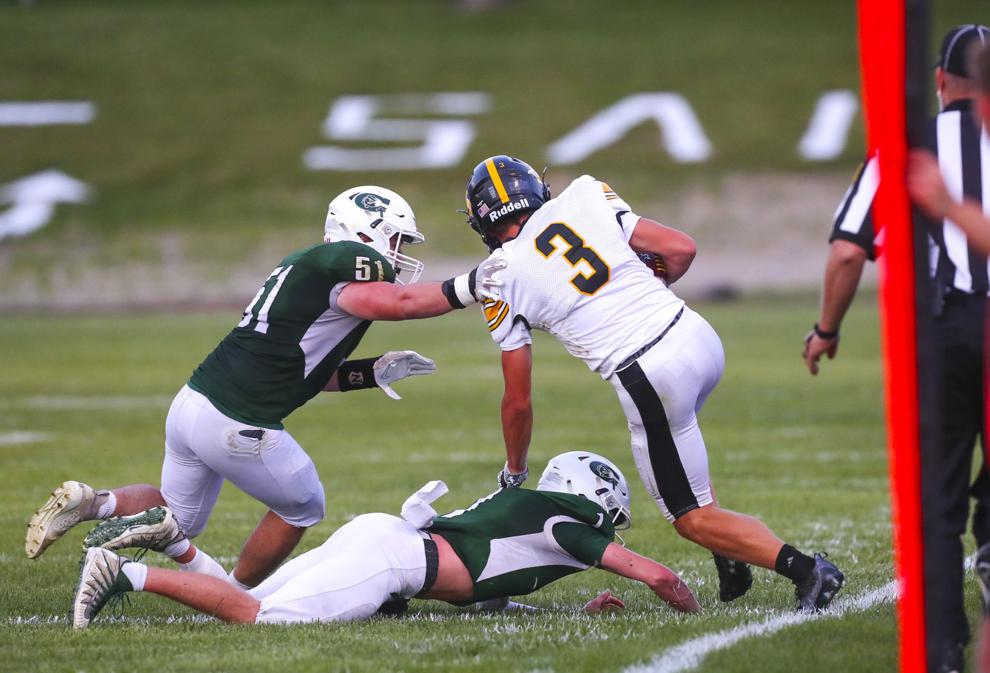 FBall Columbus vs. Vinton-Shellsburg 10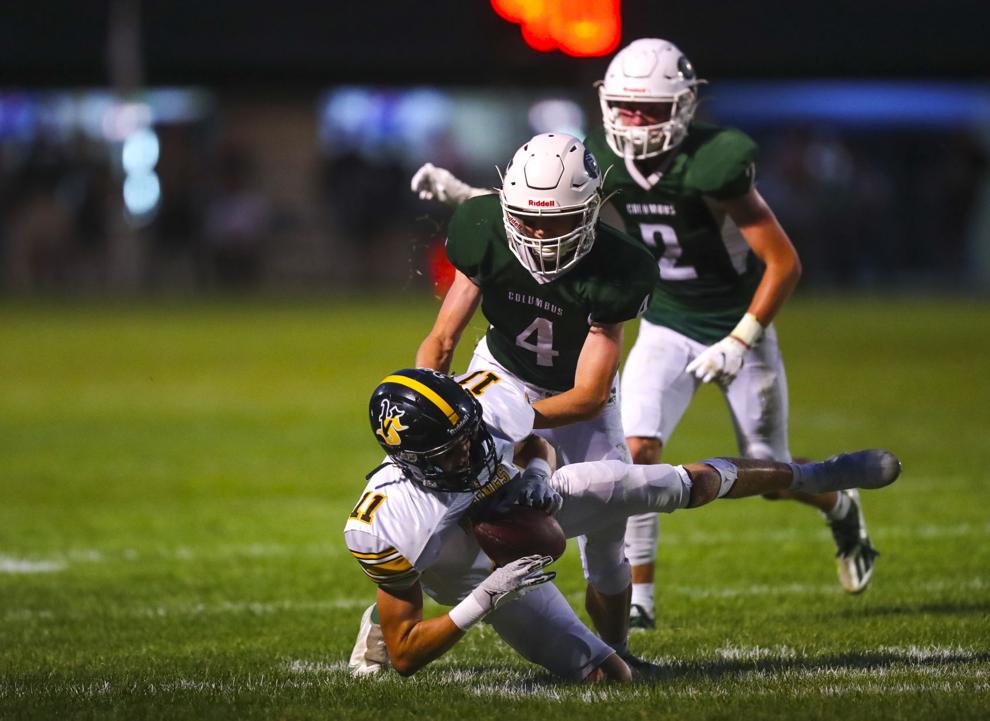 FBall Columbus vs. Vinton-Shellsburg 11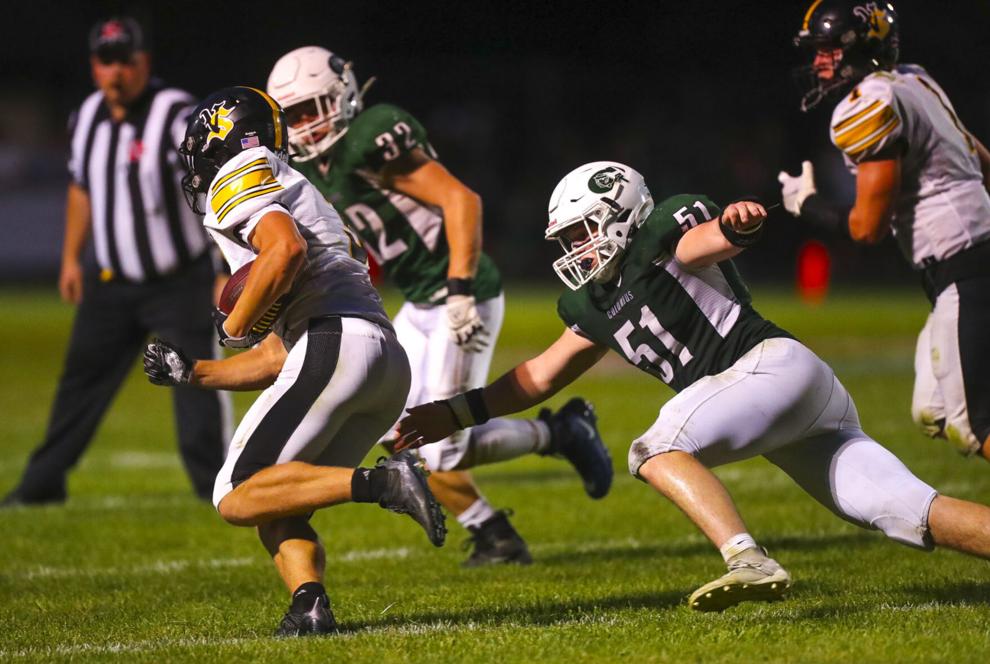 FBall Columbus vs. Vinton-Shellsburg 12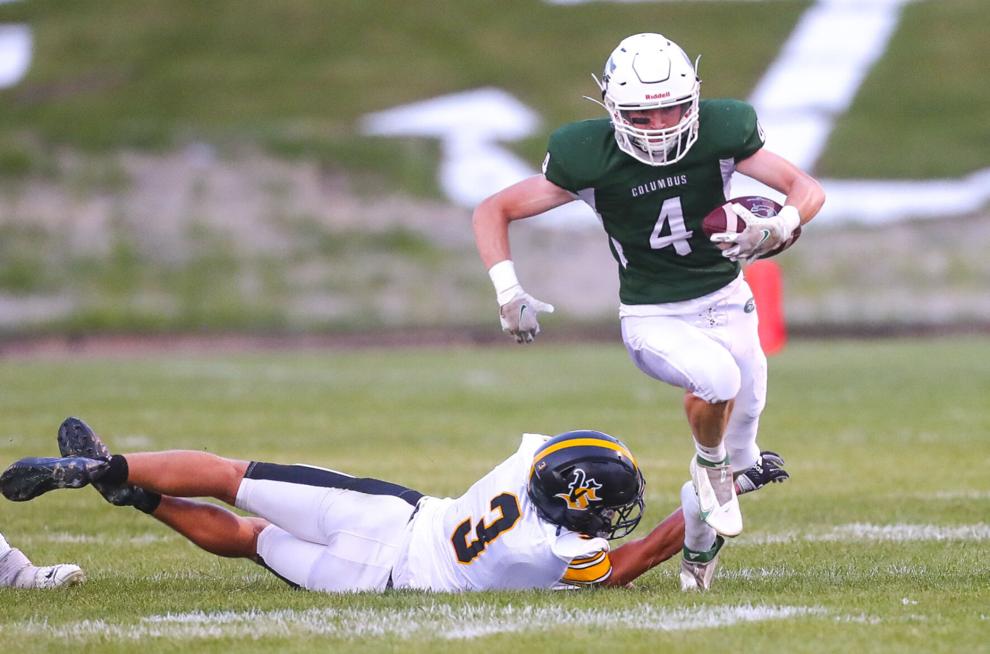 "You know going in that (Vinton-Shellsburg) coach (Jim) Womochil's team is going to be physical, they're going to be big, and you'd better be strapped up," said Schmit. "You know there are going to be big hits and the kids are going to be sore tomorrow, but it definitely feels good to bounce back from last week."
Columbus 35, Vinton-Shellsburg 0
Vinton-Shellsburg 0 0 0 0 – 0
Col—Caleb Holthaus 64 pass from Carter Gallagher (Ben Trost kick)
Col—Gallagher 11 run (Trost kick)
Col—Trost 5 pass from Gallagher (Trost kick)
Col—Nick Merrifield 30 pass from Gallagher (Trost kick)
Col—Holthaus 13 pass from Gallagher (Trost kick)
Rushes-yards 42-156 21-70
Comp-att-int 11-13-1 9-13-0
Penalties-yards 5-30 5-39
VINTON-SHELLSBURG—Kaden Kingsbury 7-(-8), Max Vazquez 16-80, Curtis Erickson 4-24, Benett Rickels 5-13, Kale Schulte 1-4, Jesse Gray 3-10, Gabe Sanders 5-21, Austin Kemp 1-12.
COLUMBUS—Gallagher 10-28, Josh Heine 11-42.
VINTON-SHELLSBURG—Kingsbury 11-13-1, 61 yards.