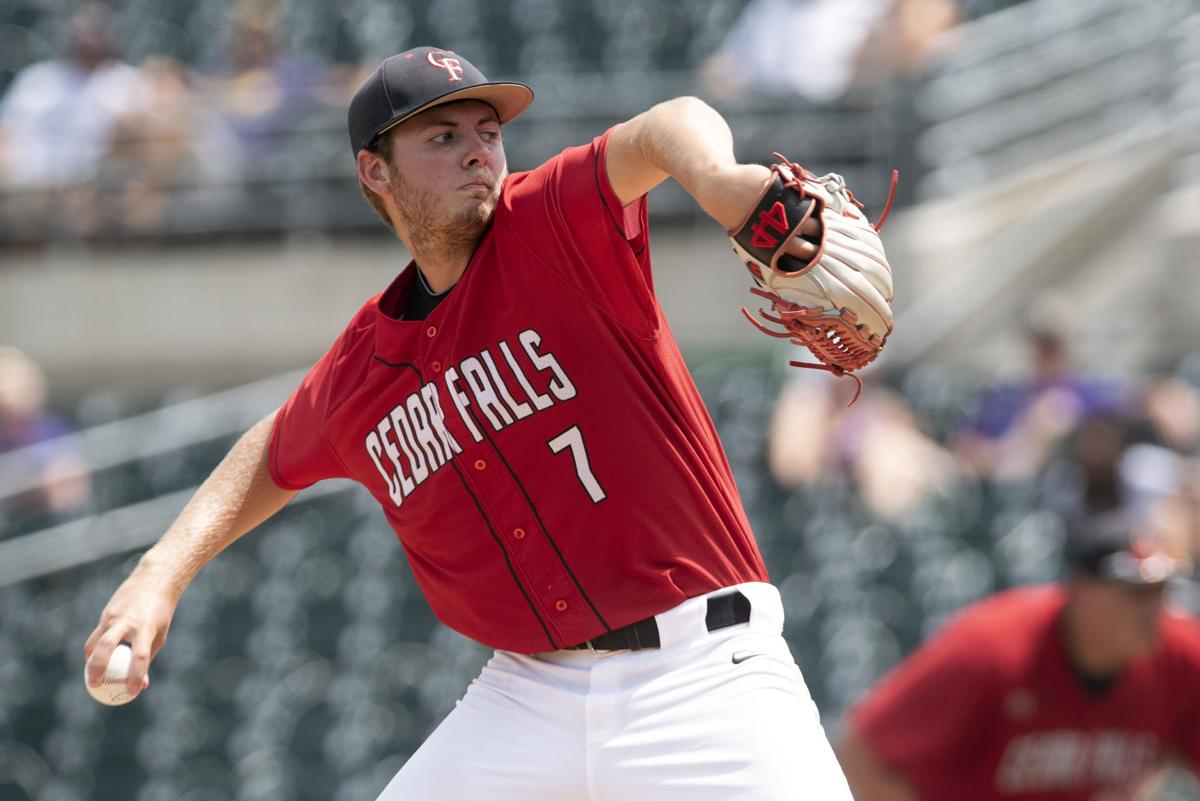 Cedar Falls did not play a lot of baseball in the summer of 2020.
But when the Tigers did play, they were pretty good.
Cedar Falls didn't start playing in the COVID-abbreviated 2020 season until June 16. The Tigers played for nine days before being forced to shut down because of a positive COVID test.
COVID issues would keep Cedar Falls off the diamond in game action from June 25 until it played in a sub-state game against Western Dubuque on July 20.
Cedar Falls rallied from down six to pull within a run, but Johnston's disciplined hitters never let up.
The Tigers won that game and then beat Cedar Rapids Kennedy (7-4) in a sub-state final to reach the program's first state tournament since 1989. Cedar Falls then more than held its own before dropping a 11-7 decision to Johnston in a first-round Class 4A game at Principal Park in Des Moines.
In all, Cedar Falls played nine games, including the state tournament contest.
Cedar Falls punches ticket to Des Moines in eighth game of the season.
"That was a lot of fun playing in a first-round state tournament game," Tiger head coach Brett Williams said. "It was a young team. We continued to improve despite everything that happened to us.
"After that it was now what are you going to do to come back and be better, because I'd love to go back down there and play two more rounds, play on Saturday night."
Williams says his team did put in the work in the offseason. Naturally, several sophomores who were asked to play big roles have gotten physically bigger and more mature. Other veteran players put in extra work in to improve.
Steinlage's bases-loaded strikeout saves Cedar Falls win over Western Dubuque, 4-3.
Williams feels the Tigers have all the right ingredients to have another solid summer.
"Three quarters of our roster played in games where it was win or go home," Williams said. "There is always room for improvement, but when you have a veteran team you feel pretty good about every aspect of the game."
The Tigers return their top-two pitchers – Zach Neese and Gage Flanscha in addition to junior Max Steinlage who logged valuable minutes in the postseason.
Isaac Bauer, Brody Bartlett, Jaden Kramer and Caleb Raisty all played valuable innings in 2020, too.
The Tigers will have to find some lost offensive production when first basemen Drew Hoth departs the team in mid-June. Hoth signed to play football for Northern Illinois and leaves for campus at that time.
A solid Sailor team returns several big pieces as Columbus looks to build on a 10-6 mark from the COVID-shortened 2020 season.
The Sailors have eight players back who played a lot of innings last summer and that should help them get started faster.
"We have a pretty good junior and senior class," Columbus head coach Mark Gallagher said. "We have a bear of a schedule, but we set it up that way knowing the experience we had back."
Offensively, Columbus looks stacked and Mark Gallagher feels the same way.
"I think we will score runs. I think we did last year and I think we will be even a little better at that this season," Mark Gallagher said.
Leading the way for the Sailors will be all-state shortstop Carter Gallagher. The junior hit .566 last year with 11 doubles and he scored 20 runs.
Alex Feldman (.421), Caden Hartz (.426), Connor Knutson (.404) also hit above average and Joe Dunlay (.375) and Josh Merrifield (.360) weren't far behind.
Merrifield will anchor the pitching staff after posting a 3-2 mark with 37 strikeouts in 32.1 innings pitched.
"We got to pitch to contact. We got to get better on defense," Mark Gallagher said. "Last year it seemed we'd play five solid innings and two would get away from us."
First-year head coach Nate Lamphier has plenty of experience and talent. Now, the Oelwein native wants to mold it into the team he wants.
West will be a senior-laden team with 14 of them on the Wahawks' roster.
"I think what they can expect is we are going to be disciplined and we are going to be fundamentally sound," Lamphier said. "Around here talent is not going to be problem, it is going to be those other 'X' factor parts we need to be good at and better at than our opponent. Once we do that we feel pretty confident where we will be."
West's top returners are Mitch Fordyce who hit .410 with six doubles in the abbreviated season last summer. Sam Moore hit .395 and scored 12 times.
The Wahawks have three pitchers that can hit the mid-to-upper 80s in Carter Schulte, Moore and Luke Fordyce.
"Pleasantly happy with our depth. Everyone is healthy and that is always a big plus," Landphier said. "I think we can go 8, 10 deep and we are confident in all 10."
Second-year coach Eric Jesse is beginning to see hard work beginning to pay off for the Trojans.
With a little more than 30 guys out, Jesse has seen more buy in on a daily basis for a program that can only climb upwards after going 1-16 last summer.
"We had a good offseason," Kids were coming in on their own and throwing and getting in extra swings," Jesse said. "We had five or six guys playing on different fall teams and we have multiple, multiple sport athletes. We've already had some of the best I've had and I feel like we made a lot of progress.
"We were in a lot of games last year, but we are still learning how to win as a team."
Jesse will have a young, but talented team. Caleb Spooner is a veteran and sophomore Justin Thomas has already served as the Trojans' No. 1 pitcher the past two summers.