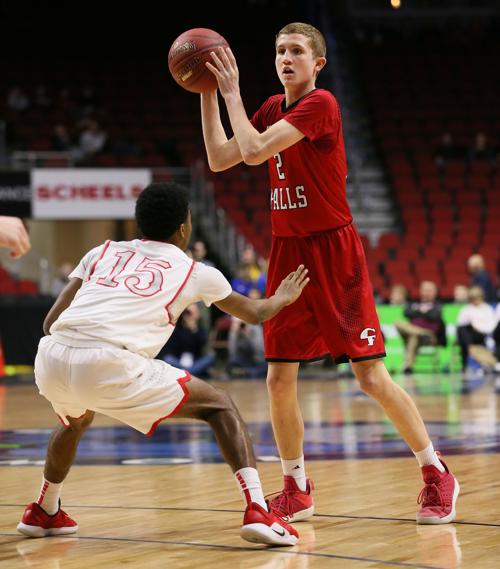 DES MOINES – The star power is not the same.
In winning back-to-back Class 4A boys' state basketball championships, Cedar Falls had plenty of star power in 2018 and 2019.
In 2018 if the Tigers needed something to happen, Top-100 nationally-ranked recruit A.J. Green stepped up. In 2019, it was Logan Wolf or Jack Campbell, two future Division I football players.
When the 2019-20 season-rolled around, Cedar Falls head coach Ryan Schultz did not have a player on his roster that is quite of that trios stature … at least not yet.
"It is a completely different team," Schultz said.
If there was one thing that Schultz was certain … he had plenty of talent and when that talent figured out how to play together, especially on defense, there would be no reason on why the Tigers could not make a run at a three-peat.
With a balanced attack on offense and a team that gradually bought into how hard it had to work to defend well to win at the Class 4A level, Cedar Falls has a chance to become the sixth team in state history to win three state championships.
The second-seeded Tigers (21-2) have a first-round date with West Des Moines Dowling (16-7) Wednesday at 12:15 p.m. inside Wells Fargo Arena.
"What I've been telling everybody all year is it is our balance," Schultz said. "I'm speaking more offensively, but that has really been a strength of ours. We are just one of those teams on any given night somebody is going to step up and we believe we have a lot of guys that can do that."
While this Tiger team is different they have do have a veteran presence. Guard Josh Ollendieck, the Mississippi Valley Conference Valley Division player of the year, was last year's second leading scorer. Ben Sernett, Jaxon Heth and Chase Courbat all played pivotal roles in Cedar Falls' 44-41 win over Dubuque Senior in the 4A title game.
"We had a lot of good juniors that played last year," said Ollendieck (11.4 ppg) who is second to Landon Wolf (11.7) in scoring this year for the Tigers. "We have grown a lot as a team. We've learned to play less selfish and more as a team.
"Coach tells us to play as a fist and not as fingers. And it has absolutely been us playing together that has been the biggest thing that has attributed to our success."
Newcomers have been key for the Tigers in 2019-20, too.
Landon Wolf, Logan's younger brother, along with Ollendieck has made more than 50 3-pointers on a team that has made 181 (7.9 per game). Sophomore Trey Campbell has more than 100 assists.
But the biggest key for Cedar Falls other than scoring balance has been its commitment on the defensive end of the floor.
"That was probably the biggest step, especially with those younger guys," Schultz said. "We had all that experience coming back, but with our youth it is learning how to guard at this level to be able to win and win consistently in this league was probably the hardest challenge. Guys don't realize how hard it is and how hard you have to work at defense.
"That was probably the slowest thing and once we bought into that and when we started to internalize that as a collective group that is really when we turned the corner."
In Dowling, the Tigers are getting a tall and athletic team.
Six-foot-8 Ryan Riggs is the Maroon's leading scorer (12.2) and slashing 6-foot-1 guard Matt Stilwill averages 12.1. Six-foot-6 Drew Daniel averages 9.4 and has made a team best 42 3-pointers.
Cedar Falls and Dowling have two common opponents. The Maroons lost to Iowa City West on Dec. 3 (43-28), and beat Dubuque Hempstead (51-42) on Feb. 1.
The Tigers beat Hempstead twice, including 53-44 in the substate finals, while it also beat Iowa City West (41-38) on Feb. 8.
"They've got a lot of size and a couple of shooters," Ollendieck said. "Our focus has to be on the glass and keeping them out of the paint.
"We've showed we belong here again," Ollendieck continued. "This team is just as good as the ones from the last couple of years. We got to just prove it again this week."
Get in the game with our Prep Sports Newsletter
Sent weekly directly to your inbox!