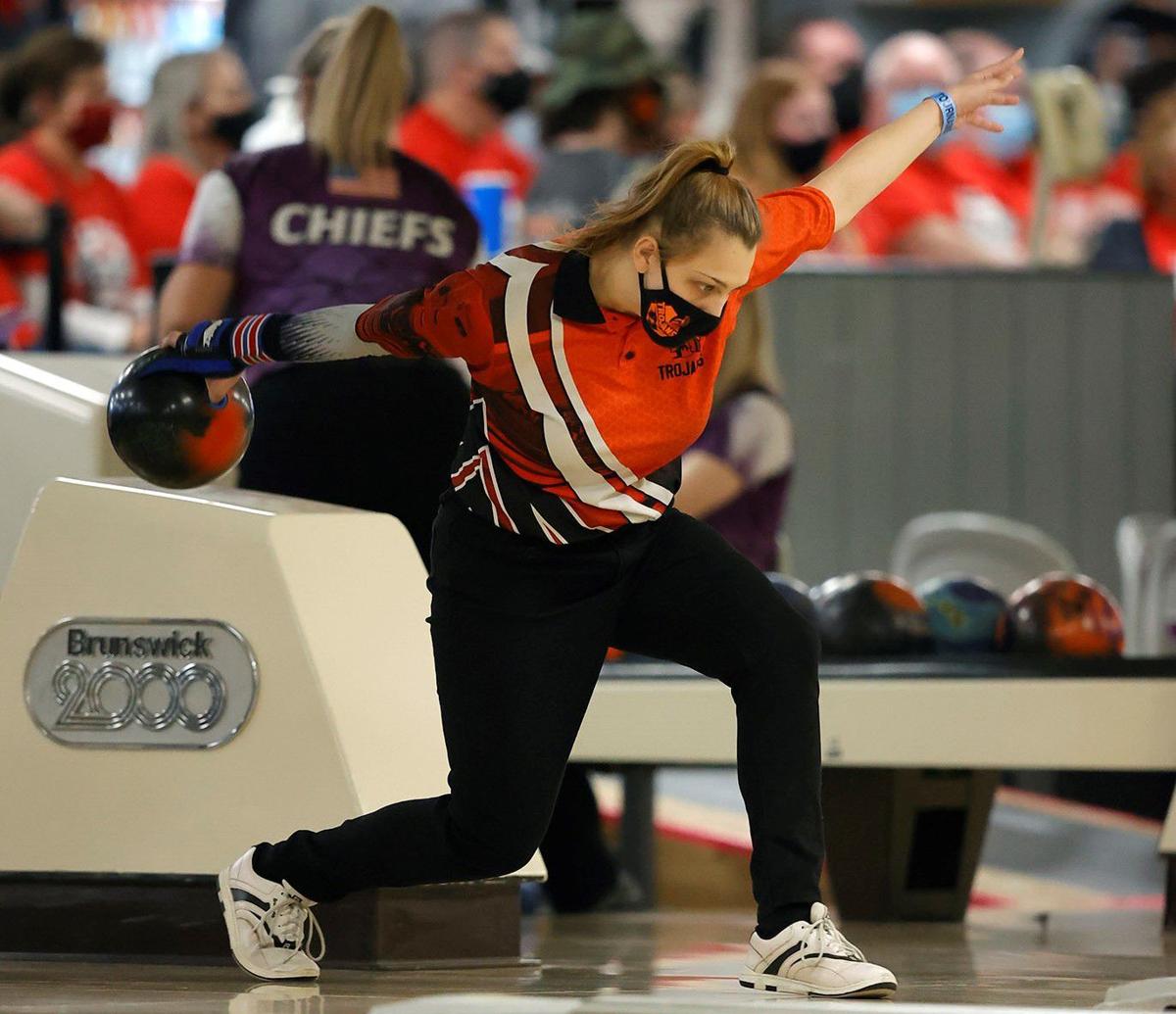 WATERLOO – Stephanie Burge's first frame Monday was a clunker.
The Waterloo East senior was rock solid from that moment on as Burge topped a field of 49 other girls to claim the Class 2A individual state championship at Cadillac XBC.
After recording an open first frame, Burge followed with nine strikes in a row to open with a 267 game. She followed with a 214 as her 481 two-game series bested Keokuk's Jasmine Saunders by 10 pins for the title.
Burge's victory gave East back-to-back individual state champions as Abigail Williams won last season.
Despite the scores being posted in the back, Burge said her coaches shielded her from finding out she had won prior to the Trojans finishing the team portion of the competition.
Then sitting and holding hands with a pair of teammates, Burge listened on anxiously as the Top Ten was announced. Knowing her score was a 481, Burge heard the numbers steadily climb to 467 and then the runner-up score of 471 was announced and a mass hug from her teammates shrouded Burge
"It was exhilarating. I was extremely happy," Burge said. "My first frame I had a 9, zero. I messed up. But I told myself to forget about it and keep working and every single time I got a strike I was backed up by my team and it felt wonderful."
Burge rolled a 393 series to finish seventh last year, and the jump to No. 1 was possible because she listened and followed through with every bit of advice she got from East coaches Mike Weber and Travis Hoing.
"When they told me to move or adjust, I listened," Burge said. "They helped me out in so many different ways and I kept fighting and doing what they told me to do."
Weber said Burge's jump was because of her willingness to take advice.
"She was solid all year long, in the top two or three averages all year," Weber said. "It wasn't a lot of coaching, but when we did give her a tip she applied it to her game and that is all it was.
"She did an awesome job this year."
Mallory Cary and Jersie Benson finished 11th and 12th, respectively in the individual completion. Cary had a high game of 224 to go with her 408 series, and Benson rolled games of 203 and 204 for a 407.
East, also the defending 2A team champion was second after the individual two-game series portion of the tournament with a score of 2,021, trailing eventual champion LeMars by eight pins.
But the Trojans could not find the right touch in the five-game baker rotation as they finished fourth with Keokuk and Western Dubuque pulling ahead of them for the second and third-place trophies.
The Trojans return four of their top six bowlers in 2021-22.
In Class 1A, Charles City's Brianna Ross was 12th with a 396. She had a high game of 211.
Louisa-Muscatine captured its fifth consecutive 1A team title.
Team – 1. LeMars 3,061, 2. Keokuk 3,034, 3. Western Dubuque 3,016, 4. Waterloo East 2,907, 5. Fort Dodge 2,820, 6. Denison-Schleswig 2,574, 7. Newton 2,440 8. Waverly-Shell Rock 2,357.
Top Ten Individuals – 1. Stephanie Burge 267-214 – 481, 2. Jasine Saunders (Keokuk), 224-247 – 471, 3. Claire Miller (Denison-Schleswig), 223-244 – 467, 4. Olivia Schiefen (LeMars), 253-202 – 455, 5. Sam Schiefen (LeMars), 245-204 – 449, 6. Lexi Hanson (Fort Dodge), 180-267 – 447, T7 – Alexis Kenney 205-233 – 438, Kaitelin Konz (LeMars), 202-236 – 438, 9. Lanie Konzen (Western Dubuque), 232-202 – 434, 10. Sara Horsfield (Western Dubuque), 232-191 — 423
East – Burge 267-214 – 481, Malorie Cary 224-184 – 408, 3. Jersie Benson 203-204 – 407, Alyssa Duckworth 162-215 – 377, Kadence Hyde 171-177 – 348, BaiLee Snapp 173-165 – 338.
Baker rotation: 195-174-182-193-142.