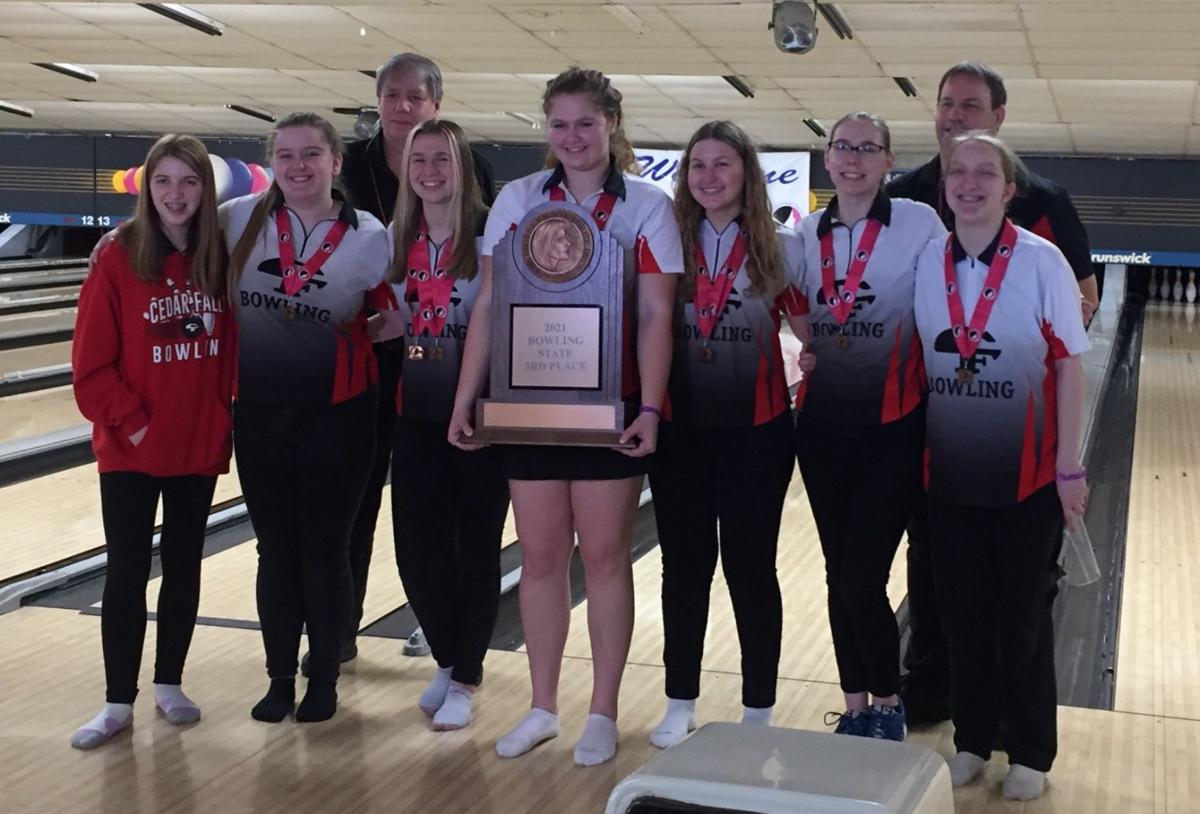 WATERLOO – Since moving to from Fort Dodge to Dike in second grade, Anna Frahm has completed plenty of trips to Waterloo where she sharpened her bowling skills at Maple Lanes.
League play and team competition has expanded the high school sophomore's group of friends.
Competing with Cedar Falls' bowling team, Frahm put together Class 3A's top single-game score of 246 during Tuesday's state meet as part of a 438 series that was good for fourth place, individually.
The Tigers had three bowlers place among the top 10 and secured their program's first team trophy with a third-place score of 2,874 inside Waterloo's Cadillac XBC. Ottumwa passed Cedar Rapids Jefferson in the baker round to defend its team championship, 3,076 to 3,022.
Waterloo West, led by Melanie Nelson's two-game series of 394, was eighth with a score of 2,548.
"They did a great job," Cedar Falls coach Scott Holman said, after his team improved from sixth place with no top 10 finishers in last season's program state debut. "They battled from struggling the first game to come back the next game. I'm very proud of the team."
Frahm was one of four Cedar Falls bowlers to surpass 200 in their second game. She strung six strikes together as part of the tournament single-game high score.
"I was trying to find the line, make sure the oil is working for your ball so then you can just try to be consistent with getting strikes," Frahm said. "I struggled more with that in the first game and got more spares."
Cedar Falls junior Myah Brinker picked up a tough 10th frame split and capped her first game with a 234 before rolling a 201 in game two for a seventh-place series of 435. Left-handed junior Katie Waltz started Cedar Falls' team off strong with games of 201 and 220 for a 10th-place 421.
Amelia Saltzman, joined by Jewell Wilson as the team's lone seniors, also excelled in the second game with a 201. Junior Hailey Taylor went 170 and 175 for a 345 as Cedar Falls knocked down 2,003 pins during the series portion of the event.
The Tigers opened the baker round with a 191 game, but were unable to string many strikes together over the next four before holding off Dubuque Senior by seven pins for a team trophy.
"We struggled with the bakers but we covered most of our spares," Holman said. "We didn't do as well as we did last week, but they never quit. They kept trying, kept trying. I kept trying to help them adjust and they just kept battling."
A cohesive group, Cedar Falls returns four of its top six next season.
"We all just get along really well with each other and we find good ways to pick each other up," Frahm said. "Even if we're in a bad mood, doing not so good, we can just always find something positive."
Added Wilson, one of the team's departing seniors, "I like it when we get to bond with each other and I really am going to miss bowling with them. We really have a great time."
3A BoysPins were flying inside Cadillac XBC throughout the afternoon boys' state meet.
Davenport Central freshman Brady Krager's recently acquired two-handed form resulted in a new 3A state championship record two-game series score of 562. Krager opened with a 275 game, recorded a spare on his first attempt of the second game, then reeled off 10 consecutive strikes before finishing with a 7.
"I was just keeping it inside and snapping at the end," Krager said. "I was trying to go all the way. I messed up at the last frame, but oh well, it's still pretty good."
In the team competition, Marshalltown's 3,450 was second only to Clinton's 2010 score of 3,480 as the best team championship total under the state's current format. Davenport North finished second at 3,326.
Waukee's anchor bowler had a look at a perfect game in the baker round, but settled for a 297 after a pair of strikes in the 10th frame.
Cedar Falls produced the state's best qualifying score of 3,315, but struggled to put enough strikes together on Tuesday. The Tigers' top individual finish was Matthew Edler's 434 series that tied for 12th.
"It seemed like every time we got a couple (strikes) together we just kind of caught a little bit of a rough break," Cedar Falls coach Brad Baker said. "Our kids didn't shoot all that bad, they just didn't shoot what they're probably fully capable of.
"We graduated three guys last year (from a third place team) and we got right back to it and they had a chance to put up some big numbers and make a run at the state tournament. I couldn't be prouder of those guys."
Preps to Watch: Fall 2020
Fall 2020 sports Preps to Watch
TEAM STANDINGS – 1. Ottumwa 3,076, 2. Cedar Rapids Jefferson 3,022, 3. Cedar Falls 2,874, 4. Dubuque Senior 2,867, 5. Dubuque Hempstead 2,774, 6. Iowa City High 2,639, 7. Waukee 2,558, 8. Waterloo West 2,548.
INDIVIDUAL LEADERS – 1. Savannah Edmonds (Jefferson) 471, 2. Zoe Seamans (Ottumwa) 455, 3. Owyia Pilcher (Ottumwa) 439, 4. Anna Frahm (Cedar Falls) 438, 5. Anna Warkel (Jefferson) 437, 6. Zoe Schultz (Hempstead) 436, 7. Myah Brinker (Cedar Falls) 435, 8. Randi O'Leary (Ottumwa) 423, 9. Natalie Prohaska (Jefferson) 422, 10. Katie Waltz (Cedar Falls) 421.
CEDAR FALLS – Frahm 190-248 – 438, Brinker 234-201 – 435, Waltz 201-220 – 421, Amelia Saltzman 163-201 – 364, Hailey Taylor 170-175 – 345, Jewell Wilson 144-190 – 334.
WATERLOO WEST – Melanie Nelson 193-201 – 394, Sydney Wilson 184-181 – 365, Kayley Fangman 164-165 – 329, Samantha Camilo 156-156 – 312, Halley Hackbarth 115-122 – 237.
TEAM STANDINGS—1. Marshalltown 3,450, 2. Davenport North 3,326, 3. Davenport Central 3,181, 4. Southeast Polk 3.136, 5. Waukee 3,123, 6. Cedar Rapids Kennedy 3,068, 7. Cedar Falls 3,039, 8. Dubuque Hempstead 2,911.
INDIVIDUAL LEADERS—1. Brady Krager (Central) 562, 2. Demitri Ferneau (Marshalltown) 489, 3. Blake Fries (North) 481, 4. Lucas Dolphin (Kennedy) 459, 5. Ashton Hesseling (North) 458, 6. Xander Pickett (Marshalltown), 7. Cameron Brost (Waukee) 451, 8. Zach Bianchi (Southest Polk) 450, 9. Malachi Funk (North) 443, 10. Skyler Vong (Johnston) 443.
CEDAR FALLS—Matthew Edler 235-200 — 435, Logan Stoll 216-215 — 431, Ryan Venem 188-226 — 414, Chris Fordyce 226-186 — 412, Matthew Swanson 191-204 — 395, Nate Venem 199-144 — 343.