DES MOINES — Nothing fazed the Wapsie Valley basketball team Monday.
Not the bright lights and big crowd at Wells Fargo Arena for the opening round of the Class 1A boys' state tournament.
Not the challenge of taking on a top-seeded, 23-2, physical Lake Mills team that carried a 72.9 scoring average to Des Moines.
The unranked Warriors knew what needed to be done, and they did it in a 49-45 victory over the eighth-ranked Bulldogs that was a tight, tense and physical battle from the opening tip.
"Both teams played so hard," said Wapsie Valley coach Marty McKowen, who is leading his eighth Warriors team in state tourney play. "I'll give Lake Mills all the credit in the world, how hard they played out there. I thought it was a tough-fought game.
"State tournament games are physical games. Rarely do you ever see a state tournament game that is closely called, and that's the way it should be. They were very, very good officials. I'll be honest ... I don't say that very often, but they were very good officials."
It was a one-possession game much of the way, and it wasn't settled until the final minute when the Warriors refused to be denied.
Wapsie Valley trailed 42-41 with 4 minutes, 57 seconds to play, but a jump shot by Kobe Risse and a 3-pointer by Gunner Meyer staked the Warriors to a 46-42 edge at the 3:58 mark.
Lake Mills hit a 3-pointer of its own for a 46-45 game with 3:07 remaining, but the Bulldogs didn't score again.
Meanwhile, Tyler Ott hit a free throw, Kiks Rosengarten grabbed an offensive rebound off a missed free throw and scored to make it 49-45 and a pair of Wapsie defenders wrestled the ball away from Lake Mills' Dashawn Linnen with :20 left on the clock.
The opening half ended at 24-24 with each team experiencing ebbs and flows at the offensive end.
Lake Mills jumped in front 6-0, but Wapsie Valley settled in and trailed just 13-11 by the end of the first quarter. With the Bulldogs swarming all over Rosengarten in the paint, Meyer stepped up to score 10 straight points that kept the Warriors within a possession and then hit a jumper to give Wapsie Valley its first lead at 23-22 with 1:43 left in the half.
Both teams shot 35 percent over the first two quarters, but Lake Mills had 10 offensive rebounds among 23 total boards. Caleb Bacon led that effort with 11 rebounds, including seven at the offensive end while scoring 10 points.
"I asked them at halftime, 'Cut down the number of offensive rebounds we're giving up. We don't have to change anything else. If we don't give them second shots we can win this game,'" said McKowen. "So we didn't do a lot of coaching at halftime. We just told hem to take care of a couple of basic things and they did, and I'm very, very proud of that group of kids."
The coaching staff did make one important adjustment to create some room for Rosengarten to operate. Of his 16 points, 12 came in the second half. Meyer, who brought a 9.4 scoring average to Des Moines, led the Warriors' offense with 19 points Monday.
"He has come a long way, man," McKowen said of his 6-4 forward. "You think about where he started the year, and he's only a sophomore. He started the year not contributing a ton and has grown into a position that to be very honest, him and a bunch of other kids, if he's not doing what he's doing we're probably not here."
Defensively, Wapsie Valley held Lake Mills to 31.7 percent shooting overall and 4-for-26 from 3-point range. Linnen, who averages 19.6 points, finished with 11. Chett Helming, a 19.4 scorer, settled for 14.
Next up for the 19-7 Warriors is a 2 p.m. semifinal Wednesday against fourth-seeded Montezuma (24-2).
"Seeds don't mean anything at the end of the day," said Rosengarten. "It's just how hard you play in your heart and your mind. We're used to coming in as the underdogs."
"We believe in ourselves," added Meyer. "We know we're a great team."
031020-Lake-Mills-Wapsie-003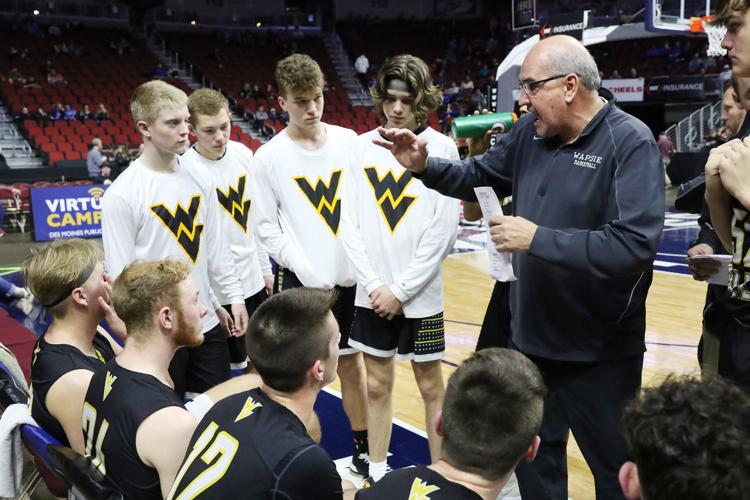 031020-Lake-Mills-Wapsie-001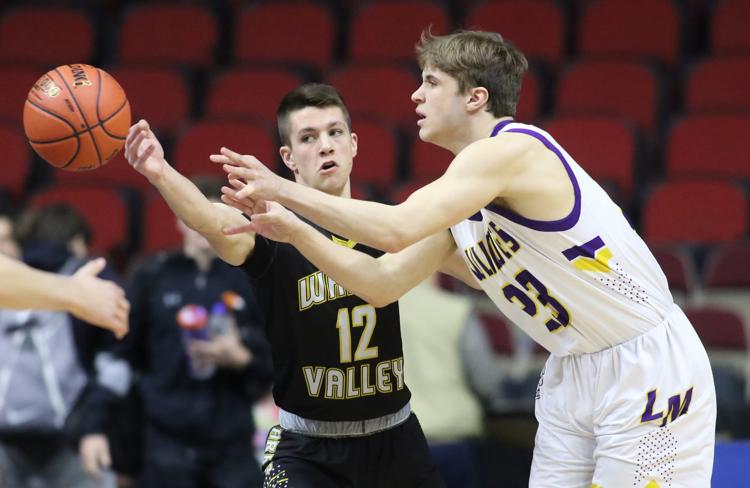 031020-Lake-Mills-Wapsie-006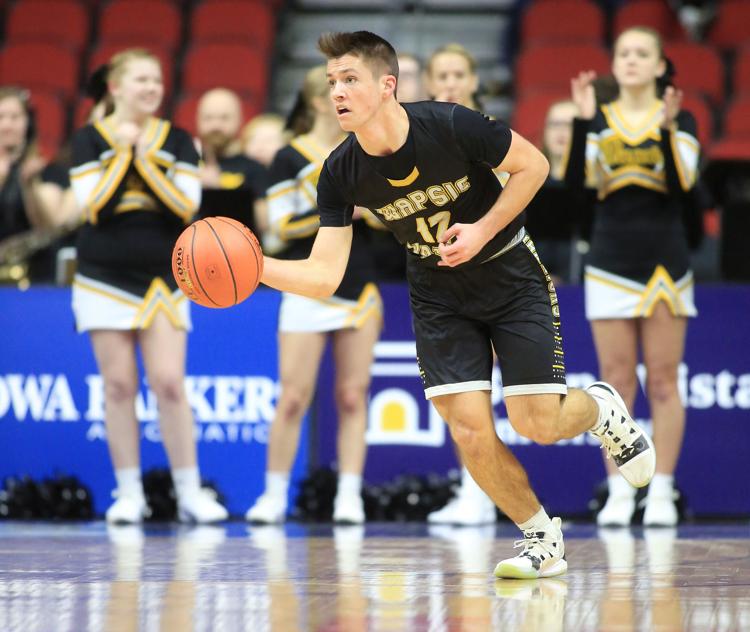 031020-Lake-Mills-Wapsie-005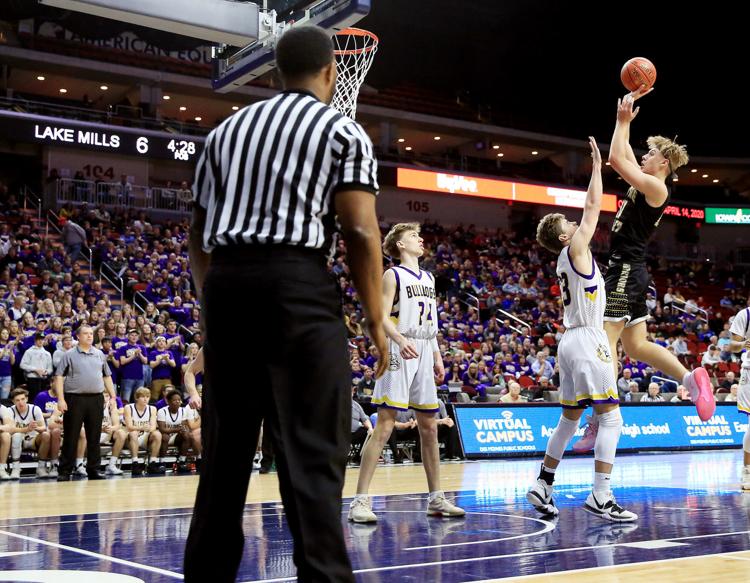 031020-Lake-Mills-Wapsie-009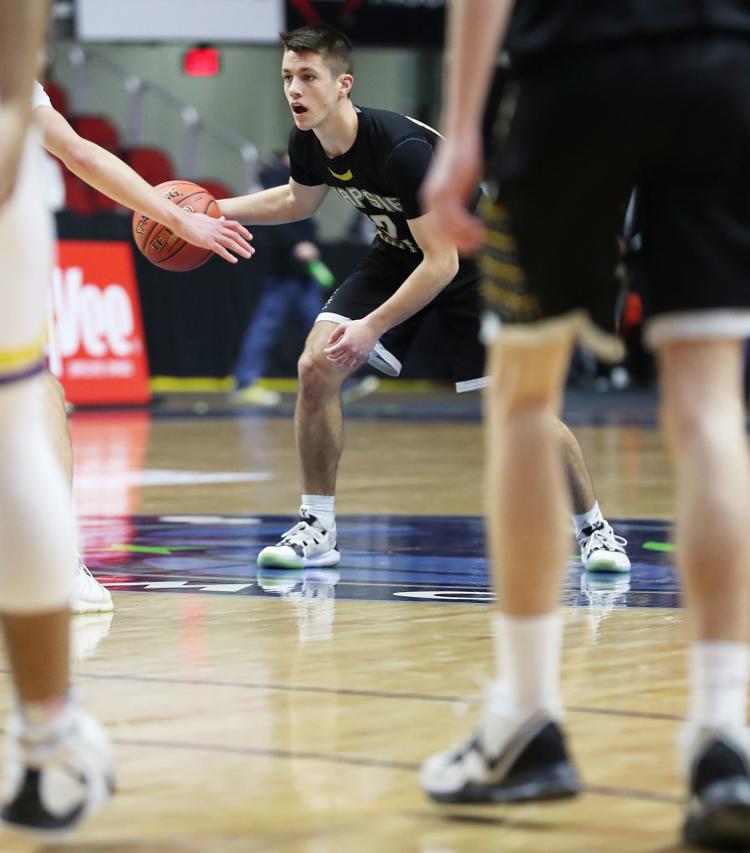 031020-Lake-Mills-Wapsie-014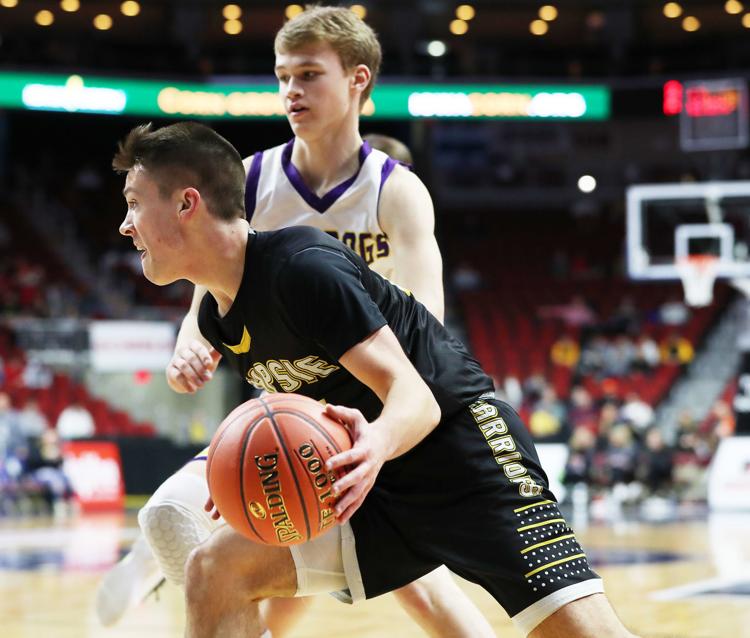 031020-Lake-Mills-Wapsie-016
031020-Lake-Mills-Wapsie-004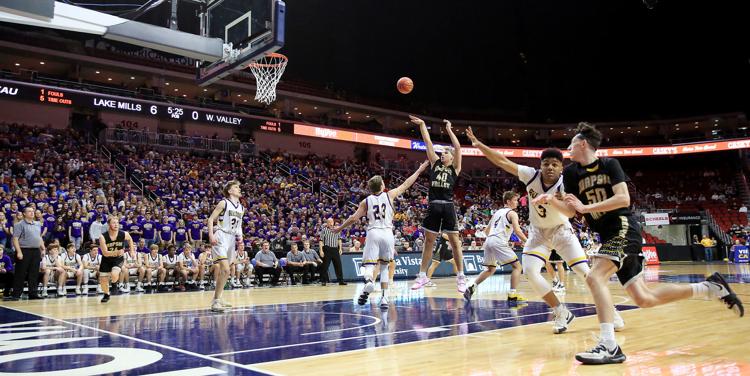 031020-Lake-Mills-Wapsie-008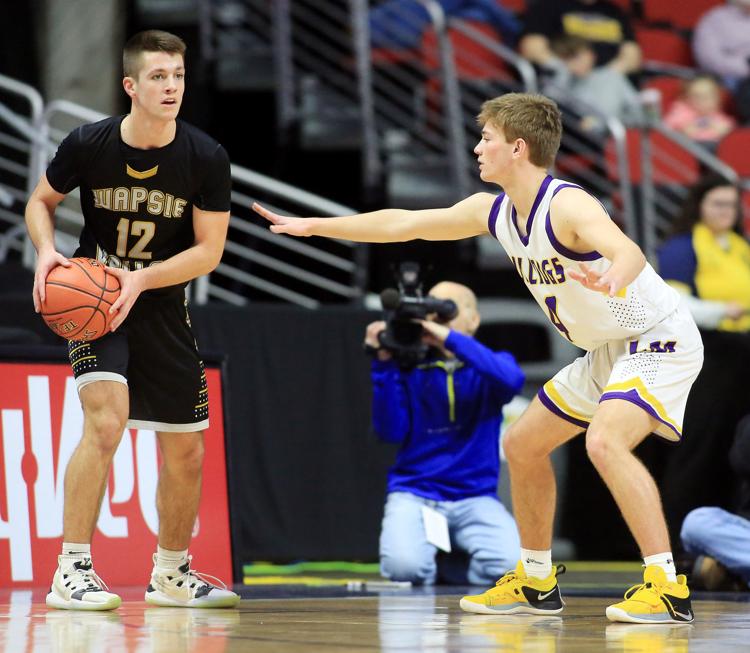 031020-Lake-Mills-Wapsie-017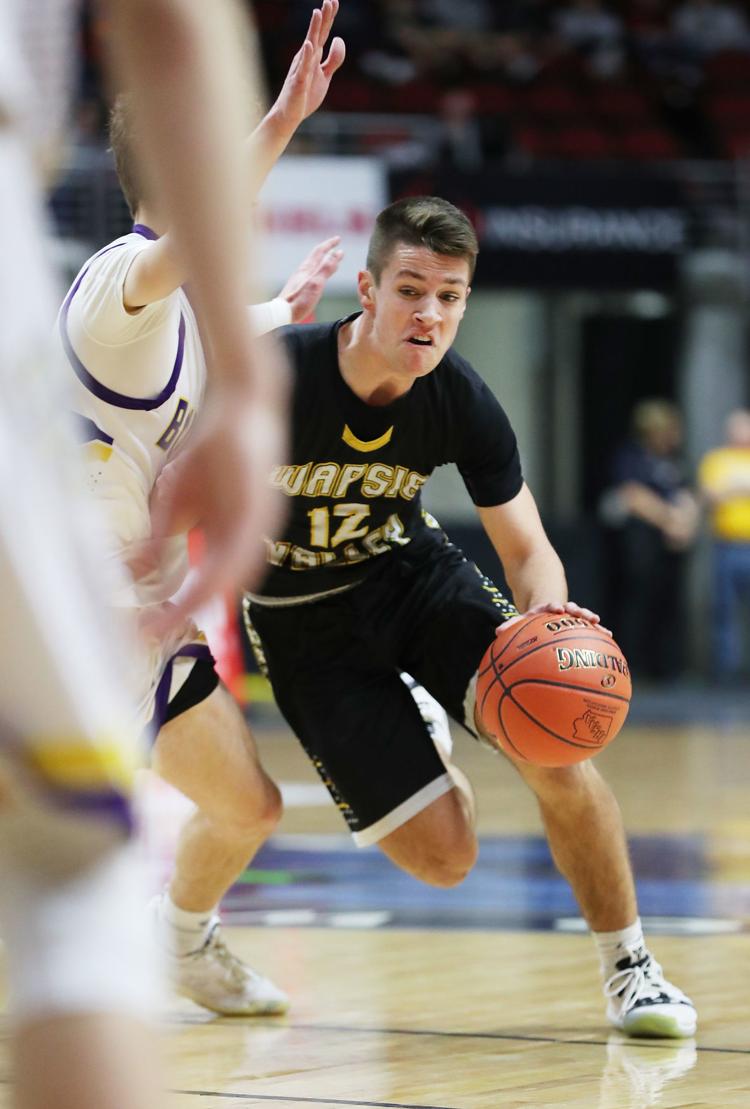 031020-Lake-Mills-Wapsie-011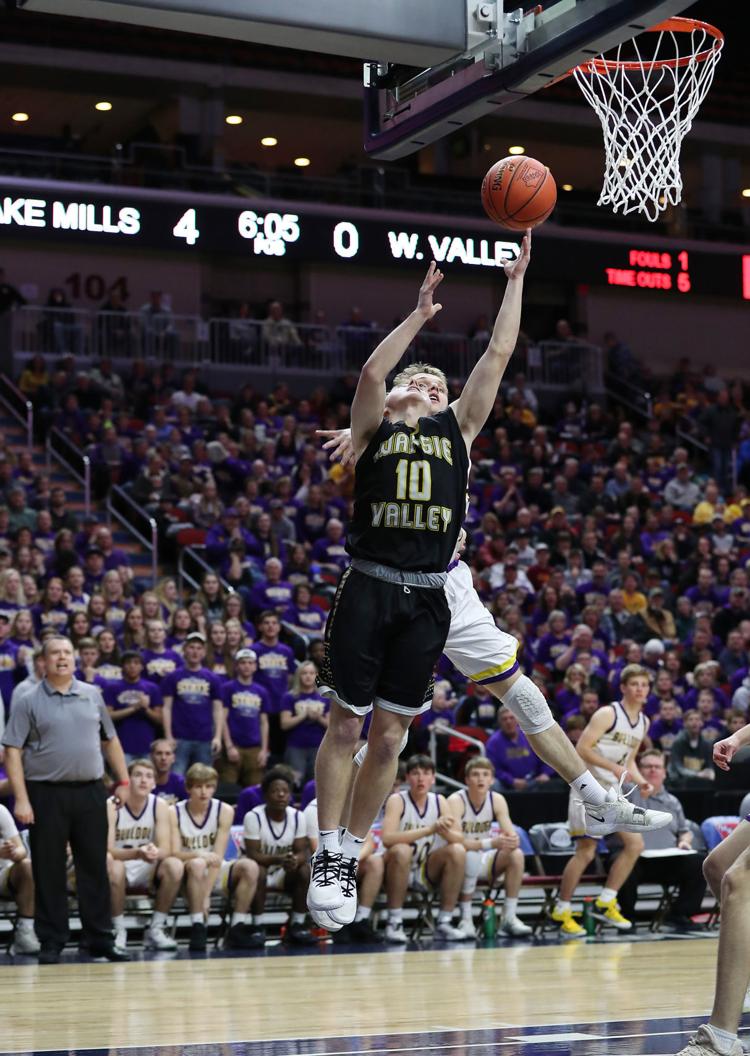 031020-Lake-Mills-Wapsie-013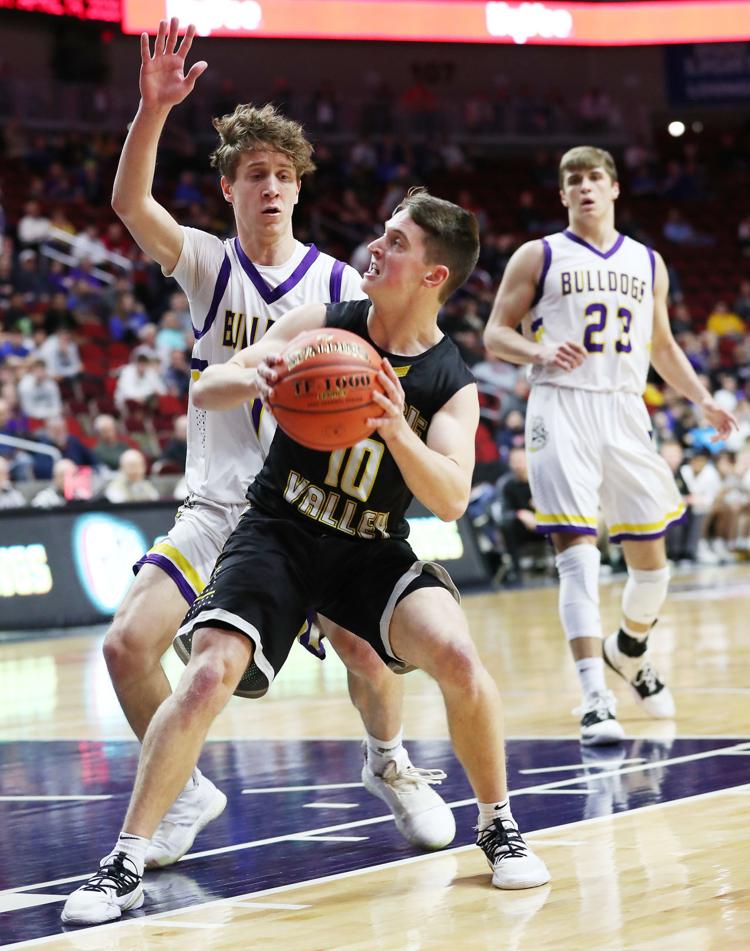 031020-Lake-Mills-Wapsie-015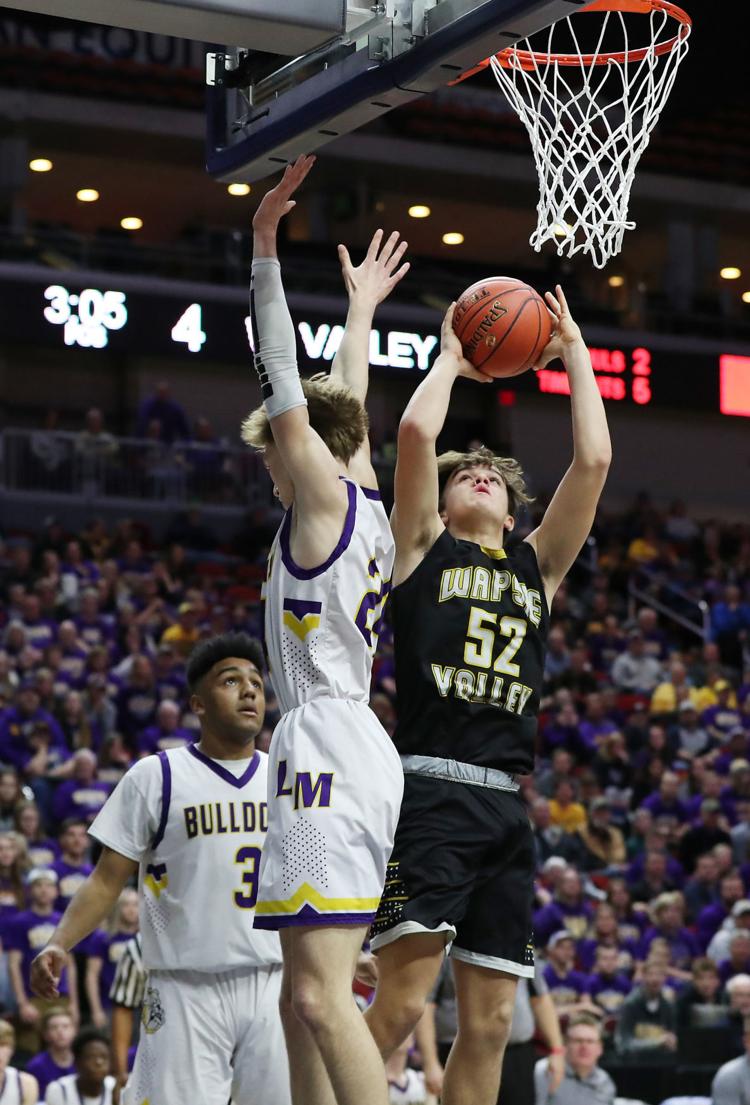 Wapsie Valley 49, Lake Mills 45
Wapsie Valley Mn FG-A FT-A Rb As PF TP
Bellis 30 2-7 0-1 9 2 2 5
Rosengarten 30 7-15 2-5 9 0 1 16
Meyer 31 6-13 4-5 2 1 0 19
Westpfahl 7 0-0 0-0 1 0 0 0
O'Donnell 6 0-1 0-0 1 0 1 0
Landsgard 2 1-1 0-0 0 0 0 2
Totals 160 19-44 7-13 31 8 8 49
Lake Mills Mn FG-A FT-A Rb As PF TP
Linnen 28 5-15 1-1 5 1 1 11
Bacon 22 5-12 0-2 14 0 4 10
C. Helming 31 6-15 1-2 9 0 2 14
Berger 25 2-7 0-0 2 0 4 6
W. Helming 10 1-5 0-0 3 1 1 3
Totals 160 19-60 3-7 39 5 15 45
Wapsie Valley 11 13 15 10 — 49
Lake Mills 13 11 12 9 — 45
3-point goals — Wapsie Valley 4-12 (Bellis 1-4, Ott 0-2, Rosengarten 0-1, Meyer 3-5), Lake Mills 4-26 (Groe 0-2, Linnen 0-5, C. Helming 1-6, Fritz 0-1, Berger 2-7, Rice 0-1, W. Helming 1-4). Turnovers — Wapsie Valley 14 (Rosengarten 4, Meyer 4), Lake Mills 11 (Bacon 4). Technical foul — Rosengarten.
Officials — Shellmyer, Rager, Lunsford.
Get in the game with our Prep Sports Newsletter
Sent weekly directly to your inbox!