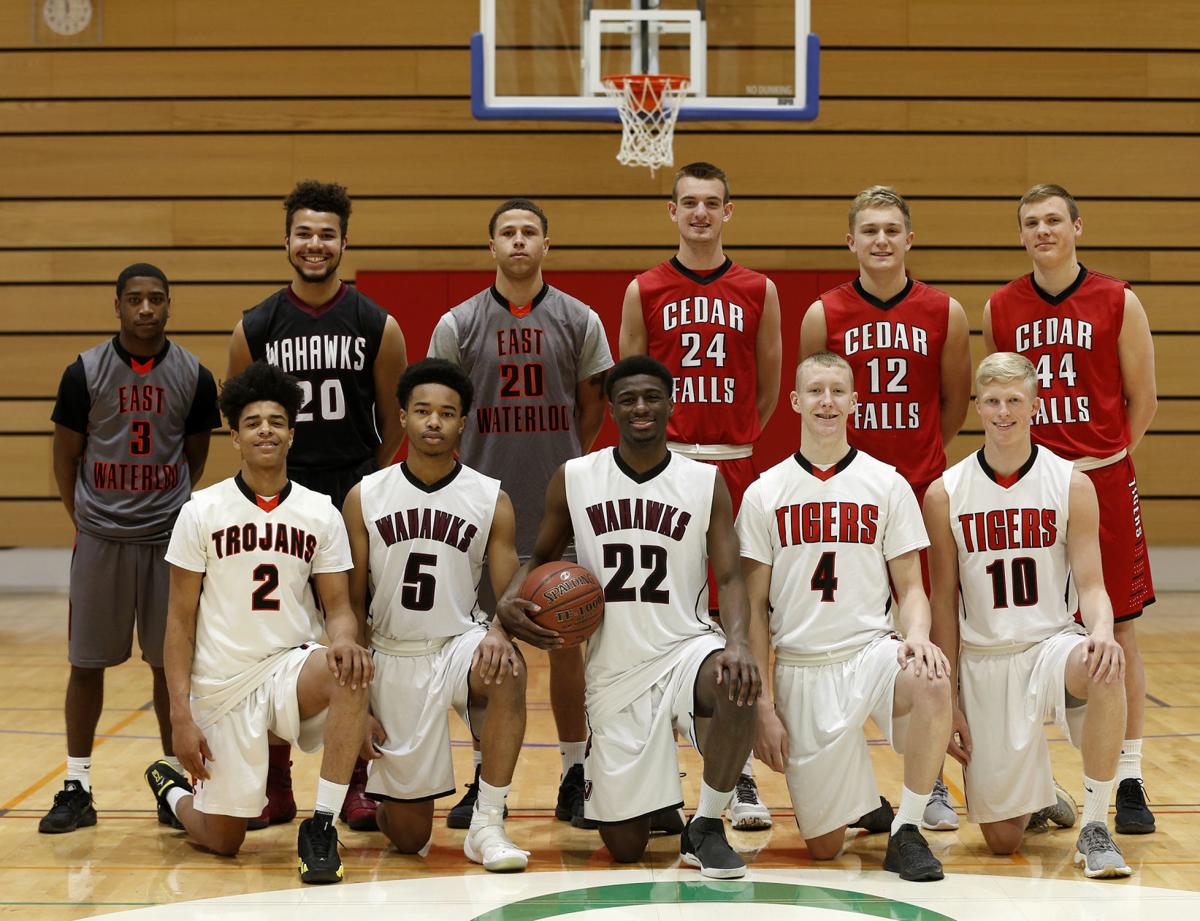 A collection of talented boys' basketball players helped their programs rise during the 2017-18 season.
This past year was highlighted by Cedar Falls' first state championship and the metro area's first title since NU High won it all in 2008.
Waterloo West's most memorable victory was a one-point regular-season home win over Cedar Falls during a 13-11 campaign in which the Wahawks secured their first winning record since 2009-10. Waterloo East, similarly, earned a win in its second meeting with cross-town rival West and increased its total of victories from six to 10.
That growth is evident in the quality of names on the 2017-18 All-Metro team as selected by the coaches of Columbus, East, West and Cedar Falls.
AJ Green, Cedar Falls' senior point guard, once again highlighted the All-Metro honorees after averaging 25.8 points and leading the state with 119 3-pointers at a 49-percent success rate. The Northern Iowa recruit finished his prep career with 1,792 points.
Green's junior teammate, Logan Wolf, put an exclamation point on his first-team All-Metro season by averaging 14.3 points, 5.3 rebounds and 5.3 assists during Cedar Falls' three state tournament victories.
Waterloo West's duo of senior CaRondis Harris-Anderson and sophomore Isaiah Johnson also received first-team accolades.
Harris-Anderson's 1,288-point career was capped by an average of 21.6 points and nearly two 3-pointers per game this past season. He shot 50 percent from the field to go with 6.5 rebounds. Johnson knocked down 44 percent of his 3-point attempts and averaged 10.8 points per game on 55 percent shooting.
Waterloo East junior Tyrese Nickelson returned to the first team after leading the Trojans with an average of 21.5 points per game, while also pacing his team in steals and blocked shots.
Cedar Falls senior Ben Gerdes joined juniors Jackson Frericks and Jack Campbell as valuable starters who each played unique roles throughout the Tigers' championship run. They each landed on the second team alongside East's talented and battle-tested duo of seniors Ja'Cee Clark and TreyShawn LaBeaux and West senior Kalen Burt.
Get in the game with our Prep Sports Newsletter
Sent weekly directly to your inbox!