WATERLOO — For the past couple of seasons, Cedar Falls has had the upper hand in its longstanding and intense girls' basketball rivalry with Waterloo West.
Friday night, the Wahawks wrote a new chapter as their determined defense and opportunistic offense produced a 60-43 victory at Siddens Gymnasium.
Both teams were coming off their first loss of the season and sported identical 3-1 records as they took the floor.
"We are really pleased with the win and proud of our players and how they played tonight," West coach Tony Pappas said. "We started out a little slow but our defense played hard and got a lot of tips and turnovers, then converted them into points.
"We put a good run together in the second half and held on."
Cedar Falls led 17-14 after one quarter and it was tied at halftime, but the Wahawk defense used its height to overpower the Tigers and forced nine turnovers in an eight-minute span, turning a six-point lead into a 20-point advantage in the fourth.
Freshman Halli Poock began the big run with a drive up the middle for a bucket and a free throw. Next trip down, Poock nailed a 3-pointer for a 38-30 edge.
The Tigers made attempts to cut into the deficit, but the Wahawk defense never let up. And when Cedar Falls was unable to get a basket for the first 5 1/2 minutes of the fourth, it was over.
"This feels so good to come out and play this well," said Poock, who finished with 23 points. "When the crowd starts to get into it we can just feel the energy picking up and it is so exciting.
"We had to keep pushing the whole way though, because Cedar Falls is such a good team. We could not let them get back in it. We did a good job of working our defense into offense and making good shots."
"We still have to get better. As a team we must get better and start putting the pieces together. This game will definitely help build our confidence."
Cedar Falls isn't the team it expects to be this season, thanks to a handful of injuries, including one to all-state guard Emerson Green.
"With the injuries we have now and not having many girls out for the team, we have had to game plan as best we can," said Tigers coach Greg Groen. "We have had to play a lot of young kids and basically throw them in the fire.
"Giving them the experience now should really help us down the road. Tonight we got beat by a very good West team that has a lot of talent. We just have to learn from that and get better and get some depth. Once we get through Christmas break and get healthy again we will become more consistent."
Brooklynn Smith added 13 points for West with Gabrielle Moore and Lauren Conrey chipping in 10 apiece.
"This was a good bounce-back win for us," said Pappas. "We were able to beat a very good team tonight and we can play better and we will play better."
121319kw-west-cf-girls-bball-09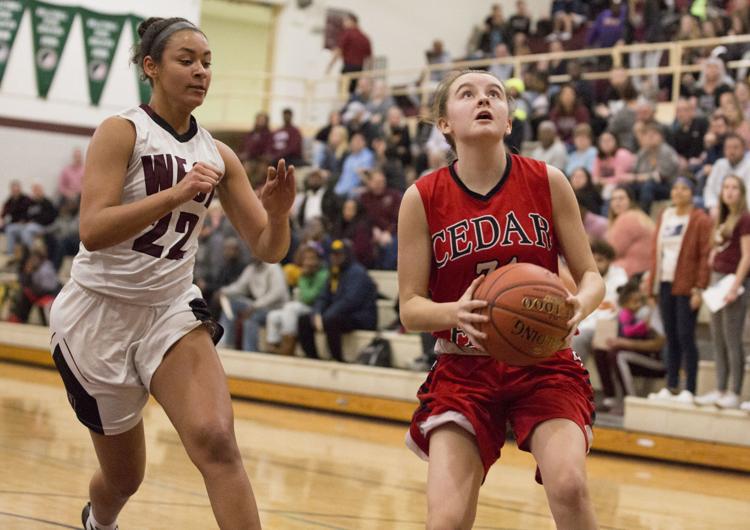 121319kw-west-cf-girls-bball-10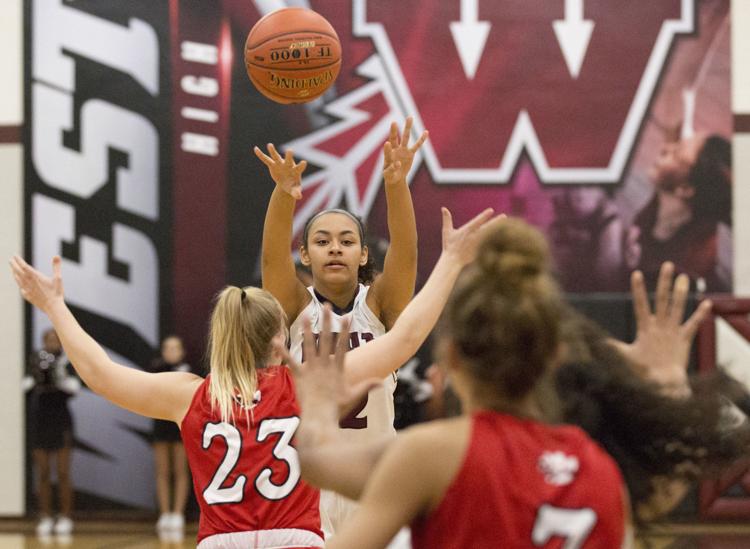 121319kw-west-cf-girls-bball-05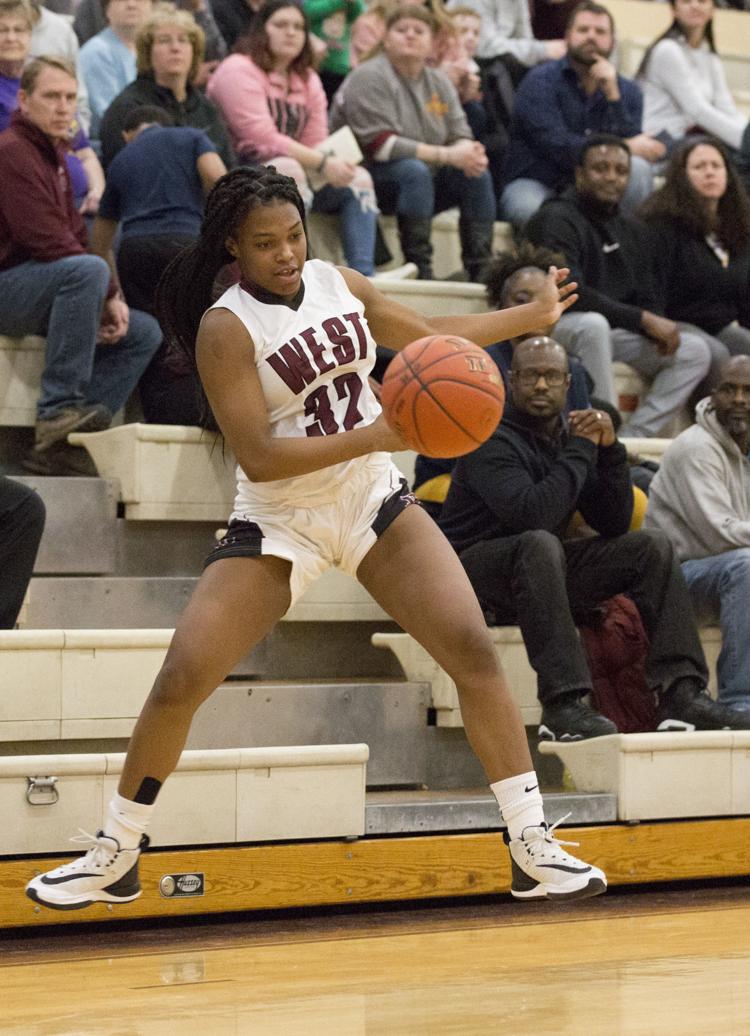 121319kw-west-cf-girls-bball-06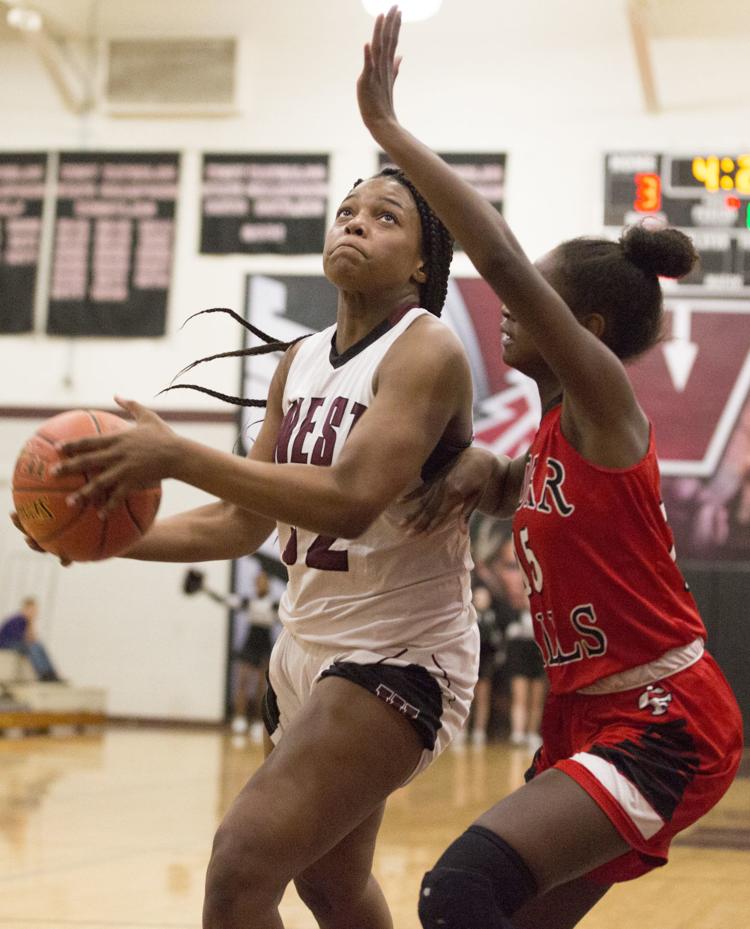 121319kw-west-cf-girls-bball-07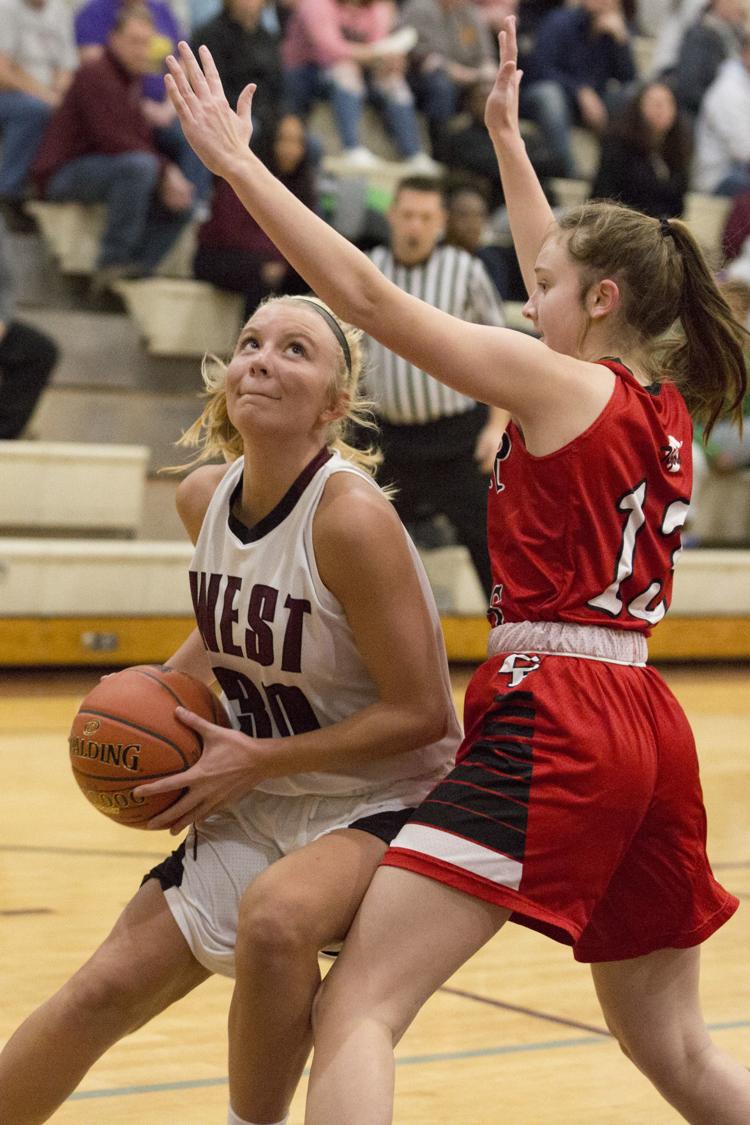 121319kw-west-cf-girls-bball-08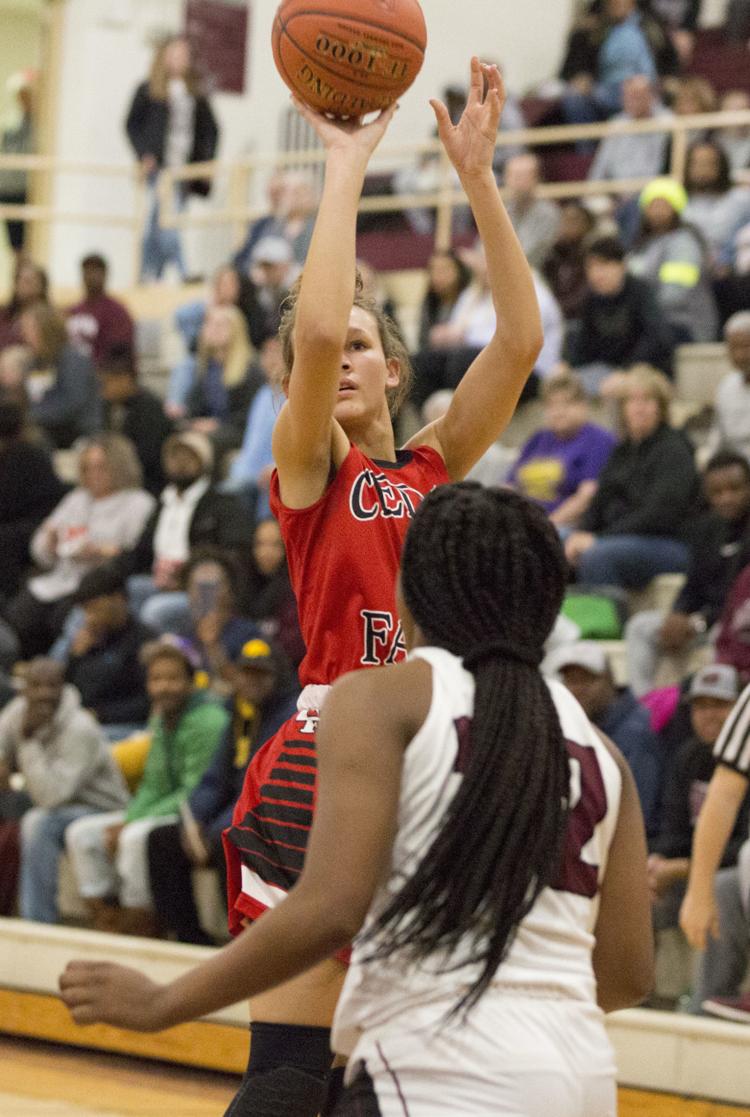 121319kw-west-cf-girls-bball-03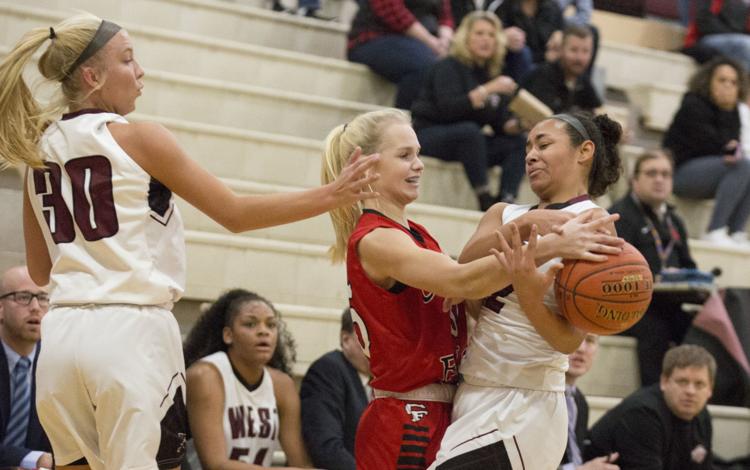 121319kw-west-cf-girls-bball-04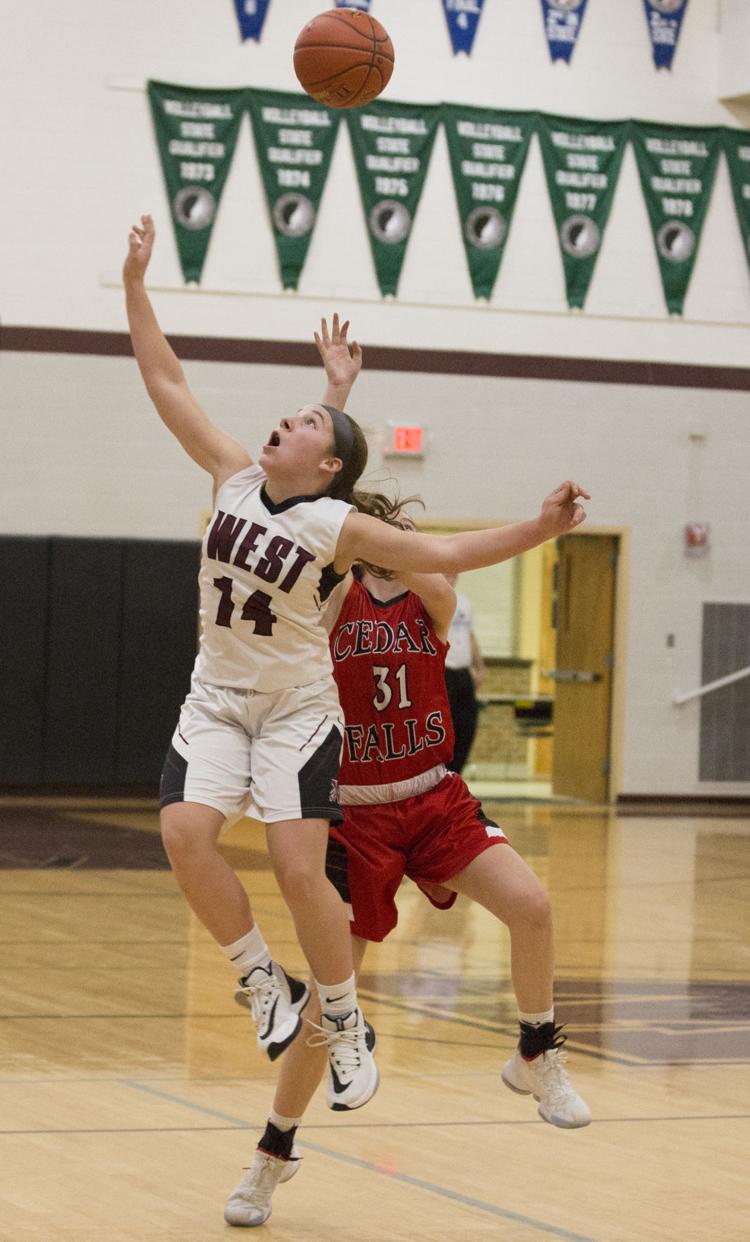 121319kw-west-cf-girls-bball-01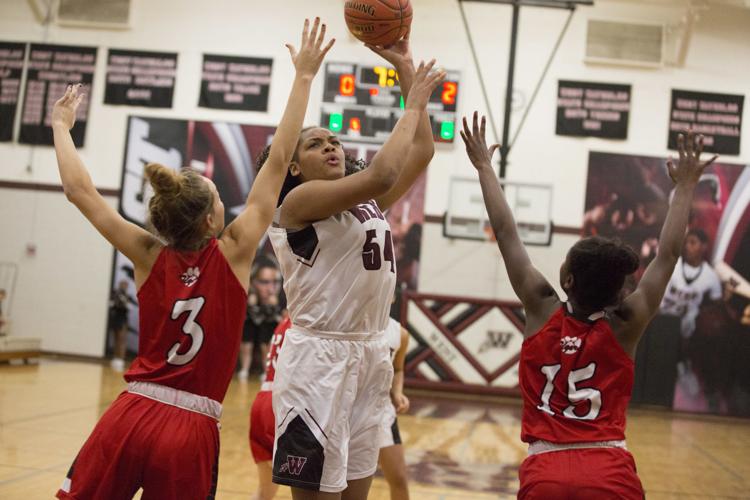 121319kw-west-cf-girls-bball-02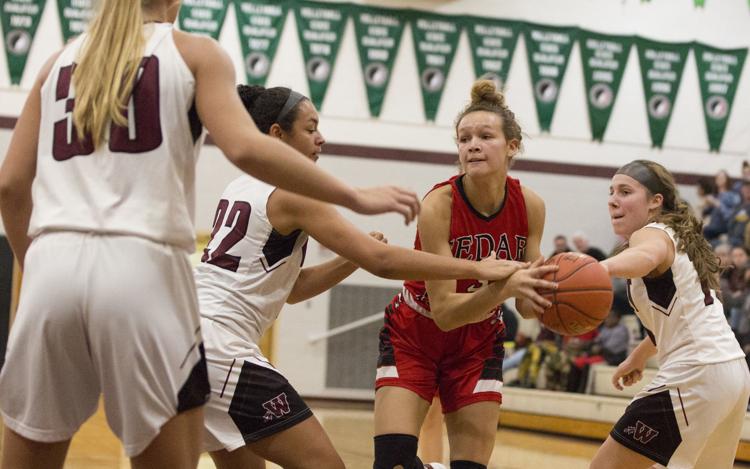 CEDAR FALLS (3-2) — Anaya Barney 5 0-0 11, Jasmine Barney 5 0-0 12, Lexie Godfrey 0 0-0 0, Sydney Remmert 5 2-2 14, Anna Sandvold 1 1-2 4, Morgan Linck 0 0-0 0, Ellie Gerdes 1 0-0 2. Totals 17 3-4 43.
WATERLOO WEST (4-1) — Halli Poock 9 3-4 23, Gabrielle Moore 3 3-5 10, Lauren Conrey 3 1-2 10, Sahara Williams 1 0-0 2, Brooklyn Smith 6 1-2 13, Sierra Burt 0 0-0 0, Ashley Nystrom 0 0-0 0, Ajla Dzelic 1 0-0 2. Totals 22 8-13 60.
Cedar Falls 17 11 9 6 — 43
Wat. West 14 14 15 17 — 60
3-point goals — Cedar Falls 6 (Remmert 2, J. Barney 2, A. Barney, Sandvold), West 6 (Conrey 3, Poock 2, Moore). Total fouls — Cedar Falls 13, West 11. Fouled out — none.
Get in the game with our Prep Sports Newsletter
Sent weekly directly to your inbox!