DES MOINES — As the final horn sounded late Friday inside Wells Fargo Arena, Cedar Falls' starters raced from the bench into a center court dogpile of unadulterated joy.
Five working together as one, these boys from Cedar Falls became the team that finally secured their basketball program's first piece of championship hardware.
Their length and communication flourished within a variety of defensive looks that shut down Iowa City West's star-studded offense over the final three quarters. That effort complemented a Cedar Falls offense that dissected the Trojans with surgical precision during a 65-45 wire-to-wire victory in the Class 4A final.
"Our brand with our program is teamwork, toughness and accountability," said head coach Ryan Schultz, a Cedar Falls native who played under the school's coaching legend Jerry Slykhuis. "I think we truly live that. These guys came up with a theme as family this year. I think if you combine those things, that's how you do things like this."
It took a cohesive group to win a championship few outside of Cedar Falls could have predicted.
The Tigers (21-5) accomplished the near unthinkable task of earning a second win in the same season over defending state champion Iowa City West (21-5) — a large-school dynasty that was playing for a fifth title in seven seasons.
"I never saw any fear in their eyes and I never saw any the whole year," Schultz said. "There's something special in these guys where they believe in themselves and they believe in each other."
After being eliminated prior to last year's state tournament, they knew they were capable of achieving more.
"Last year after losing to Kennedy, I kept the article," junior Logan Wolf said. "It's still in my wallet. We knew we had to bounce back. We knew we had the talent and opportunity to do so. We had some tough ups and downs during the season, but we got stronger."
Cedar Falls reached state by learning how to win the big games. That started by avenging a previous one-point loss to Dubuque Hempstead in a nip-and-tuck substate final.
"I knew we always had it in us," AJ Green said, after finishing with a game-high 24 points and nine rebounds to captain the all-tournament team. "That close game against Dubuque Hempstead, we had some adversity and foul trouble. That's when we really came together. We really got tough, locked down on defense especially."
Similar to its one-point win over Iowa City West in the regular season, Cedar Falls switched from a man to zone defense in the second quarter of this final and held the Trojans to just 16 combined points during the middle two stanzas. Iowa recruit Patrick McCaffery had 13 points and Seybian Sims 12, but none of the Trojans guards tallied more than six.
"We felt our mistake was shooting a bunch of 3s real quick and we did the same thing tonight," West coach Steve Bergman said. "I thought we kind of extracted ourselves from that mess pretty well at half, but we didn't guard anybody that second half. It was a layup drill for them."
Indeed, Cedar Falls' offense ran smooth. The Tigers made 24 of 47 field goals, shooting 50 percent or better for a third consecutive state tournament game.
Green, the Northern Iowa recruit, once again led the way with four 3-pointers that boosted his season total to 119 — good for fifth in state history.
AJ Green misses his first shot of the game, East students chant "overrated". Think that one might come back to bite them.

— Tony Roe (@tonysroe) March 7, 2018
Wolf, a versatile junior, added 14 points and four assists, including an emphatic poster dunk past McCaffery in the first half. Ben Gerdes tallied 12 points.
The Tigers scored on four of their first five possessions to jump out to a 9-2 lead. Six different Cedar Falls players finished with two offensive rebounds when shots were missed, including Jack Campbell, who sparked an 11-0 second-quarter run with six consecutive points in the paint.
Green later showcased his court vision with lengthy assists to Gerdes and Jackson Frericks sandwiched between an NBA-length 3-pointer and a trey from the wing that pushed Cedar Falls' advantage to 19 entering the fourth quarter.
The finishing touch came from deep reserve and senior Jacob Nelson, who banked in a 3-pointer as the starters erupted from the bench to ignite the championship celebration.
A youthful team that too often deferred to Green a year ago grew up.
"We knew to become a great team that we all had to become involved," Schultz said. "AJ is still going to get his points and be our leader, but we knew we had to get all these other guys stepping up.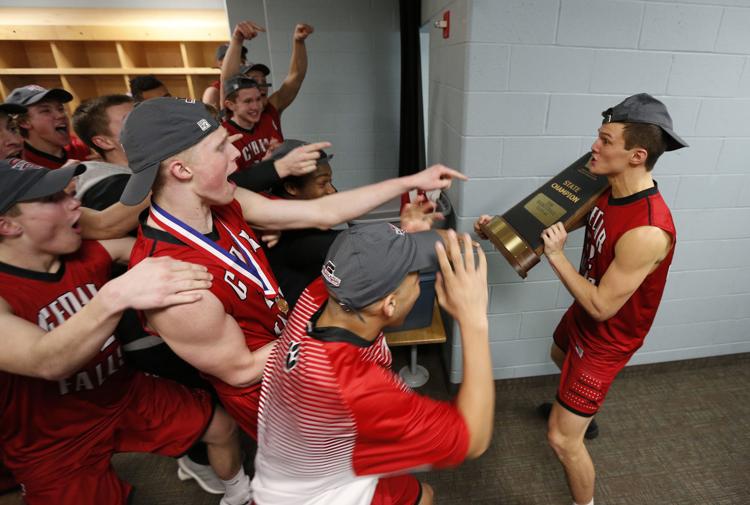 "It's great. We had beautiful ball movement, AJ has become a great screener, and they're a smart team. They're able to execute a lot of different sets."
Fulfilling a dream of winning a title, Green and his teammates invested the time necessary to reach this destination.
"I always tell myself and I fully believe hard work pays off," Green said. "It always does. Myself and everybody, we've been working hard, I'm just going to say harder than anybody else in the state. It's finally paid off."
Cedar Falls 65, I.C. West 45
CEDAR FALLS (21-5) — AJ Green 8-18 4-4 24, Logan Wolf 5-9 4-5 14, Ben Gerdes 5-8 1-1 12, Jackson Frericks 1-3 0-0 2, Jack Campbell 4-5 0-0 8 Jacob Nelson 1-1 0-0 3, Mason Abbas 0-1 1-2 1, Sam Gary 0-0 0-0 0, Tate Johnson 0-0 0-0 0, Josh Ollendieck 0-0 0-0 0, Reese Gardner 0-1 -12 1, Luke Loughren 0-1 0-0 0, Chase Courbat 0-0 0-0 0. Totals 24-47 11-14 65.
IOWA CITY WEST (21-5) — Dante Eldridge 1-6 0-0 3, Evan Flitz 2-6 0-0 6, Seybian Sims 6-8 0-2 12, Hakeem Odunsi 2-6 0-0 5, Patrick McCaffery 4-9 4-6 13, Jake Anderson 1-3 1-1 3, Dadiran Hoambrecker 0-0 0-2 0, Jacob Klein 1-2 0-0 3, Cole Mabry 0-1 0-0 0, TJ Hillberry 0-1 0-0 0. Totals 17-42 5-11 45.
Cedar Falls 16 11 20 18 — 65
3-point goals — CF 6-11 (Green 4-9, Gerdes 1-1, Nelson 1-1), ICW 6-17 (Eldridge 1-3, Fitz 2-4, Odunsi 1-2, McCaffery 1-3, Anderson 0-2, Adcock 1-2, Mabry 0-1). Rebounds — CF 34 (Green 9), ICW 19 (Sims 5). Assists — CF 12 (Wolf 4), ICW 9 (Sims 4). Turnovers — CF 8 (Green 4), ICW 11 (Fitz 3). Blocks — CF 1 (Wolf), ICW 5 (Sims, McCaffery 2). Steals — CF 5 (Wolf 2), ICW 6 (Anderson 2). Total fouls — CF 14, ICW 9. Fouled out — none.