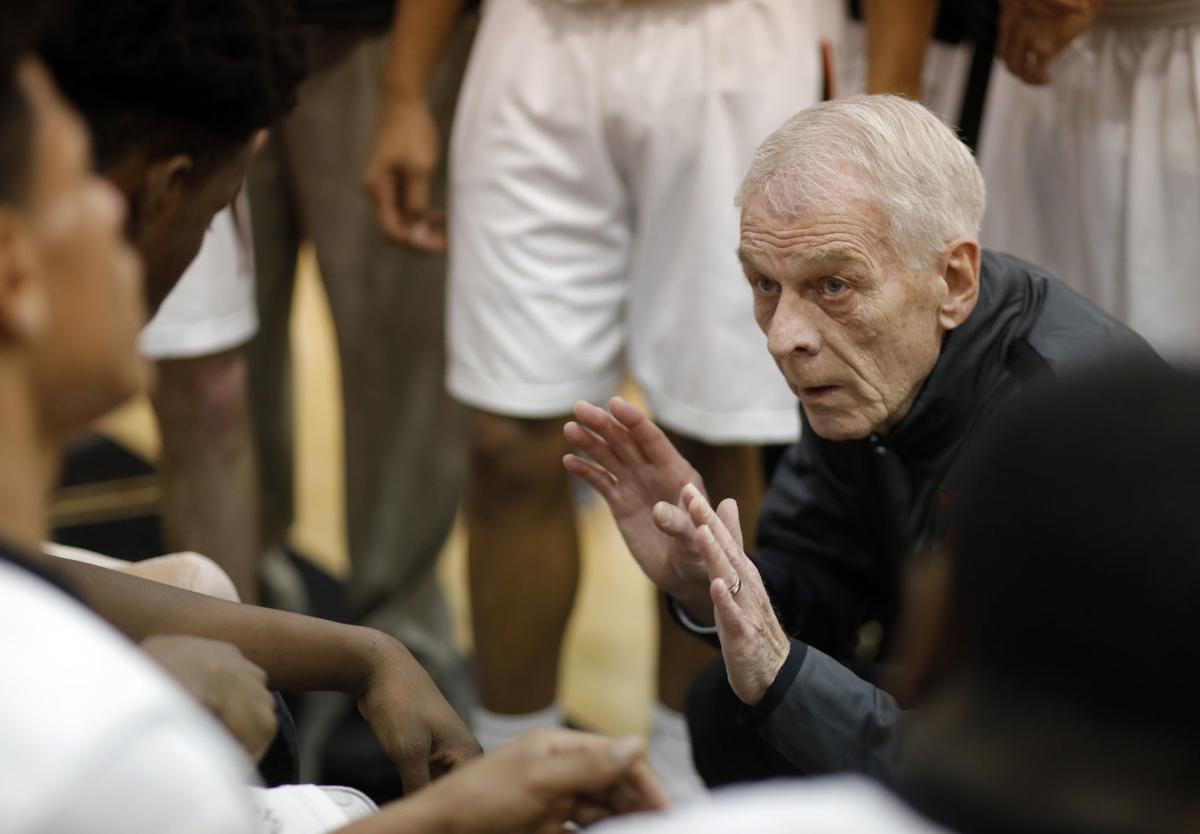 WATERLOO — Friday night won't be any different than hundreds of others for Steve McGraw.
When Waterloo East hosts third-ranked Dubuque Senior, the Trojans' longtime boys' basketball coach will be on the sideline imploring his young Trojans to get after it on defense, share the basketball, get to the rim on offense.
McGraw will probably stare down a player or two for a defensive breakdown or a careless turnover. And he will likely shake a player's hand or give him a pat on the back for a stretch of hard-nosed, relentless play.
But Friday will be special. It will mark the 1,000th game of McGraw's remarkable hall of fame coaching career, mostly at East where he has won two state championships and played for the title three more times while leading 13 teams to state. He will become only the fourth coach in Iowa high school boys' basketball history to reach that landmark, joining Fred Parsons (Van Buren) and Bob Hilmer (North Linn), who are still coaching, and Al Marshall (Cascade), who is retired.
"It means I'm old," cracked McGraw, who is typically a man of few words, especially when the subject is Steve McGraw. "Really, I guess it means I like what I'm doing and I think I'm still making a difference. Sometimes you wonder if that part is true, but I still enjoy trying to prepare kids to play the game and hopefully be good students and good people."
McGraw's basketball journey began at Indianola High School where he was a multi-sport standout and played basketball for Dick Starr. After high school, he enrolled at what was then the State College of Iowa and is now the University of Northern Iowa.
"After a year there I figured out I wasn't good enough to play for Norm Stewart so I transferred back to Simpson (in Indianola) and played for Dick Starr again there," he related.
"Once I started coaching basketball, I fell in love with doing it. Every year is different with different kids. It's different than college where you recruit the type of players you want. In high school, you take what you get. It takes longer, but you try to figure out where kids can play and what they can do. That's part of the fun I have with it."
Now in his 46th season overall, McGraw began coaching at Tri-County of Thornburg before taking over at East for the first time in 1979. He coached the Trojans for the next 30 years and compiled a 465-188 record over that stretch.
McGraw looks back fondly on some of the old rivalries that led to packed gymnasiums in the former Big Eight Conference.
"We used to have tremendous games with Fort Dodge and Mason City and Ames and Marshalltown with George Funk. I remember coaching against Tom Goodman at Fort Dodge and the gyms were full before the sophomore games even started."
You have free articles remaining.
When he retired from his administrative position at East at the end of the 2008-09 school year, McGraw also had to give up his coaching position and re-apply. The committee charged with selecting a new coach decided to go a different direction then and again three years later when the position re-opened.
McGraw got back into the game for one season at Clarksville before East was in the market for a coach again in 2014. This time, the Trojans returned to the man for whom they co-named the court at Fred J. Miller Gymnasium.
McGraw could have simply washed his hands of East High. He could have let his pride keep him from accepting a job he was denied twice despite his Hall of Fame credentials. He chose to take the high road and return to a school and program that are dear to his heart. His passion for coaching and his desire to make a difference in kids' lives won out.
He's back, doing things the McGraw way.
"Anybody involved in coaching for any length of time hopes in some small part that they have made that guy or that girl a better person," McGraw related. "I don't think it's the job of a coach to be their friend, and I don't care if some of them didn't like me much.
"Sometimes, you tell them those truths and they don't want to hear those truths. Sometimes, you've got to tell them, 'If you want to know what the problem is, go home and look in the mirror.' Sometimes, you've got to tell them that maybe they can work harder or do something better."
What advice would McGraw offer to today's up-and-coming coaches?
"I've got an old-fashioned phone. I don't text. I don't e-mail," he said. "I'm a pretty private person. I don't offer my opinion because I know I don't have all the answers. But I do know that you'd better be sure you've got a thick skin if you get into coaching. And AAU basketball has changed the way we do things in high school. Be prepared, I would say.
"I've also had a lot of good assistants over the years, and I think that's also part of the reason I've stayed with it. You've got to surround yourself with good people who you get along with."
Cliff Berinobis was a starter on McGraw's 1982 team that finished third at state. He later served as an assistant on McGraw's East High staff and now is the head coach of Waterloo West's fourth-ranked team. He knows as well as anyone how much McGraw has given to the game.
"Coaching 1,000 high school basketball games is an unbelievable accomplishment and an amazing achievement," he said. "I believe it will be a milestone that very few coaches will ever reach.
"It truly takes a lot of dedication, sacrifice and determination."