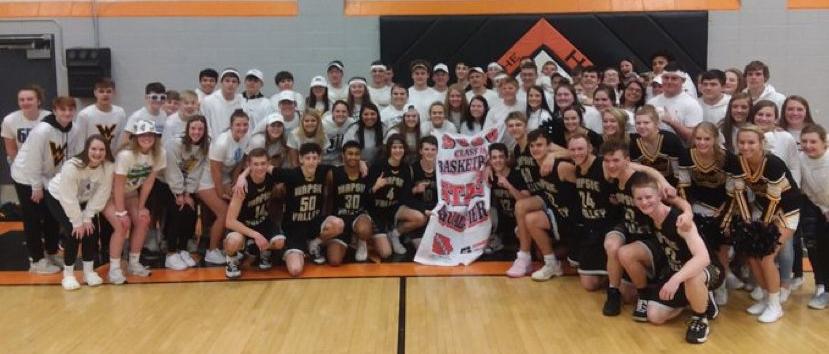 FAIRBANK — As of Wednesday, Wapsie Valley High School basketball fans had already purchased more than 450 state tournament T-shirts.
Considering the town of Fairbank has a population of about 1,125 and the high school enrollment is 279, the Warrior nation is clearly excited about the team's first trip to the boys' state tourney since 2013.
That comes as no surprise to longtime head coach Marty McKowen, who will lead his eighth Wapsie Valley team to state Monday when the Warriors (18-7) tangle with Lake Mills (23-2) at 11:15 a.m. inside Wells Fargo Arena.
"I've got to give a shout-out to our fans and our student section," said McKowen. "They're one of the best I've seen in Wapsie history. They're so bought in it's unbelievable.
"After our substate game (a 55-38 win over Edgewood-Colesburg), we shook hands and did a quick thing with the kids and then said, 'Go enjoy it.' The first place they ran was right into the middle of our student section."
It's been a special season on many levels. The Warriors headed into the Christmas break with a 2-4 record and were 3-5 before turning things around. They've now won 15 of their last 17 games and eight in a row since a Feb. 6 loss to Denver.
"Part of that 3-5 start is that our league was absolutely loaded this year," noted McKowen. "And No. 2, in our lineup we play two freshmen, two sophomores, three juniors and only one senior. Experience-wise on the varsity level we had some, but not all the way through. For those younger kids to learn how to play at the varsity level took awhile."
Junior Kobe Risse, one of the team's three captains, said a team meeting over the holiday break changed everything.
"Going into Christmas break, we were like, 'All right, we need to do something about this. We're a lot better than how we've been playing.'" Risse related. "Then we played Janesville the first game after Christmas break and they were ranked like eighth or so. We beat them by almost 20 points (52-36). Ever since then we've been rolling."
Blayde Bellis, another junior co-captain, said, "The determination after Christmas break has been unbelievable."
Wapsie Valley is a team that can win in a variety of ways. The Warriors are strong in the post with 6-foot-7 senior Kiks Rosengarten, who leads the team in scoring (19.2 points per game), rebounding (12.4 avg.) and blocked shots (65). Bellis averages 10.6 points, 4.5 assists and has made 50 shots from 3-point range at a 35.0% success rate. Risse adds 9.8 points, 5.0 rebounds, 6.1 assists and is shooting 41% from behind the arc. Sophomore Gunner Meyer hits 41.3% from distance and averages 9.4 points.
"We've been known for years and years for being an explosive, up and down the court, try to score 80 points kind of team," McKowen noted. "These kids have really bought in at the defensive end. In our district final and substate game, we gave up 38 points. We've been extremely happy with our defensive effort."
As much as execution and Xs and Os on the court, this year's Wapsie Valley team has intangibles that are no less important.
"This is a team that's so unselfish its unbelievable," McKowen explained. "You watch and kid some games score 16 or 17 points and they're excited after the game, but then you see them score four or five points the next game and they're excited after the game.
"They're totally bought into each other."
In fact, the Warriors asked McKowen if they could change the slogan they use after practices, before games and during timeouts from "We are Wapsie" to "We are family."
"We're all selfless," said Bellis. "The bond we have between all these guys ... it's a family."
For Risse, the family aspect of Wapsie Valley basketball hits especially close to home. Kobe's father Jamie Risse played for McKowen and then became an assistant coach. Ten years ago, he was on the staff for the 2010 Warriors team that made the state tournament. Two months later, he lost his battle with cancer.
"Our theme that year was 'Living the dream,'" McKowen recalled. "We dedicated a lot of what we were doing to Jamie that year. Now it's kind of come full circle 10 years later with Kobe getting a chance to play in the state tournament."
Asked if he sees a lot of Jamie, who also played for McKowen, in Kobe, McKowen laughs.
"Like twins," he said. "The way they play and, I'll be honest, sometimes I hear Kobe talk and if I'm not looking right at him, I'd swear it was Jamie ... from the smile to the whole bit."
Kobe's two older sisters played at Wapsie Valley. His younger sister is a student manager for this year's team. Kobe was in first grade in 2010 and accepted an invitation from his dad and McKowen to make the trip to state.
"We lost the game, but it was a fun experience," he recalled. "I always looked up to the players and they were super good to me. I just wanted one day to be doing the same thing."
Monday, he'll do just that and embrace the opportunity to honor his dad's legacy in Des Moines.
"It's pretty special," he said. "Ten years ago my dad coached his last team to state, and you could definitely feel his presence Saturday night (in the substate final).
"There are so many things ... My mom was telling me that one of dad's favorite songs was, 'I Gotta Feeling.' They played that song right as we were coming out Saturday. My mom heard that and said, 'Yeah, we're going to win tonight.'
"It was a pretty cool feeling."
Get in the game with our Prep Sports Newsletter
Sent weekly directly to your inbox!