DES MOINES — When it comes down to contending for state championships, even the greatest basketball players sometimes need to get by with a little help from their friends.
On a night when one of the most prolific shooters in state history was just a little bit off, Cedar Falls used a complete team effort to advance to the school's first state final with a 67-58 win Thursday over West Des Moines Valley inside Wells Fargo Arena.
Cedar Falls (20-5) will face conference rival and defending state champion Iowa City West (21-4) in Friday night's 8:15 p.m. Class 4A title game thanks to a multi-dimensional offense that thrives on a variety of players contributing when it's their opportunity to shine.
Northern Iowa basketball recruit AJ Green knocked down his fifth 3-pointer in six attempts to give Cedar Falls its largest lead, 39-30, at the 6:28 mark of the third quarter, but missed his final eight field goal attempts from that point forward.
He leaned on his teammates to pick up the slack.
"I missed a few more shots than I would have liked to in that second half, had some dumb turnovers, didn't play great defense," Green said. "I definitely have to play four quarters tomorrow."
While Green still finished with 25 points and made all six free throws over the final 31 seconds, support wasn't hard to find. Logan Wolf added 12 points and six assists, and all seven members of the Tigers' rotation recorded multiple field goals for a team that shot 23 of 46 from the field.
"He (Green) can't make them all, so we've always got to be contributing," Wolf said. "We're a team. We win together, we lose together. We've just got to help him out."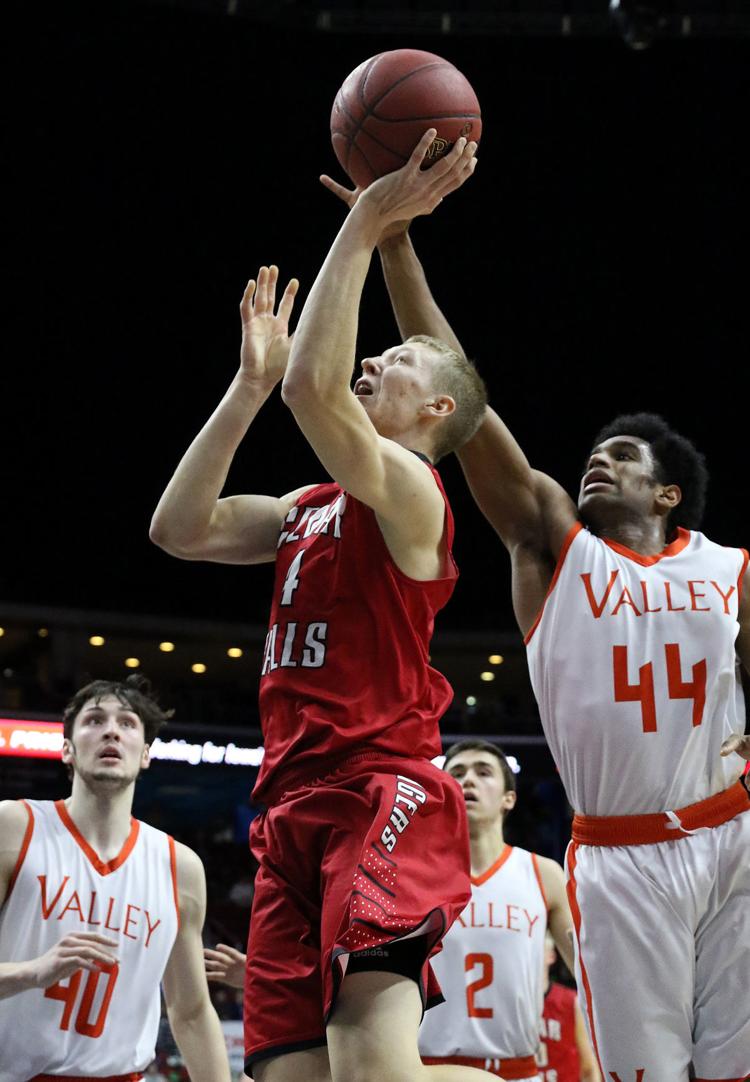 Wolf was a key facilitator after a West Des Moines Valley team (17-8) that won the 2016 state title and finished runner-up a year ago knocked down 9 of its first 13 attempts from distance and took a 49-46 lead with 6:47 remaining in the fourth quarter.
A 6-foot-4 junior, Wolf tipped a pair of layups in, assisted Ben Gerdes and capped the game's pivotal 11-2 go-ahead run with a drive and traditional three-point play for a 57-51 lead with 3:18 remaining.
"They came out and punched us in the face to start the second half," Wolf said. "I just knew I had to be aggressive, keep attacking and facilitate for my teammates."
While Valley reached this state semifinal by holding top-ranked Des Moines Hoover to 31 points before capping No. 2 seed North Scott's scoring at 44, Cedar Falls appeared to be one step ahead of any defensive adjustments on this night.
"The shots they made in the first half took us out a little bit of what we would have liked to have done most of the game," Valley coach B.J. Windhorst said. "We tried kind of our third option in the second half, just to get them out of rhythm."
Valley found success with Derek Emelifeonwu shading Green, but Cedar Falls countered by using its top scorer to set back-screens for center Jack Campbell, who finished with eight points on 3 of 4 shooting. Campbell also knocked down a pair of clutch free throws that extended a three-point lead to five with 45 seconds on the clock.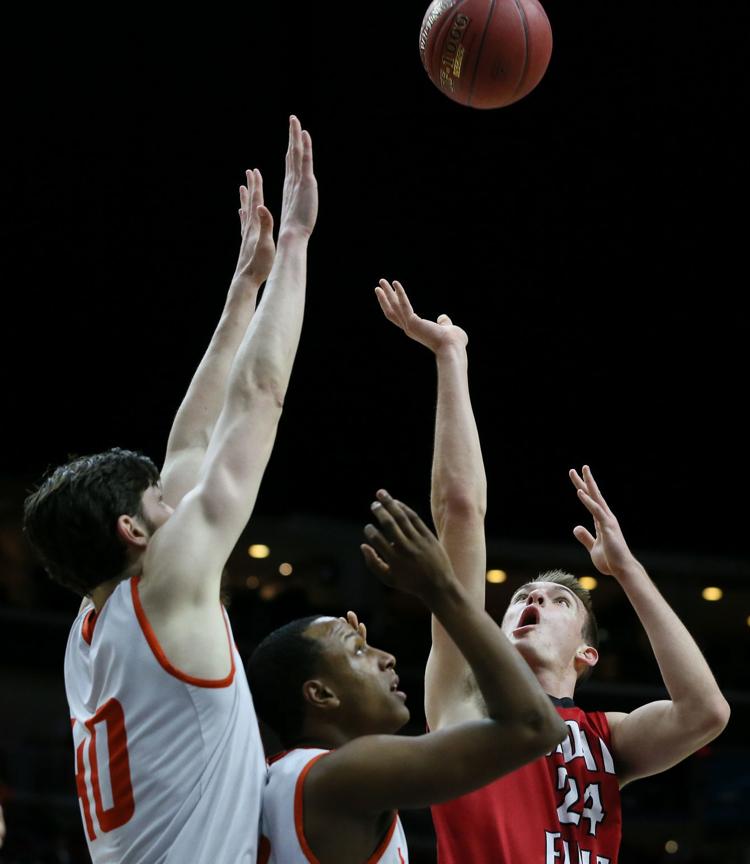 "I've been working a little harder later in the season for those moments right there," said Campbell, a 50-percent free throw shooter. "You just keep practicing them. I just had to have confidence, and I went down and knocked them in."
Through adversity, Green remained determined to make an impact.
"He's the guy in the huddle still talking guys through everything and setting great screens and getting other guys open," Cedar Falls coach Ryan Schultz said. "It was fun to see other guys step up and make plays as they have all year."
The talented senior is looking forward to ending his stellar career playing for a championship. The Tigers edged Iowa City West, 55-54, in a classic earlier this season.
"This means everything," Green said. "This has been my dream since I was a little kid, to hopefully win a state title. We get a chance to do this tomorrow.
"It's not going to be easy at all. We're going to have to bring it, play almost a perfect game."
Cedar Falls 67, W.D.M. Valley 58
WEST DES MOINES VALLEY (17-8) — Michael Bryan 3-6 0-0 9, Carter Frey 4-9 0-0 11, Trayvon Williams 5-9 3-3 13, Blake Brinkmeyer 3-6 0-0 6, Derek Emelifeonwu 4-7 0-0 10, Will Moritz 0-0 0-0 0, Mike Brown 0-1 0-0 0, Luke Sueppel 0-1 2-2 2, Noah Samples 2-4 2-5 7, Zach Buchanan 0-0 0-0 0. Totals 21-43 7-10 58.
CEDAR FALLS (20-5) — AJ Green 6-16 8-8 25, Logan Wolf 4-10 4-7 12, Ben Gerdes 3-5 2-4 8, Jackson Frericks 2-5 0-0 4, Jack Campbell 3-4 2-2 8, Mason Abbas 2-2 0-0 4, Reese Gardner 3-4 0-0 6. Totals 23-46 16-21 67.
W.D.M. Valley 18 8 19 13 — 58
Cedar Falls 20 14 10 23 — 67
3-point goals — WDMV 9-17 (Bryan 3-6, Frey 3-6, Emeliefeonwu 2-2, Sueppel 0-1, Samples 1-2), CF 5-12 (Green 5-10, Gerdes 0-1, Frericks 0-1). Rebounds — WDMV 19 (Emelifeonwu 7), CF 29 (Green 7). Assists — WDMV 10 (four at 2), CF 12 (Wolf 6). Turnovers — WDMV 10 (three at 2), CF 12 (Green 5). Blocks — WDMV 3 (Brinkmeyer 2), CF 1 (Campbell). Steals — WDMV 7 (Williams 3), CF 3 (Abbas 2). Total fouls — WDMV 16, CF 13. Fouled out — none.