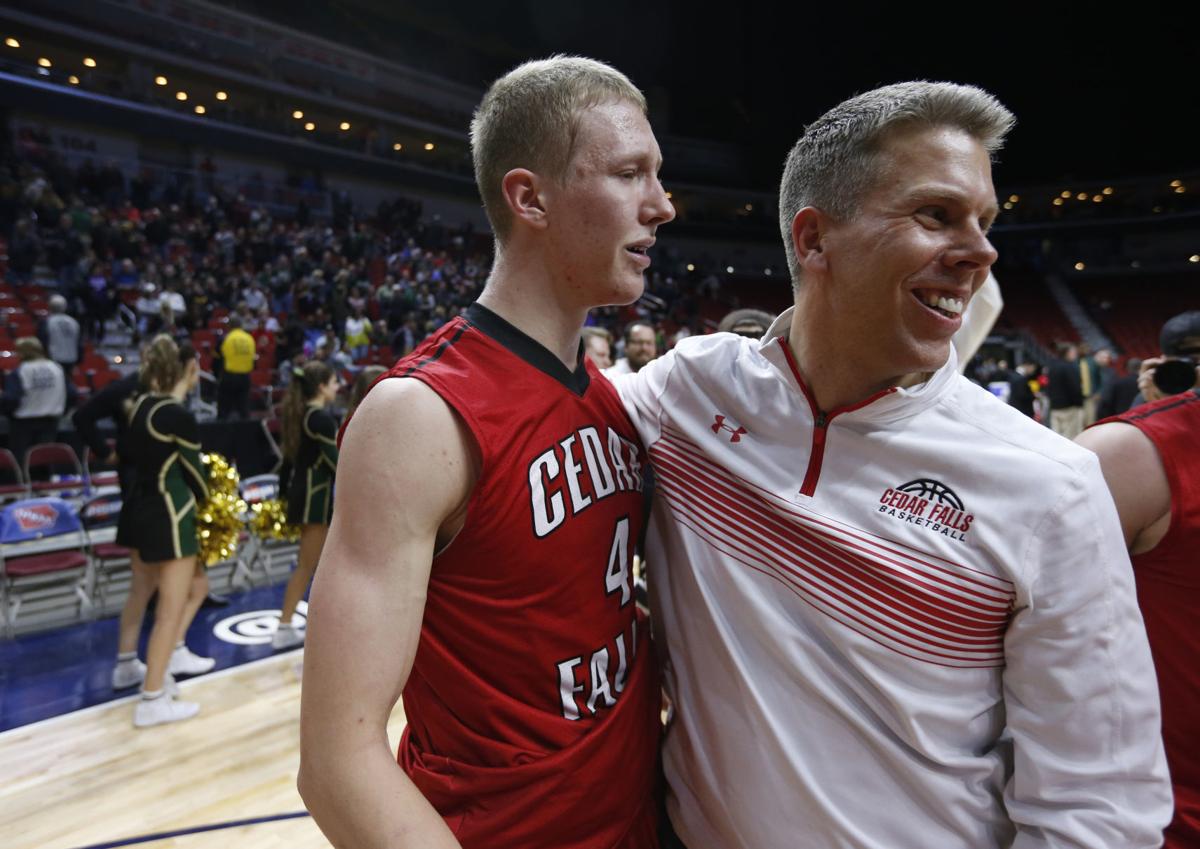 DES MOINES — AJ Green reached a lifelong goal last Friday, leading Cedar Falls to the school's first state basketball championship.
"This means everything to me," Green said afterward. "I always tell myself and I fully believe hard work pays off. It always does."
That work ethic helped Green receive first-team all-state accolades in Class 4A as the Iowa Print Sports Writers Association revealed its honor team Tuesday. Green is joined by another metro standout on a 4A all-state team. Waterloo West's do-it-all senior CaRondis Harris-Anderson received second-teams honors.
Planning to continue his career at the University of Northern Iowa, Green finished his high school chapter with 1,792 points and 282 3-pointers. He averaged 25.8 points and led the state with 119 3-pointers at a 49 percent success rate this season, while often sealing victories with 93.7 percent accuracy from the free throw line.
"I've always looked up to AJ," said teammate Logan Wolf, who joined Green on the all-tournament team. "He's a great role-model, he's a phenomenal player, he's the hardest worker to ever come through Cedar Falls. I can't wait to see what he does at UNI."
Harris-Anderson also leaves quite the legacy through a career with 1,288 points at West High.
The Wahawk senior averaged 21.6 points and nearly two 3-pointers per game while shooting 50 percent from the field this past season. He also led the Wahawks with 6.5 rebounds per game and ranked among the team
leaders in assists, steals and blocks.
Aplington-Parkersburg's duo of senior Alec Oberhauser and junior Carter Cuvelier landed on Class 2A's first team after leading the Falcons to a third-place state finish.
Juniors Paul Rundquist of Wapsie Valley and Brady Happel of Dunkerton reached the second team in Class 1A, while Caden Kickbush of Gladbrook-Reinbeck, Codey Hicks of Janesville and Jack Kelley of Don Bosco were named to the third team.
Charles City junior Jack Molstead was a second-team selection in Class 3A, and Luke Velky received third-team honors in the class after helping lead Waverly-Shell Rock to the semifinal round.
Osage's Drew Olson was a third-team honoree in Class 2A.
Muscatine senior Joe Wieskamp was selected as Mr. Basketball. The University of Iowa signee averaged 33.5 points and 13.5 rebounds per game as the Muskies reached the Class 4A state tournament for the first time in 16 years.
Wieskamp, who accounted for nearly 60 percent of his team's scoring, shot 56 percent from the field and almost 85 percent from the free-throw line. He finished his career with an Iowa Class 4A-record 2,376 points, sixth on the all-time scoring list.
First team — Joe Wieskamp, sr. (Muscatine), AJ Green, sr. (Cedar Falls), Patrick McCaffery, jr. (Iowa City West), Tyreke Locure, jr. (Des Moines North), D.J. Carton, jr. (Bettendorf), Garrett Sturtz, sr. (Newton), Corvon Seales, sr. (North Scott), Devonte Thedford, sr. (Des Moines Hoover).
Second team — Nathan Johnson, sr. (Waukee), CaRondis Harris-Anderson, sr. (Waterloo West), Carter Stevens, sr. (Dubuque Senior), Lucas Duax, sr. (Dubuque Hempstead), Luke Appel, sr. (Marshalltown), Trey Hutcheson, jr. (Linn-Mar), Sam Ingoli, sr. (West Des Moines Dowling), Boston Grimes, sr. (Johnston).
Third team — Aidan Vanderloo, jr. (Sioux City East), Seybian Sims, sr. (Iowa City West), Malcolm Clayton, sr. (Fort Dodge), Dylan Jones, jr. (Waukee), Hunter Strait, sr. (Ankeny Centennial), Van Rees, sr. (Sioux City East), Brian Dayman, sr. (Pleasant Valley).
First team — Brady Sartorius, sr. (Mt. Pleasant), Luke Vaske, sr. (Norwalk), Zach Lester, sr. (Clear Lake), Matt Mims, sr. (Cedar Rapids Xavier), Elijah Hazekamp, sr. (Sioux City Heelan), Jared Kruse, sr. (Oskaloosa), Nate Mohr, sr. (Glenwood), Andrew Blum, sr. (Glenwood).
Second team — Cole Henry, sr. (Oskaloosa), Derek Krogmann, jr. (West Delaware), Jack Molested, jr. (Charles City), Cooper Ross, sr. (Carroll), Xavier Foster, so. (Oskaloosa), Bowen Born, so. (Norwalk), Steve Borneman, sr. (Dallas Center-Grimes), Owen Coburn, jr. (Spirit Lake).
Third team — Connor Groves, jr. (Sergeant Bluff), Spencer Touro, sr. (Benton), Scott Leonard, sr. (Atlantic), Chase Zielke, sr. (Marion), Luke Velky, jr. (Waverly-Shell Rock), Jackson Joens, sr. (Cedar Rapids Xavier), Gabe Shields, sr. (South Tama), Shane Chamberlain, sr. (Harlan).
First team — Trenton Massner, sr. (Wapello), Parker Badding, sr. (Carroll Kuemper), Alec Oberhauser, sr. (Aplington-Parkersburg), Jacob Vis, sr. (Western Christian), Dillon Faubel, sr. (Treynor), Isaac Prewitt, sr. (Des Moines Christian), Carter Cuvelier, jr. (Aplington-Parkersburg), Haris Hoffman, jr. (Cascade).
Second team — Marco Balderas, sr. (South Hamilton), Zaine Leedam, sr. (East Marshall), Luke Empen, sr. (Northeast), Tyus Arends, sr. (Sioux Center), Jared Nichols, sr. (Colfax-Mingo), Ryan Schmitt, jr. (Van Meter), Luke Clausen, sr. (Treynor), James Betz, jr. (Garner-Hayfield-Ventura).
Third team — Dev Patel, sr. (Camanche), Beau Cornwell, jr. (West Branch), Sam Snyder, sr. (Forest City), RJ Harris, sr. (AHSTW), Mitch Gehling, sr. (Dyersville Beckman), Jace Davidson, jr. (Pocahontas Area), Drew Olson, sr. (Osage), Kyle Boerhave, sr. (Sheldon).
First team — Jake Hilmer, jr. (North Linn), Nicholas Ruden, sr. (Remsen-St. Mary's), Brady Gavin, sr. (Martensdale-St. Mary's), Grant DeMeulenaere, sr. (Grand View Christian), Ryan Miller, sr. (North Linn), Jake Carley, sr. (Council Bluffs St. Albert), Zach Martinek, jr. (West Fork), Jesse VanWyk, sr. (Lynville-Sully).
Second team — Paul Rundquist, jr. (Wapsie Valley), T.J. Schnuss, jr. (Algona Garrigan), Peyton Brasser, sr. (South O'Brien), Joe Weber, sr. (Boyer Valley), Carter Booth, sr. (Central Decatur), Caleb Terhark, jr. (George-Little Rock), Brett Givens, sr. (Lisbon), Brady Happel, jr. (Dunkerton).
Third team — Caden Kickbush, sr. (Gladbrook-Reinbeck), Codey Hicks, jr. (Janesville), Brennan Sefrit, so. (Bedford), Keonte Luckett, jr. (New London), Andrew Gibb, jr. (Fort Dodge St. Edmond), Thomas Hensley, sr. (CAM), Jack Kelley, jr. (Don Bosco), Bryce Coppock, so. (Newell-Fonda).