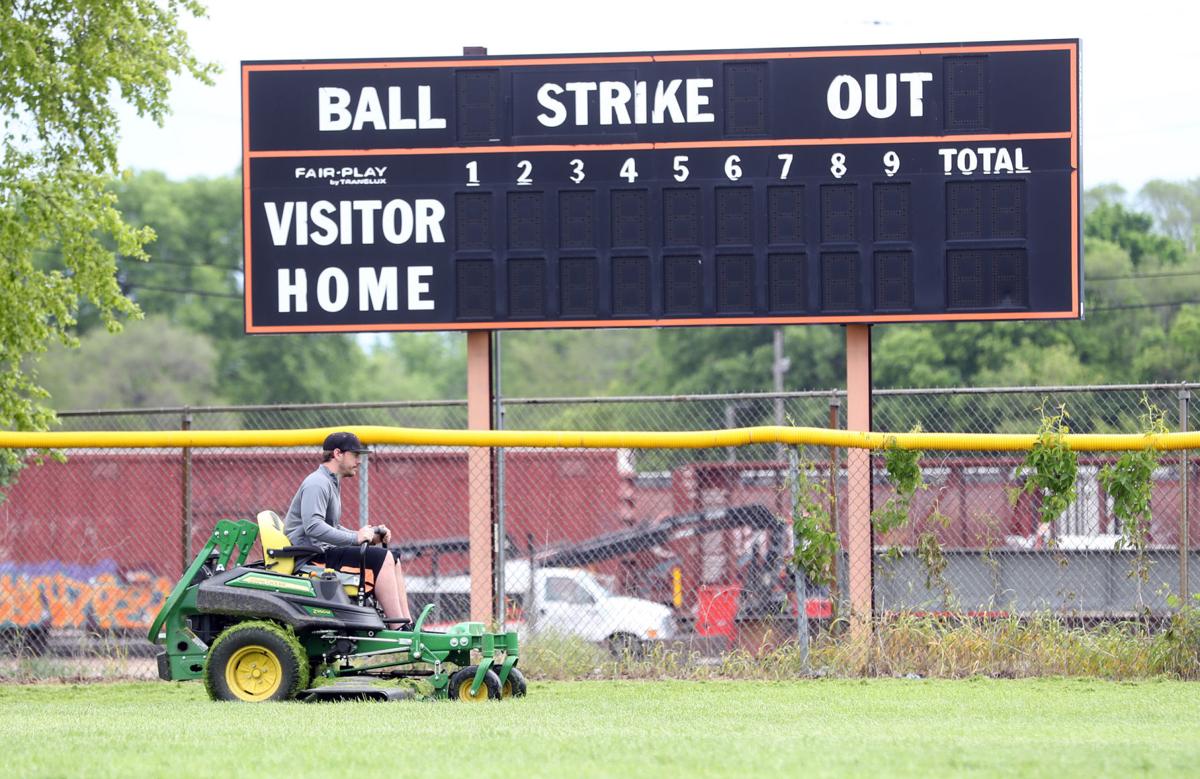 WATERLOO — A subtle nudge with an elbow replaced fist bumps and high fives as a pre-approved form of affirmation on Waterloo East's baseball diamond Monday afternoon.
Eric Jesse was as anxious as his players to take the field. A first year high school head coach, the 29-year-old Jesse is among a group of Iowa instructors helping set the tone for this summer's return to competition.
Baseball and softball programs across the state became the nation's first organized high school sports teams to hold an official practice since the COVID-19 pandemic forced a national lockdown in mid-March.
"I got back out there and the competitive juices started flowing again," Jesse said. "It taught us that we can't take sports or anything in our lives for granted. Something can be taken away at the snap of a finger. Even though it's not a full season, we need to appreciate that we do get some season."
Across town on the softball diamond at Waterloo West, head coach Ashley Reimer and her staff had been maintaining the field for the past month and a half in hopes that there would be a season. She spent Monday morning taking care of the finishing touches before anxiously counting down the minutes until the Wahawks' 4 p.m. practice began.
"It's been a long wait," Reimer said. "We were just really pumped that we got to have a season."
This is uncharted territory for beginning coaches and those more familiar with their rosters. Jesse, a teacher at Waterloo's Highland Elementary, had been hired as a head coach in late February before the sports world shut down.
A quartet of seniors Xander Bauler, Jaxson Cooper, Mitchell Sage and Dakota Albright led informal workouts during the coaching transition period. Their leadership extended through the delay.
"There's a lot of learning curve and things you have to find out as a first year head coach," Jesse said. "We just took it one day at a time and tried to stay in contact with the guys as much as we can, keeping them updated with the situation and what the process was.
"I'm fortunate we've got four seniors that are pretty good leaders, really good guys. They've helped the whole transition and really have been helpful with the younger guys through the tough times."
Precautionary guidelines to secure a safe return have been discussed at length leading into Monday's opening practice. Reimer conducted a series of virtual meetings with athletes and parents so they knew what to anticipate in advance of the first practice.
"It went much better than I thought it was going to go," she said after the workout was complete.
The scene on both sides of Waterloo from the baseball field to the softball diamond looked similar. There were plenty of drink breaks on this afternoon in which the temperature climbed above 80 degrees.
Players worked in pods with smiles across their faces. An abundance of helmets and disinfecting wipes added to a scene that didn't need high fives to be upbeat.
"To see how excited the kids are, it's really fun to be around them," Reimer said. "After being home for so long, the world is really different right now. It was just really special for everybody to be able to get to do this."
Jesse concluded his first practice with a quote, "A journey of a thousand miles begins with a single step."
Taking over a program in which wins have been hard to come by in recent years, Jesse says the 27 athletes that showed up for the initial practice mark a good starting point.
"If we want to get to where we want to be as a program at East it takes the first step," Jesse related. "I think we definitely took that first step today."
Get in the game with our Prep Sports Newsletter
Sent weekly directly to your inbox!